How to use Asana help resources
Overview
Running into difficulties while using Asana and not sure how to navigate our help content? Well, we've got you covered. Whether you're unsure about what a portfolio is or looking for advice from seasoned users, this article is here to lift the veil on all things Asana help. Let's discover how to get the most out of Asana's three main self-serve help resources and find answers to all your questions.
Asana Academy
Enhance your skills at your own pace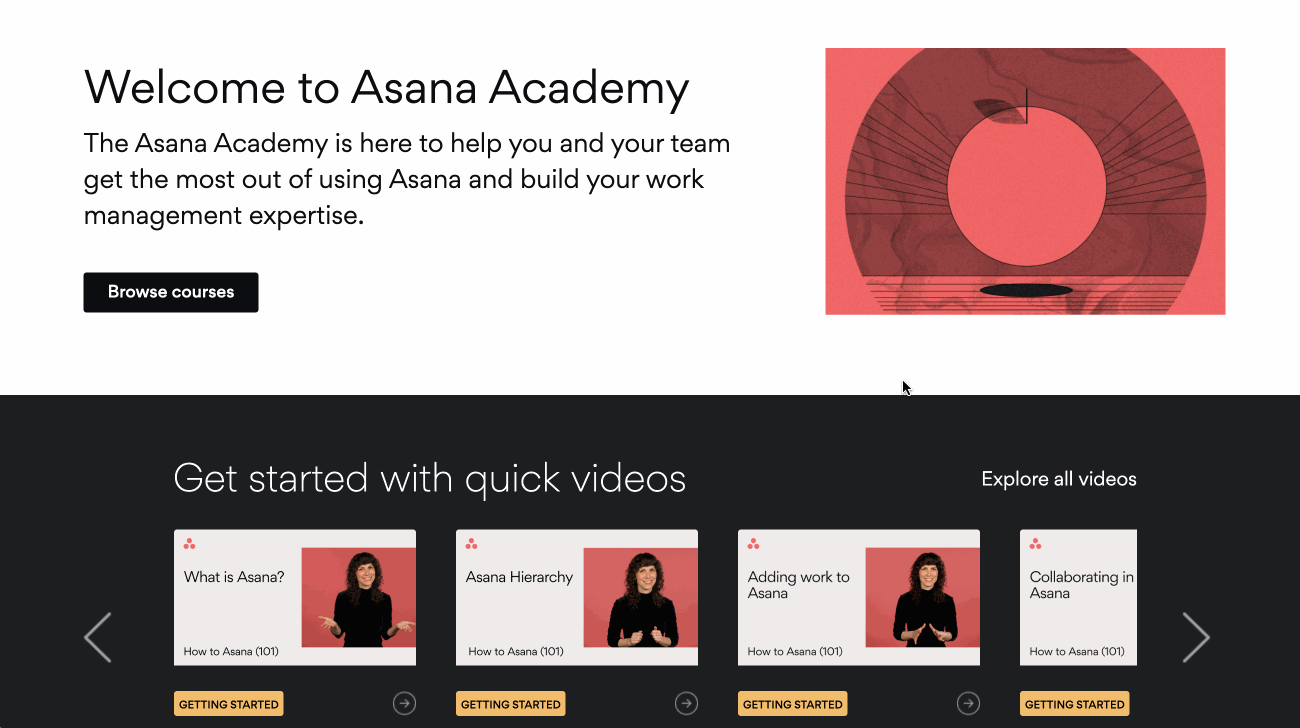 Are you eager to learn, test, and develop your Asana skills? Then look no further than Asana Academy. Asana Academy offers a variety of self-paced courses, video tutorials, and live instructor-led training to deepen your understanding and proficiency in using Asana's features and capabilities. You can learn at a pace that suits you through video tutorials, interactive quizzes, and practical exercises. From beginners to advanced users, the Academy provides comprehensive content that caters to your needs and aligns with your interests and experience. With Asana Academy, you can enhance your understanding, put your skills to the test, and improve your productivity and efficiency.
Key features:
Self-paced learning: Access the Academy whenever is convenient and progress at your own speed, accommodating your busy schedule.
Comprehensive content: Explore a wide variety of courses covering various aspects of Asana, from getting started to advanced functionalities..
Tailored learning paths: Choose from different learning paths based on role and function.
Asana Help Center
Your trustworthy guide to success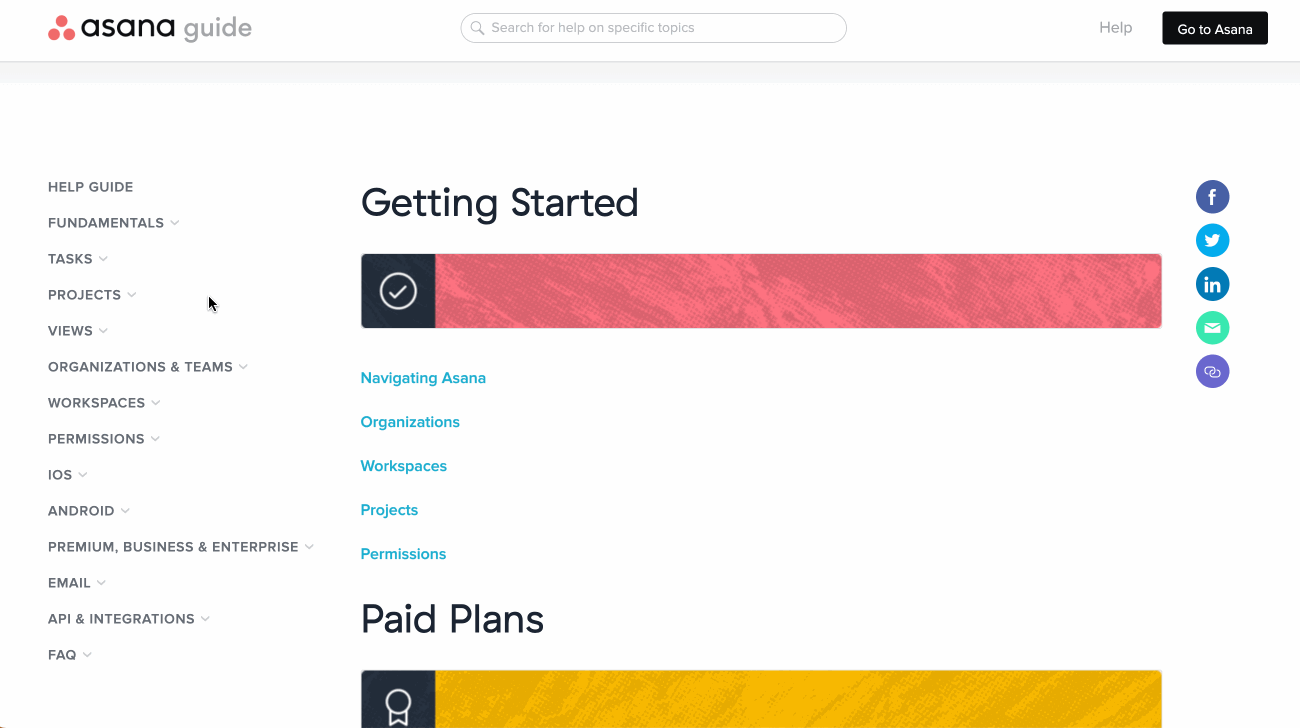 The Asana Help Center is your comprehensive resource for up-to-date information. It offers concise, easy-to-navigate articles, tutorials, best practices, and tips to support you in effectively using Asana. Whether you need guidance on basic features or advanced integrations, the Help Center serves as your go-to knowledge base and is a great first resource for any burning questions or quick fixes. The Asana Help Center is constantly updated with new feature articles. It's a great resource for learning how to make the most of the tool. Whenever you feel stuck or have a "How do I...?" question, it's the perfect place to satisfy your curiosity and discover useful product features.
Key features:
Skimmable articles with GIFs, screenshots, and tips: Quickly grasp anything from the basics to the more complex features and find answers to specific questions.
In-depth guidance and instructions: Check out detailed explanations and step-by-step guides for leveraging Asana's features.
Enhance proficiency and productivity: Discover insights for setting up projects, assigning responsibilities, tracking progress, and collaborating effectively with team members.
Explore advanced features and integrations: Unlock the full potential of Asana and optimize your productivity.
Asana Community Forum
Connect, learn and collaborate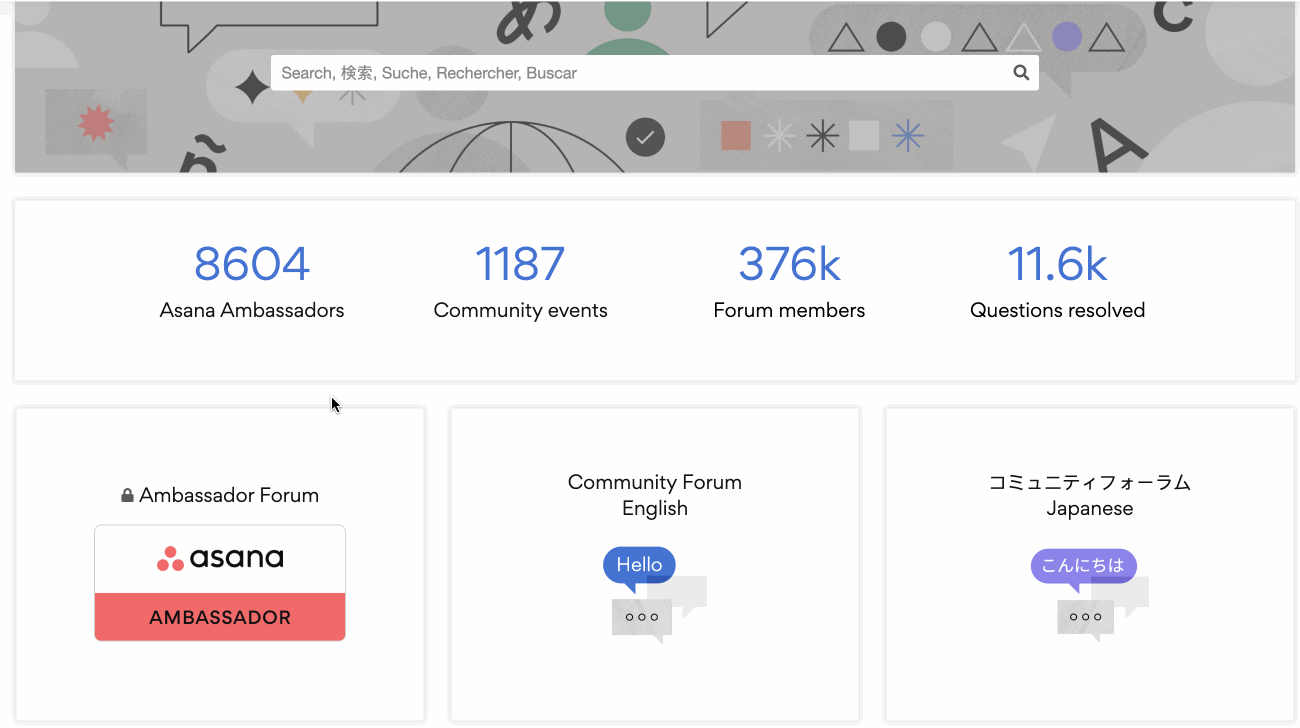 Looking for community interaction, support, and discussions? The Asana Community Forum is your go-to. Engage with a vibrant community of Asana users where you can ask questions, share ideas and issues, as well as learn from the experience of others. It's an ideal platform to connect with like-minded individuals, find inspiration, and stay updated with the latest product news. Here, Asana Ambassadors answer your product questions and give tips and tricks on how they use Asana in their day-to-day. The Community Forum is also a great place to offer product feedback and report or check on bugs or feature requests.
Key features:
Collaborative platform: Connect with other users, seek support, and engage in productive discussions.
Multi-language support: Ask questions and interact in your preferred language.
Feedback and feature requests: Share your suggestions and shape the future of Asana through active participation.
Stay informed with product updates: Find the latest news and updates in the dedicated threads.