Powerful Asana features for work management
Are you asking yourself why Asana should be your team's work management tool? Look no further; here are some practical insights into some of the most powerful features Asana offers, to mention a few.
Linking tasks across projects with multi-homing
With multi-homing, one task can belong to multiple projects, and every change made to that task, such as comments, attachments, and changes to due dates, just to mention a few, will be reflected across all projects. This allows you to collaborate seamlessly with stakeholders across departments, avoiding silos.
Let's say the Marketing department is working on a new campaign and needs to create three new assets. Marketing would create a task within their campaign project titled Create three new assets, then multi-home this task in the Design's team Creative requests project. Depending on their workflow, the Design team can multi-home this same task in another project.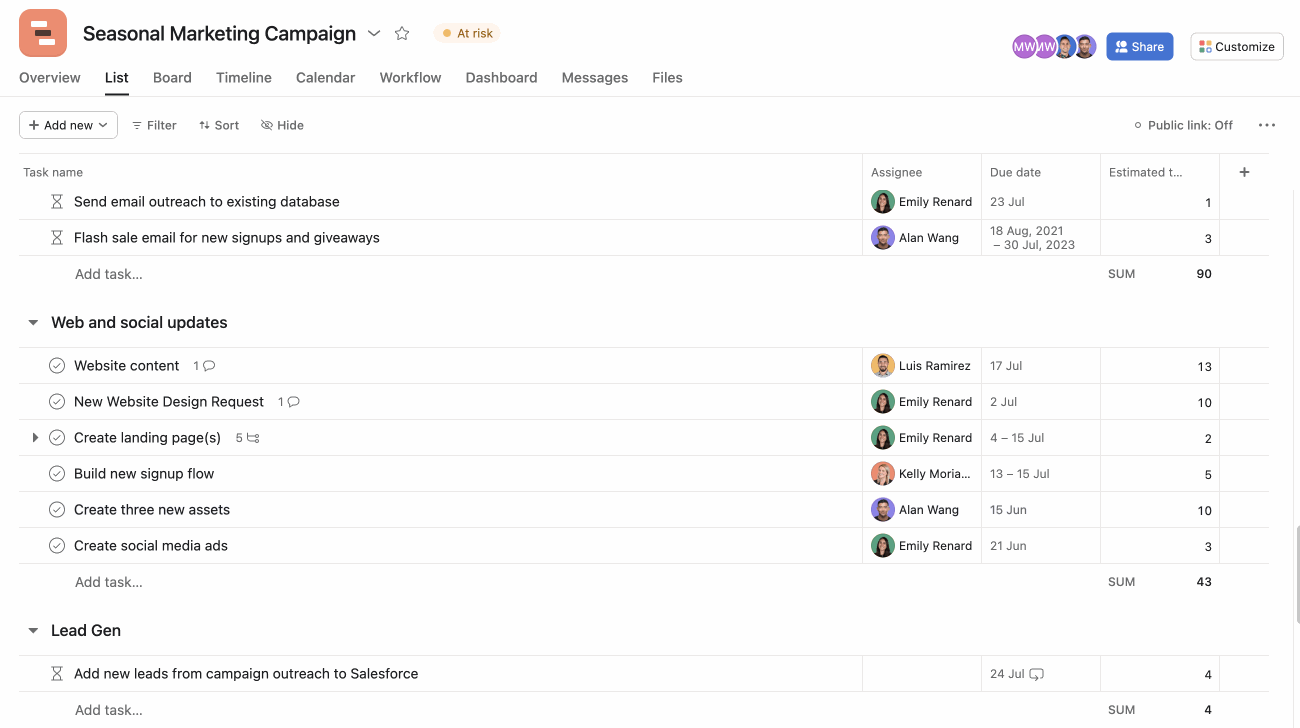 As simple as this feature looks, it is powerful because it ensures teams keep track of the work and avoids duplication by centralizing work. In the example above, the marketing team can make the Create three new assets task dependent on Create social media ads. Once the Create three new assets is completed, the person responsible for creating the ads will receive a notification saying they can start working on their task.
Watch our multi-homing projects video to discover many more examples of using multi-homing.
Tailoring Asana to fit your workflow with custom fields, rules, and forms
Using custom fields for customization
Custom fields allow you to customize your project and add additional data to your tasks, allowing you to capture specific information relevant to your workflow. You can then use these fields to sort, track, and categorize tasks within projects.
Design teams can use custom fields in their Requests for creative production project to track which departments across the company are submitting a request, the type of asset, and the channel where this asset will live.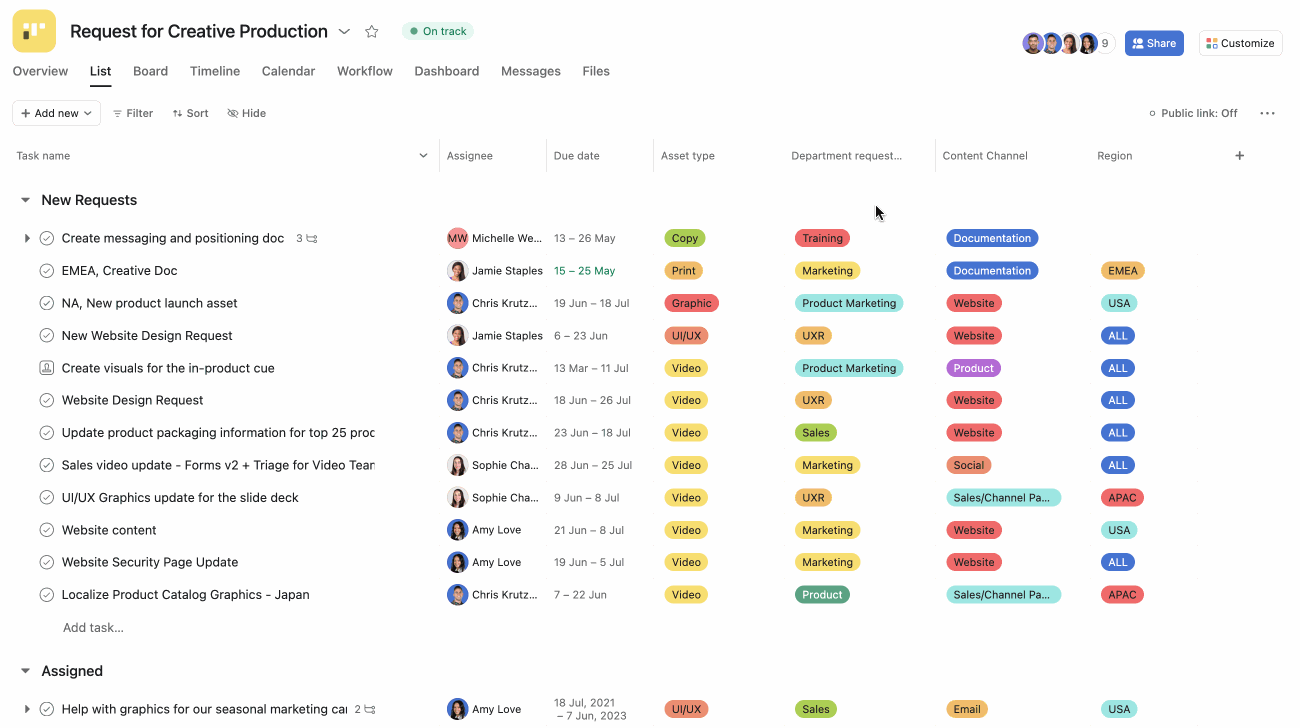 Custom fields help you prioritize and visualize data. For example, you can sort your tasks by department request to quantify how many requests come from each department. You can also use a filter to view how many videos you need to create.
Using rules to automate your workflow
You can combine custom fields with rules to automate processes and increase your team's productivity. For example, you can add a rule that adds a collaborator and a comment to the task when the custom field value changes so that stakeholders are kept informed only when it matters. This will reduce manual work for your team and keep tasks from falling through the cracks.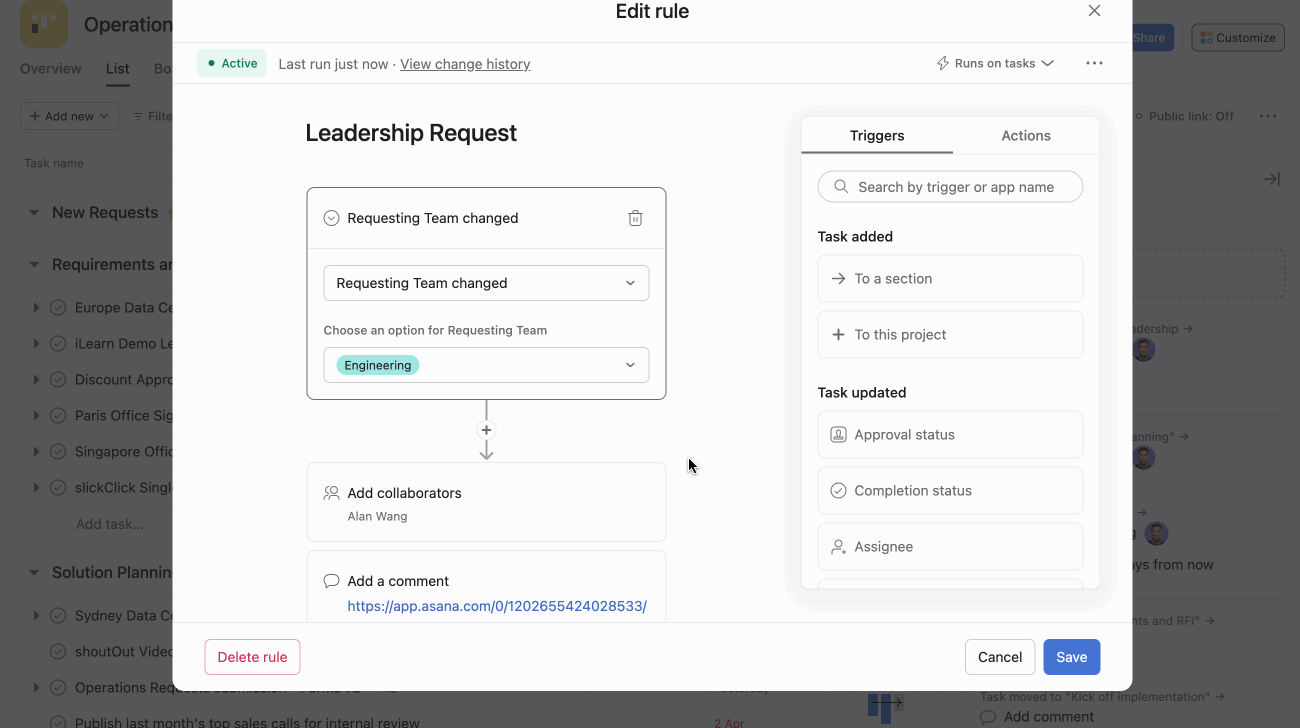 Rules are available for customers using Asana Premium, Business, and Enterprise.
Streamline your work with forms
Another way of using custom fields and rules to streamline your workflow is by combining them with forms.
Create a form that other departments can use to submit requests and incorporate custom fields within that form. Then create rules with those custom fields to move things forward in your workflow automatically.

For example, creative teams can assign a request to a specific person every time the custom field Asset type is Video.
Forms are available for customers using Asana Premium, Business, and Enterprise.
You can use bundles to apply a combination of rules, fields, sections, and task templates to multiple projects simultaneously.
Visualizing projects for effective planning with timeline view
When it comes to project planning, using timeline view to visualize your project's schedules, dependencies, and deadlines allows you to gain a clear overview of your project's progress and manage resources efficiently.
By looking at dependencies on your timeline, you can see which tasks are blocking others and pinpoint bottlenecks. You can then reschedule due dates manually or choose one of the date-shifting options.
With timeline view, you can quickly identify which tasks haven't been scheduled, i.e., tasks with no due dates, and schedule them. This is particularly useful as it lets you promptly schedule these tasks, ensuring no crucial elements are overlooked. Another great way of identifying tasks in timeline is by using color. You can use Asana's default setting or your custom fields' colors for your project's color logic.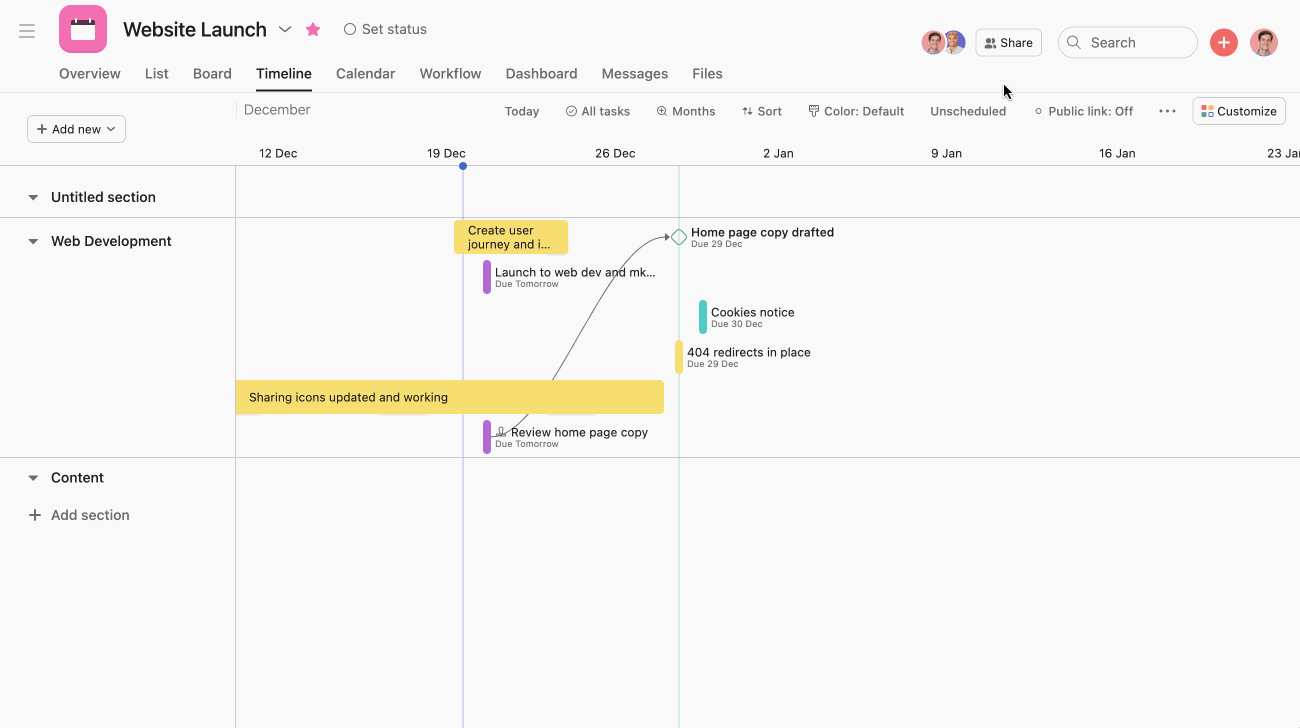 To optimize your project planning process, consider leveraging critical path on timeline. Critical path will show you which tasks are crucial to complete your project. It notes roadblocks to help you manage the project timeline.
Timeline view is available for customers using Asana Premium, Business, and Enterprise.
Critical path is available to all Asana Business, and Enterprise customers.
Connect tools and coordinate work with Asana's native integrations
Asana seamlessly integrates with numerous popular tools, such as Zoom, Slack, Microsoft Teams, Gmail, and more. These integrations enable teams to connect Asana with their existing workflow and collaborate effortlessly across multiple platforms.
Integrations will help you maximize your productivity and keep you connected with external and internal stakeholders. For example, you can use our Gmail integration to create tasks directly from an email. These tasks will contain all the information from your email, including attachments; this is great, especially when working with external stakeholders.
Another great tool is Slack. With our Slack integration, you can take ideas from conversations happening in Slack and transform them into actionable tasks in Asana, preventing work from falling through the cracks.
Connecting your everyday tools will make coordinating work and keeping everyone on the same page much more effortless, enhancing collaboration and clarity between teams.
You can even take it a step further and combine integrations with rules.
Seamless adoption and intuitive user experience
Whether you're a small team or a large organization, implementing Asana is a smooth and intuitive process.
Quick setup
When setting up Asana, you'll be guided throughout the entire process by clear instructions and prompts. As you're guided through these initial steps, you can tailor Asana to your needs, allowing you to create projects and tasks that match those specific needs. The area of each employee, but also the individual projects, are very customizable, regardless of the role of the employee or the use case.
User-friendly interface
Asana's interface is designed with simplicity and ease of use in mind. The clean and intuitive layout makes it easy for new users to navigate and understand Asana's functionalities. The interface promotes a straightforward and streamlined user experience, ensuring a minimal learning curve for teams transitioning to Asana. Teams can later adapt their processes and projects themselves, saving time and costs.
Like what you see? Get started with a free 30 day Asana trial today. Try for free