Maximize your productivity with Asana My Tasks
In this article, we'll explore the various features and strategies to help you optimize your My Tasks in Asana, from creating sections and automating tasks with rules to using custom fields and selecting the perfect view for your needs.
Sign up here if you would like to join a live training session on personal productivity, where a member of our team will guide you through the content and address any questions you may have.
What is My Tasks?
My Tasks brings your to-do list into one centralized location and helps you prioritize tasks effectively by connecting your work with your to-do's.
Think of it as your personal to-do list, where you'll add all the tasks you have scattered around in different places (maybe even in your head or written down on a sticky note). My Tasks is your single source of truth for the work that needs to get done and where you will find all of the tasks assigned to you.
Prioritize your to-do's
Start by adding all of your to-do's to your My Tasks, and make sure you start the task title with an action verb—for example, Draft campaign brief or Create visual assets.
Give these tasks a due date so you and the stakeholders you're working with know when they should be completed; this will help you prioritize them.
Link your tasks to relevant projects; this helps you connect the work you're doing. For example, you can add your Draft campaign brief task to the Seasonal marketing campaign project.
Stay on top of your work by checking your My Tasks on a daily basis. This way, you won't miss out on any new tasks assigned to you or tasks with approaching deadlines.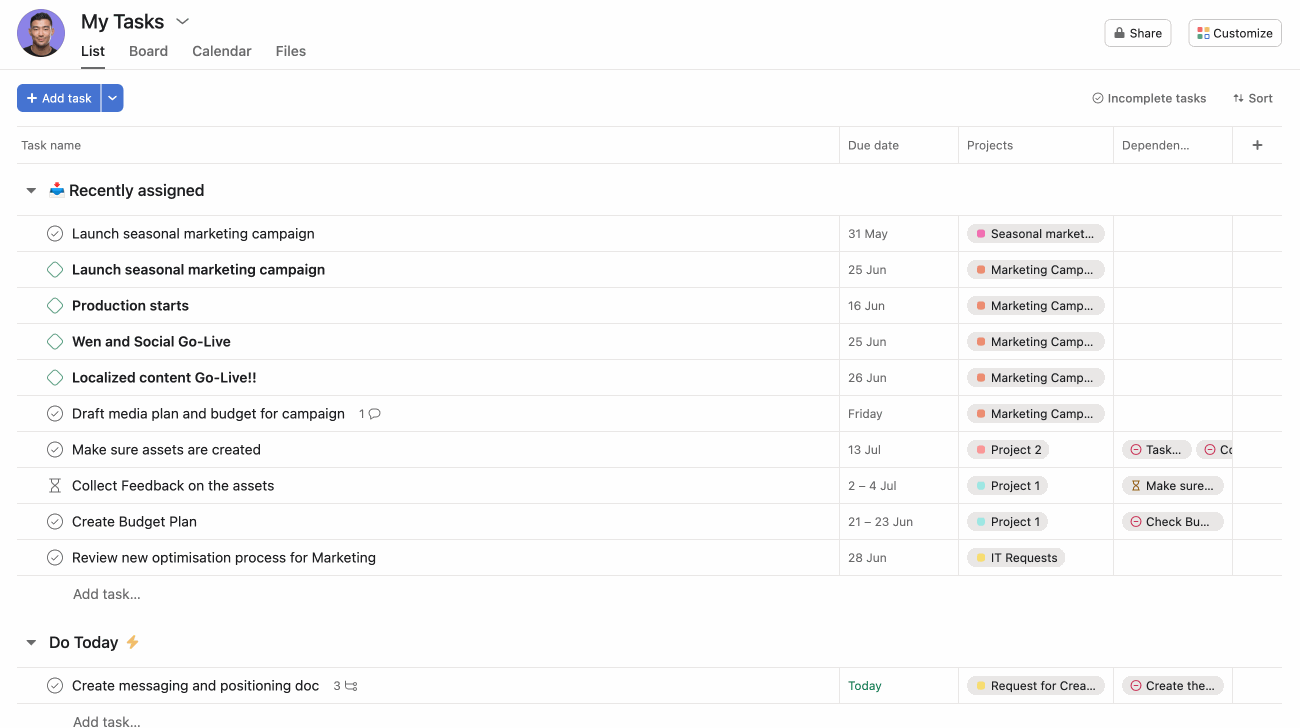 Once you have all your to-do's in My Tasks, you can sort your tasks by due date, project, or within sections and by due date.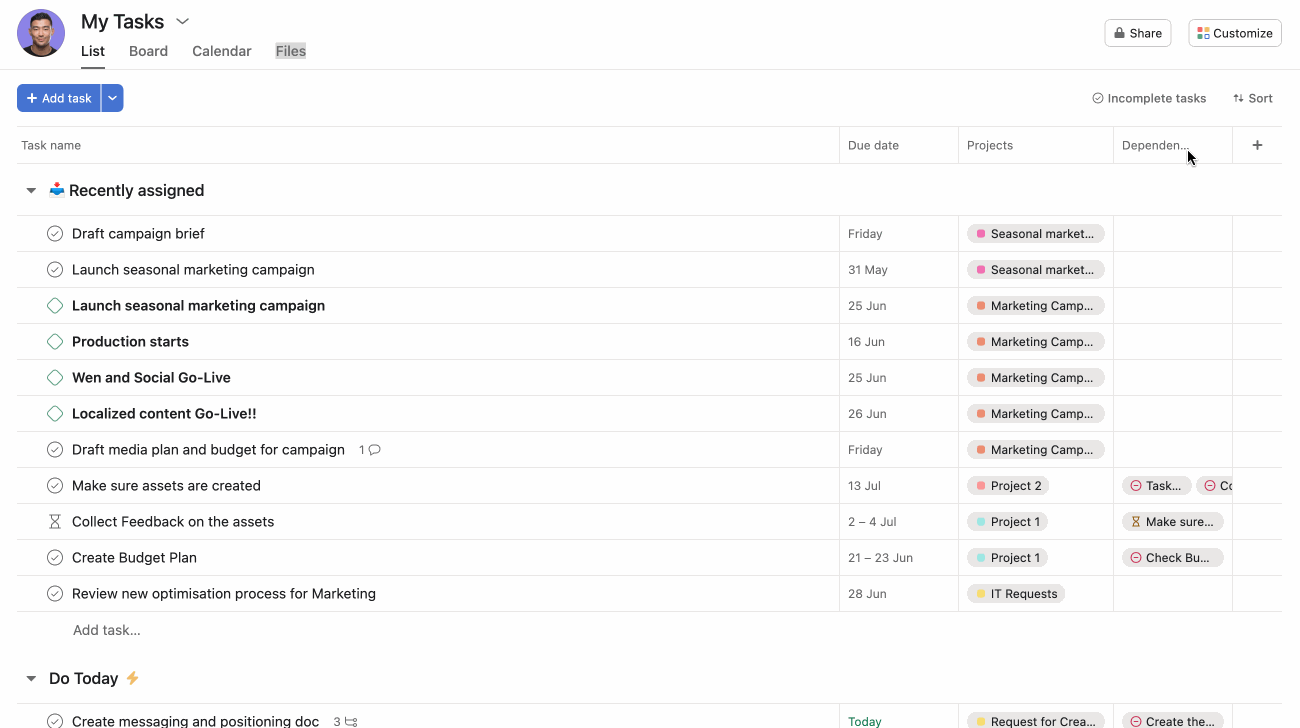 Organize your My tasks
Create your own sections
Everything in My Tasks is, by default, assigned to you, and all new tasks assigned to you will automatically go to your Recently assigned section.
Create your own sections to categorize your work as best suits your needs. Once you've created your own sections, you can drag and drop tasks to these sections.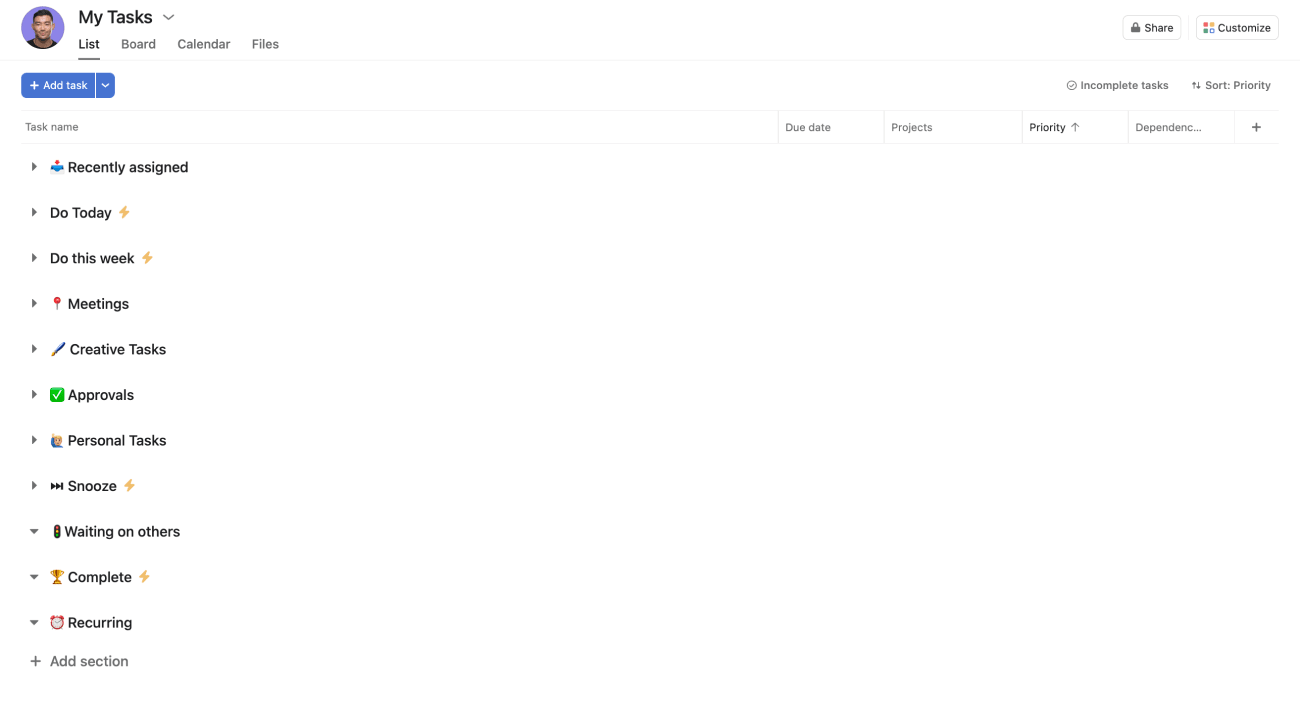 Here's an example of how your sections could look like. You can add as many or as few sections as you prefer. You can start with these simple three: 'Do Today,' 'Do this week,' and 'Later.' You can always iterate on your sections over time based on your needs.
Sorting and filtering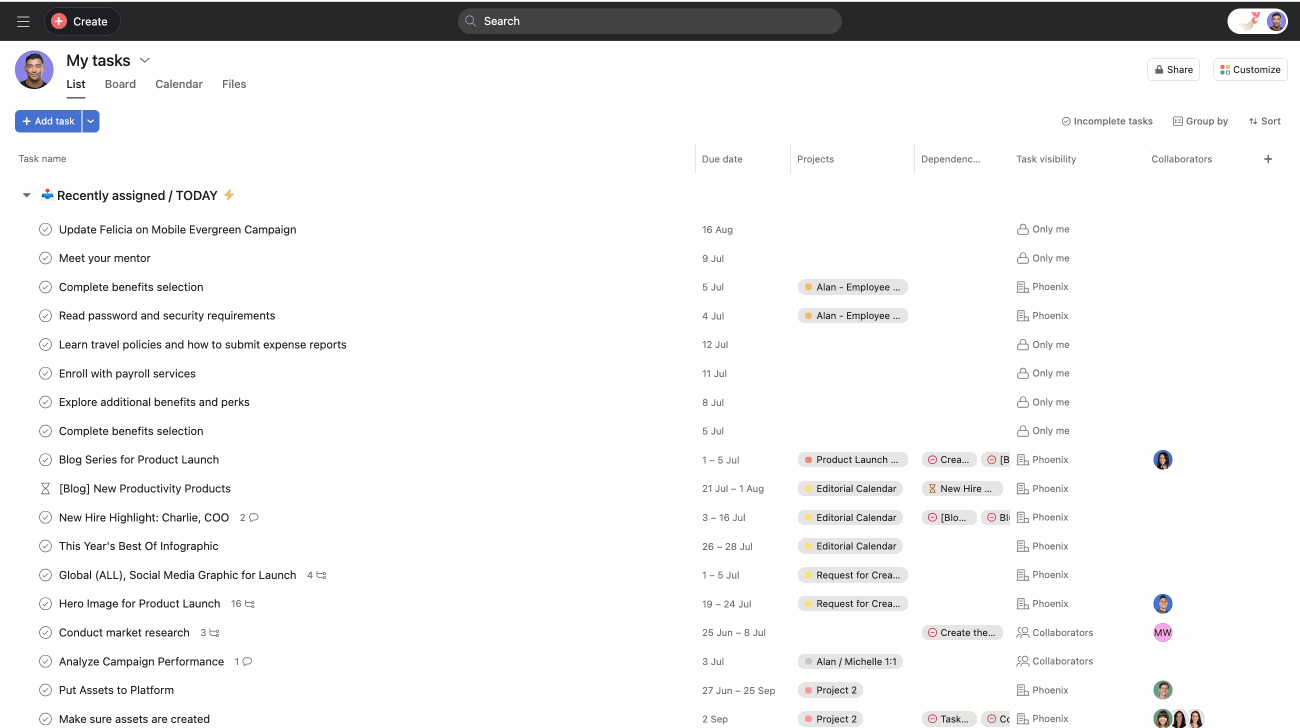 You can sort your My Tasks by start date, created on, last modified on, likes,or alphabetically, you can also group by due date, project, created by and custom sections. Using Sort or Group by while in list view will keep your tasks grouped by section and will sort the tasks inside those sections. However, in board view, the sections never change or go away and tasks are always sorted within sections.
Automate your My Tasks with rules
Using rules will help you automatically move tasks to sections depending on specific criteria. For example, you can set a rule that moves tasks to your Do Today section by using the trigger Due date is approaching and the action Move task to a certain section.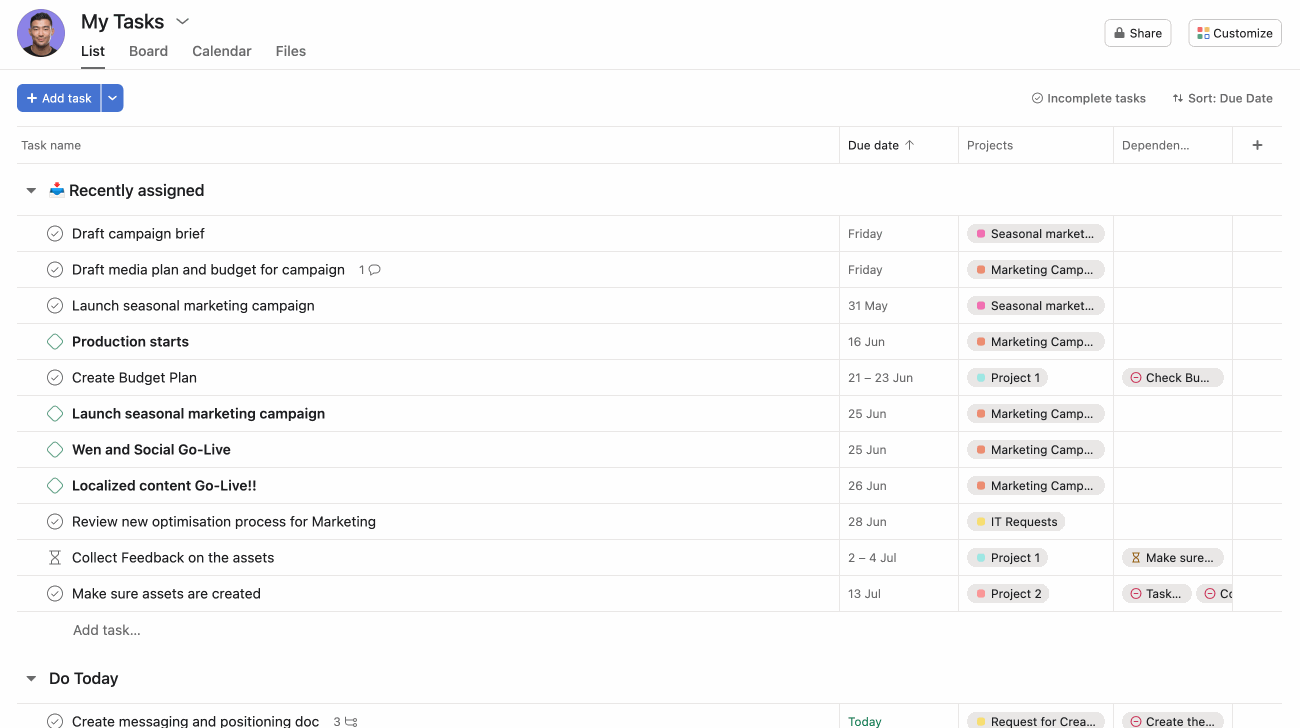 Once you create the rule, a lightning bolt will appear next to the section.
Note: These rules will run between midnight and 1 am, so you won't see it action immediately.
You can create a Snooze section to add all the tasks that can be pushed back. Create a rule that changes the due date to one week later every time you add a task to the Snooze section.
Use custom fields to prioritize tasks
Create custom fields in your My Tasks to sort your tasks and track work according to your needs. For example, you can create a Priority custom field and view your high priority tasks at the top of your list.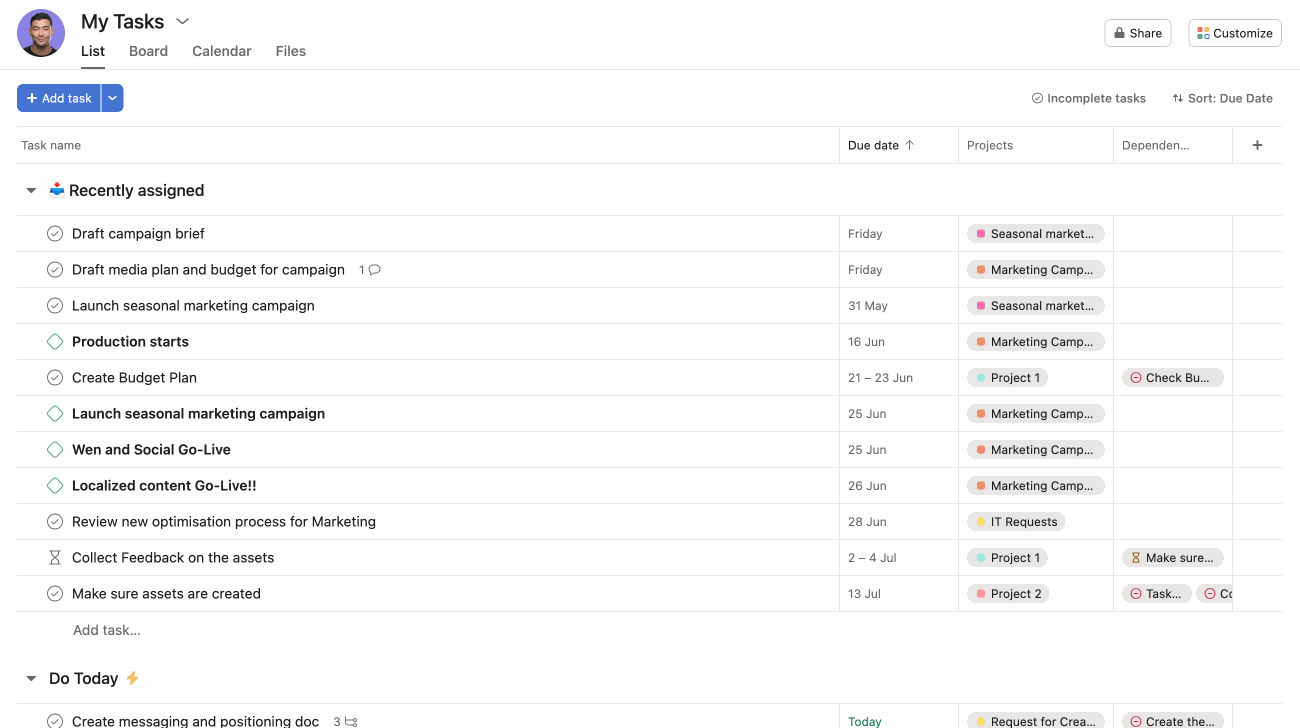 Choose a view that works for you
You can view your tasks in a list, board, and calendar view. A list view will organize your tasks in a list template. If you prefer a more visual overview, you can use board view, where you can view tasks like sticky notes on a Kanban board. A calendar view can help visualize your tasks due that week or month.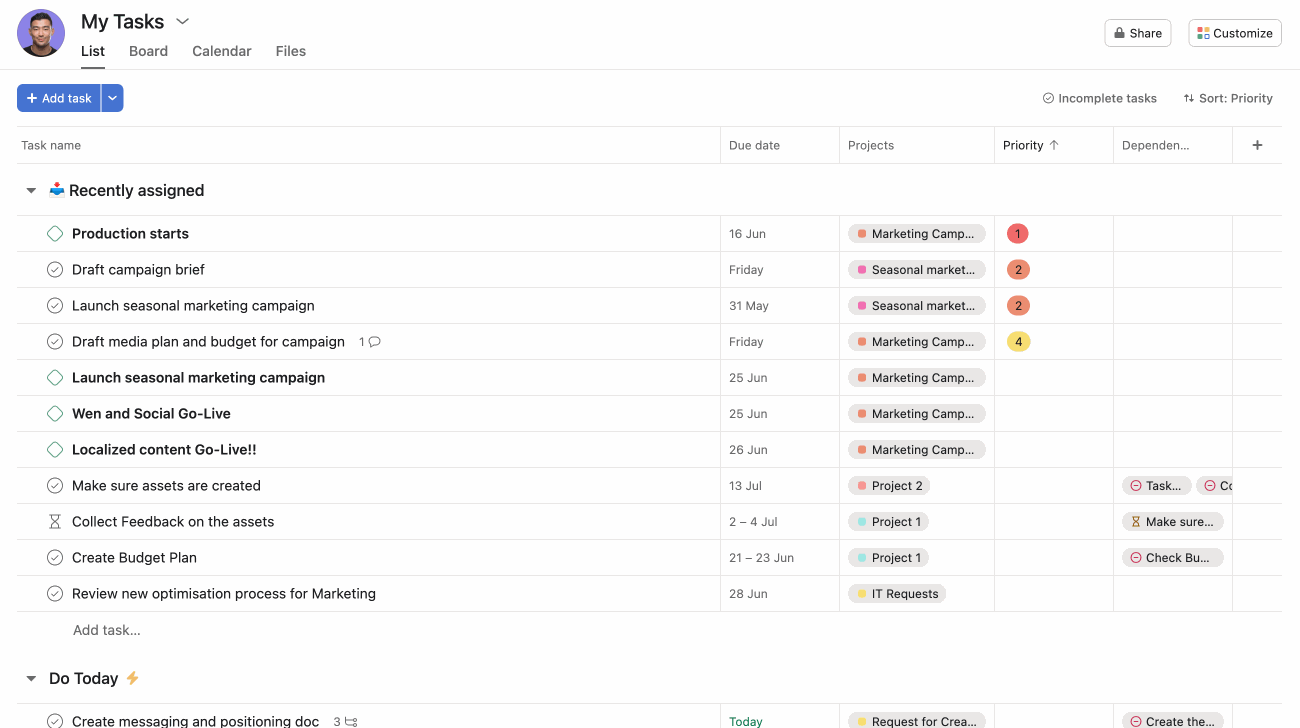 Schedule your tasks
Plan ahead
At the start of your week, review your My Tasks and determine what tasks are due this week and the next few weeks. This way, you can plan ahead and complete your tasks before their deadline.
Sometimes, one task may be days worth of work. If this is the case, we recommend you divide it up into smaller chunks of work. A way of doing this is creating subtasks for this bigger task.
Block time for tasks
Block time in your calendar to take care of tasks that require 30 minutes or more of your time. When doing so, make sure to create an event in your calendar with the same title as the task. You can also add the task link in the event's description.
You can use the Clockwise integration to schedule your tasks into your calendar without leaving Asana. Once you've set up the integration in your project, click Schedule task on calendar from your task, and Clockwise will reserve time in your calendar.
Note: Clockwise is only available with Google Calendar.
Task privacy
Any task created in your My Tasks is automatically private to you. However, if you link projects to this task, the task becomes visible to members of that project.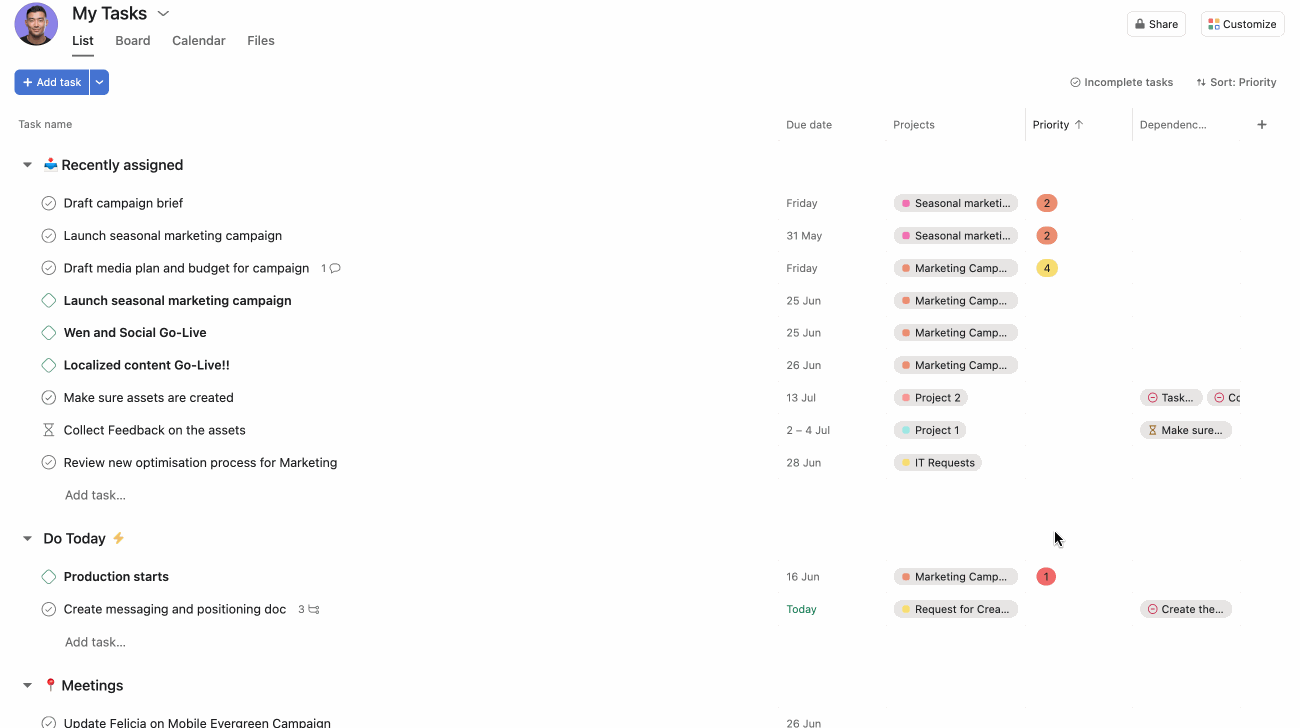 In this example, you can see it says This task is private to you at the top of the task. You can make this task public by clicking the Make public button. If the task is added to a project, then the task will be visible to task collaborators and project members.
If you want to link a task to a project without making the task visible to others, you can @mention the project in the task description.
Understanding inbox notifications
Different types of notifications
Your Inbox is your notification center; here's where you'll find the latest news on what's going on in your organization. My Tasks, on the other hand, is where you'll find the tasks specifically assigned to you.
When you go through your inbox, you'll notice different notifications. Some of these are FYIs and can be archived right away. Other notifications can require follow-up tasks. For example, you can create a follow-up task to read a status update later. Follow-up tasks are private unless you add them to a project other people are members of.
You'll receive inbox notifications when tasks are assigned to you. However, you can already find them in your My Tasks. Just make sure that when you get assigned a new task, there's a due date before archiving them.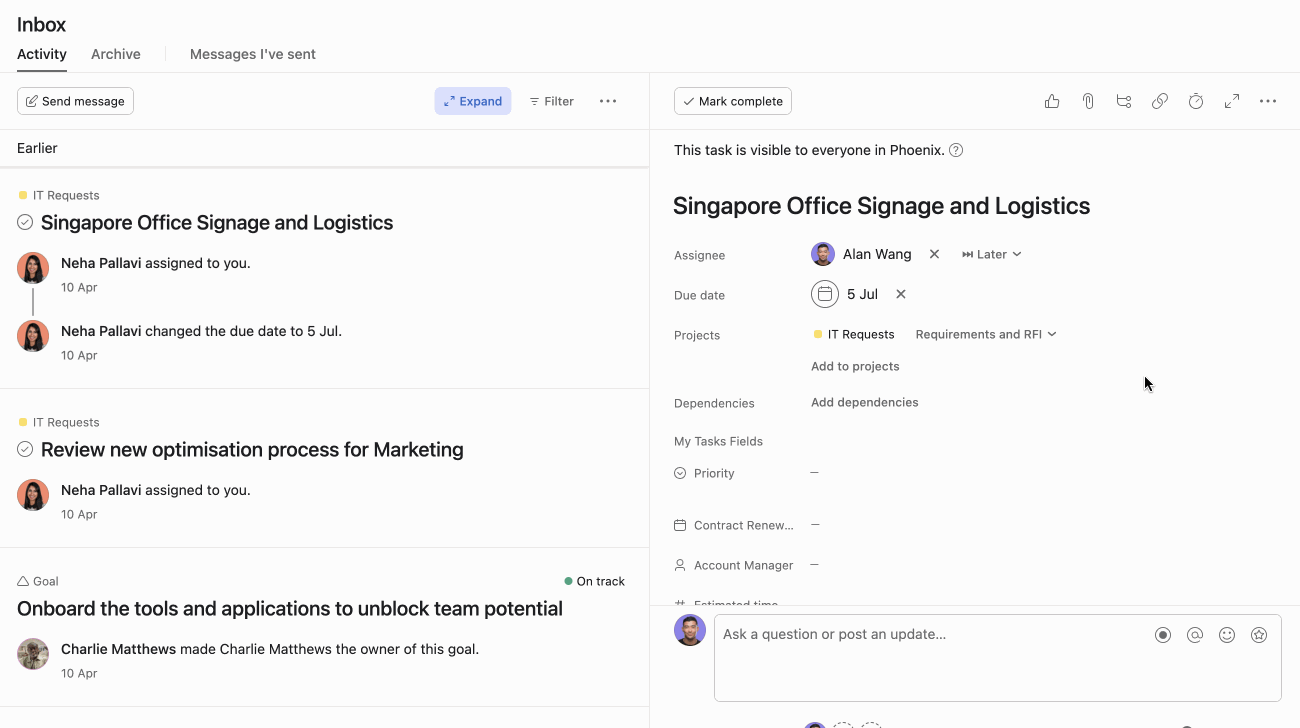 Like what you see? Get started with a free 30 day Asana trial today. Try for free
Customize your notifications
Customizing your notifications will allow you to reduce noise and have a cleaner inbox. For example, you don't need to receive a notification every time a new task is added to particular projects.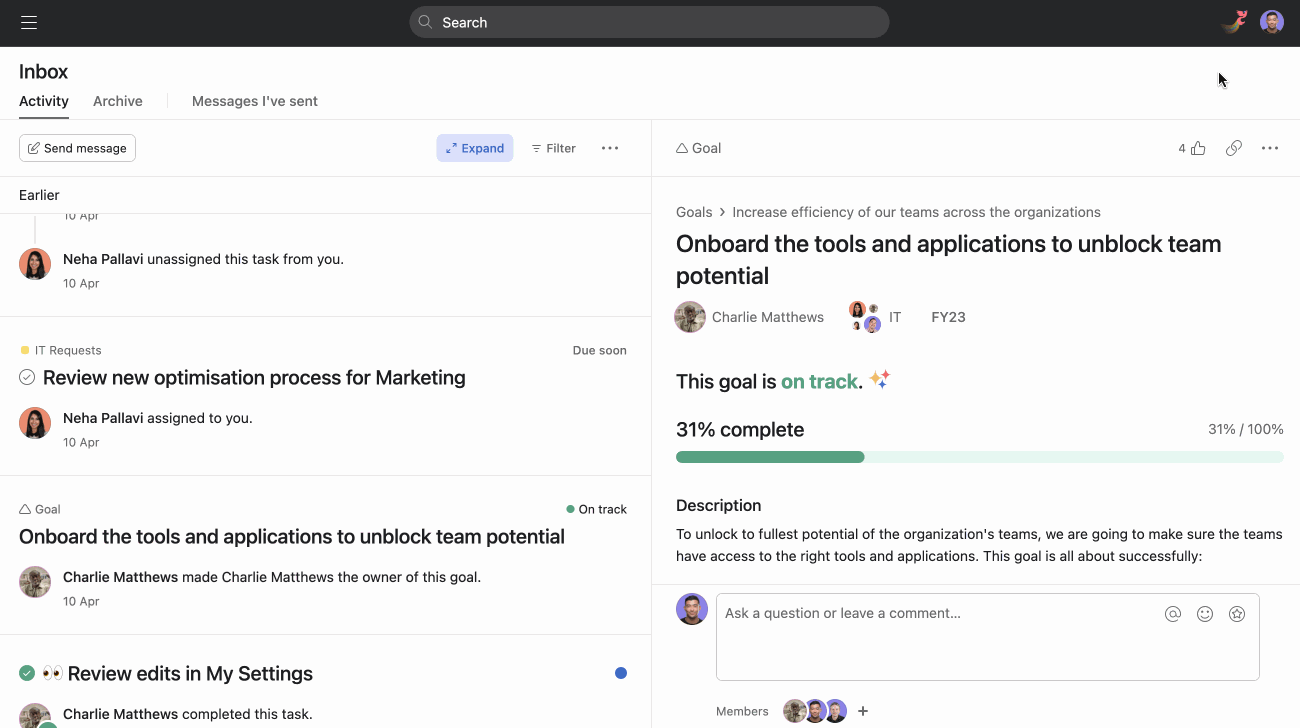 To manage your notifications, navigate to My Settings, click the Notifications tab, scroll down, and click Manage individual projects. From here, you can manage your notifications for every project you are a member of.
Add this toolkit to your Asana instance directly to discover more productivity resources. You can even join our 20-day productivity challenge if you'd like to keep using Asana to be more efficient in your day-to-day.