What is Bynder?
Bynder is a digital asset management platform that helps you automate your asset optimization process.
Why Bynder + Asana?
The Bynder + Asana integration allows teams to add Bynder assets to Asana tasks so that collaborators can track related work. Instead of repeatedly copying and pasting links between tools, linking Asana and Bynder drives seamless visibility and collaboration.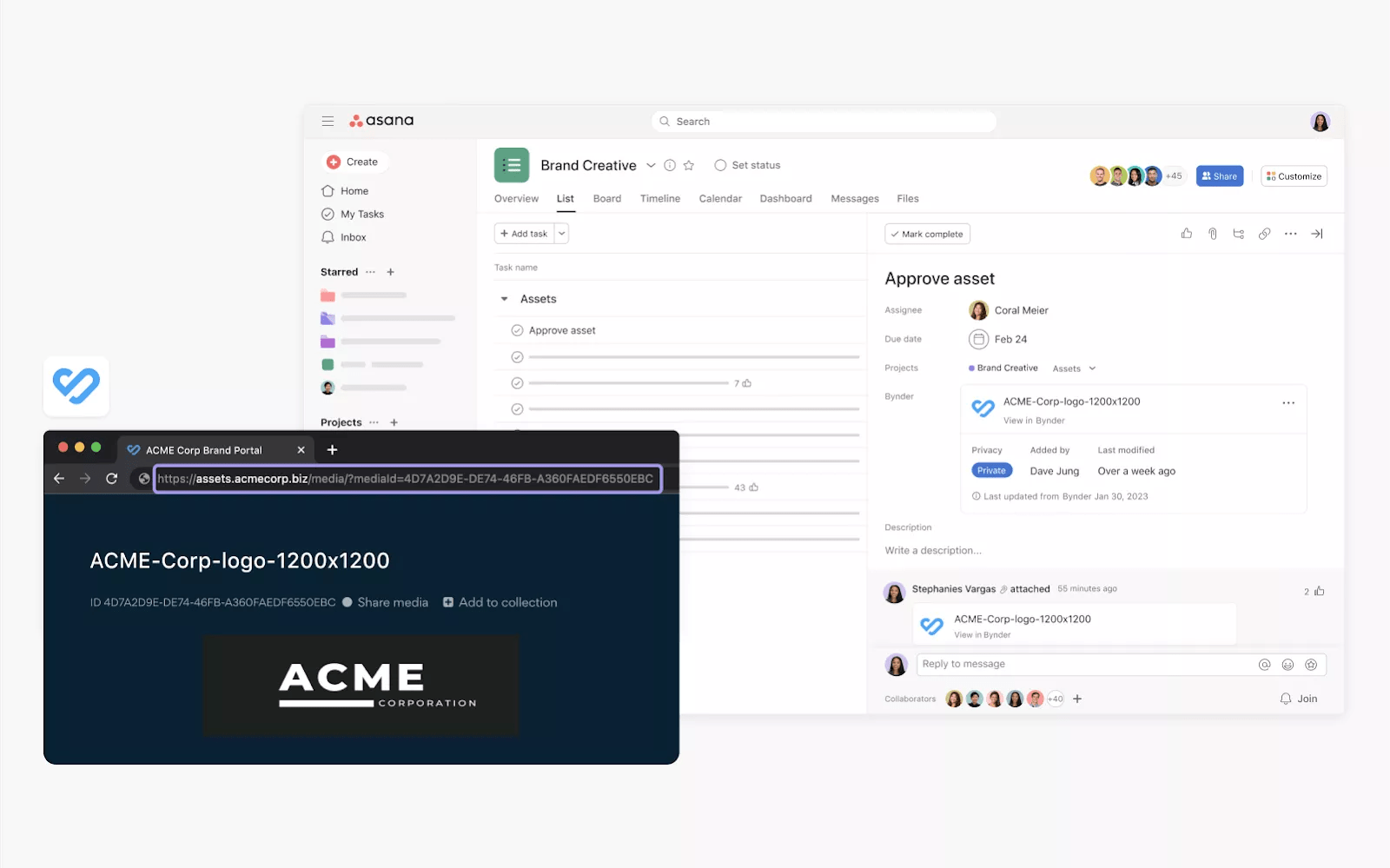 For example, teams can collaborate on campaign asset approvals in Asana and, following approval, add the Bynder asset to the Asana task as a widget. This makes it easy for collaborators to see the asset name, last modified date, public or private status, and follow the asset link path, all from one location in Asana.
How to connect Bynder + Asana
Here's how to attach a Bynder asset to an Asana task:
Log into Asana, and find the project where you want to enable the Bynder widget
Click on Customize in the upper right-hand corner
Scroll down to the Apps section, then select +Add app
Select Bynder
Click Add to project and follow the steps to connect Bynder to Asana
Navigate to an Asana task in the project
Link a digital asset to the task by clicking the Add Bynder asset button on the Bynder field at the top of the task details pane
Insert the URL for the relevant Bynder asset
Attached Bynder asset details will appear as a widget in the task pane
Note: This integration is already built into Asana, but you need to sign up for a Bynder account to get started.
Learn more and get support
To learn more about using the Bynder + Asana integration, visit the Asana Guide.
If you have questions, feedback, or need support, contact the Asana Support team.
Collaborate effortlessly with Asana
From the small stuff to the big picture, Asana organizes work so teams know what to do, why it matters, and how to get it done. It's free to get started, simple to use, and powerful enough to run your entire business. Learn more about Asana today.