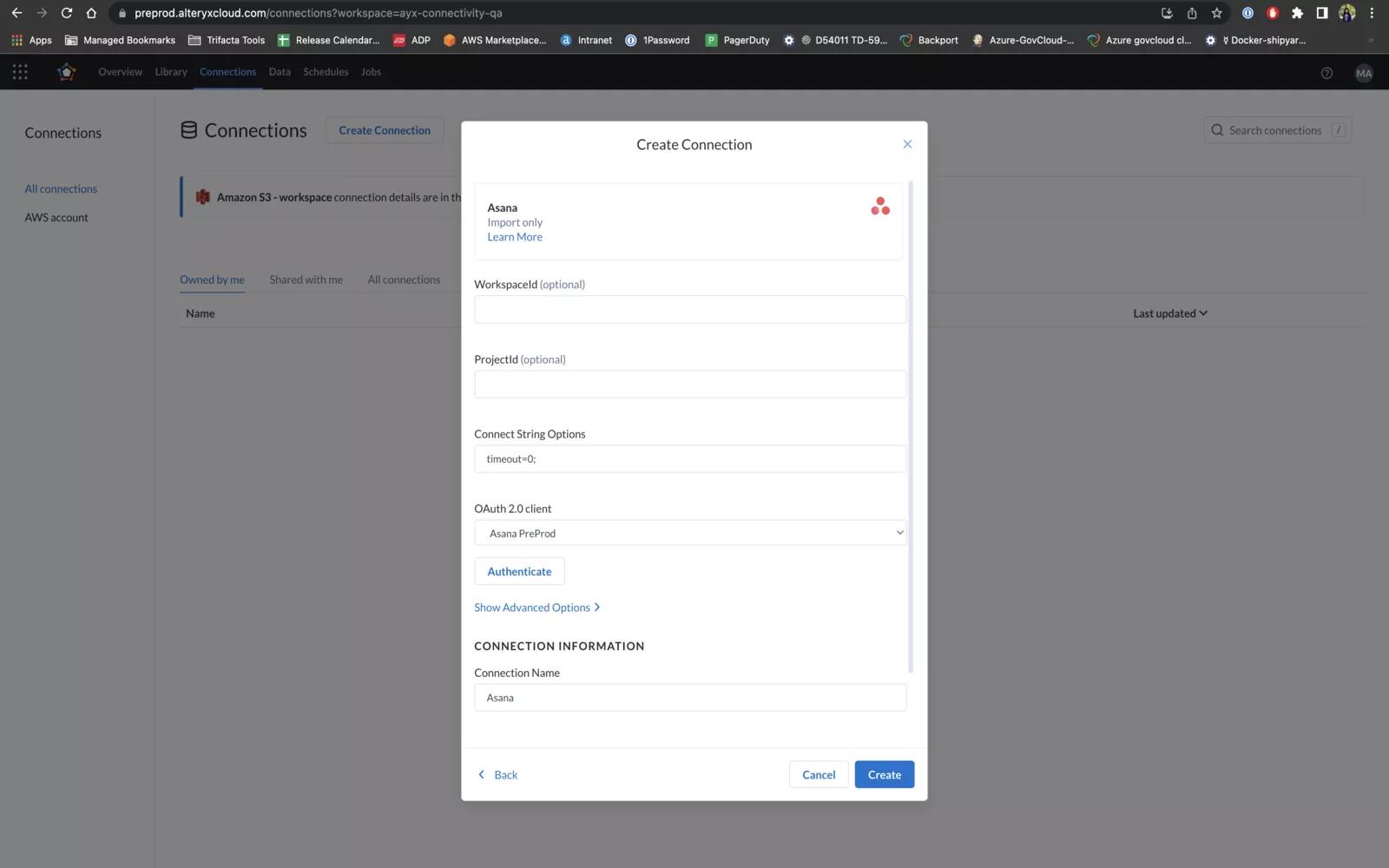 Why Alteryx Cloud PreProd + Asana?
Alteryx Designer Cloud is an intuitive cloud solution that empowers enterprises & data professionals to blend disparate data for faster results. Using repeatable drag-and-drop workflows on a visual canvas, you can quickly import data from (and also publish to) multiple systems to profile, prepare, and blend all of your data without having to write code or custom scripts. You can develop data pipelines to run on auto-pilot across all major cloud data warehouses
Get Alteryx Cloud PreProd + Asana
Account registration:
1. Go to this link https://preprod.alteryxcloud.com/register
2. Make sure to register with work email id
3. After validating all the field, choose Sign Up.
App Setup Instructions:
1. Once logged in, navigate to the "Connections" page
2. Click on "Create Connection" and search for "Asana (Early Preview)"
3. While logged into your Asana account, click on "Authenticate"
4. Authorize the app and accept the permissions by clicking on "Allow"
5. Once the authentication is successful, click on "Create" to create a connection
6. Navigate to the "Data" page and click on "Import Data"
7. Choose "Asana" and import the necessary data as required ( Example: Projects,Tasks,etc ). You can also preview the data before importing by clicking on "Eye shaped Icon"
8. The imported data can now processed with the help of workflows
Learn more and get support
If you have any inquiries or require additional support for the Alteryx Cloud PreProd integration, please check out their support page.
Alteryx Cloud PreProd Privacy Policy
For the integration's privacy policy, please visit the page here.
This app integration is built by a third-party developer. Asana does not warrant, endorse, guarantee, or assume responsibility for this integration. Contact the app developer for details and support.