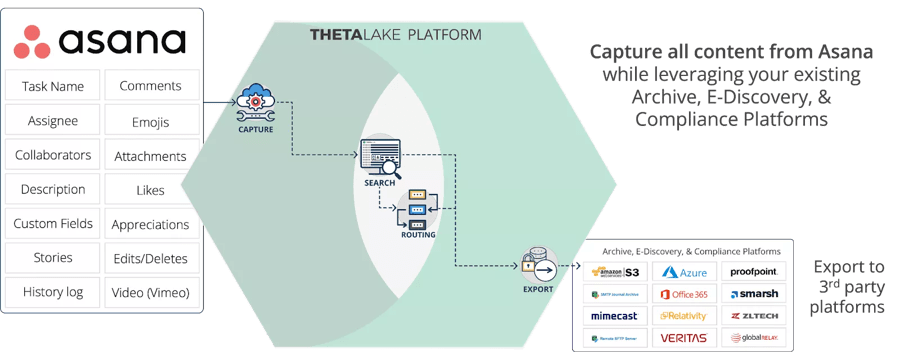 What is Theta Lake?
Theta Lake is an industry-leading security and compliance platform, purpose-built to provide SEC 17a-4 compliant archiving, eDiscovery, and data leakage detection for modern collaboration and project management tools.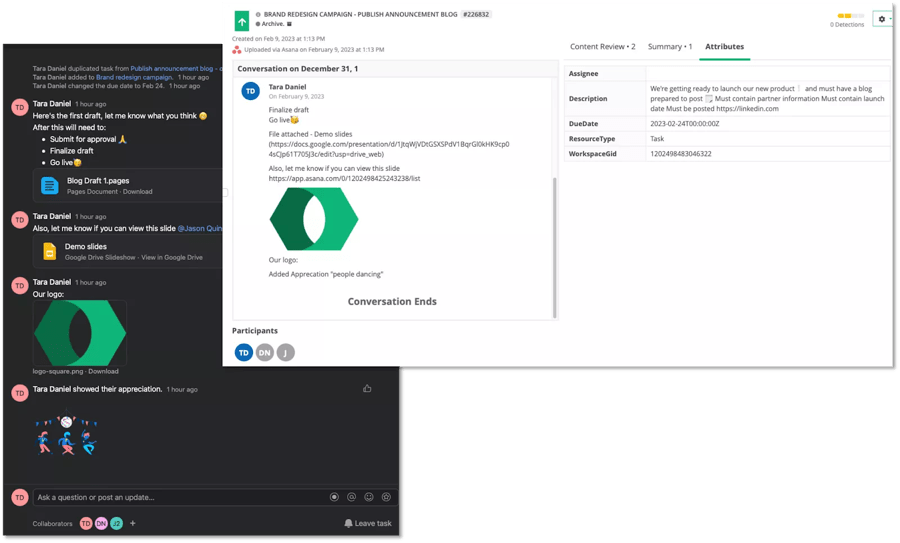 Why Theta Lake + Asana?
Theta Lake enables compliance, legal, and risk teams to securely capture, retain, retrieve, and review team communications in Asana.
Preserve the full context of communications taking place in Asana tasks, attributes, and comments, including visual content (images, emojis, reactions, videos), links, shared files, and more. Leveraging AI and machine learning, Theta Lake offers 90+ built-in policy detections to flag regulatory, data loss, HR, and corporate compliance risks in text-based and visual content.

With enterprise-class search, reporting, and case management features, Theta Lake eases the burden of managing collaborative communications, helps firms meet regulatory record-keeping requirements, and simplifies legal hold requests.

Already have an existing archive of record? No problem. Use Theta Lake's Archive Connector to capture rich Asana collaboration content and share it with your email archive.
How to connect Theta Lake + Asana
Here's how to set up the integration:
The Asana super admin creates a service account and copies the token
In Theta Lake, go to Theta Lake portal > Policy > Content Source > Collaboration Platforms > Add New Integration
Search for and select Asana
Paste the token copied from Step 2 and click Connect
Name the integration and click Next
Choose either Save And Start or Save And Don't Start Yet
You will see a green banner pop up with the message Integration successfully created
Learn more and get support
To learn more about using the Theta Lake + Asana integration, visit the partner directory.
If you have questions, feedback, or need support, contact the Theta Lake team at partnerships@thetalake.com.
Asana does not endorse or certify apps built by third-party developers. If you encounter inappropriate content or behavior, please report it here. Otherwise, please contact the app developer for support.
Collaborate effortlessly with Asana
From the small stuff to the big picture, Asana organizes work so teams know what to do, why it matters, and how to get it done. It's free to get started, simple to use, and powerful enough to run your entire business. Learn more about Asana today.