Bring ideas to life with Lucidspark
Lucidspark is a virtual whiteboard where teams can bring their best ideas to life. With an infinite canvas and dynamic features, say goodbye to boring brainstorming sessions. Ideate with your team, organize thoughts, and determine the best course of action. Choose from hundreds of templates to guide you in your next team collaboration session, or start with a blank canvas and create your own.
Gain alignment and take action with Lucidspark + Asana
Increase team alignment and put ideas into action with a two-way sync between Lucidspark and Asana. With this integration, you'll be able to:
Collaboratively brainstorm ideas, then put those ideas into action by pushing tasks into Asana.
Stay aligned across the entire project workflow—from idea to reality.
Share information in context, so team members always have the information they need to move projects forward efficiently.
Key features:
Import tasks from Asana into Lucidspark to visualize project dependencies.
Convert existing Lucidspark shapes into Asana tasks.
Create new Asana tasks without leaving your Lucidspark board.
Embed Lucidspark boards into Asana tasks to add context directly where teams work.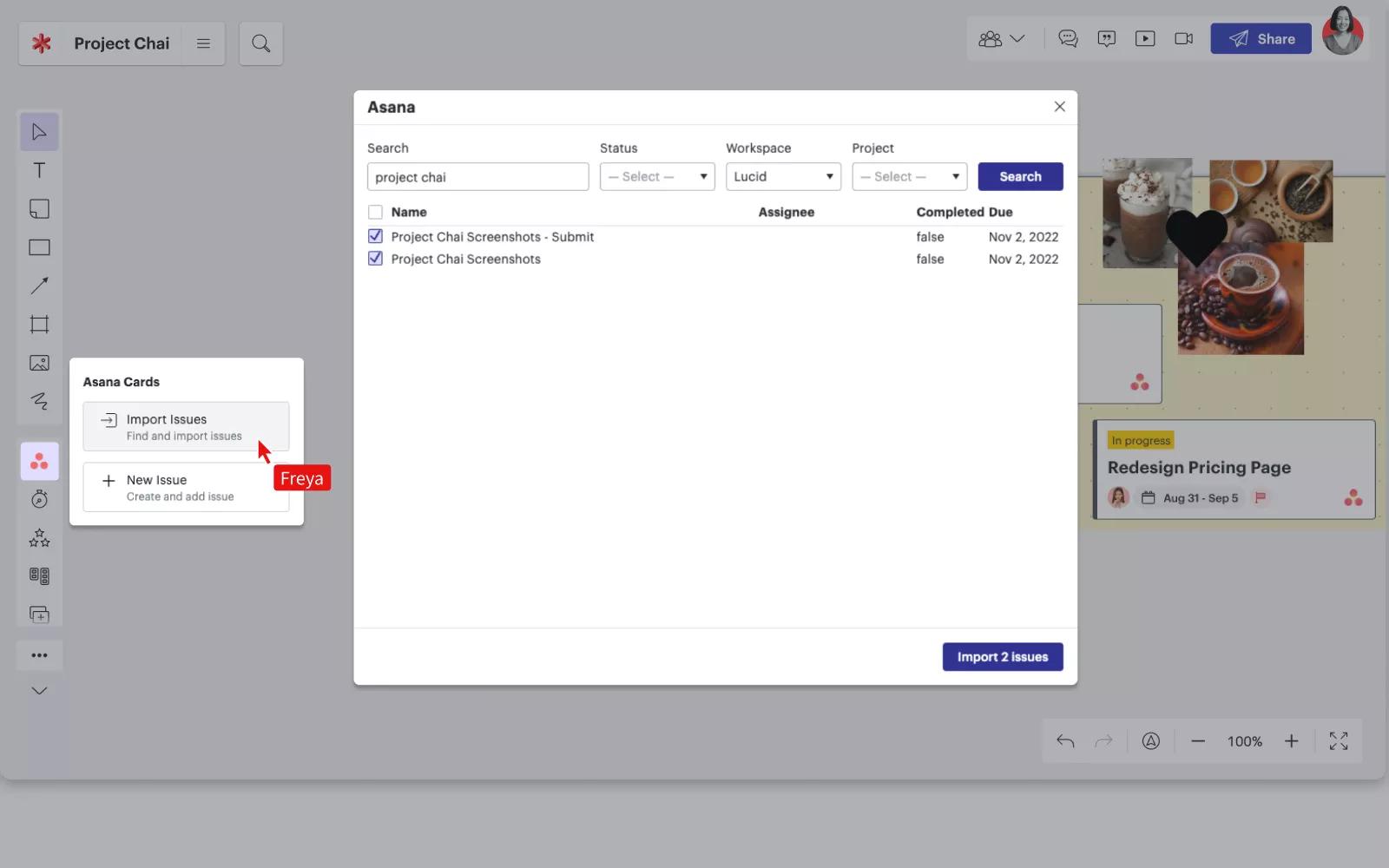 How to connect Lucidspark + Asana
To install Lucid Cards for Asana:
Log in to Lucidspark.
Select "Integrations" in the left-hand menu.
Find Asana and click "Start."
Click "Install."
The integration is now installed, but you'll need to authorize the integration to access task-related data in your Asana account.
To authorize the integration:
Open Lucidspark and Asana in the same browser.
Open a Lucidspark document and find Asana in the left-hand toolbar. You will likely need to select the "More tools" button in the toolbar to see your integrations.
Click the Asana icon in the Lucidspark toolbar and choose to either import tasks or create a task.
A pop-up will ask you to authorize with Asana. Clicking "Authorize" will redirect you to Asana to confirm the authorization.
After you accept, you're ready to use the integration.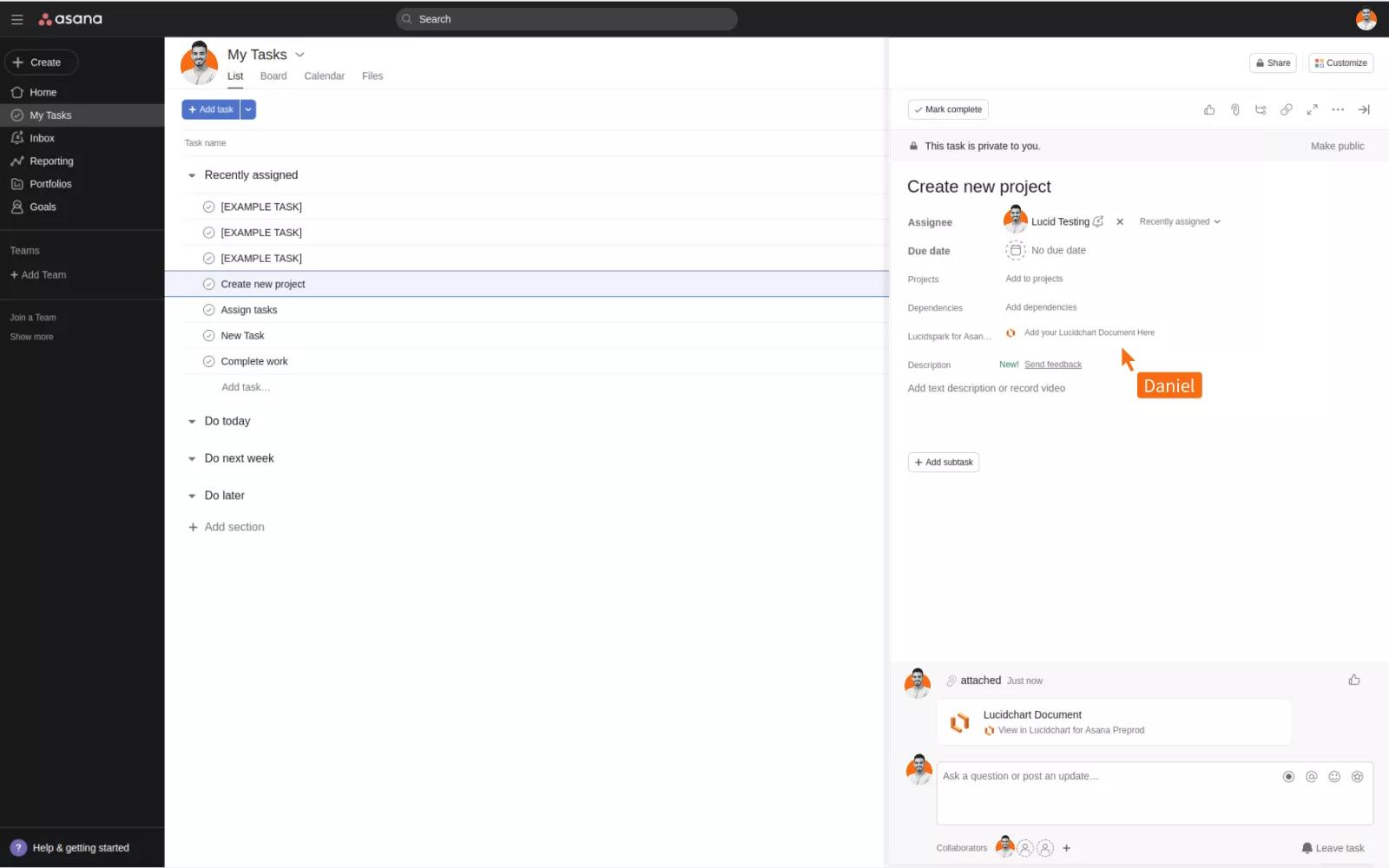 To install embed functionality:
To use this integration, you must have: An Asana Premium or Business account and a Lucid account
Install the Lucidspark app for Asana.
Select "Connect to Lucidspark for Asana."
Choosing to connect will redirect you to Lucidspark to log in and grant authorization.
After granting access, you will be directed back to Asana to enable Lucidspark for selected projects.
To attach Lucidspark boards to specific Asana tasks:
Open an Asana task in a Lucidspark-enabled project.
Look for the "Lucidspark for Asana" field.
Search for a Lucidspark board in the search bar, or select a board from the dropdown.
Learn more and get support
To learn more about using the Lucidchart + Asana integration, visit Lucidspark.
If you have questions, feedback, or need support, visit the Lucidspark support page.
Asana does not endorse or certify apps built by third-party developers. If you encounter inappropriate content or behavior, please report it here. Otherwise, please contact the app developer for support.
Collaborate effortlessly with Asana
From the small stuff to the big picture, Asana organizes work so teams know what to do, why it matters, and how to get it done. It's free to get started, simple to use, and powerful enough to run your entire business. Learn more about Asana today.