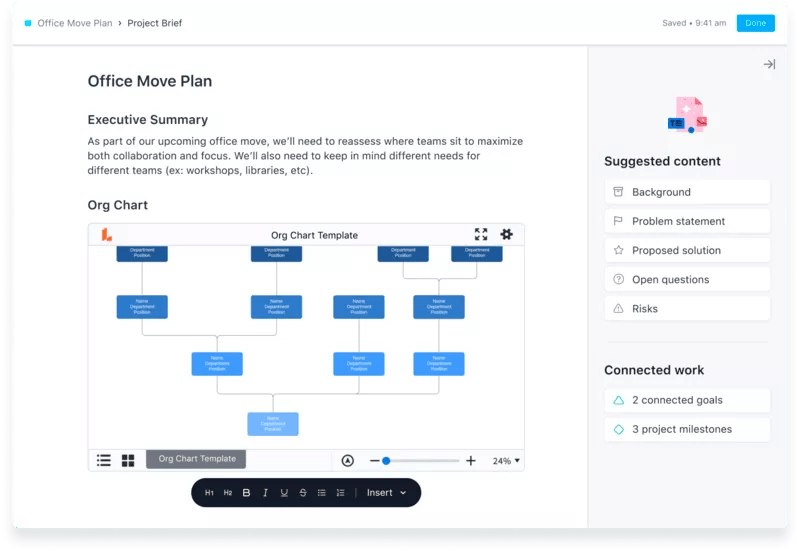 What is Lucidchart?
Lucidchart is the intelligent diagramming application within the Lucid visual collaboration suite—it's the quickest and easiest way for individuals and teams to map out their organization's processes, systems, and people. Since it's cloud-based, you can work from anywhere, at any time, on any device or browser. This makes it easy to collaborate and align with teammates as you visualize complex ideas and bring those ideas to life. Empower your teams to clarify complexity, align their insights, and build the future—faster. Try Lucidchart today.
Why Lucidchart + Asana
With the Lucidchart + Asana integration, seeing becomes doing. Seamlessly embed diagrams, flowcharts, process maps, and wireframes into your Asana projects and tasks. Important project context is now right where you need it, and your teams have easy access to all the right information as they work—without switching between different applications.
How to connect Lucidchart + Asana
Here's how to set up the integration:
Embed Diagrams in Project Briefs
Open the Lucidchart file and copy the URL
In Asana, open the project where you'd like to embed a Lucidchart file
Go to the Overview tab
In the Key Resources section, click Create a Project Brief. If there's already a Project Brief, click anywhere on the title
When the Brief opens, click Edit on the top right
Click the place in the Brief you'd like to embed
Paste in the Lucidchart URL and a preview will expand below it
Alternatively, click the + icon to the left side of the line you're on and choose Insert Media. Paste the share URL into the box and click Embed link
Embed Documents in Tasks
To install embed functionality:
Install the Lucidchart app for Asana.
Select "Connect to Lucidchart for Asana."
Choosing to connect will redirect you to Lucidchart to log in and grant authorization.
After granting access, you will be directed back to Asana to enable Lucidchart for selected projects.
To attach Lucidchart boards to specific Asana tasks:
Open an Asana task in a Lucidchart-enabled project.
Look for the "Lucidchart for Asana" field.
Search for a Lucidchart diagram in the search bar, or select a diagram from the dropdown.
Click the diagram to attach it to the task.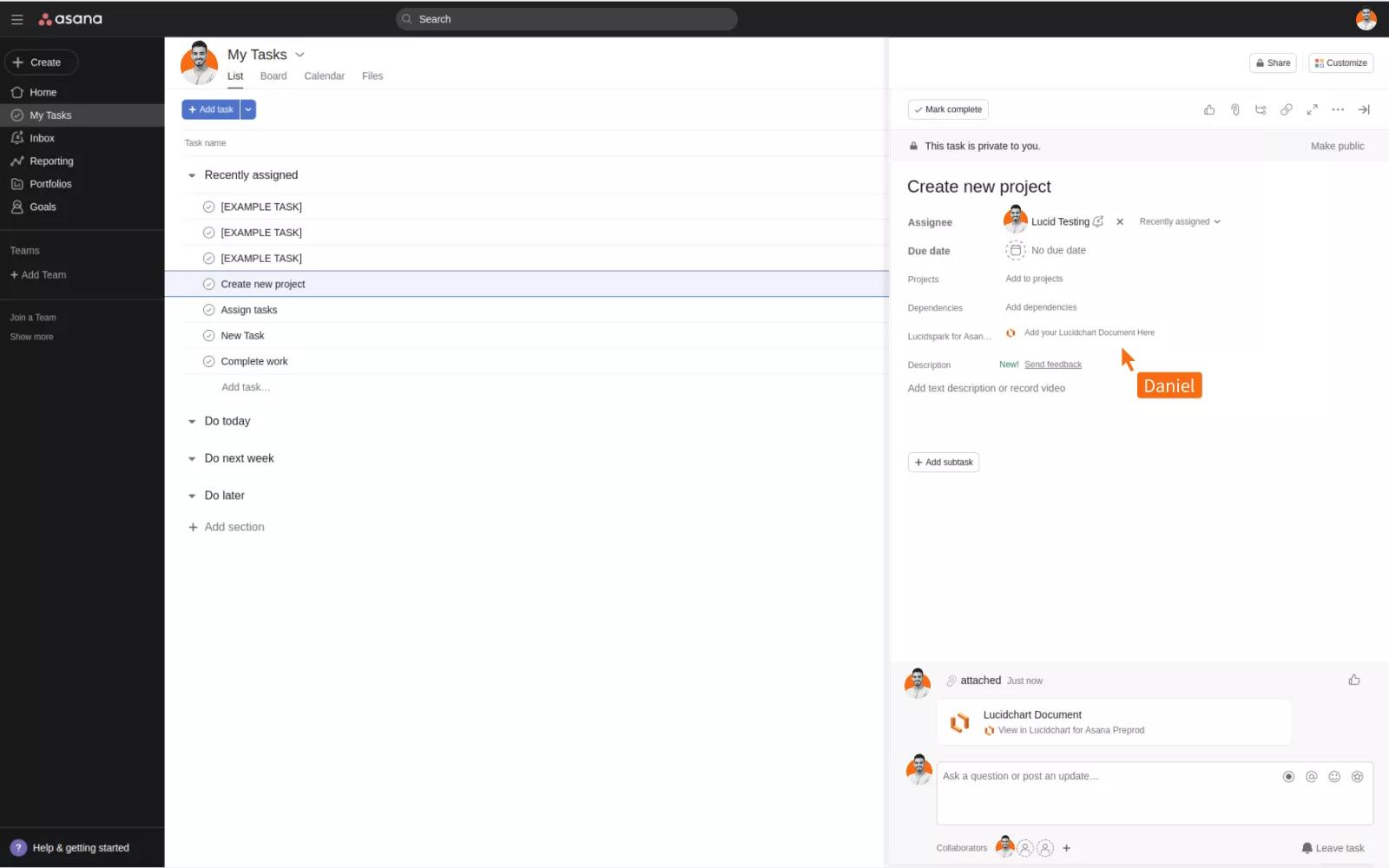 Learn more and get support
To learn more about using the Lucidchart + Asana integration, visit Lucid's help center article.
If you have questions, feedback, or need support, contact the Lucid support team.
Asana does not endorse or certify apps built by third-party developers. If you encounter inappropriate content or behavior, please report it here. Otherwise, please contact the app developer for support.
Collaborate effortlessly with Asana
From the small stuff to the big picture, Asana organizes work so teams know what to do, why it matters, and how to get it done. It's free to get started, simple to use, and powerful enough to run your entire business. Learn more about Asana today.