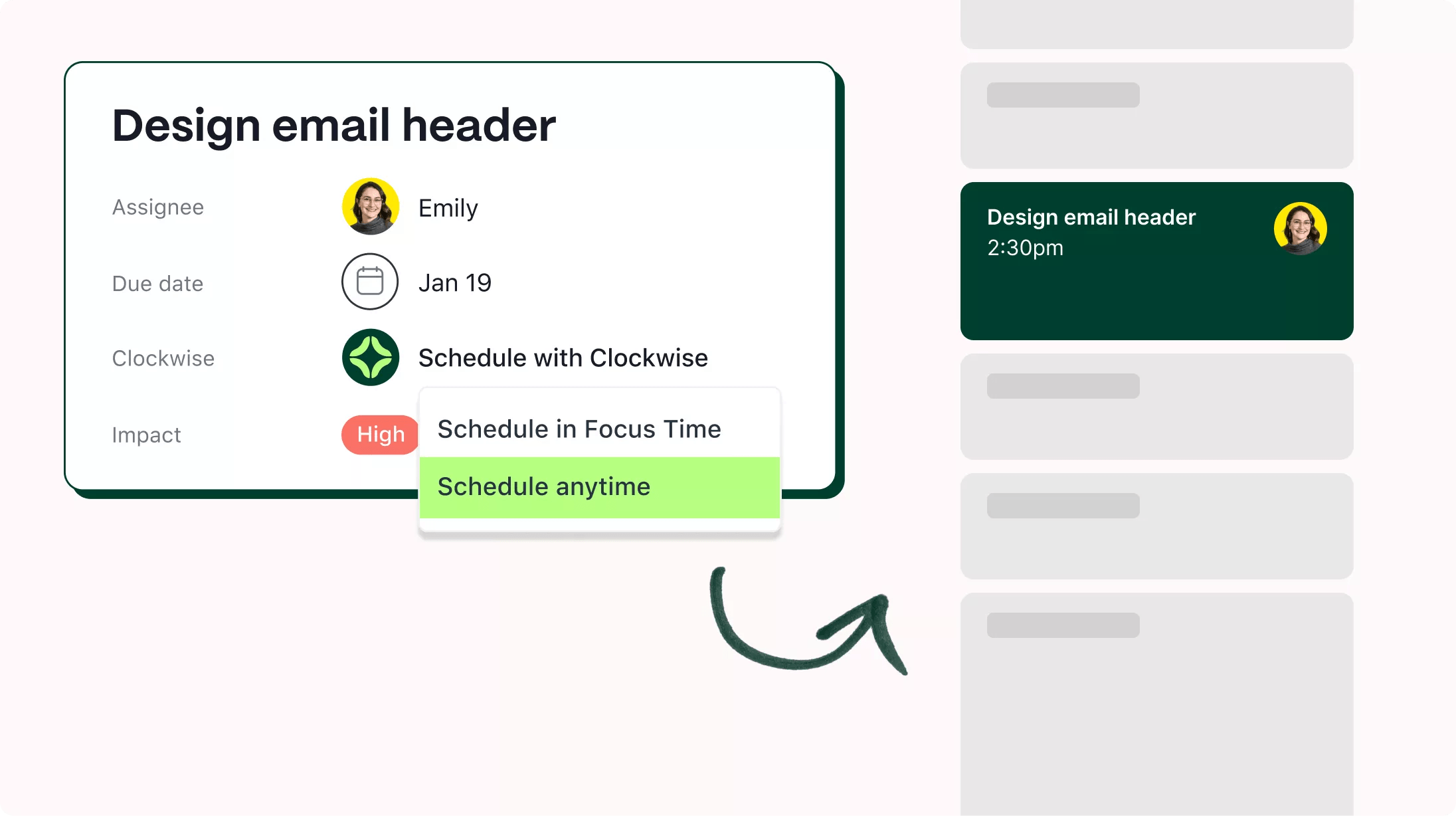 What is Clockwise?
Clockwise is an intelligent calendar assistant that is revolutionizing how teams spend their time. Clockwise creates Focus Time™—long uninterrupted blocks of time—to reduce distractions and increase productivity.
Add Asana tasks to your calendar
Install the Clockwise app to add tasks as time blocks to your Google Calendar.
Make time to get work done
Clockwise automatically optimizes your schedule to create Focus Time and helps you use that time to complete your tasks.
Flexible time blocking
Specify the duration of tasks, when they happen, and whether Clockwise can automatically reschedule them.
App integrations aren't just for projects. Add apps to your My Tasks to integrate with the tools your team uses most.
Get Clockwise + Asana
This integration is available to Asana users who also use Google Calendar. Here's how to set up the integration:
Go to the Asana project or to your My Tasks where you'd like to enable the Clockwise integration.
In the top right, click "Customize."
Scroll down to the bottom of the Customize menu and select "+Add app."
Select the Clockwise integration from the Add apps menu to add. If the Clockwise app has not previously been authorized in your domain, you'll be directed to authorize the app.
When prompted, sign in or select the Google account associated with your Clockwise account. If you do not already have a Clockwise account, sign in or select the Google account you wish to link to your Clockwise account. Personal Gmail addresses are not supported by Clockwise at this time.
If you already have a Clockwise account, you will be prompted to authorize the Clockwise ←→ Asana connection. Once this is done, you will see a message that you can return to Asana to use Clockwise to schedule time for your tasks.
Learn more and get support
To learn more about using the Clockwise Asana integration, visit the support page or email their team at support@getclockwise.com
This app integration is built by a third-party developer. Asana does not warrant, endorse, guarantee, or assume responsibility for this integration. Contact the app developer for details and support.