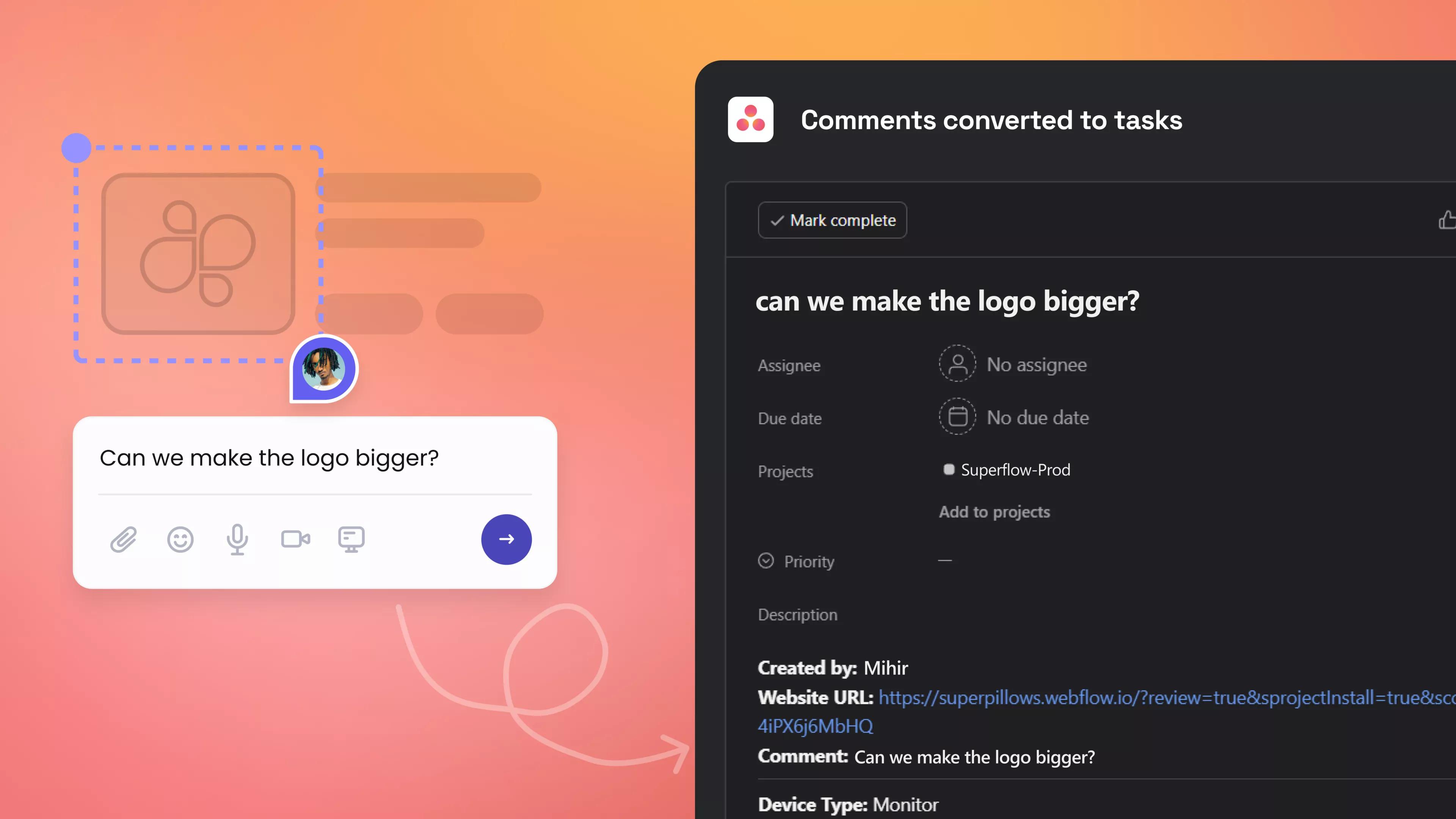 Why Superflow + Asana?
Superflow is the swiftest website annotation tool for marketing agencies, design, & development teams. You can provide website feedback and collaborate with colleagues directly on your live website.
Whether you need to leave pinpoint comments, area comments, highlight text to comment, arrow annotations, record audio, video, or screen-recorded feedback - Superflow provides users with a unique toolkit that serves the essence of website revision—the art of giving clear & concise feedback.
Teams use Superflow to help explain things directly on their website and can start live design reviews through live huddles or following along with flock mode. And when you need additional tools to improve your website quality, Superflow's AI Copilot can help you rewrite copy or give creative suggestions instantly.
Top Features:
Rich annotations: Leave contextual comments, area comments, highlight text comments, or draw arrows directly on your website.
Multimedia comments: Attach files, record your voice, show your face, or share your screen.
GPT4 AI Copilot: Use AI assistance for creative copy suggestions.
Live design reviews: Start a huddle, and guide with flock mode to give live design feedback.
Syncs with Asana: All comments are synced to your Asana project.
Get Superflow + Asana
To integrate Superflow with Asana, follow the step by step guide here
A free 10-day Superflow trial is available at this link
App setup instructions:
User will need to sign up for Superflow at the following URL: app.usesuperflow.com
User will need complete sign up by setting up their website with Superflow.
Integration begins in the Superflow URL, app.usesuperflow.com/dashboard/projects
On the side panel, you would select Integrations and Asana. This has the URL app.superflow.com/fashboard/integrations/asana
Click [Connect] to have Superflow comments turn into tasks in Asana
Grant permission [Allow] to use Asana Connect
Select your Asana workspace to link
Add a specific Superflow website project and specific Asana project, then Save
Integration should work: Annotations made on Superflow website projects should properly create tasks in Asana.
Learn more and get support
If you have any inquiries or require additional support for the Superflow integration, please check out their support page.
Superflow Privacy Policy
For the integration's privacy policy, please visit the page here.
This app integration is built by a third-party developer. Asana does not warrant, endorse, guarantee, or assume responsibility for this integration. Contact the app developer for details and support.