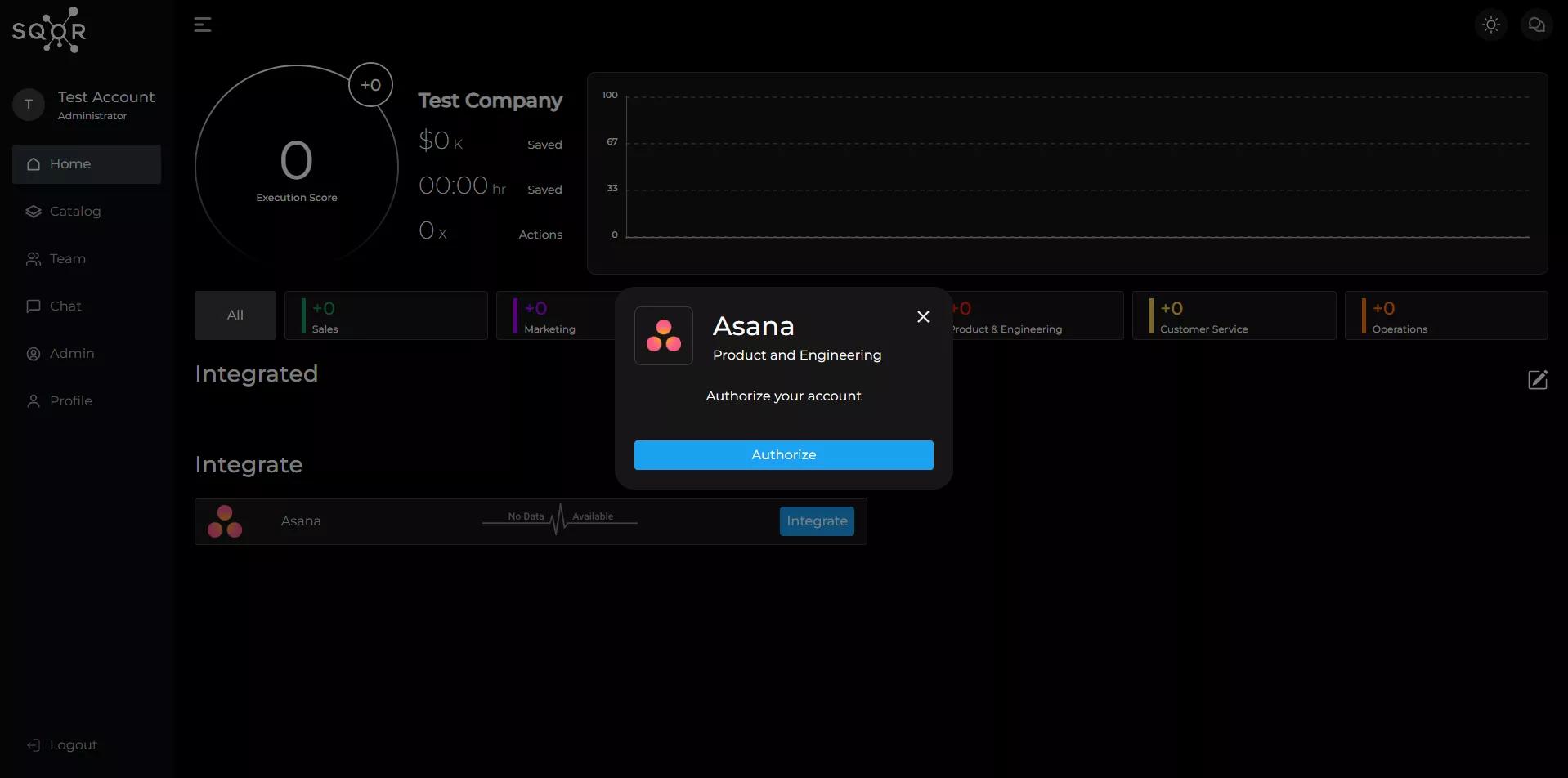 Why SQOR + Asana?
At SQOR we're creating an AI driven, plug-and-play platform that's making it possible to monitor the health of execution across all of a companies SaaS tools. SQOR makes vital insights from everyday company data easily accessible, digestible and above all actionable for company leadership.
SQOR's algorithms and application simplify the way a company's senior leaders relate to their data and in the process provides teams a trustworthy way to showcase their execution capabilities externally via a single, immutable "Execution Score".
As a result, investors gain an easy and trustworthy way to make their deal pipeline data driven, fair and unbiased, a core part of SQOR's mission, while also gaining the ability to monitor the health of their portfolio companies in real time. With SQOR, all stakeholders will see, know, and be able to act.
Get SQOR + Asana
Here are the step-by-step instructions for integrating Asana on SQOR:
Log In to SQOR: Access SQOR by visiting our website. Use your registered email and password to log in.
Navigate to Home Page: Once logged in, proceed to the Homepage of the SQOR application.
Initiate Integration with Asana: Look for the option to integrate with Asana, which can typically be found as an "integrate" button. Click on this to start the integration process.
Log In to Asana: After clicking the integration option, a new window or prompt for Asana will appear. Here, you can log in using your Google account for a quick sign-in, or alternatively, you can use your Asana email and password.
Learn more and get support
If you have any inquiries or require additional support for the SQOR integration, please check out their support page.
SQOR Privacy Policy
For the integration's privacy policy, please visit the page here.
This app integration is built by a third-party developer. Asana does not warrant, endorse, guarantee, or assume responsibility for this integration. Contact the app developer for details and support.