What is Salesforce?
Salesforce is a customer-centric company. They make cloud-based software designed to help businesses connect to their customers in a whole new way so that they can find more prospects, close more deals, and wow customers with amazing service.
Why Salesforce + Asana?
Move deals forward: Remove bottlenecks by enabling sales, customer success, and service teams to communicate directly with their support teams in Asana. Share attachments and create actionable, trackable tasks for pre-sales needs.

Simplify customer handoff: Automatically kick off customer implementation and onboarding work with customizable project templates when customers reach key opportunity stages. With Service Cloud, connect your implementation and service teams with supporting teams in Asana to deliver amazing customer experiences.

Automate crucial sales workflows: Use Salesforce's Process Builder to trigger the creation of tasks and projects in Asana, ensuring important steps aren't missed in your deal cycle.

Monitor business impact: Connect Salesforce with Asana Goals to make informed business decisions. With Salesforce for Asana Goals, you can automatically link the progress of deals to goals without manual updates.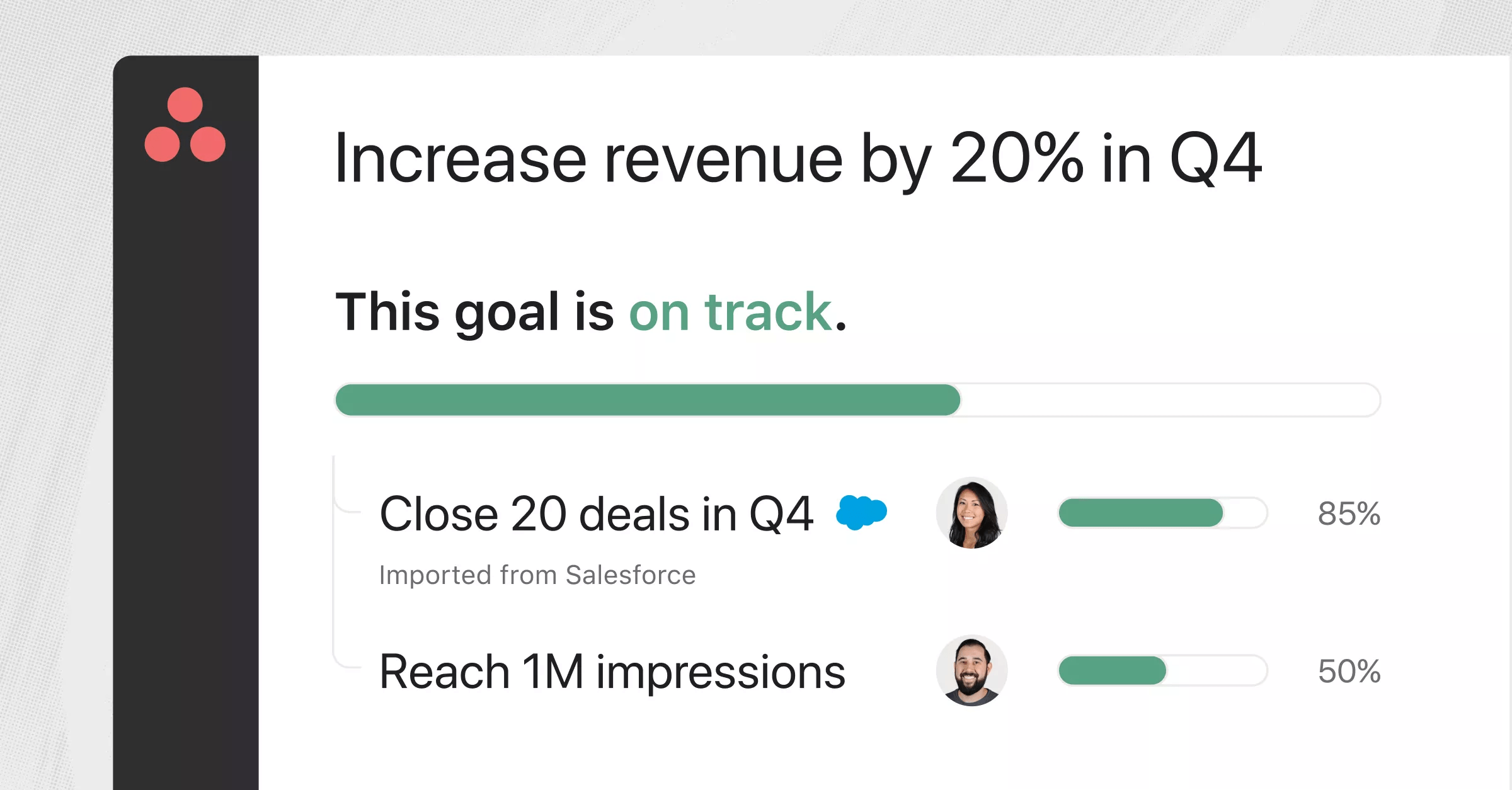 How to connect Salesforce + Asana
This integration is available to Asana Business and Enterprise customers who also have a Salesforce Enterprise, or Unlimited account. It's optimized for Salesforce Lightning but also compatible with Salesforce Classic.
Here's how to set up the integration:
Visit Asana for Salesforce in the Salesforce AppExchange
Click Get It Now
Follow the steps on the installation wizard (note: this process may take a few minutes)
Add the Asana Lightning Component to any standard or custom object page
To connect Salesforce reports with Asana Goals, visit the Asana Help Center
Learn more and get support
To learn more about using the Salesforce + Asana integration, visit the Asana Help Center or check out our Asana Academy demo video.
If you have questions, feedback, or need support, contact the Asana support team.
Collaborate effortlessly with Asana
From the small stuff to the big picture, Asana organizes work, so teams know what to do, why it matters, and how to get it done. It's free to get started, simple to use, and powerful enough to run your entire business. Learn more about Asana today.