What is HubSpot?
HubSpot is a CRM solution that helps you seamlessly connect your data, teams, and customers on one platform that grows with your business.
Why HubSpot + Asana?
The HubSpot + Asana integration allows teams to keep track of important context from deals and marketing campaigns across both apps. Instead of having to check separate tools for the information needed to complete work, teams using this integration can view HubSpot campaign statuses and metrics while working on tasks in Asana. They can also automatically create and update Asana tasks from HubSpot using Asana's rules automation capabilities.
With Asana rules, teams can automatically create Asana tasks or comments when changes happen in a HubSpot deal.
For example, when a deal is created in a particular HubSpot pipeline, this integration allows for an Asana task to be automatically created so that work related to new opportunities can be tracked in Asana.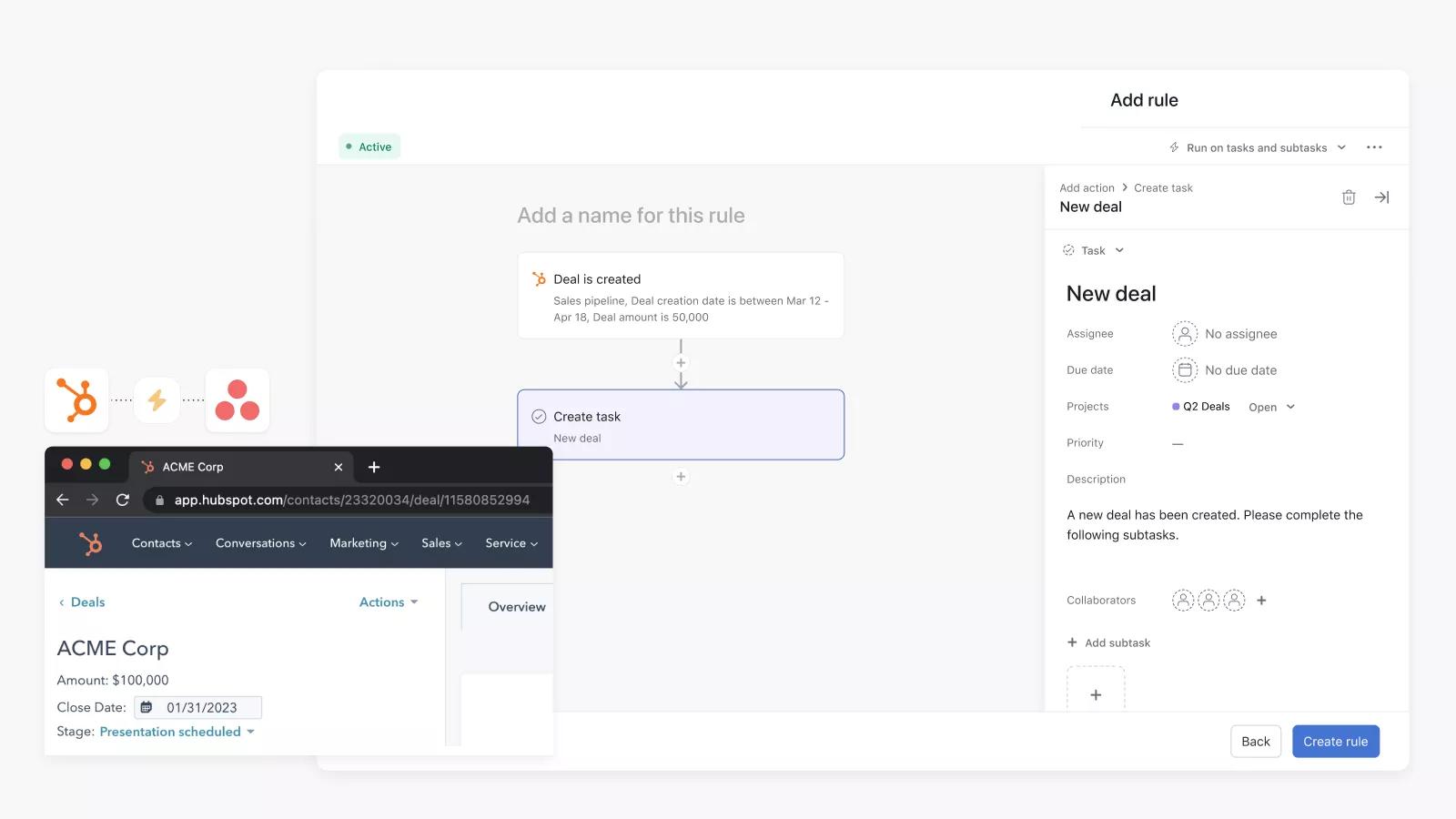 If a deal has progressed to a new stage, users can also configure this integration so that an Asana task will be automatically created and assigned to a team member in Asana. Other configurations include automatically adding comments to an Asana task when an associated deal amount changes in HubSpot.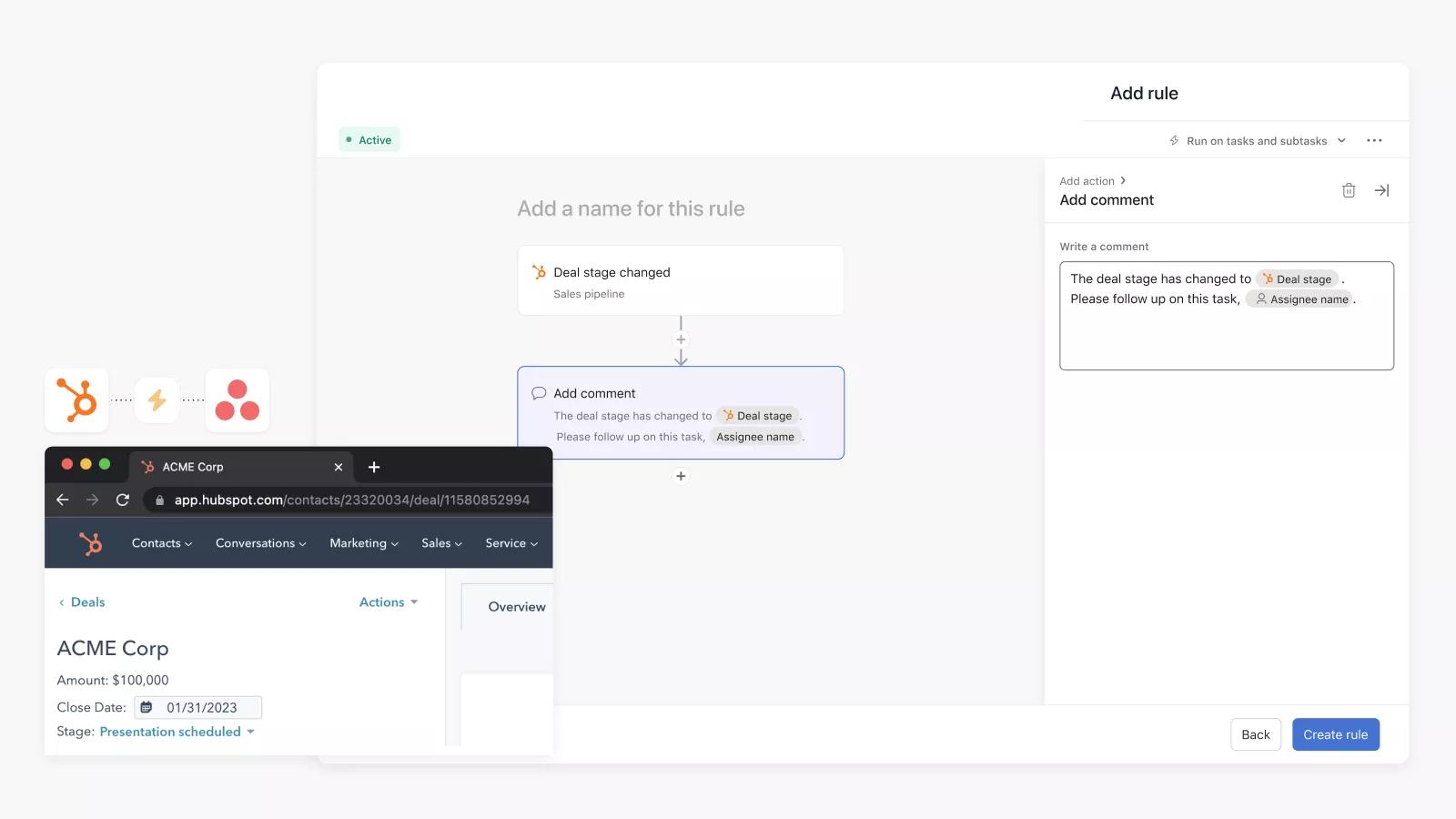 Teams planning email campaigns in Asana can also add a HubSpot marketing campaign widget to an Asana task to track and monitor campaign metrics.
For example, if a deal has progressed to a new stage in HubSpot, teams using Asana to coordinate next steps can see important information such as deal amount and deal owner in Asana.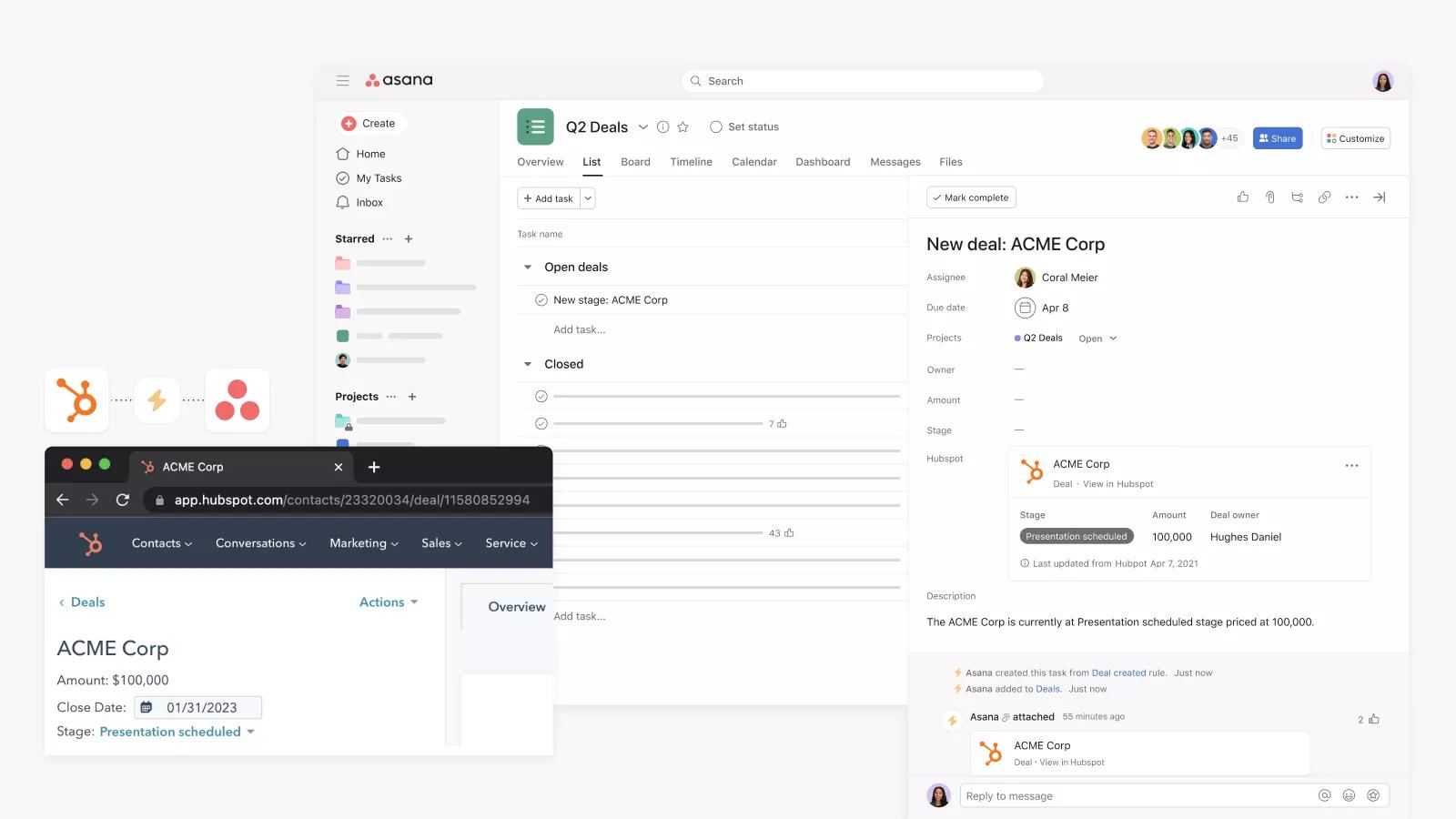 Teams can quickly add their chosen deal or email campaign from HubSpot by clicking the HubSpot field from the task view. Attach deal or email campaigns relevant to the tasks you're tracking in Asana so you can view HubSpot deal information, campaign statuses, and metrics in one central place.
All of this helps reduce the time spent switching between tools and creates real-time visibility between teams.
How to connect HubSpot + Asana
Here's how to attach a HubSpot deal or marketing campaign to an Asana task:
Log into Asana, and find the project where you want to enable the HubSpot widget
Click on Customize in the upper right-hand corner
Scroll down to the Apps section, then select +Add app
Select HubSpot
Click Add to project and follow the steps to connect HubSpot to Asana
Navigate to an Asana task
Link a deal or a marketing email to a task by clicking the Add HubSpot deal or marketing email button on the HubSpot field at the top of the task details pane
Insert the URL for your relevant HubSpot deal or email campaign
Attached HubSpot details will appear as a widget in the task pane
Here's how to set up the Asana Rules integration with HubSpot:
Navigate to the specific Asana project where you'd like to add the integration
Click Customize in the top-right corner, navigate to Rules, and select + Add rule
Select HubSpot from the left column
Either select a preset rule or click Create custom rule
If creating a custom rule, add a name, and choose a trigger and action to get started
Authenticate by clicking Connect to HubSpot, and follow the steps
Note: This integration is built by Asana and ready to install, but you will need to sign up for a HubSpot account and authenticate this integration in order to use these capabilities.
Learn more and get support
To learn more about using the HubSpot + Asana integration, visit the Asana Guide
If you have questions, feedback, or need support, visit the Asana Support team
Looking for other HubSpot + Asana solutions? Check out HubSpot's partner-built integration here: HubSpot Workflows + Asana
Collaborate effortlessly with Asana
From the small stuff to the big picture, Asana organizes work so teams know what to do, why it matters, and how to get it done. It's free to get started, simple to use, and powerful enough to run your entire business. Learn more about Asana today.