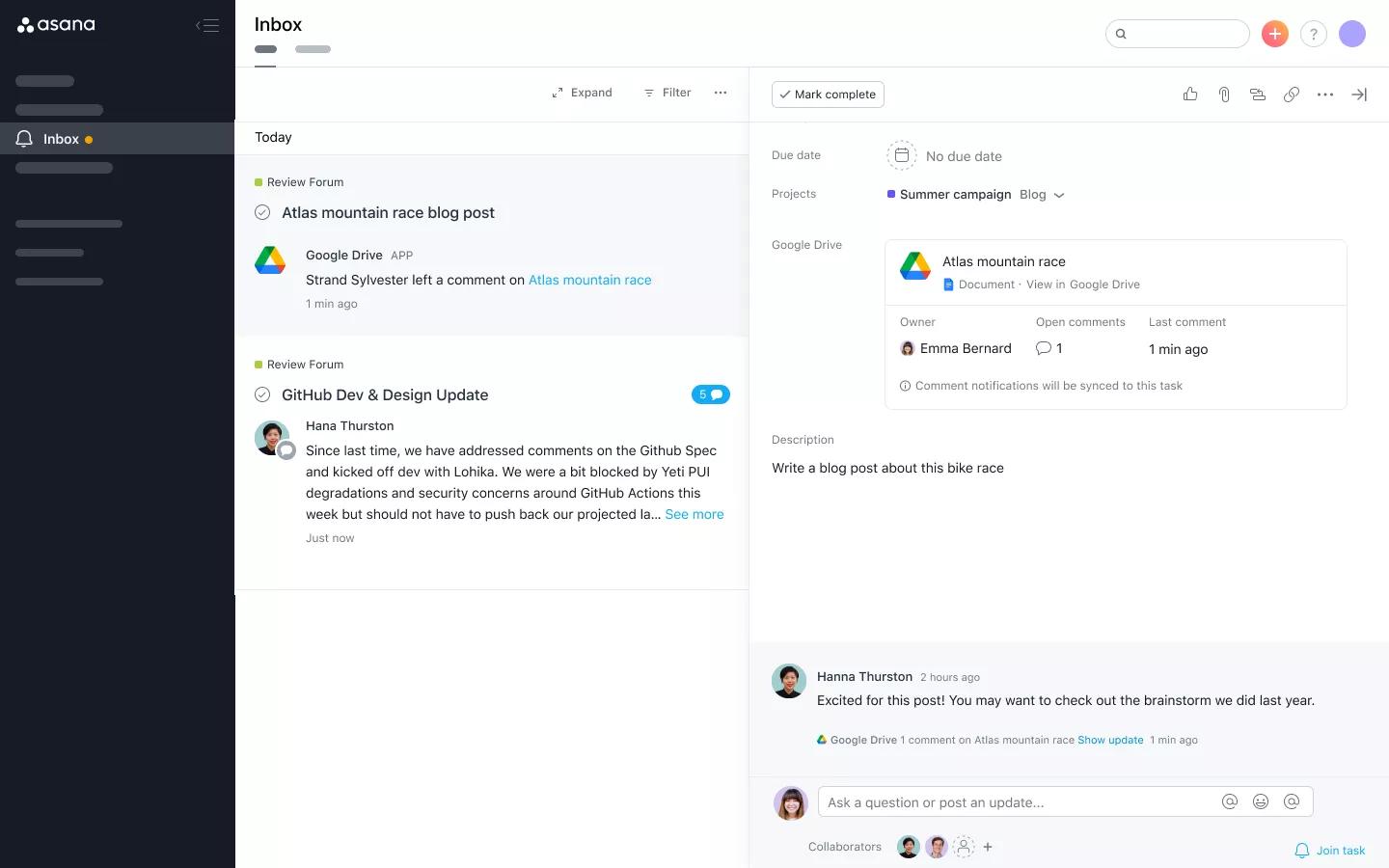 What is Google Drive?
Google Drive allows you to securely store, share, and collaborate on files and folders from your mobile device, tablet, or computer.
Why Google Drive + Asana?
Collaboration tools make it easier to work together without having to reference multiple versions of the same file. But if outstanding comments on a file don't go addressed, you can miss out on critical information related to a project and waste time jumping back and forth between apps.
With Google Drive + Asana, you can:
Easily search and link Google Drive files to tasks in Asana
Receive comment notifications from Google Docs, Sheets, or Slides to ensure open feedback doesn't slip through the cracks
Preview file details in Asana to see the owner, open comments, and other recent activity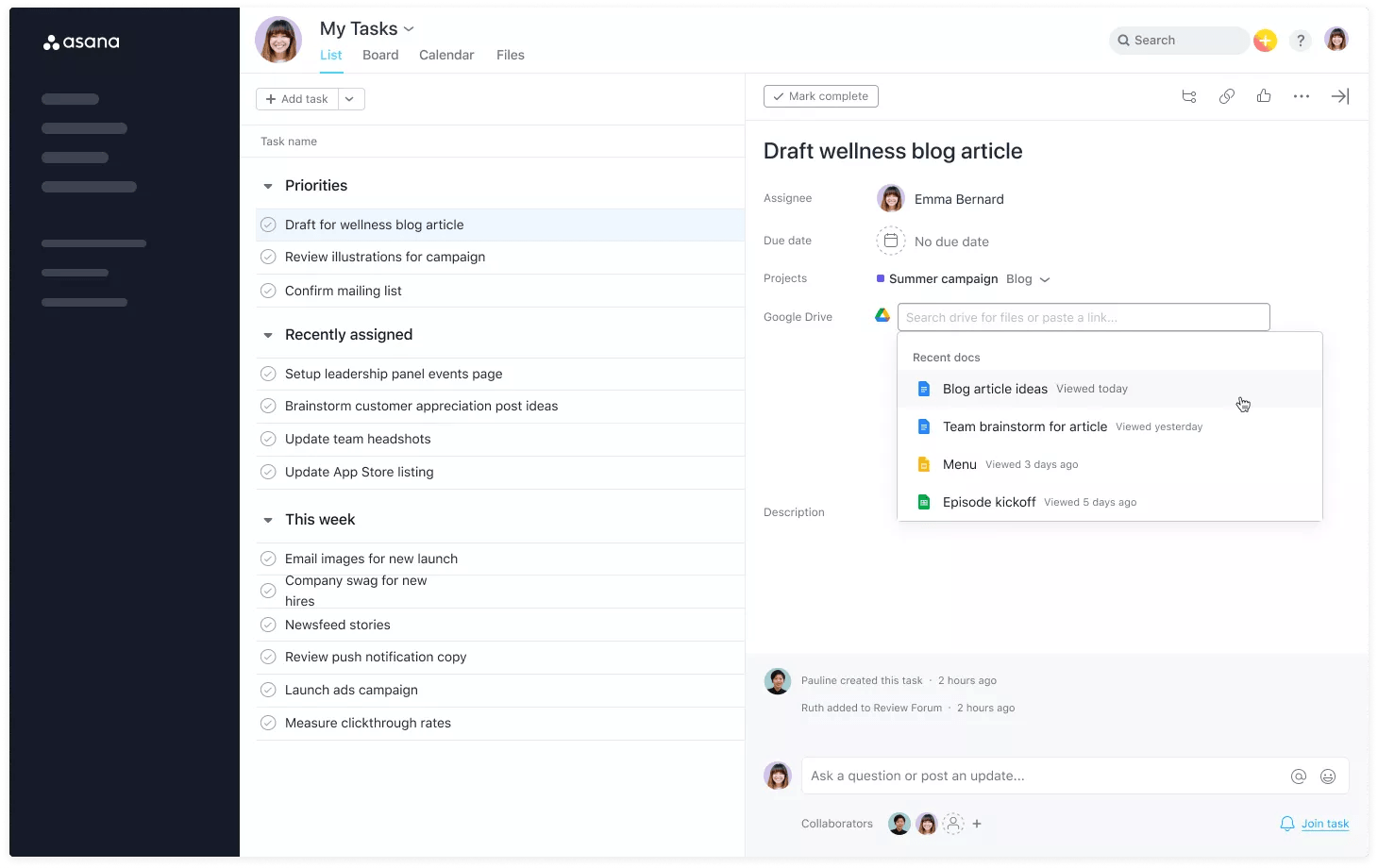 How to connect Google Drive + Asana
Here's how to set up the integration:
Log into Asana, and find the project where you want to enable the Google Drive + Asana integration
Click on "Customize" in the upper right-hand corner
Scroll down to the Apps section and select "+Add app"
Select "Google Drive"
Follow the on-screen instructions to sign in to Google Drive
Once you've signed in, you'll be able to search or link existing files to Asana tasks to receive comment notifications in your Inbox
Note: While you can also attach Google Drive files to tasks by clicking the Attachments (paper clip) icon on the task itself, you will not receive comment notifications.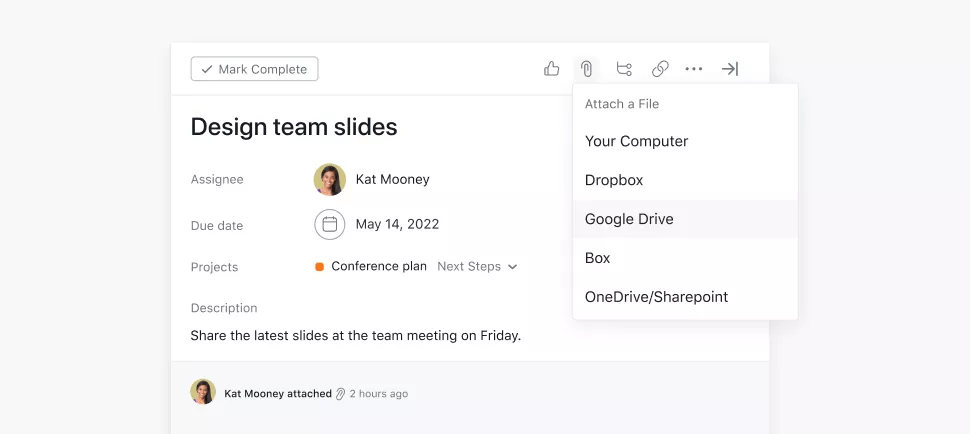 Learn more and get support
To learn more about using the Google Drive + Asana integration, visit the Asana Help Center or Google Drive Help Center.
If you have questions, feedback, or need support, contact the Asana Support team.
Collaborate effortlessly with Asana
From the small stuff to the big picture, Asana organizes work so teams know what to do, why it matters, and how to get it done. It's free to get started, simple to use, and powerful enough to run your entire business. Learn more about Asana today.