What is Google Calendar
Google Calendar is a scheduling calendar service that allows you to easily schedule meetings and manage your time by keeping all your calendars in one place.
Why Google Calendar + Asana
The Google Calendar + Asana integration helps teams plan, schedule, and stay on top of their day or use Asana Rules to automatically schedule events on their calendar.
Asana Rules:
With Asana Rules, teams can go from manually scheduling meetings to automatically creating a meeting with project collaborators when a task reaches a certain stage.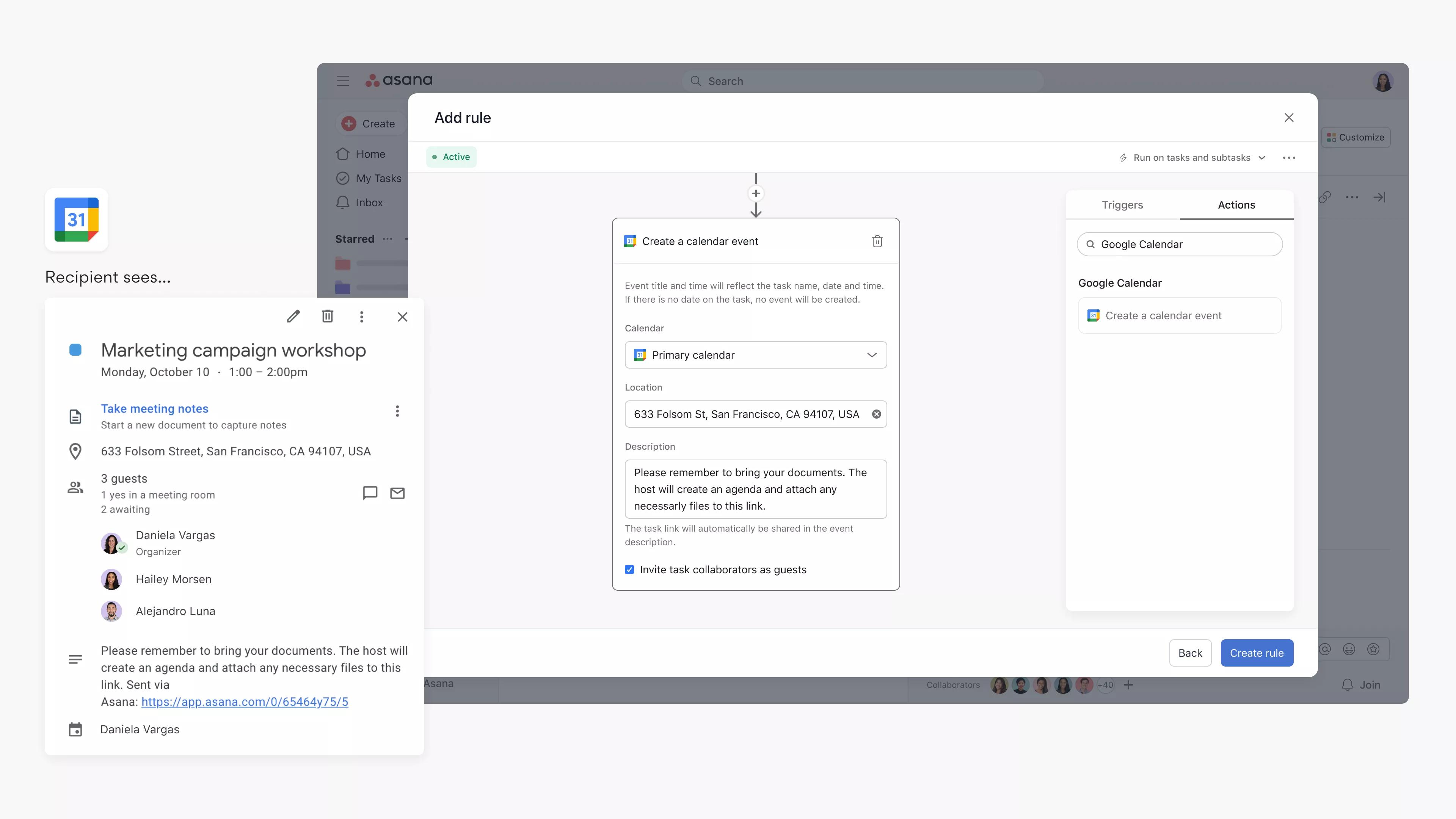 For example, teams can use this Rule to trigger creating an event in a team calendar when a task is moved to a "Scheduled" section. Teams can also use this for recurring task scenarios: you can have a recurring "Send agenda for meeting" task which sends out an event invite when the task is completed. This rule can also be set on My Tasks so that tasks assigned to you with due dates are tracked in Google Calendar
Project sync:
Easily sync Asana tasks or projects to your Google Calendar to ensure work doesn't slip through the cracks.
My tasks: See the tasks to be completed each day in your Google Calendar to help you stay focused
Import projects: Know when key milestones or deadlines are coming up for projects
How to connect Google Calendar + Asana
Here's how to set up the Asana Rules integration with Google Calendar:
Navigate to the specific Asana project where you'd like to add a rules integration
Click Customize in the top-right corner, navigate to Rules, and select + Add rule
Select Google Calendar from the left column
Either select a preset rule or click Create custom rule
If creating a custom rule, add a name, and choose a trigger and action to get started
Authenticate by clicking Connect to Google Calendar Rules
Sign in with your Google account and click Allow
Fill out the fields for the Google Calendar event
Optionally, invite task collaborators as event guests
Here's how to embed Asana tasks or projects into Google Calendar:
To sync an Asana project:
Navigate to the project and click the drop-down menu next to the project's name
Click on Export/Print and select Sync to calendar
From the pop-up window, copy the URL
Go to Google Calendar and from the sidebar, click Other calendars
Select From URL
Paste the URL of the project
To sync your My Tasks:
From your My tasks, click the actions drop-down menu
Select Sync to Calendar
From the pop-up window, copy the URL
Go to Google Calendar and from the sidebar, click Other calendars
Select From URL
Paste the URL of the project
Note: This is one-way sync from Asana to your calendar. Updates to your calendar will not be reflected in Asana.
Learn more and get support
To learn more about using the Google Calendar + Asana Rules integration, visit the Asana Guide or for project syncing with Google Calendar, visit this Asana Guide.
If you have questions, feedback, or need support, contact the Asana Support team.
Collaborate effortlessly with Asana
From the small stuff to the big picture, Asana organizes work so teams know what to do, why it matters, and how to get it done. It's free to get started, simple to use, and powerful enough to run your entire business. Learn more about Asana today.