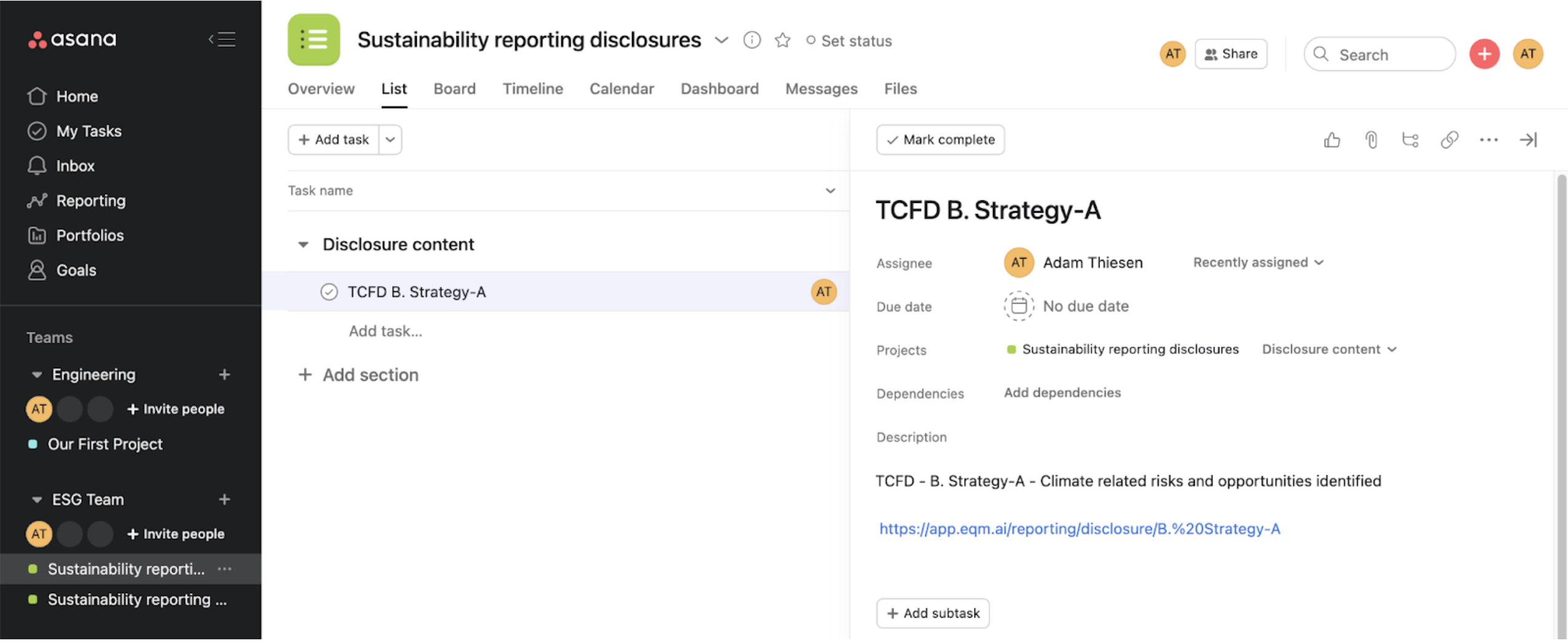 What is Equilibrium?
Equilibrium is a holistic Environmental, Social, Governance (ESG) data management and reporting solution that enables organizations to create, control, and communicate their ESG360TM story. Combining AI, strategic advisory, and insights, Equilibrium helps measure, benchmark, and report on ESG performance across areas such as carbon accounting, Diversity, Equity, and Inclusion (DEI), supply chain risks, and regulatory compliance.
Why Equilibrium + Asana?
With the Equilibrium integration for Asana, you can simplify complex ESG project management by:
Combining ESG data and workflows
Bringing together various teams and departments
Saving time on decarbonization initiatives, ESG disclosures, and reporting
Accessing a curated ESG reporting playbook
How to connect Equilibrium + Asana
Here's how to set up the integration:
Get started with Equilibrium here
In Equilibrium visit "Administration," click "Integrations" and select "Asana"
Click "Connect"
Sign in to Asana and authorize access to a workspace
Deploy an ESG playbook or assign a disclosure to a user to create tasks in Asana
Learn more and get support
If you have questions, feedback, or need support, contact the Equilibrium support team.
Collaborate effortlessly with Asana
From the small stuff to the big picture, Asana organizes work so teams know what to do, why it matters, and how to get it done. It's free to get started, simple to use, and powerful enough to run your entire business. Learn more about Asana today.
This app integration is built by a third-party developer. Asana does not warrant, endorse, guarantee, or assume responsibility for this integration. Contact the app developer for details and support.