What is Box?
Box is a content management platform that allows you to share files securely with anyone you're collaborating with.
Why Box + Asana?
The Box + Asana integration helps teams collaborate seamlessly by sharing content in one place. Easily attach any file from Box to an Asana task and keep your teams up to date.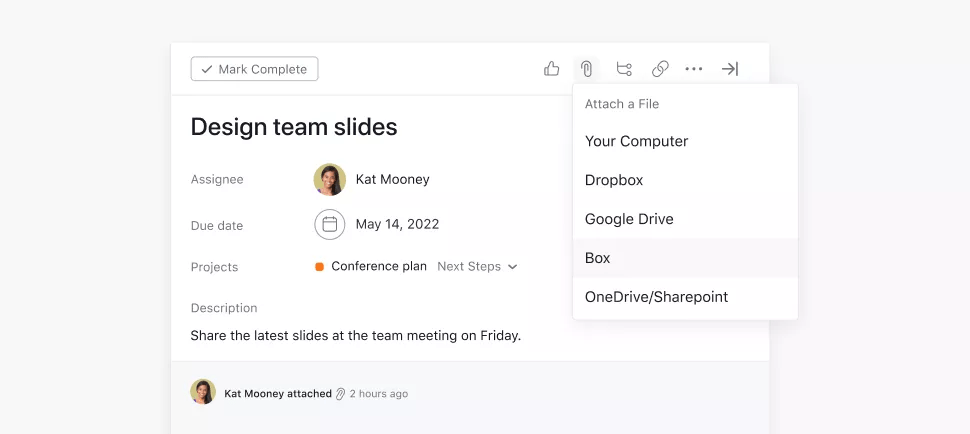 Quickly add your chosen file from Box by clicking the paperclip icon and selecting Box from the list.
Attach files relevant to the tasks you're tracking in Asana, so you have all the information you need to get your work done.
You can access your entire library of Box files in one click, allowing you to browse and choose the file you want to attach to your Asana task.
When a file's location is updated in Box, it will automatically be reflected in the Asana task to avoid confusion about where your files live.
Use Asana Rules to automate the process of uploading content to Box when certain actions take place in Asana. Teams can save time by setting triggers that will automatically transfer attachments from your Asana tasks to Box.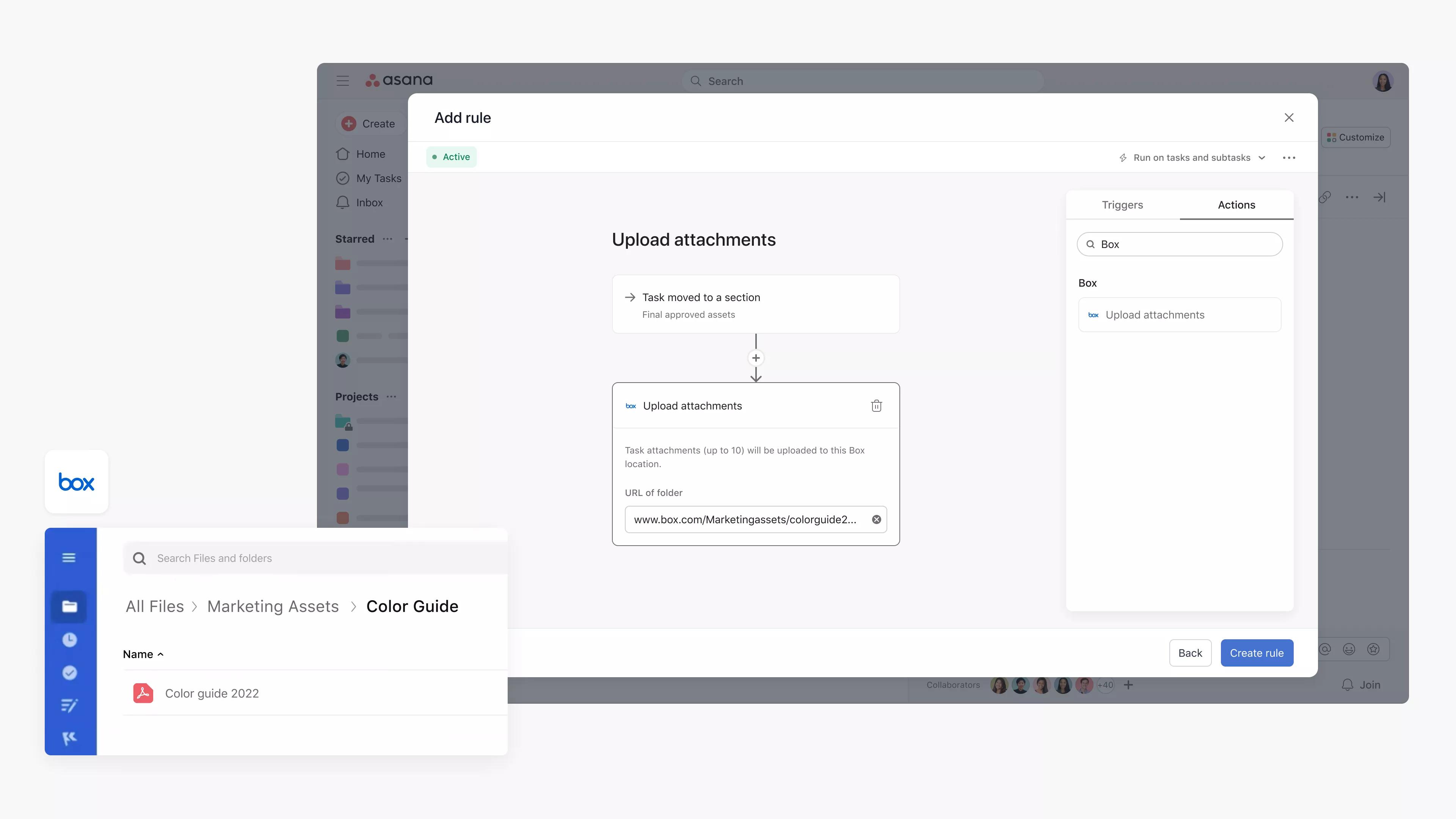 For example, design teams working on assets can create a rule to upload the attachment to Box once the task moves to the "Final approved assets" section.
How to connect Box + Asana
Here's how to attach a Box file to an Asana task:
Link a file to a task by clicking the Attachments (paper clip) icon at the top of the task details pane.
Select Box
Select a file from your files stored in Box
Attached Box files will appear along with other files beneath the description in the task pane.
Note: This integration is already built into Asana, but you need to sign up for a Box account to get started.
Here's how to set up the Asana Rules integration with Box:
Navigate to the specific Asana project where you'd like to add a rules integration
Click Customize in the top-right corner, navigate to Rules, and select + Add rule
Select Box from the left column
You can select a preset rule or click Create custom rule
If creating a custom rule, add a name, and choose a trigger and action to get started
Authenticate by clicking Connect to Box Rules, and following the steps
Add the Box folder URL
Learn more and get support
To learn more about using the Box + Asana integration, visit the Asana Help Center.
If you have questions, feedback, or need support, contact the Asana Support team.
Collaborate effortlessly with Asana
From the small stuff to the big picture, Asana organizes work so teams know what to do, why it matters, and how to get it done. It's free to get started, simple to use, and powerful enough to run your entire business. Learn more about Asana today.