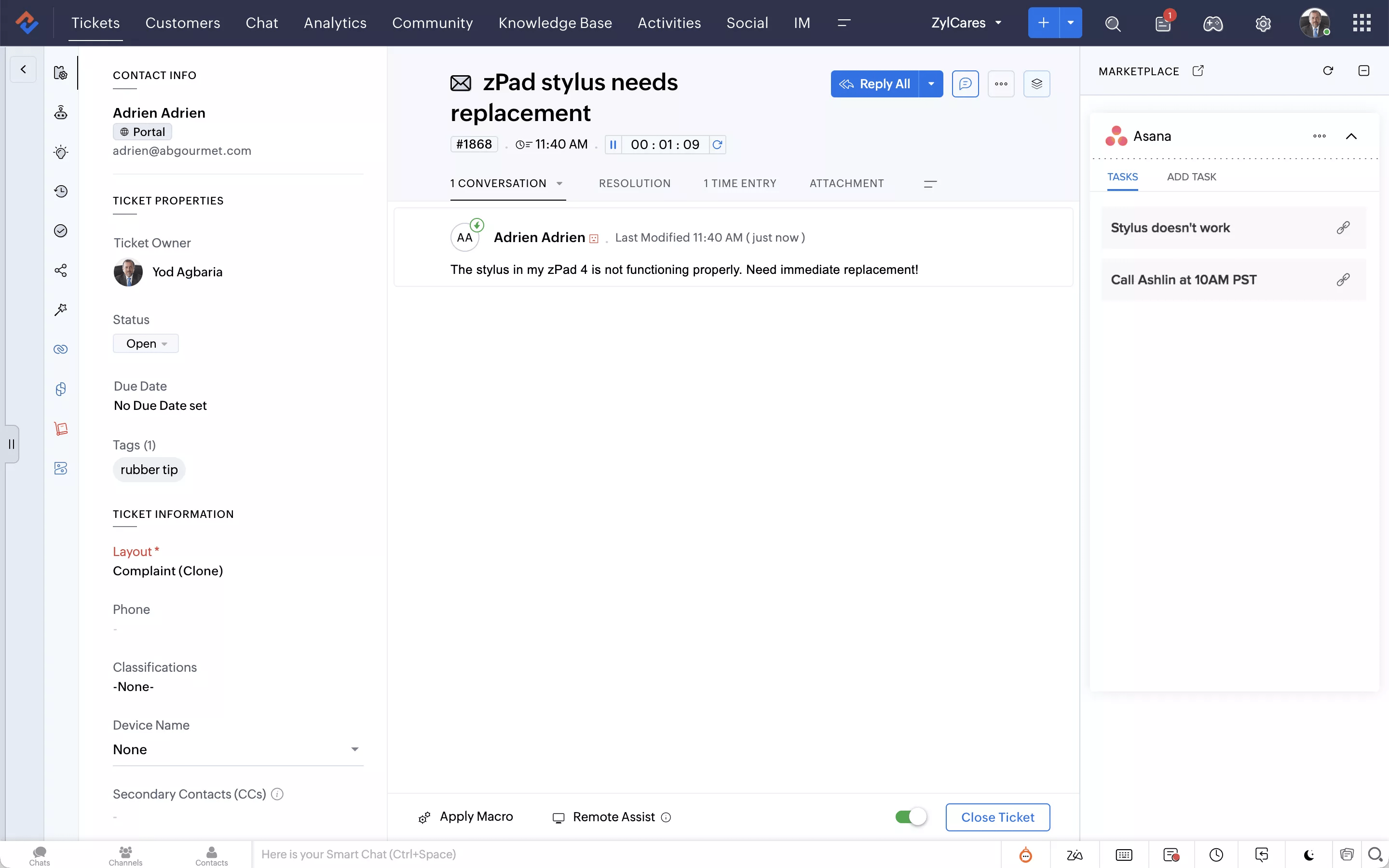 What is Zoho Desk?
Zoho Desk is a leading omni-channel customer service software built for superior experience for customers, improved agent productivity, and enhanced business outcomes through customer service operations.
Over 1 lakh businesses around the world benefit from using the highly unified platform with multiple capabilities like self-service, omni-channel ticketing, accessibility controls, automation, mobile applications for multiple users within the org, AI and tools for integration. In order to set up a fuss free service experience for you business today, try Zoho Desk for free by visiting this link.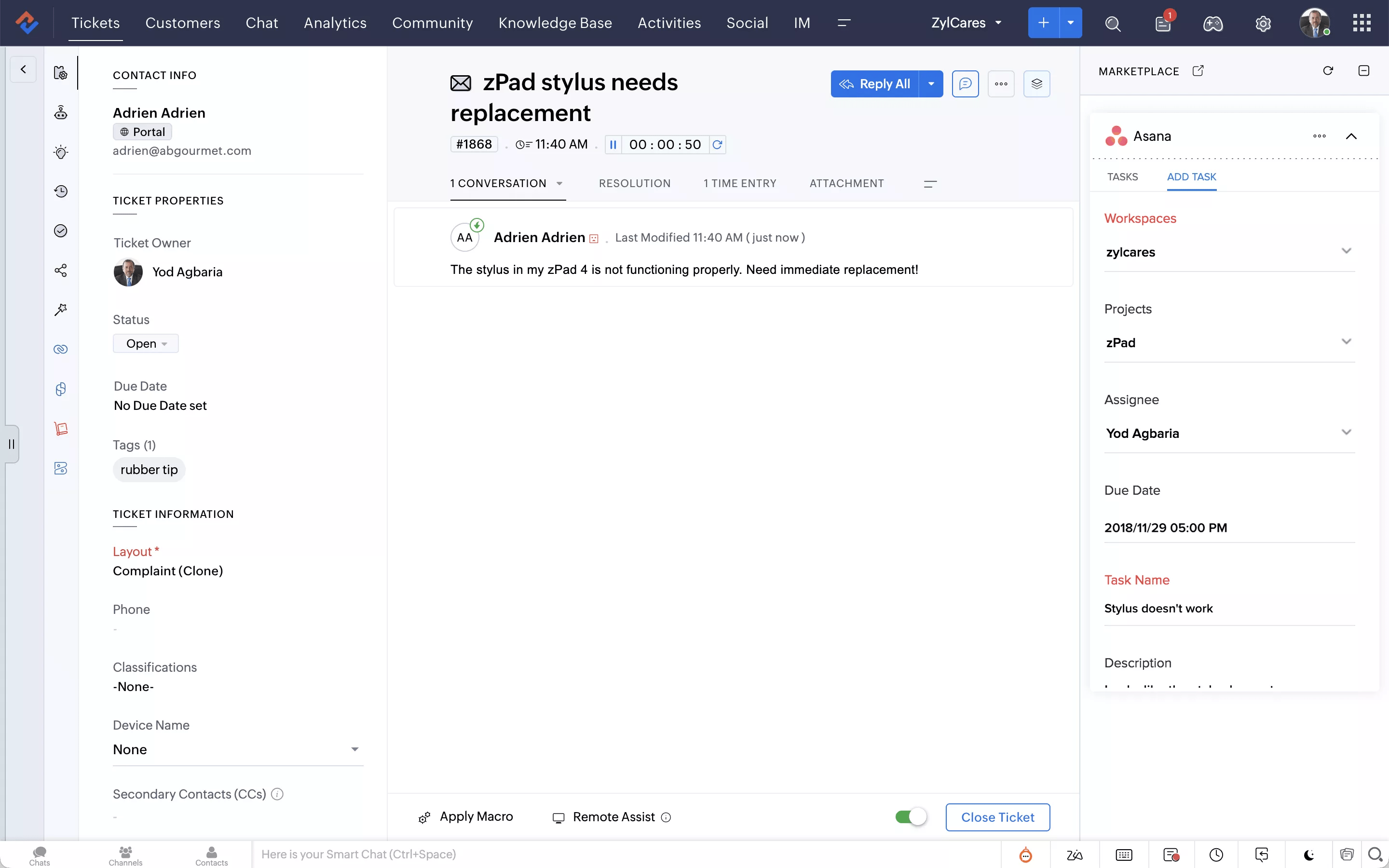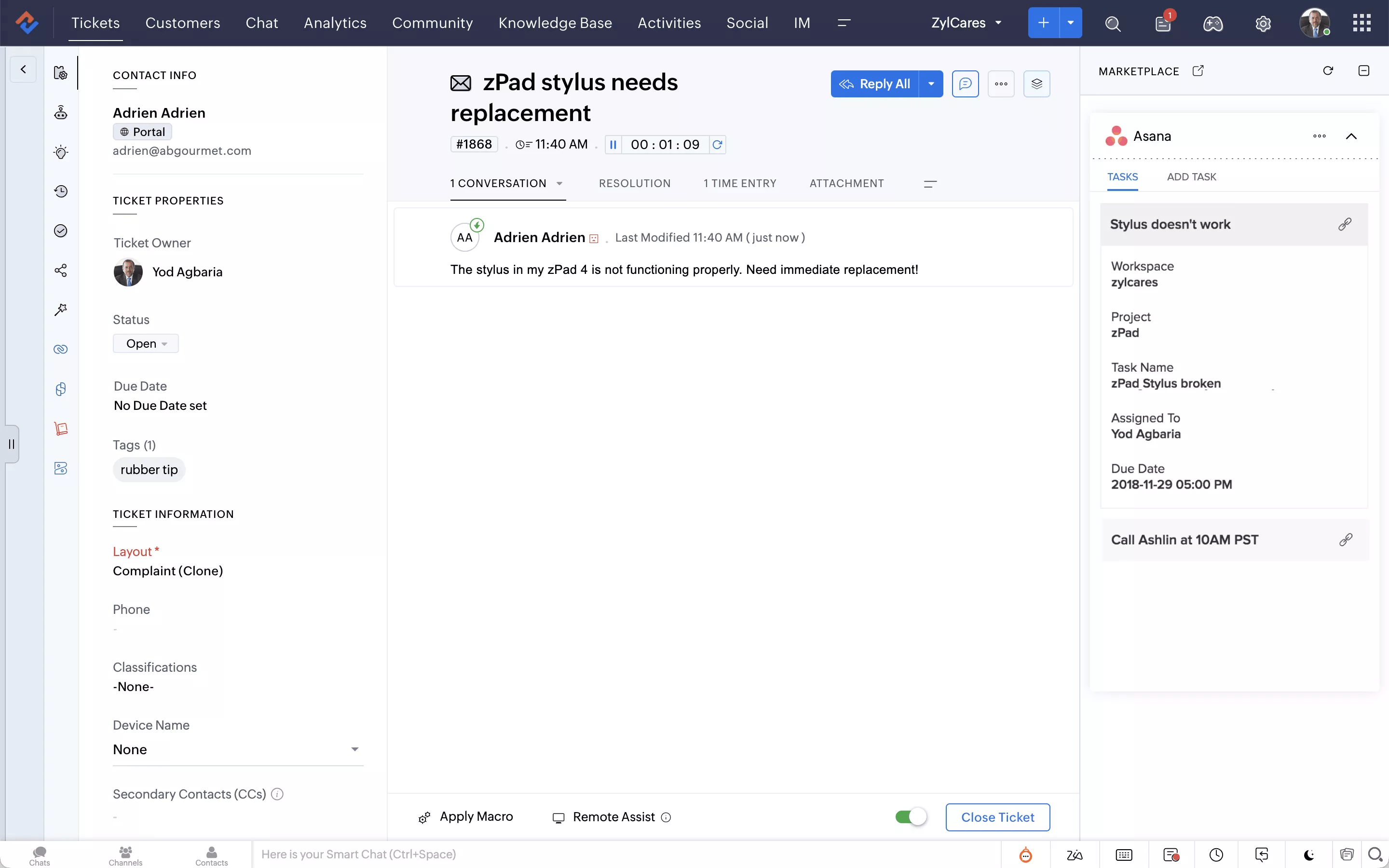 Why Zoho Desk + Asana
You can create tasks in Asana from new Zoho Desk tickets and track them until closure. All you need to do is select a workspace and a project where you'd like to create a new task.
How to connect Zoho Desk + Asana
Installation Requirements
Zoho Desk Account
Asana Account
Installing Asana Extension
The Asana extension can be installed from Zoho Marketplace or from your Zoho Desk.
Follow the steps below to install the Asana Extension from Zoho Desk account:
Log in to your Zoho Desk account with Administrator privileges
Click the Setup icon in the top menu bar
In the Setup Landing page, click All under Marketplace
Search for Asana in the search bar on the right-hand side of the screen
Select the Asana for Zoho Desk extension
Click Install
In the Asana Installation Setup page,

Select Departments and Profiles whose agents can access the extension in Zoho Desk. Note: When you select All Departments, the extension will be added only to the departments you have access to.
Agree to Terms of Use
Click Install and the extension will be installed for the specified profiles and departments

Click Authorize in the pop-up window to active the extension
Click Accept to allow Zoho Workflow to access data in your Zoho Desk account
Voila! Asana extension will be ready for use
Learn more and get support
To learn more about using the Zoho Desk + Asana integration, visit Zoho's support guide or email their team at support@zohodesk.com
Asana does not endorse or certify apps built by third-party developers. If you encounter inappropriate content or behavior, please report it here. Otherwise, please contact the app developer for support.
Collaborate effortlessly with Asana
From the small stuff to the big picture, Asana organizes work so teams know what to do, why it matters, and how to get it done. It's free to get started, simple to use, and powerful enough to run your entire business. Learn more about Asana today.