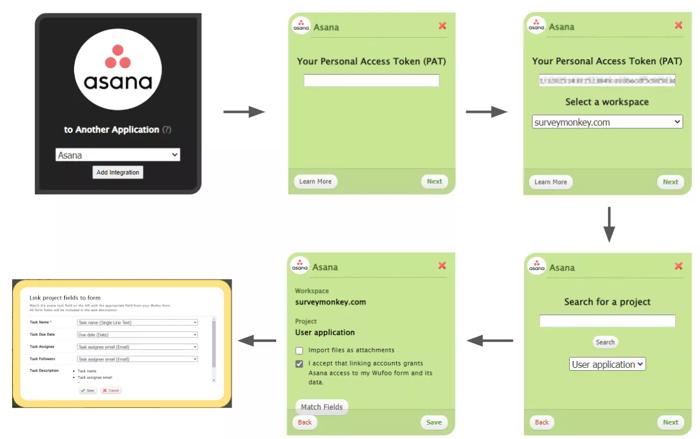 What is Wufoo?
Wufoo is a cloud-based form builder that makes it easy to create registration forms, application forms, surveys, contact forms, payment forms, and more.
Why Wufoo + Asana
With the Wufoo and Asana integration, responses from your form will automatically become tasks in the Asana project you specify. Since responses are centralized, you'll know right where to find the requests and information you need to take action. Common use cases include:
Internal requests: Streamline the process for submitting work requests between teams. Use forms for creative, facilities, and IT requests. By creating mandatory form fields for the information you need to fulfill the request, you'll eliminate tedious back and forth communication.

Applicant tracking: Ensure the information you gather from new applicants lives in the one place and is assigned to the correct person so they can review and follow up. Use fields to gather contact information, desired position, and their resume.

Bug tracking: While users are often eager to submit bugs, they might not know what information you need to investigate. Include mandatory fields for browser, operating system, version, screenshots, etc.
How to connect Wufoo + Asana
Here's how to set up the integration:
Log in to your Wufoo account and go to the Forms Manager.
To the right of the form, select the More icon and choose Integrations.
Click the dropdown within the "to Another Application" modal and choose "Asana".
Select the Add Integration button.
Enter your Personal Access Token (PAT) and select Next.
Choose your Asana project and select Next.
Review your PAT and chosen form, select Manage Form and Task Fields.
Click the "Save" button.
Learn more and get support
To learn more about using the Wufoo + Asana integrations, visit help.wufoo.com/contact.
If you have questions, feedback, or need support, contact support@wufoo.com.
Collaborate effortlessly with Asana
From the small stuff to the big picture, Asana organizes work so teams know what to do, why it matters, and how to get it done. It's free to get started, simple to use, and powerful enough to run your entire business. Learn more about Asana today.
This app integration is built by a third-party developer. Asana does not warrant, endorse, guarantee, or assume responsibility for this integration. Contact the app developer for details and support.