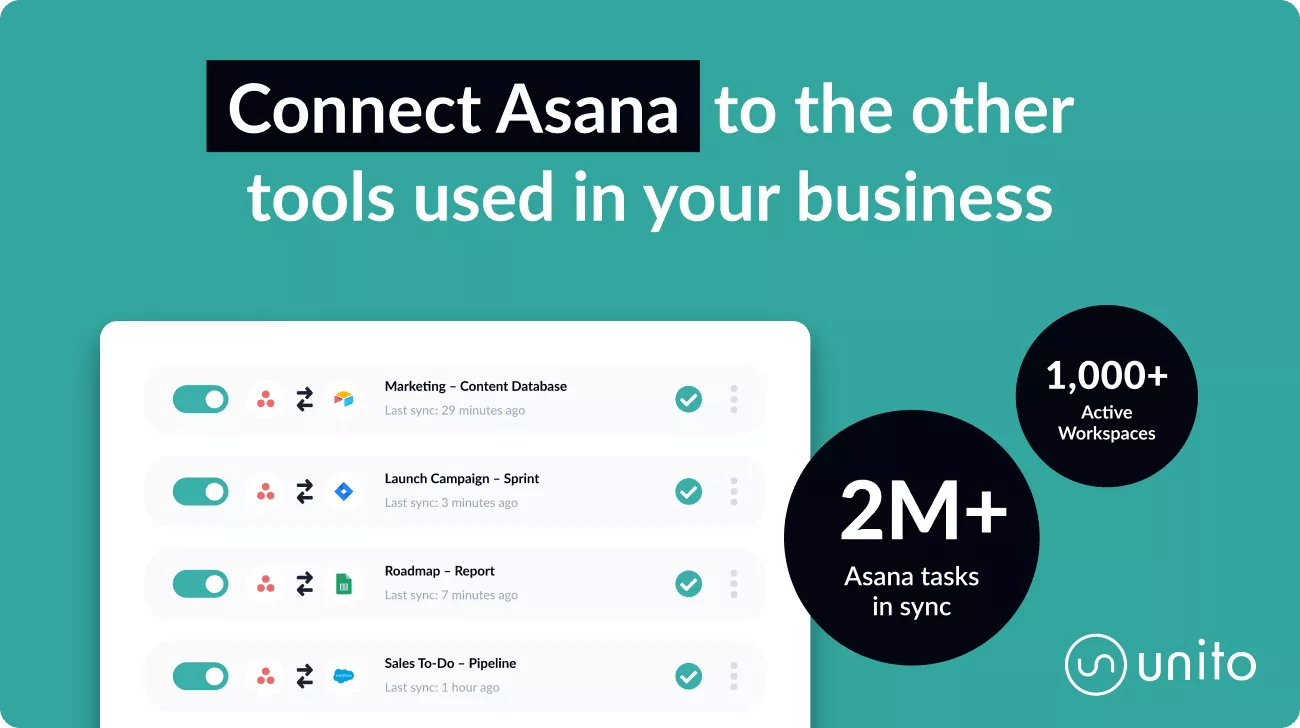 What is Unito?
Unito lets anyone on your team automatically sync Asana tasks and connect projects to other work apps and tools with real-time 2-way updates.
Why Unito + Asana?
A single, seamless Unito workflow will save your team hours of manual input each week by eliminating the need to copy-paste details in and out of Asana tasks.
You can sync crucial information between your Asana projects and other tools in your stack to make sure everyone stays in the loop.
Live two-way sync
Asana task data syncs in real-time so you don't have to sit around wondering if you have the latest information or not. Every tool you connect to Unito becomes a shared source of truth.
Flexibility meets simplicity
Unito maps every Asana task detail as a field that can be synced with your other tools. That includes assignees, due dates, comments, tags, sections, attachments, and more.
Each integration, and even the individual fields, can be set to a one-way or two-way sync to provide you with the freedom to work the way you want.
Customize each flow
Set clear rules to decide how new Asana tasks should be created and which project they should appear in. You can tell Unito to only sync tasks with specific tags, assignees, or other fields of your choice.
Unito Flow Preview Companion App
Unito's Flow Preview companion app gives you the flexibility to review active flows directly from Asana. You'll see any work items synced to an Asana task with a quick link to edit your flow. Access this in the apps section on your Asana project.
How to connect Unito + Asana
Here's how to set up Unito for Asana:
Go to unito.io and click "Try it free." Sign up with your Asana account or an email address.
When you first log-in, you'll see the Welcome to Unito's quick-start walkthrough page.
Follow the on-screen instructions to connect Asana and your other tool(s) to Unito.
Create your first flow to connect an Asana project with any other tool in your stack.
Here are a few walkthroughs to guide you through the process of syncing Asana tasks with other Asana workspaces.
See all Unito integrations here.
Here's how to set up the Unito Flow Preview companion app:
Log into Asana and find the project where you want to enable Unito's Flow Preview App.
Click on "Customize" in the upper right-hand corner.
Scroll down to the Apps section then select "+Add app."
Select the Flow Preview App.
Follow the on-screen instructions.
Case Study
They Said It First
"Right now I maintain 35 clients in Asana with 50 or 60 active projects. Before Unito, it took hours to plan each week. A solution to this isn't just about saving clicks. It's about not having to split your focus 35 ways. There's just no replacement for Unito." - Bryan Bennett, Founder at TheKickstart.com
Learn more and get support
To learn more about using the Unito + Asana integration, visit Unito's guide for building powerful Asana workflows.
If you have questions, feedback, or need support, contact the Unito support team.
Asana does not endorse or certify apps built by third-party developers. If you encounter inappropriate content or behavior, please report it here. Otherwise, please contact the app developer for support.
Collaborate effortlessly with Asana
From the small stuff to the big picture, Asana organizes work so teams know what to do, why it matters, and how to get it done. It's free to get started, simple to use, and powerful enough to run your entire business. Learn more about Asana today.