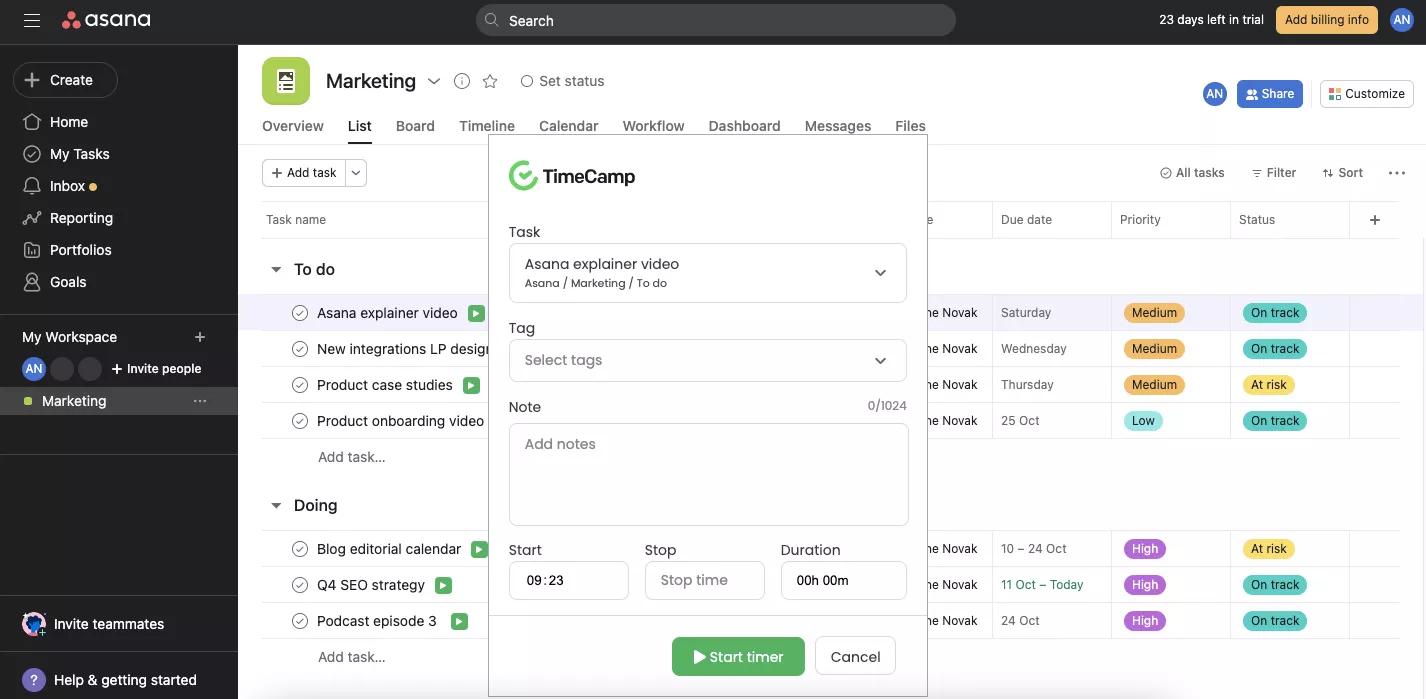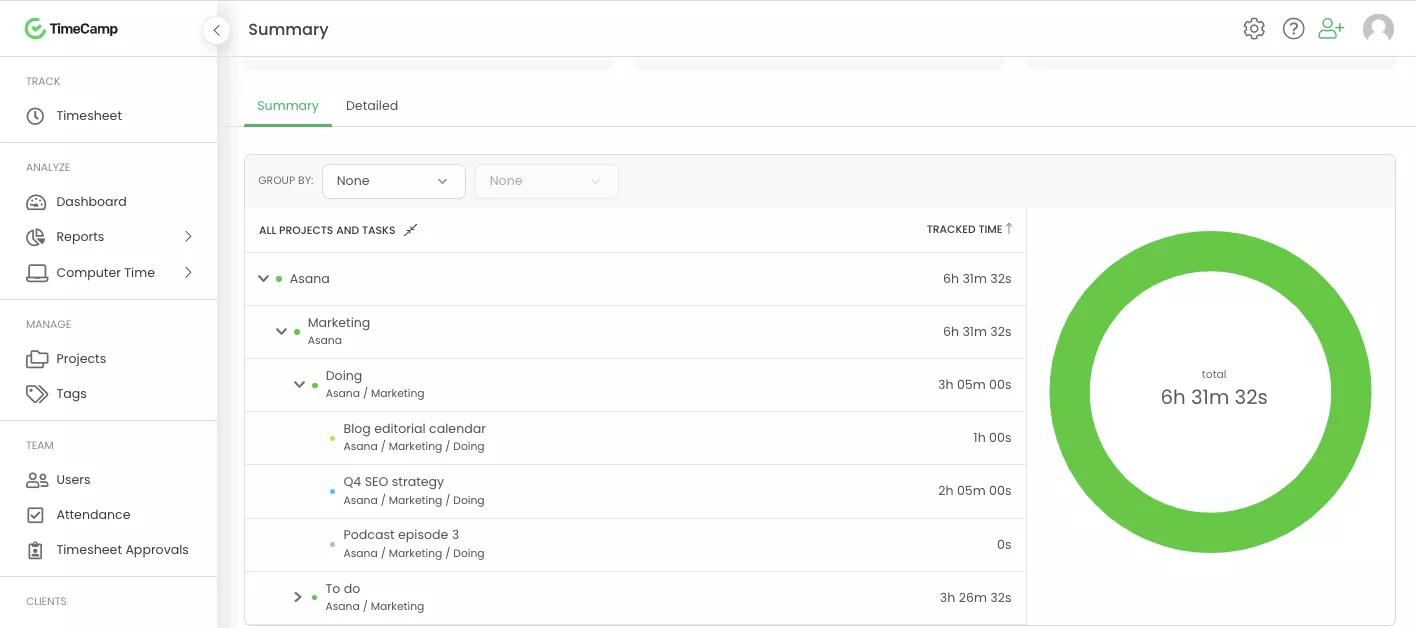 What is TimeCamp?
TimeCamp is a friendly time tracking tool that keeps track of work hours spent on projects. It fills your timesheets automatically and provides you with time-tracking data you can further use for various purposes, like time reporting, online invoicing, attendance tracking, project budgeting, and many more.
Why TimeCamp + Asana?
TimeCamp tells you where your time goes when working in Asana, giving you precious data for accurate project budgeting and resource allocation. Save time on admin tasks and get more insights on projects' profitability.
Besides being your handy timekeeper for Asana, TimeCamp allows you to: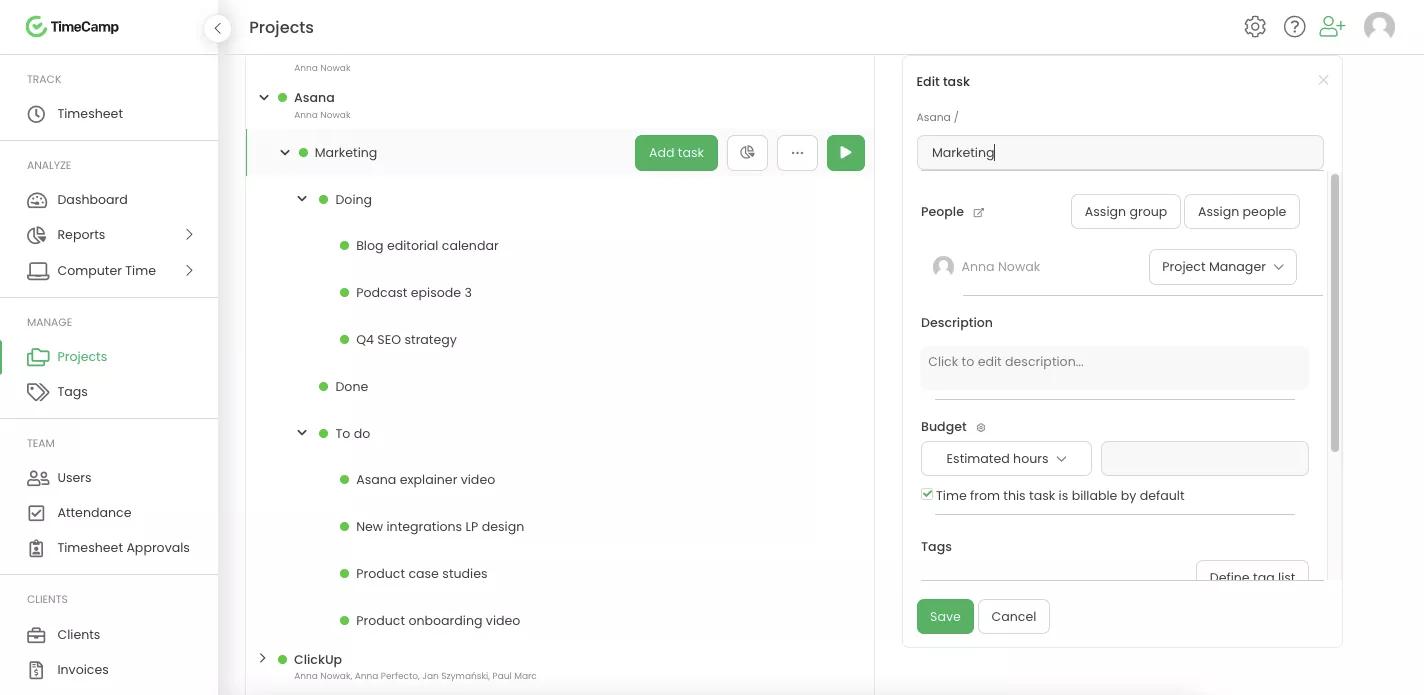 Import your entire project structure from Asana and track time for each project, task, and subtask with just one click (or, if you prefer, you can add entries manually or copy them from previous days)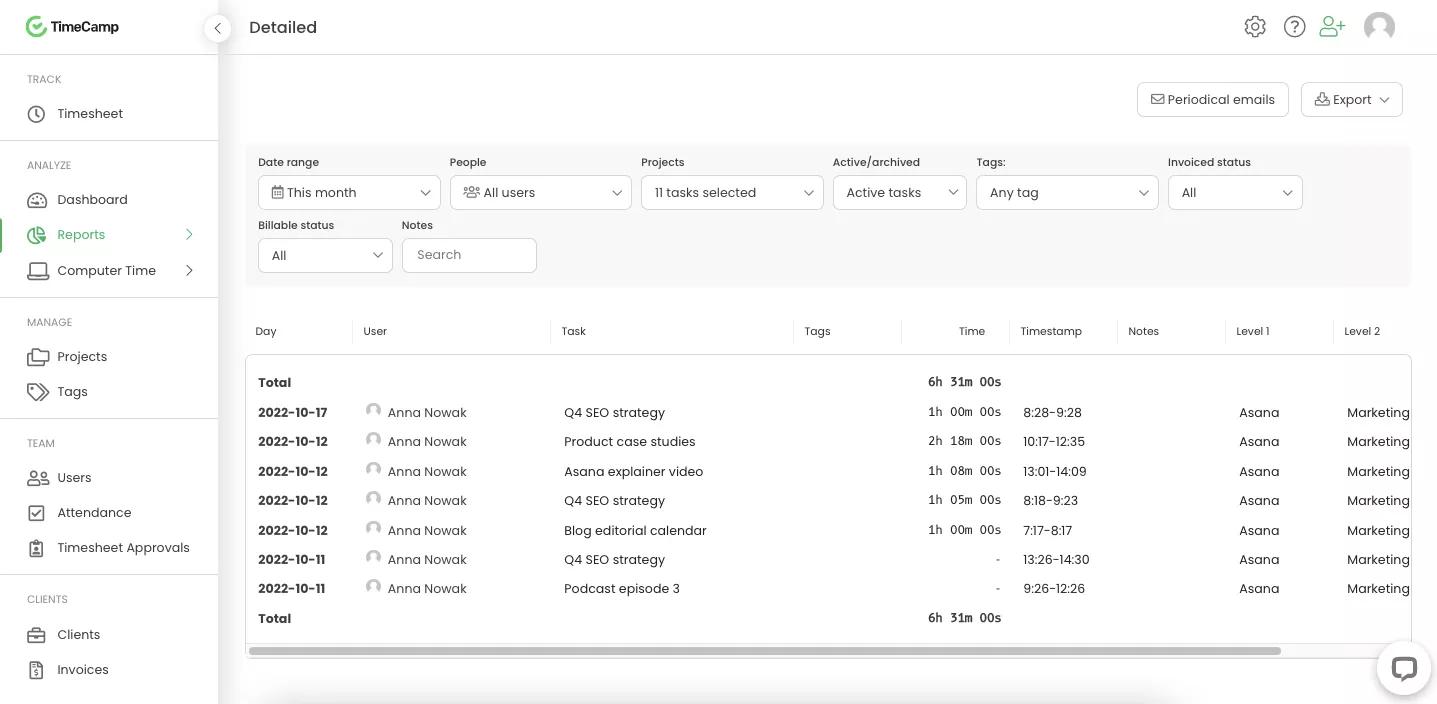 Generate rich-data reports based on your Asana entries, using built-in templates or customizing your own,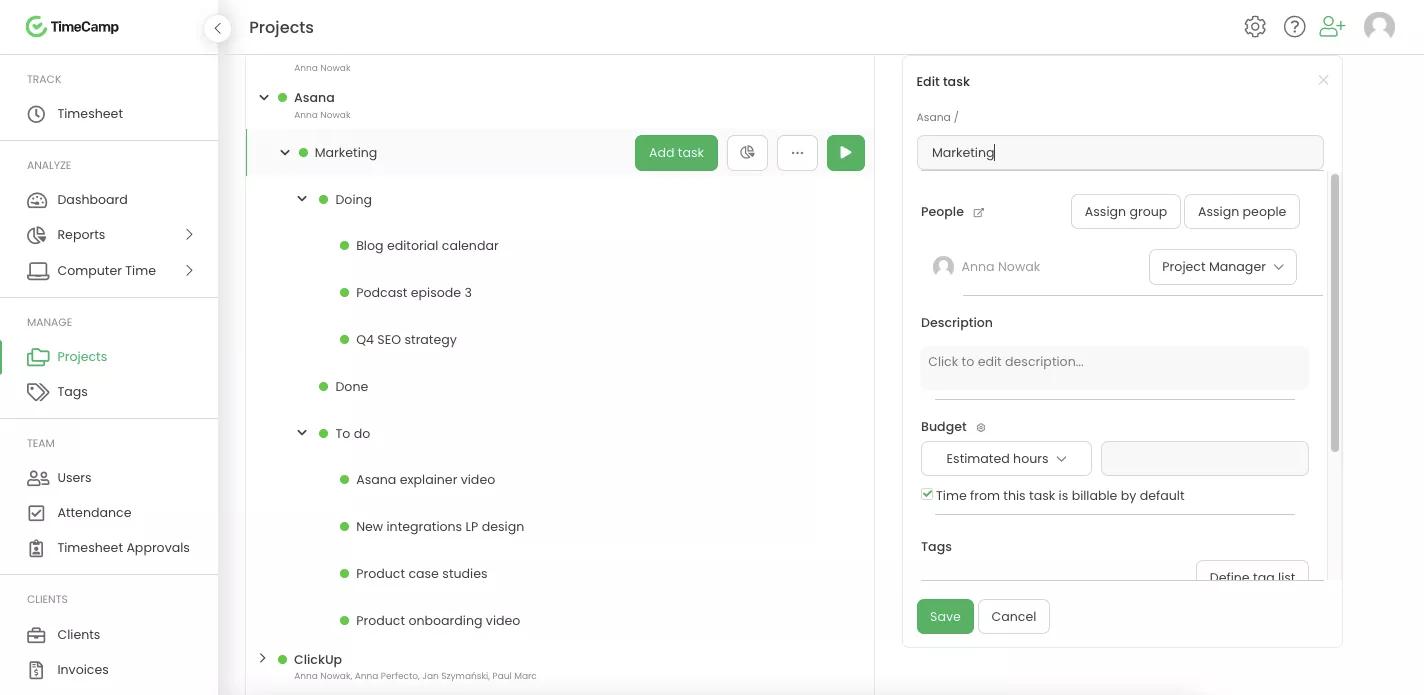 Set the default billing rates for each of your Asana tasks,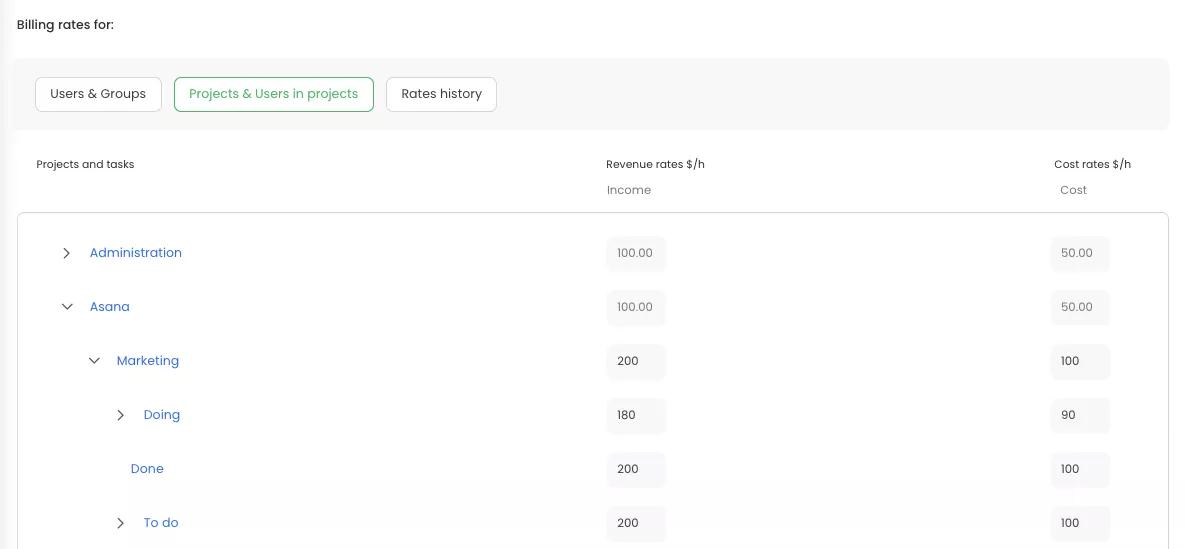 Create invoices from time tracked using Asana and issue them straight to your clients via email, as a handy link, or sharing a PDF file.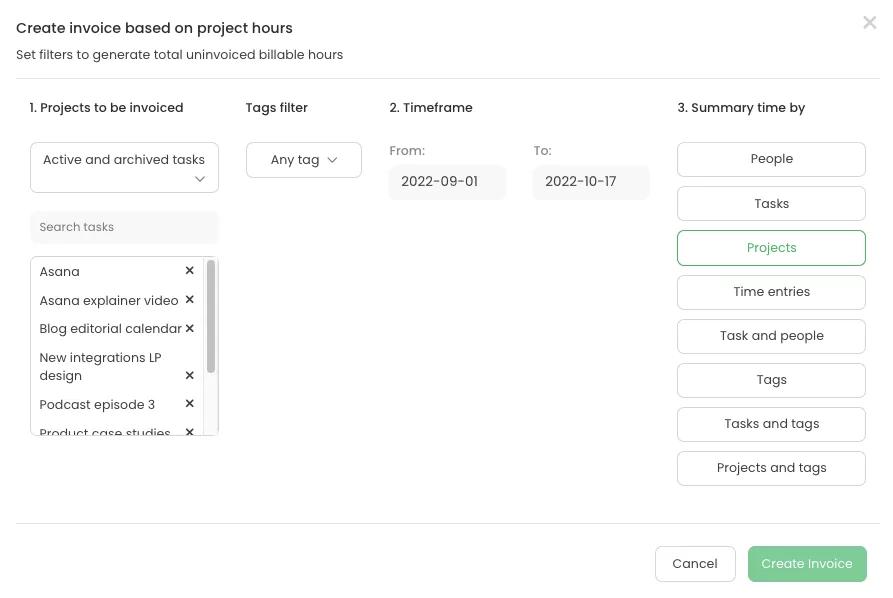 How to connect TimeCamp + Asana
Log in to your TimeCamp account and go to Integrations,
Find Asana in the Project management section and enable the integration,
Allow TimeCamp to access your Asana account,
Choose which of your workspaces should be synchronized to TimeCamp. Optionally, you can invite people assigned to workspaces,
Done! Wait a few minutes for both tools to synchronize.
Download TimeCamp Chrome extension and enjoy tracking time directly in Asana.
Want to know more about TimeCamp?
Besides top-notch Asana time tracking and its perks mentioned above, it offers:
Non-distracting time tracking (available as web timer, desktop app, mobile app, and extensions for Chrome and Microsoft Edge),
Team structure and attendance management,
Timesheet approvals,
Billing with a budget and margin tracking that calculates costs and income automatically,
Various levels of user permissions,
Tags - another level of time categorization,
Activity tracking for easier timesheet filling (perfect for copying entries from previous days)
And many more!
Want to know where your time goes? Enough guessing: register your free TimeCamp account and make better decisions based on time tracking data.
Learn more and get support
To learn more about using the TimeCamp + Asana integration, visit TimeCamp.
If you have questions, feedback, or need support, visit the TimeCamp Help Center or drop them a message on their support chat.
Asana does not endorse or certify apps built by third-party developers. If you encounter inappropriate content or behavior, please report it here. Otherwise, please contact the app developer for support.
Collaborate effortlessly with Asana
From the small stuff to the big picture, Asana organizes work so teams know what to do, why it matters, and how to get it done. It's free to get started, simple to use, and powerful enough to run your entire business. Learn more about Asana today.