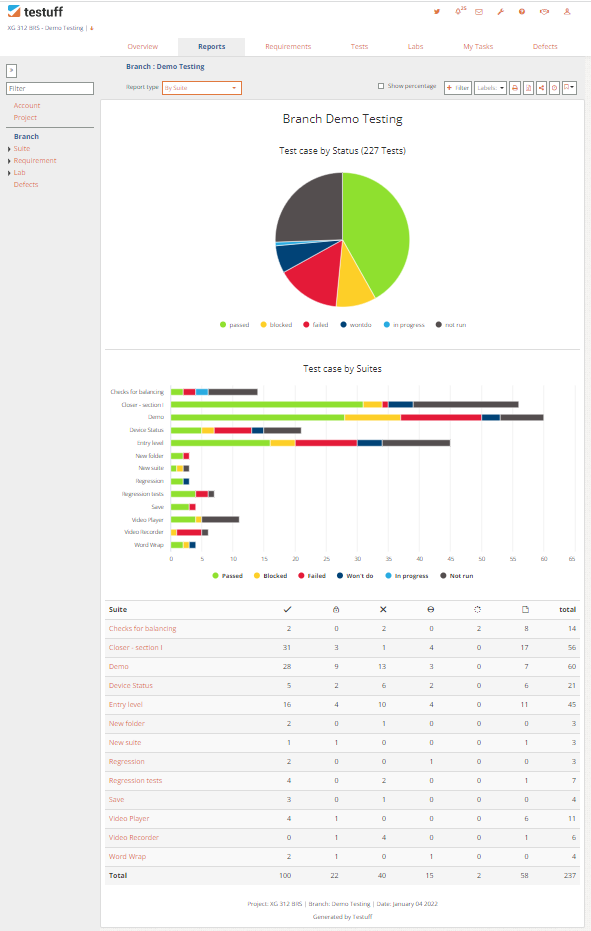 What is Testuff?
Test Management Tool for Asana
Integrate the best test case management solution with Asana.
Manage test cases, plans, and runs
Start test runs and capture test results
Embedded unique video recorder for defect reporting
Automatic Two-way Integration with Asana:

Push defect reports to Asana and link issue IDs
Get defect status updates from Asana to your Testuff account

Track test results, activity, and progress
Localization – Work in Your Own Language
Use without limits – unlimited tests, projects, defect reports and storage
Requirement management module
Integration with any automation testing tool supported
Time management
Get Testuff + Asana
Log in to your Testuff account
In Testuff, go to: Settings > Bug Tracker > Add Bug Tracker link
Choose Asana from the bug trackers list
Enter your Asana default Workspace and Project
In your browser, go to your Asana account
In Asana, go to: Settings > My Profile Settings > Apps > Manage Developer Apps
Under PERSONAL ACCESS TOKENS section, click 'Create New Personal Access Token'
Enter 'Testuff' in the description and click 'Create'
Copy the API Token and paste it under Set my Asana user
You can customize your Asana fields into the integration, using Customize bug tracker fields option
Learn more and get support
To learn more about using the Testuff Asana integration, visit the support page or email their team at support@testuff.com
This app integration is built by a third-party developer. Asana does not warrant, endorse, guarantee, or assume responsibility for this integration. Contact the app developer for details and support.