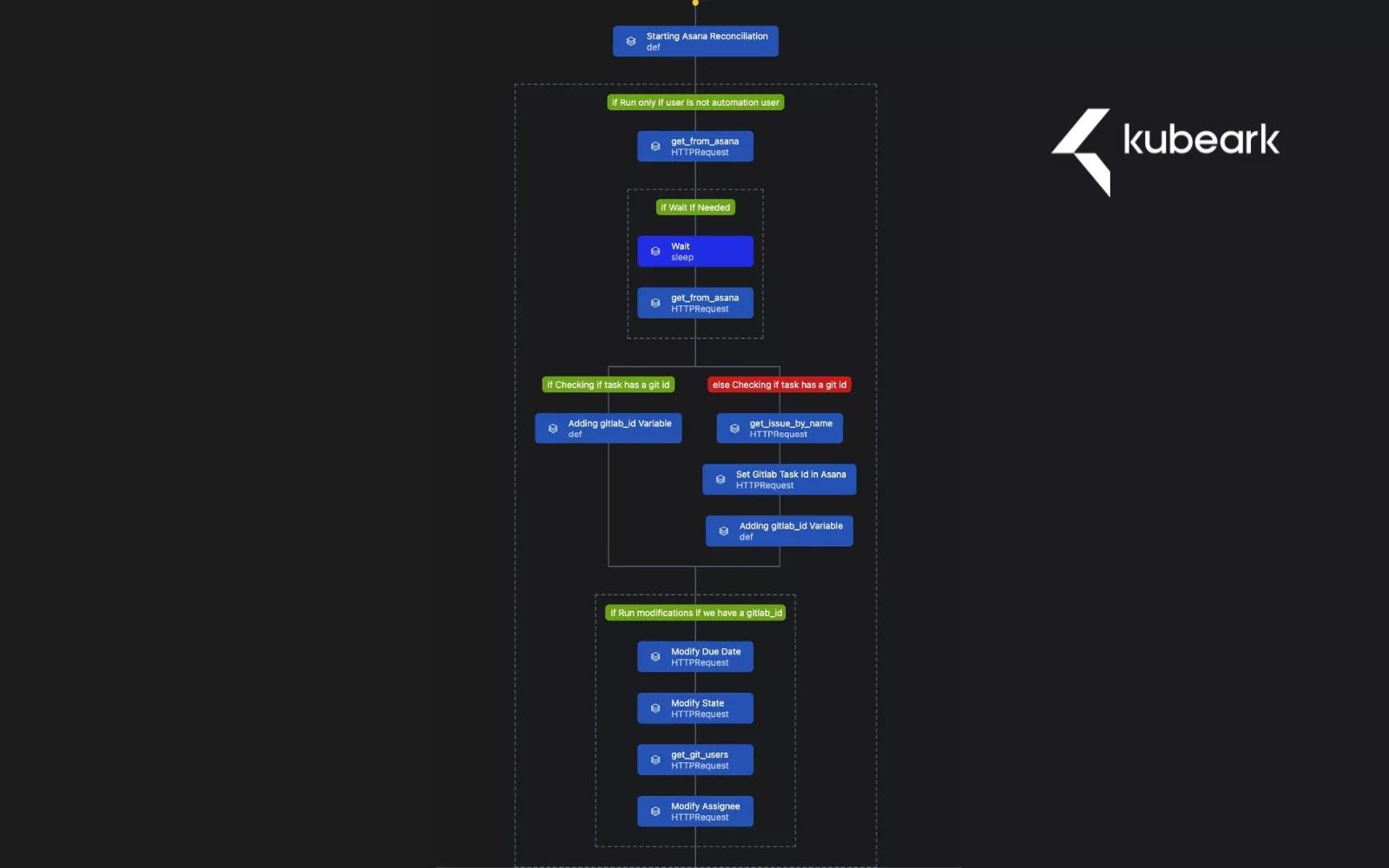 About Kubeark integration with Asana
Kubeark integrations for Asana enable you to seamlessly connect, integrate, and synchronize various tools used by different teams within your enterprise. With Kubeark's capabilities, you can automate and orchestrate workflows, saving valuable time for your teams and avoiding data loss.
With Kubeark's Asana integrations, you can:
Automatically synchronize Asana tasks with issues, incidents, work items, and tasks from other tools.
Create a mesh synchronization between multiple tools.
Sync attachments, comments, and custom fields between systems.
Ensure synchronized progress of work execution, including statuses.
Trigger synchronization process based on external apps events.
Custom integration based on your requirements.
Why Kubeark?
When you choose Kubeark for Asana integrations, you benefit from a range of advantages:
Excellent support, including the option for premium SLA.
Access to powerful reports and notifications to stay informed.
Set-up assistance and customization options.
Deployment options in the cloud or on-premises, based on your preferences.
Maximize Technology Investments: Kubeark helps you maximize the return on your technology investments by simplifying IT complexity in your enterprise. With Kubeark, you can optimize your IT spending and ensure that your technology investments are aligned with your business goals.
Enhance Process Efficiency: Kubeark streamlines and enhances process efficiency in your organization. By automating and orchestrating workflows across systems, processes, and teams, Kubeark eliminates inefficiencies and improves productivity.
Holistic System Orchestration: Kubeark enables holistic system orchestration, allowing you to manage and coordinate complex workflows across multiple systems. Through Kubeark's unified platform, you can ensure that all parts of your business operate in harmony, optimizing end-to-end processes.
Comprehensive Control: Kubeark offers comprehensive control over your IT environment. With Kubeark, you can have visibility and control over your infrastructure, applications, and data, enabling effective management and decision-making.
End-to-end Data Lifecycle: Kubeark facilitates the management of the end-to-end data lifecycle. From data acquisition to storage, processing, and analysis, Kubeark ensures the seamless flow and governance of data throughout your organization.
Fastest Time To Value: Kubeark delivers value quickly, with clients experiencing tangible benefits within the first two months. By implementing Kubeark, you can accelerate the realization of business outcomes and achieve faster time-to-value.
How to connect Kubeark + Asana?
Here's how to set up Kubeark for Asana:
Access Kubeark Platform and follow on-screen instructions to create first user
Set up Asana info: Go to Vault section and add Asana keys: asana_api_token, asan_custom_field_id, asana_url, asana_user_id, asana_workspace
Create your first workflow to connect an Asana project with any other tool in your stack
Here is a walkthrough to guide you through the process of syncing Asana tasks with Gitlab:
Go to Vault section and add Gitlab keys: gitlab_api_token, gitlab_project, gitlab_url, gitlab_user_id.
Go to Workflows and select Asana_to_Gitlab workflow and create 1 webhook
Add Webhook URL from step 2 to Asana Webhooks and select Issues Events
Go to Kubeark Workflows and select Gitlab_to_Asana and create 1 webhook
Add Webhook URL from step 4 to Gitlab Webhooks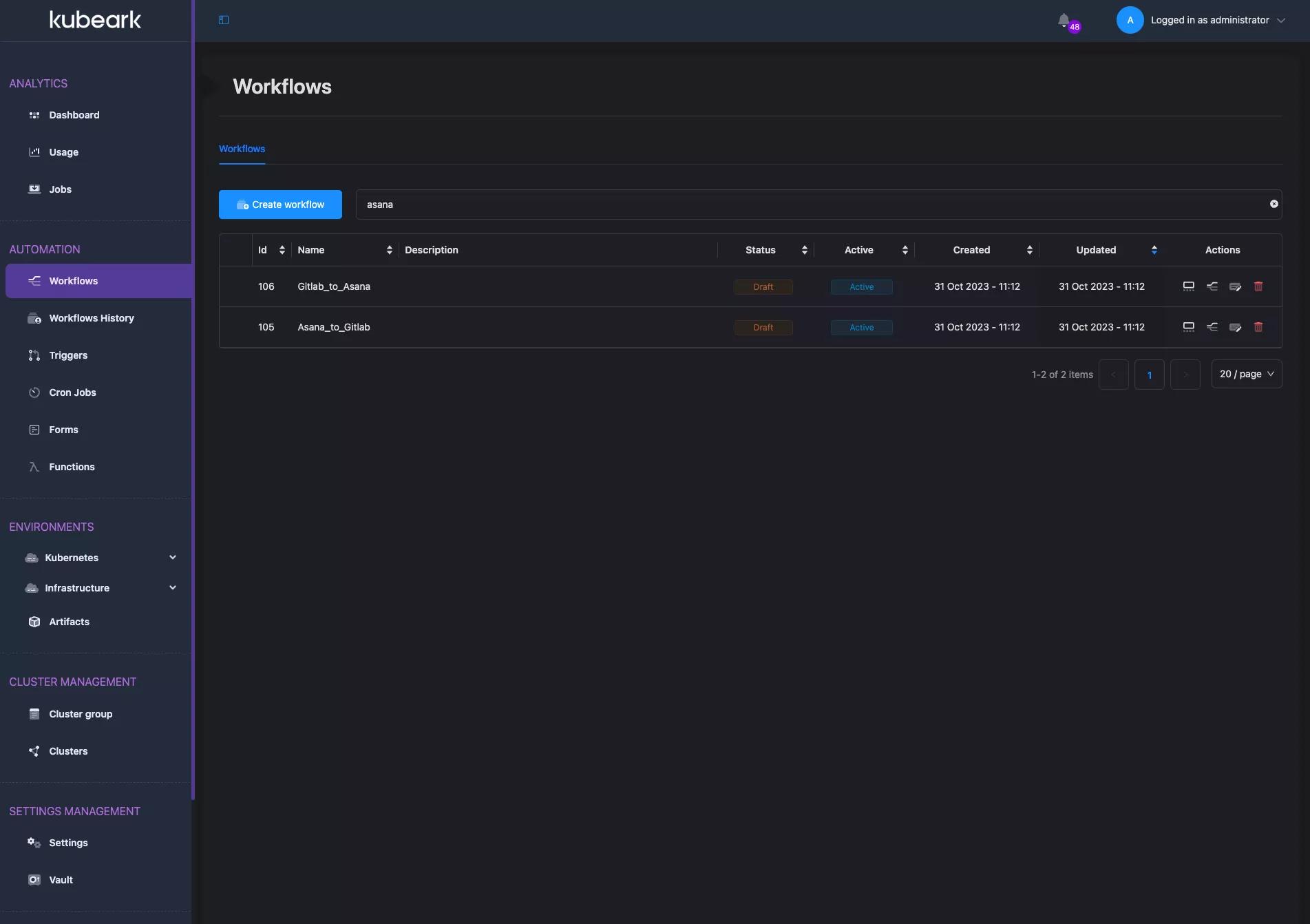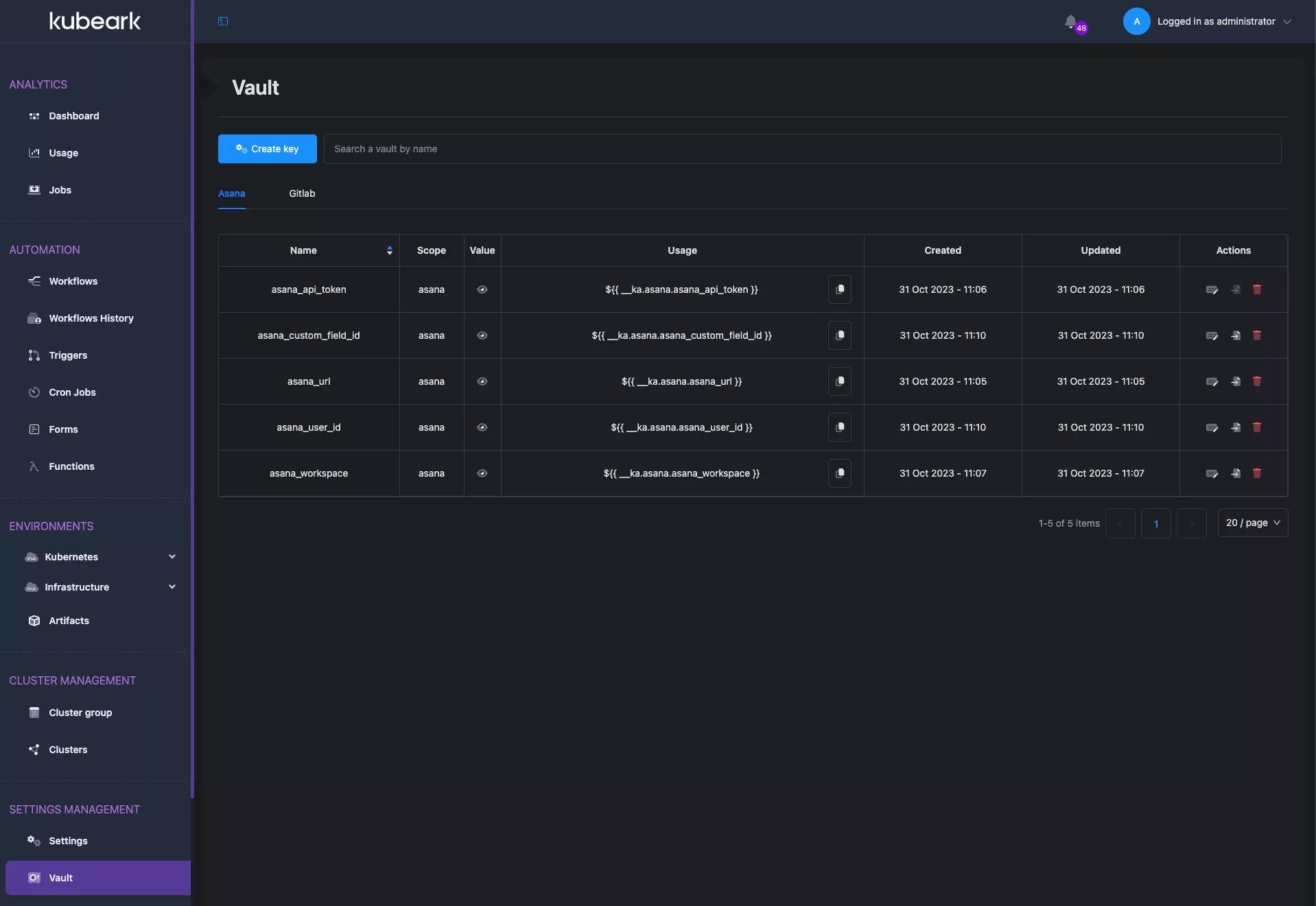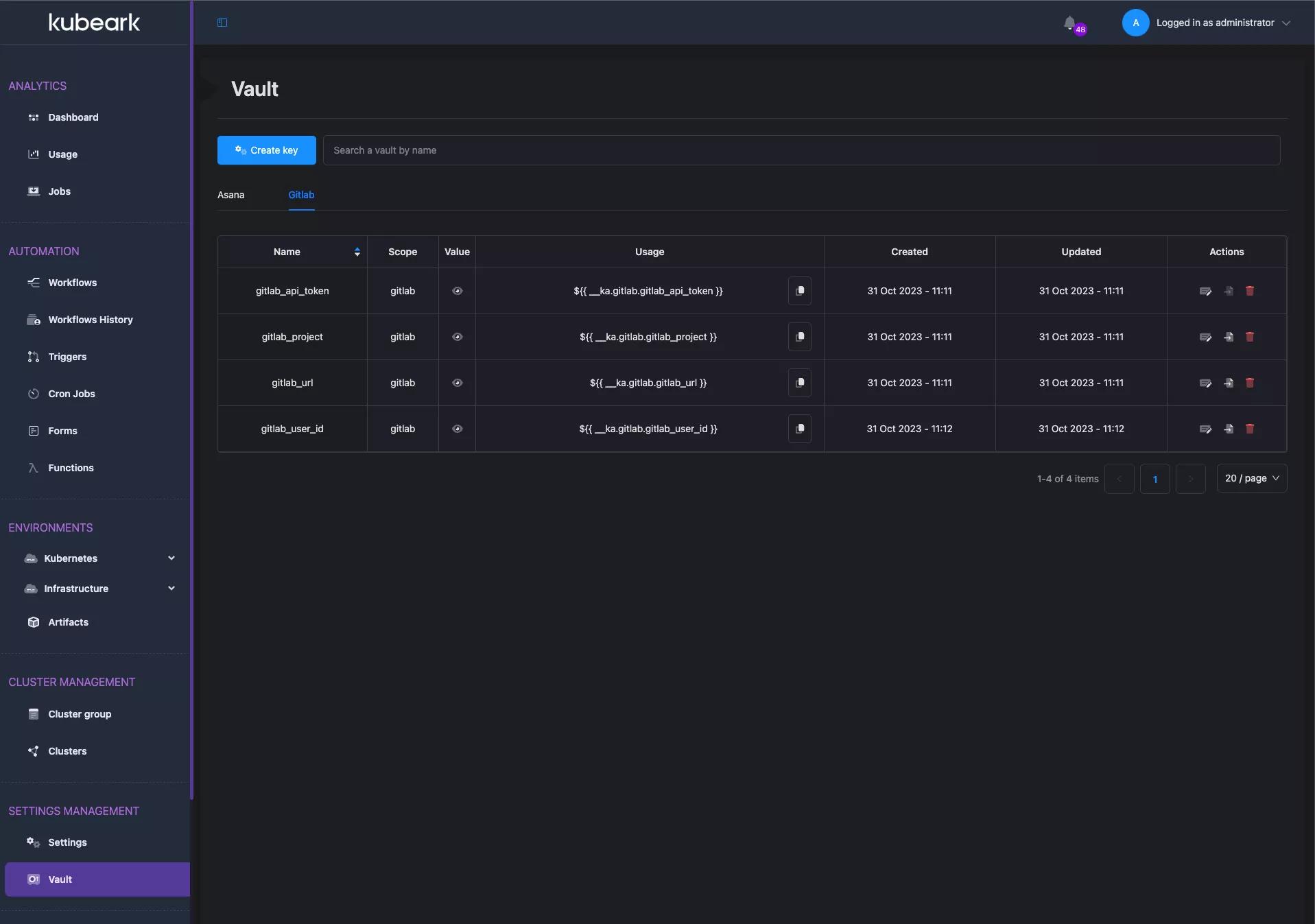 Learn more and get support
To learn more about using the integration, visit this site.
To explore Kubeark integrations for Asana, visit the Kubeark website and book a demo with us. You can also learn more about the Kubeark app, speak to a member of their team, or access documentation for further support.
Privacy Policy
Please click here to view Terms and Conditions.
Asana does not endorse or certify apps built by third-party developers. If you encounter inappropriate content or behavior, please report it here. Otherwise, please contact the app developer for support.
Collaborate effortlessly with Asana
From the small stuff to the big picture, Asana organizes work so teams know what to do, why it matters, and how to get it done. It's free to get started, simple to use, and powerful enough to run your entire business. Learn more about Asana today.