List view
Asana provides a variety of ways of how you sort and filter your list of tasks. Some people like to set the order manually, while others want tasks to be automatically sorted by a characteristic like due date or assignee.
Reorder tasks in a project
Drag and drop tasks
Hover over the task's name, left click & hold the grid icon, then drag the task up or down the list
You can also use keyboard shortcuts to move tasks up or down the list. Just select a task and hold command (Mac) or control (Windows) and the up or down arrows on your keyboard.
Project toolbar
Use your project toolbar to adjust your project view.
Incomplete, Completed, All tasks
Show only incomplete, completed or all tasks.
From your project's list view:
Click the toggle icon
Choose Incomplete, Completed or All tasks
Filter or sort your tasks
We've provided you with the most common views below, but you can customize and filter the view to get your list exactly the way you want it.
Recommended views
You can select your preferred view using one of the options on the top right of each project.
Clicking Save layout as default will save this project view for everyone you're collaborating with.
To save your view:
Click the drop-down arrow next to the project's title
Select Save layout as default
To show tasks completed within a specific timeframe, consider using advanced search to show lists of tasks within your chosen parameters.
Multi-filter
The Incomplete / Complete / All tasks button is now combined with the Filter button.
The Filter button now opens a new menu which allows you to implement multiple filters at once. There are also 3 quick filter options which are applied immediately when chosen: Incomplete tasks + assigned to me, All incomplete tasks, All completed tasks.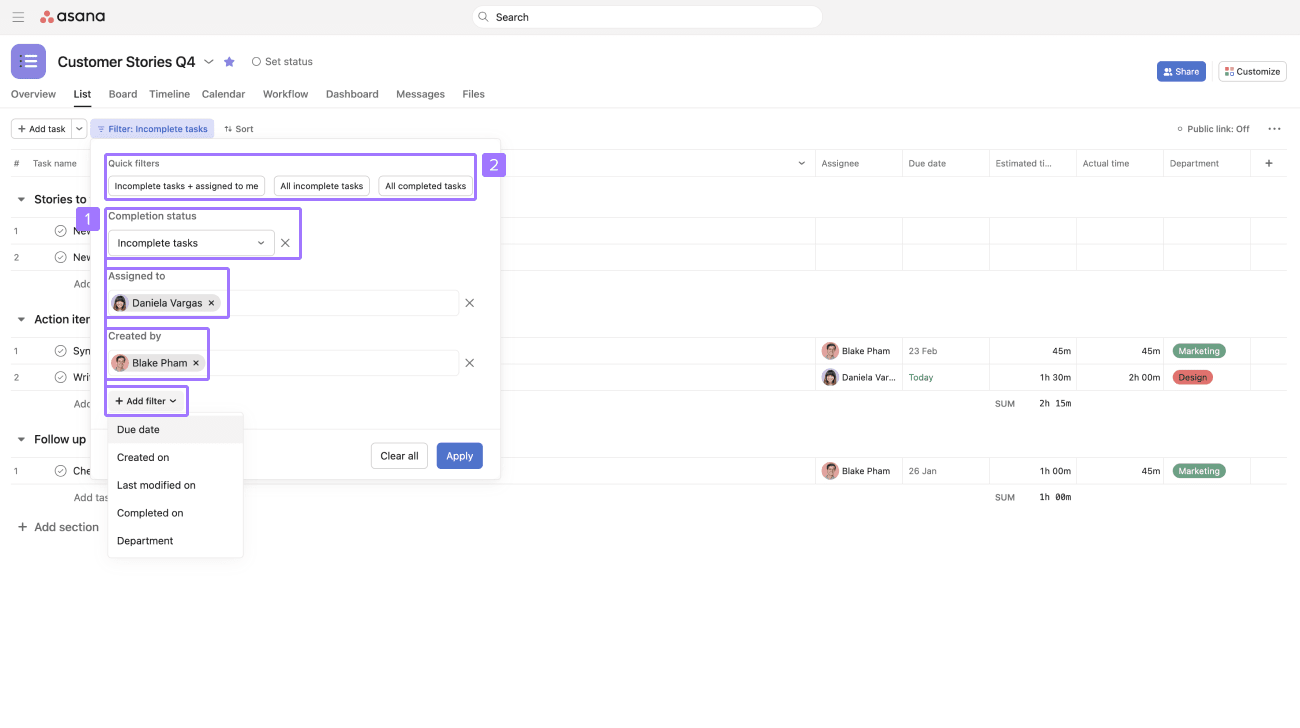 You can now use multiple filters at once
There are 3 quick filters to choose from
Multi-sort
The Sort button now supports multiple sort options at once. When a sort is applied, the Sort button will turn blue in the same way as the Filter button does when a filter is applied.

In this example, the tasks in the list view are sorted by both Last modified on and Assignee
Reverse sort
You can now choose the direction that you want to sort tasks, either ascending or descending.

Quickly sort tasks by clicking the column header in list view.

Click again to reverse the sort direction.