Team basics
What is a team?
Teams are subsets of people in your Organization who collaborate on projects with each other. Each team has its own Members and projectsprojects, Messages, and Calendar.
When a user first joins an Organization, they are not automatically added to teams within that Organization; each person must create or join teams within the Organization.
An Organization Member can belong to multiple teams simultaneously.
Teams in the Sidebar
If you're a Member of an Organization, you will find a list of its teams in the sidebarsidebar. As an Organization Member, you will see two lists of teams. The first are the teams that you are a member of, and the second are teams that you can browse and join, or request to join.
If you are a Member with access only to a specific project in an Organization, your sidebarsidebar will contain a list of the teams you can access. Members with access to a specific project cannot see any other teams in the Organization.
Team names will appear below your Favorites & Saved Searches.  
From the sidebar, you can:
View teams you're a member of
Create a new team
Browse and join other teams in the Organization
You can also create a team using the Quick Add button
If you do not see teams in the sidebar, that means you are in a Workspace. Learn how to create an Organization in this article.  
Create a Team
Create a new team to begin collaborating with your colleagues in an Organization.
You can do this either from your Admin Console when you navigate to Teams from your sidebar or directly from your Quick Add button.
To Create a Team via the Admin Console:
From your Admin Console navigate to Teams on the sidebar to the left of your screen
Click on the Create team button that appears beside your profile picture
A Create new team popup window will ask you to add your Team Name
You can then add a description of your team
Add Members
Tick the privacy settings beside the the privacy icons
When you are done, click Create Team
To Create a Team via the Quick Add button:
Click on the orange Quick Add button, then select the Team icon
The next pop-up window will allow you to Create new Team
Click Create Team
After creating the team, you can always adjust the team's permission setting via the Team Settings.
Join a Team
You can join a team by simply using the search bar to find the team name. You can search for other teams in your Organization and request to join one if you'd like to access the team's projects and collaborate with other people in the team.
To join an existing Team:
Use the search bar and search for a team
Click Join
You can also get an invite to a team via an email or a shareable link that gives you access to the team.
After requesting to join a team, an existing team member will need to approve your request. For public Teamspublic Teams, you will be automatically added without approval.
Organization Guests cannot browse for other teams they're not a member of.
Premium and Business Members can create a team through the Admin Console
Team Settings
Access your Team's Settings to change your team's name, adjust the team's permissions, manage your team's members, change approval notifications, or delete the team.
To access a Team's Settings:
Hover over the team's name and click the three dot icon
Select Edit Team Settings
Only team members can access the Team's Settings.
The Team Settings window has 3 tabs:
General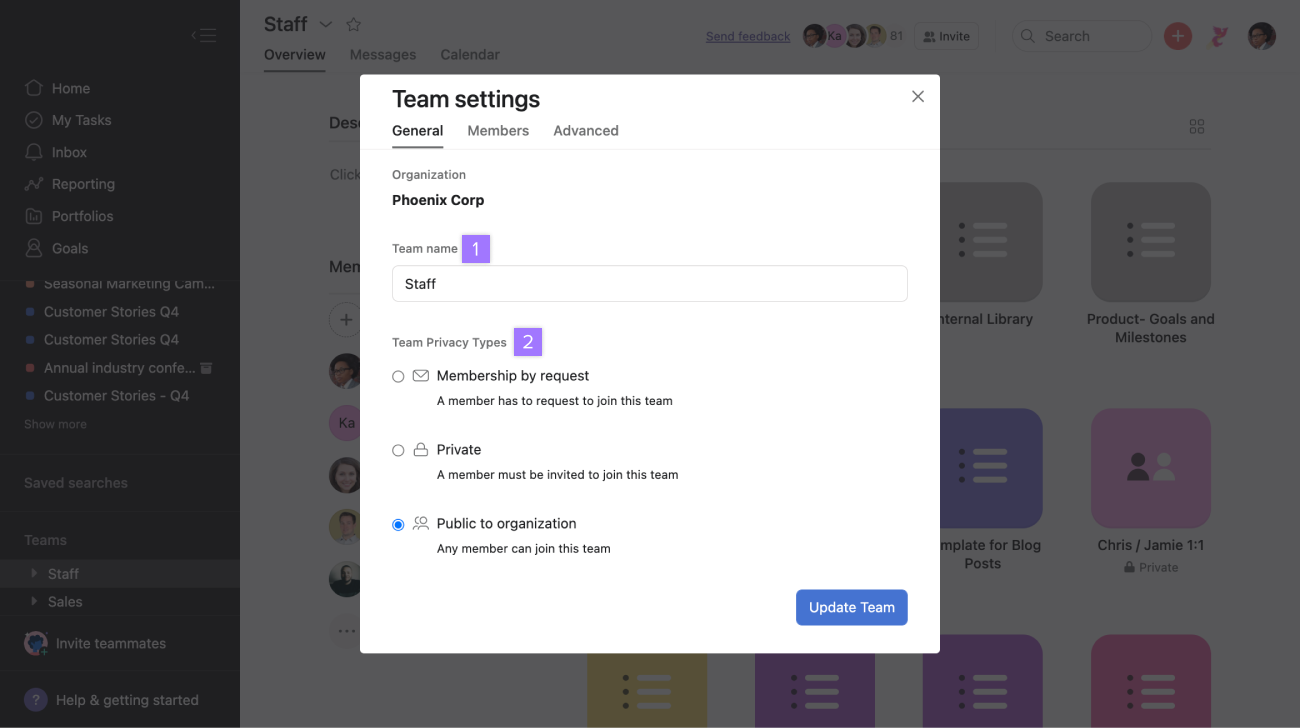 From the General tab, you can:
Change the Team's name
Modify the Team's permissions
Members
From the Members tab, you can:
Advanced
From the Advanced tab, you can:
Modify Membership Approval Notifications
Activate the Harvest integration
Delete the Team
If a team is deleted, every team Member receives an email notification of the deletion and the person whom deleted it will receive a link to undelete it, if they so choose.
If you're using Asana Goals, please ensure that any Goals assigned to the team are reassigned to another appropriate team before deleting the team. This will allow you to filter the goals using the newly assigned team for easier navigation.
Move project to another team
You can only move a project to teams you're a Member of. You will not see the option to move private projects. A private project will need to be made public for the sole purpose of moving it between teams. Once moved, it can be made private again.
To move a project to another team:
Click the drop down arrow
Select Move to another team
Select the destination team (the checkmark indicates the team the project currently resides in)
You can also move projects between teams by dragging and dropping them in your sidebar.