Team basics
What is a team?
Teams are subsets of people in your organization who collaborate on projects with each other. Each team has its own members, projects, messages, and calendar.
Users who join an organization are not automatically added to teams within that organization; each person must create or join teams within the organization.
An organization member can belong to multiple teams simultaneously.
Find teams
If you're a member of an organization, you will find two lists of its teams in the sidebar. The first is the teams you are a member of, and the second is teams you can browse and join or request to join.
If you are a member with access only to a specific project in an organization, your sidebar will contain a list of the teams you can access. Members with access to a particular project cannot see any other teams in the organization.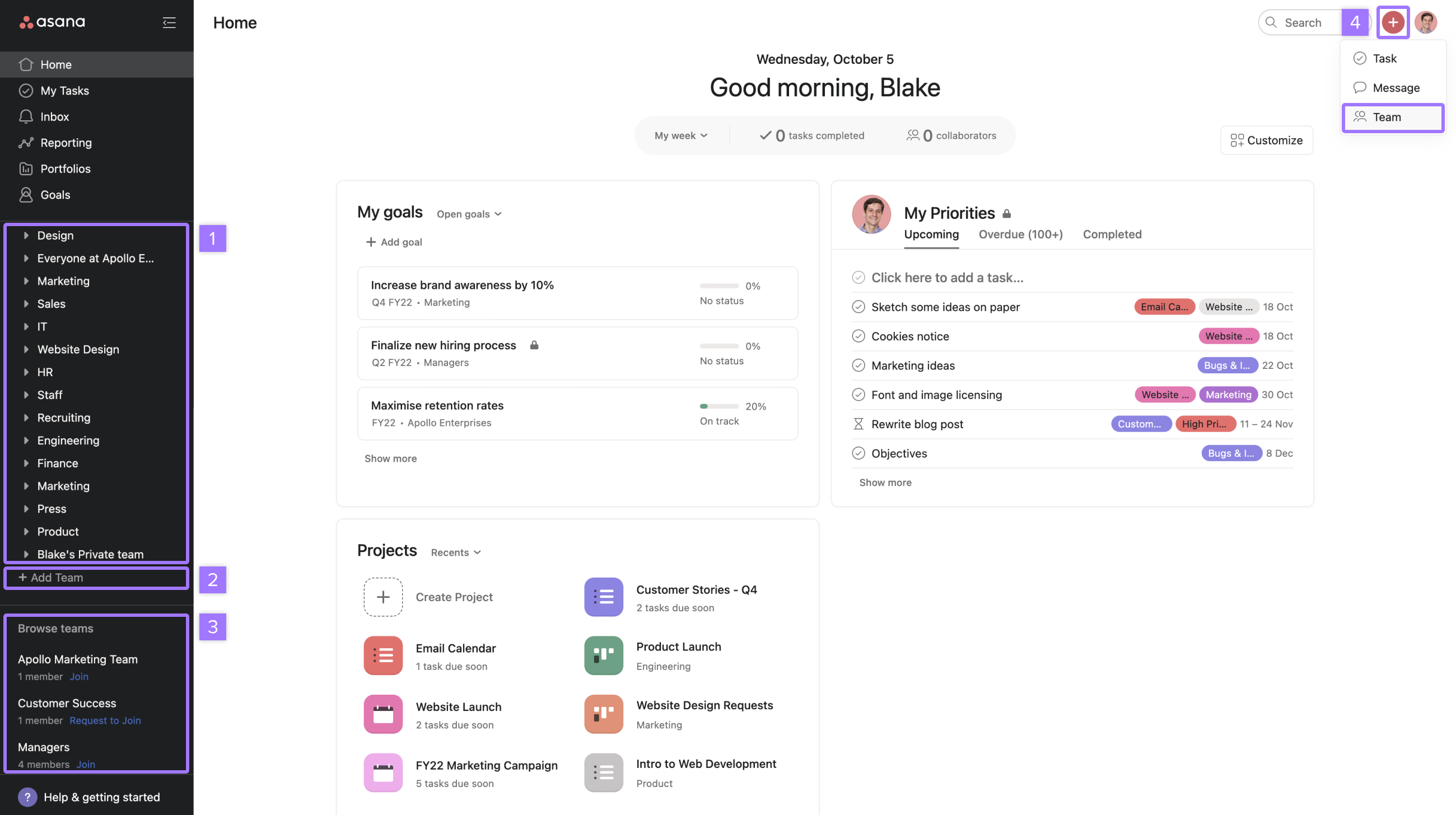 From the sidebar, you can:
View teams you're a member of and access your team's page
Create a new team
Browse and join other teams in the organization
You can also create a team using the quick add button
If you do not see teams in the sidebar, this may mean you are in a workspace. Learn how to create an organization.  
Team page
The team page is a central location where you can access all your team's work. There are three tabs on the team page: Overview, Messages, and Calendar.
Overview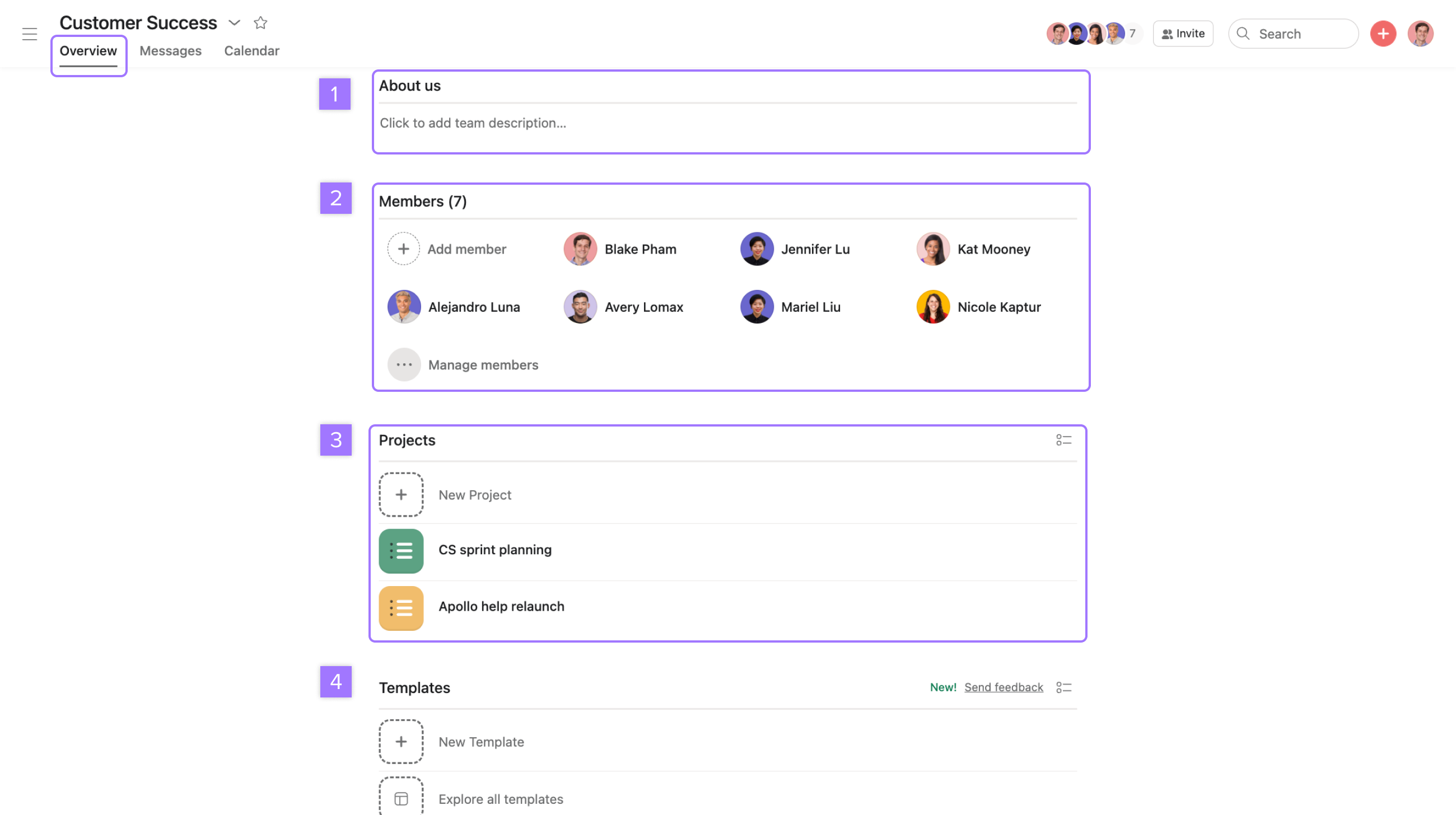 From the Overview tab, you can:
View the team description
View the member list and manage members
Access the projects in the team and create a new project
Access your project's templates and create a new template
Messages
Use messages to share team-wide announcements, celebrate major accomplishments, or talk about multiple projects at a time.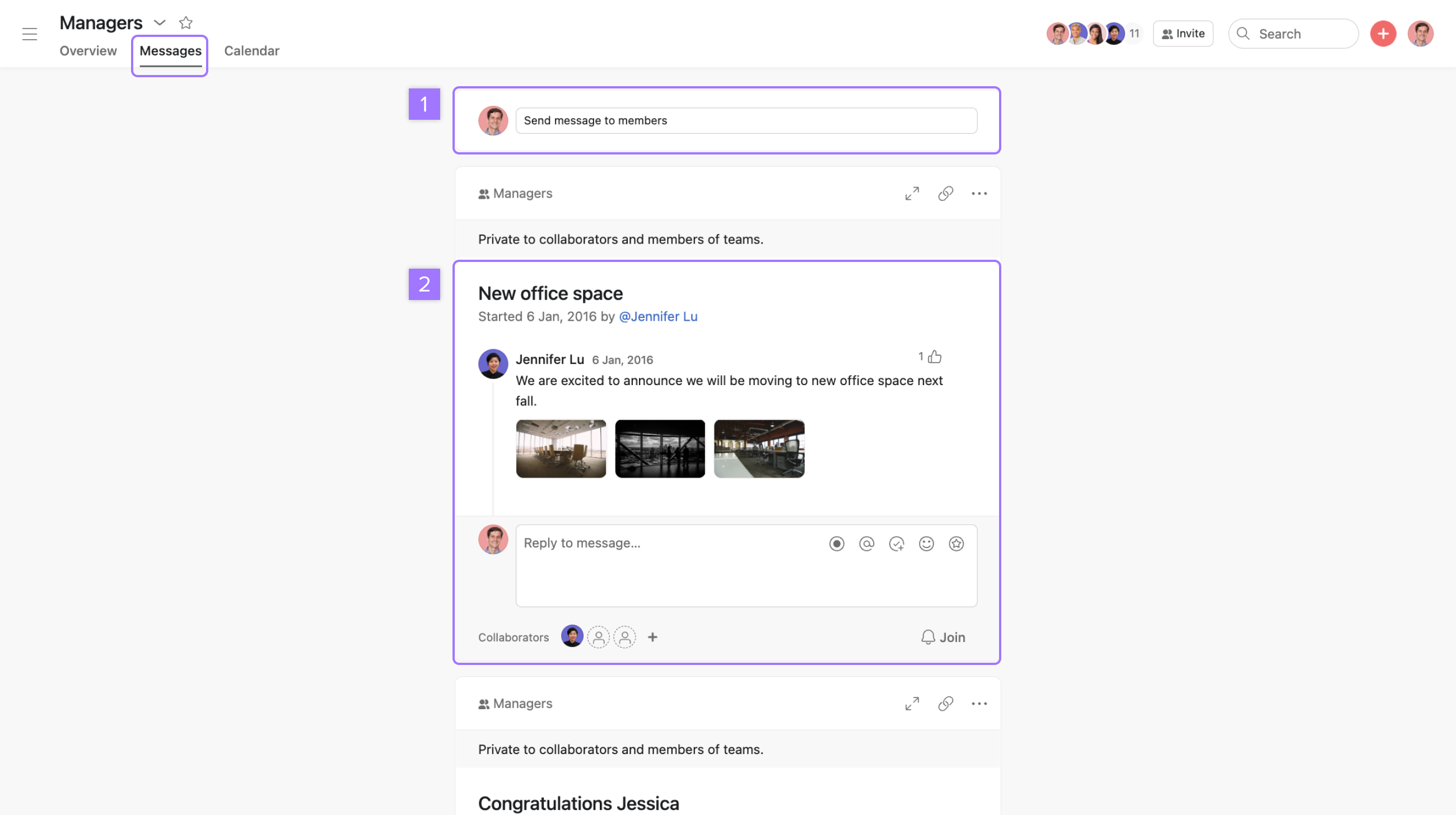 From the Messages tab, you can:
Send a new message to members
View previous messages
Calendar
Team calendars display tasks from all of your team's projects. They are a great way to stay informed on what your team is working on for the days and weeks ahead.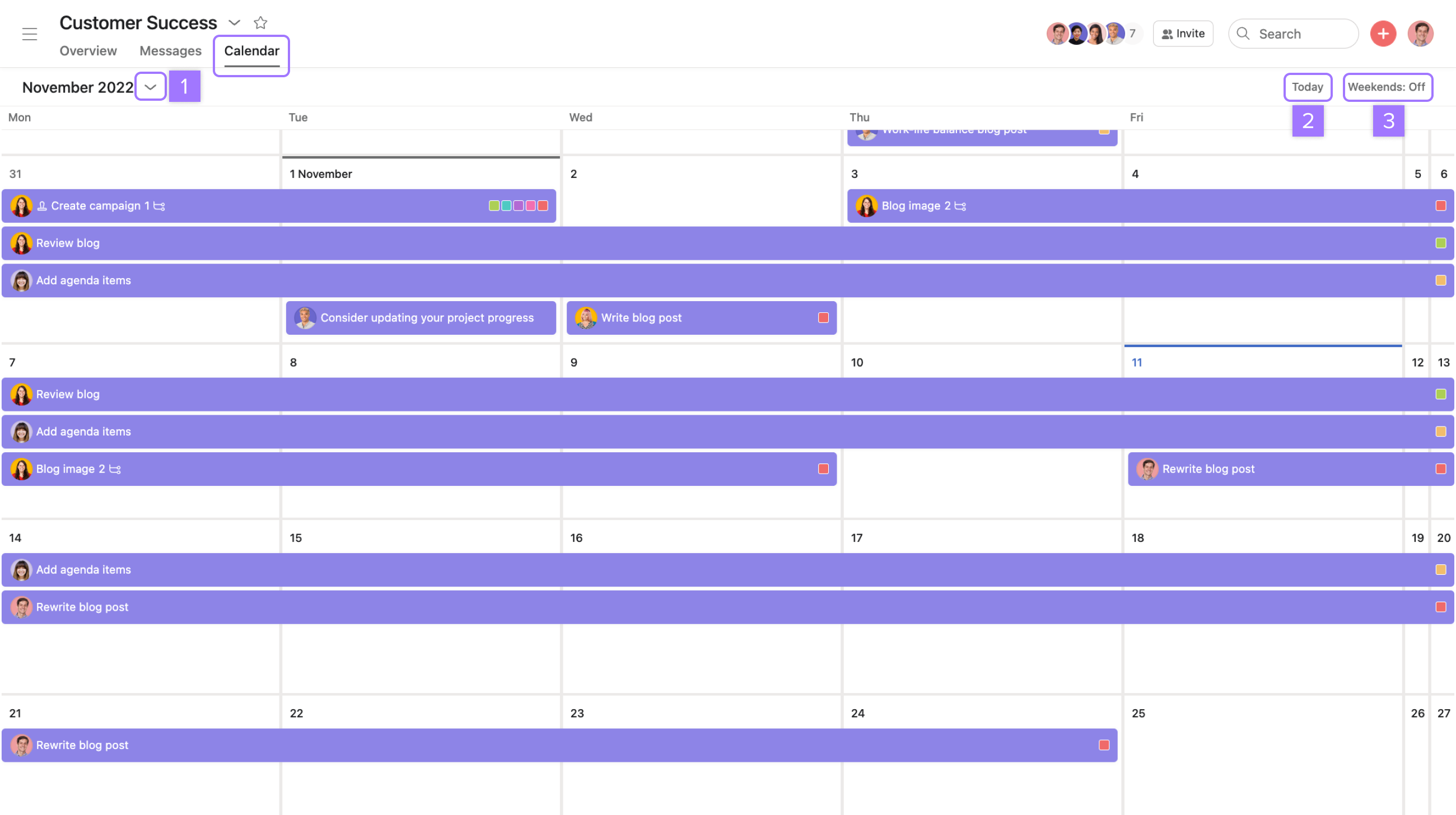 From the Calendar tab, you can:
Click the drop-down arrow to view another month or year
Click Today to go back to viewing the current week and month
Click the Weekends icon to turn on and off weekends on the calendar
Team calendars are read-only, and tasks cannot be added to them. Add tasks to a project to make them appear in the team's calendar.
Create a team
Create a new team to begin collaborating with your colleagues in an organization.
You can do this from your admin console, sidebar, or quick add button.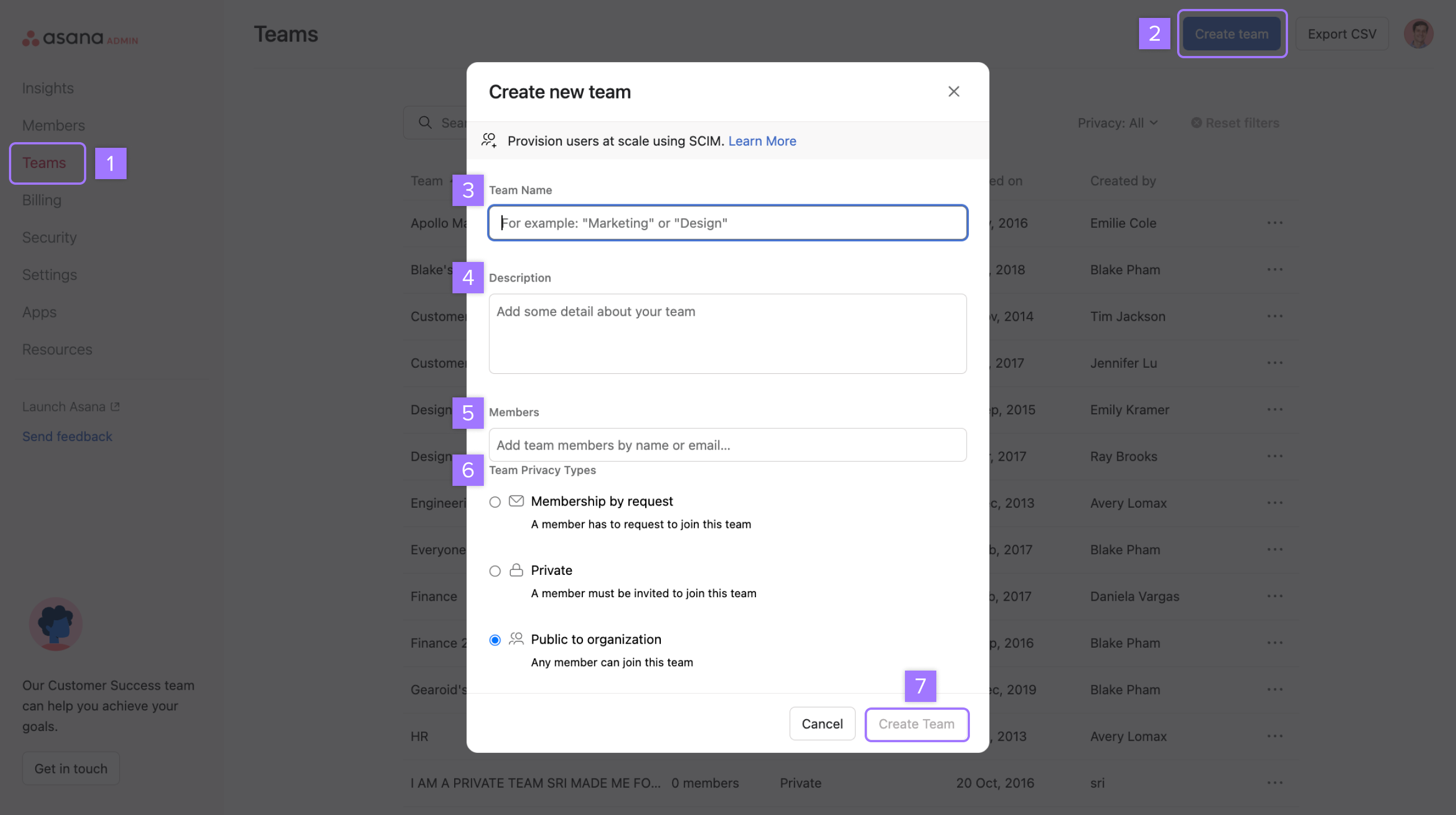 To create a team via the admin console:
From your admin console, navigate to Teams on the sidebar
Click on the Create team button in the top-right corner
A Create new team popup window will ask you to add your team's name
You can then add a description for your team
Add members
Choose the team's privacy settings
Click Create team
Invite multiple people to a team at once by copying email addresses from a CSV file and pasting into the invite window.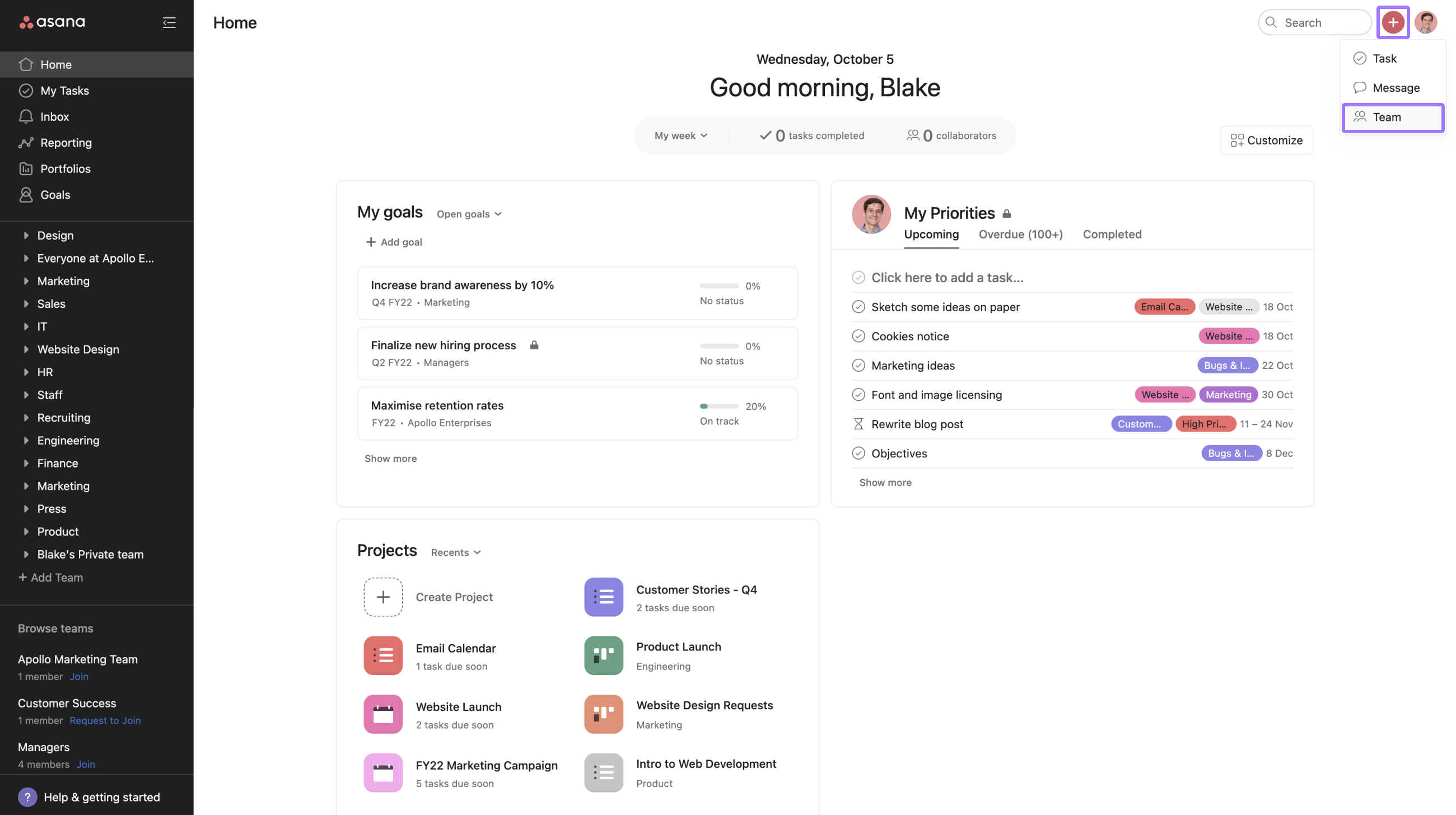 To create a team via the quick add button:
Click on the quick add button
Select Team
Fill out all the fields in the pop-up window and click Create Team
After creating the team, you can always adjust the team's permission setting via the team settings.
Join a team
You can search for other teams in your organization using the search bar and request to join one if you want to access the team's projects and collaborate with other team members.
You can also get an invite to a team via an email or a shareable link that gives you access to the team.
After requesting to join a team, an existing team member will need to approve your request. For public teams, you will be automatically added without approval.
By default, all current team members will receive an email notification for requests to join the team, and any member can click through to approve. However, you can limit these email notifications to a specific set of members.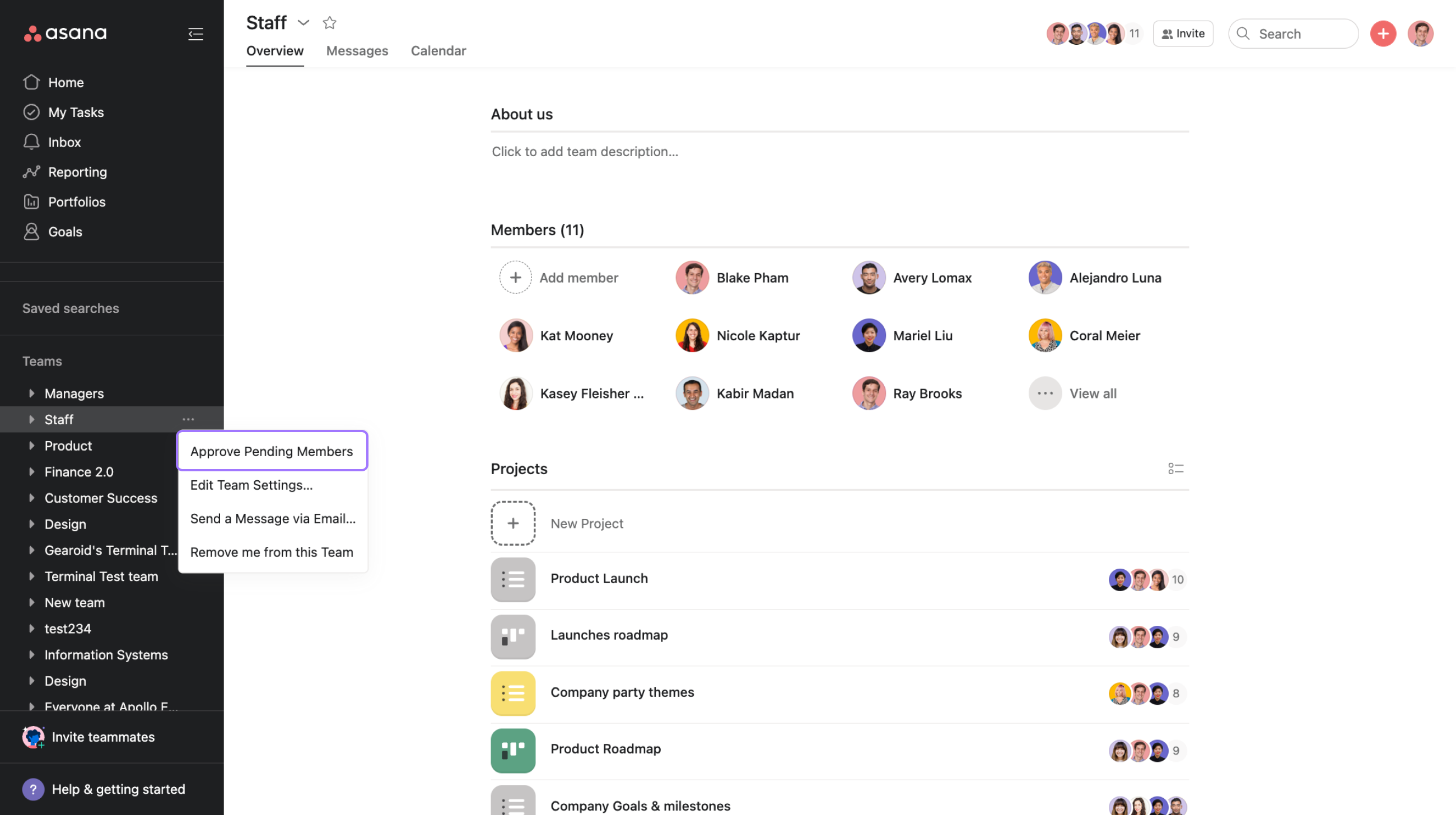 To approve team membership requests:
Click on the three dot icon next to the team's name and select Approve Pending Members.

From the Member Requests window, you can select Approve or Deny next to any person's name.
Organization guests cannot browse for other teams they're not a member of.
Team settings
Access your team's settings to change your team's name, adjust the permissions, manage team members, change approval notifications, or delete the team.
To access a team's settings:
Hover over the team name and click the three dot icon
Select Edit team settings
Only team members can access the team settings.
The team settings window has 3 tabs:
General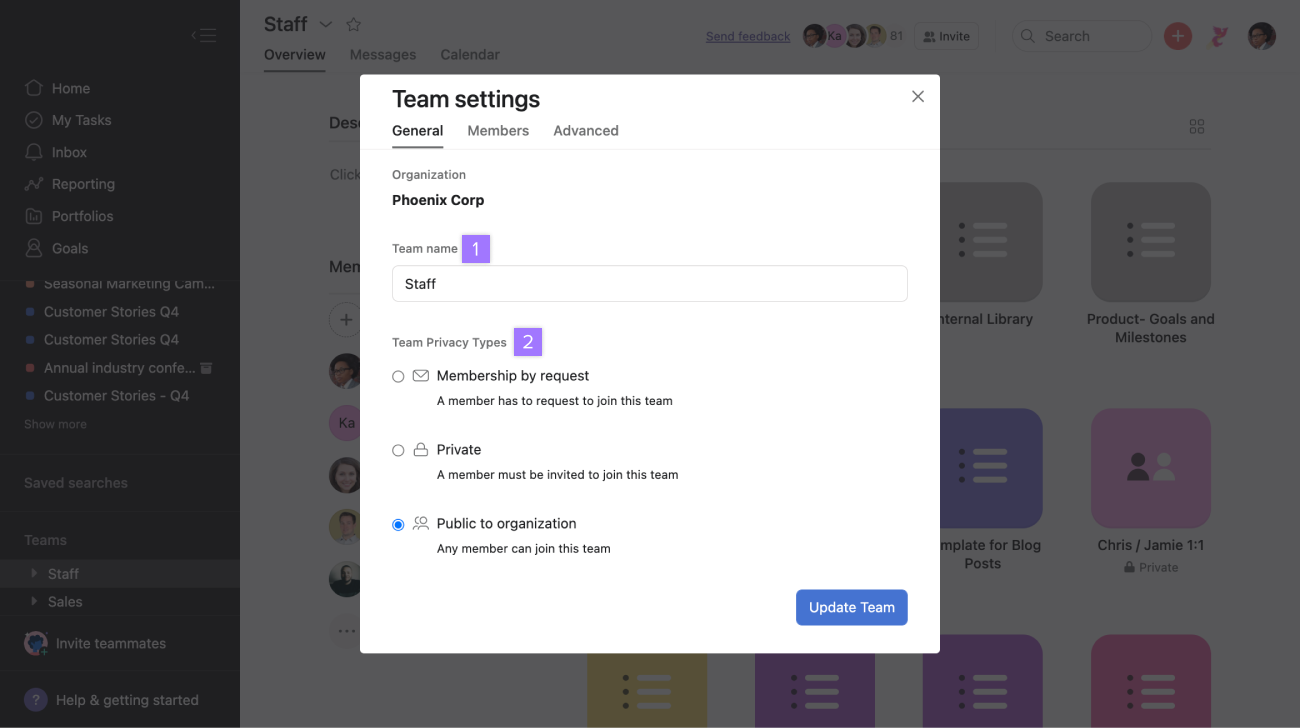 From the General tab, you can:
Change the team's name
Modify the team's privacy settings
Members
From the Members tab, you can:
As a team member, you can:
When members are removed from a team in an organization they will still have access to their assigned tasks. Only when they are removed from the organization are their tasks put into a project for the admin.
Advanced
From the Advanced tab, you can:
Modify membership approval notifications
Activate the Harvest integration
Delete the team
If the team you want to delete is part of a division, it must be removed from the division before it can be deleted.
If a team is deleted, every team member will receive an email notification of the deletion. The person who deleted it will receive a link to recover the team.
If you're using Asana Goals, please ensure that any goals assigned to the team are reassigned to another appropriate team before deleting the team. This will allow you to filter the goals using the newly assigned team for easier navigation.
Move project to another team
You can only move a project to teams you're a member of.
To move a project to another team:
Click the drop down arrow
Select Move to another team
Select the destination team (the checkmark indicates the team the project currently resides in)
You can also move projects between teams by dragging and dropping them in your sidebar.
Like what you see? Get started with a free 30 day Asana trial today. Try for free