Managing a team
Team members
Teams are subsets of people in your organization that collaborate on projects with each other. Each team has its own members and projects. Those who don't have access to all projects within your team will appear as limited access members in your team settings Members tab.
Limited access members can see projects and tasks they've been added to, but not messages or other projects in the team.
To access team members:
Click on the 3 dot icon that appears across from your team name
Click Edit Team Settings
Navigate to the Members tab, and you'll see a list of full team members and those with access to specific projects. If you're a full team member you can grant full team access to limited access members in this list.
Adding someone as a task follower or assignee in a project within a team, will not add them to that team's members list. They will need to be added as a project member.
As a team member, you can:
Approve requests to join the team
When somebody requests to join a team, the request must be approved in order for the person to become a member.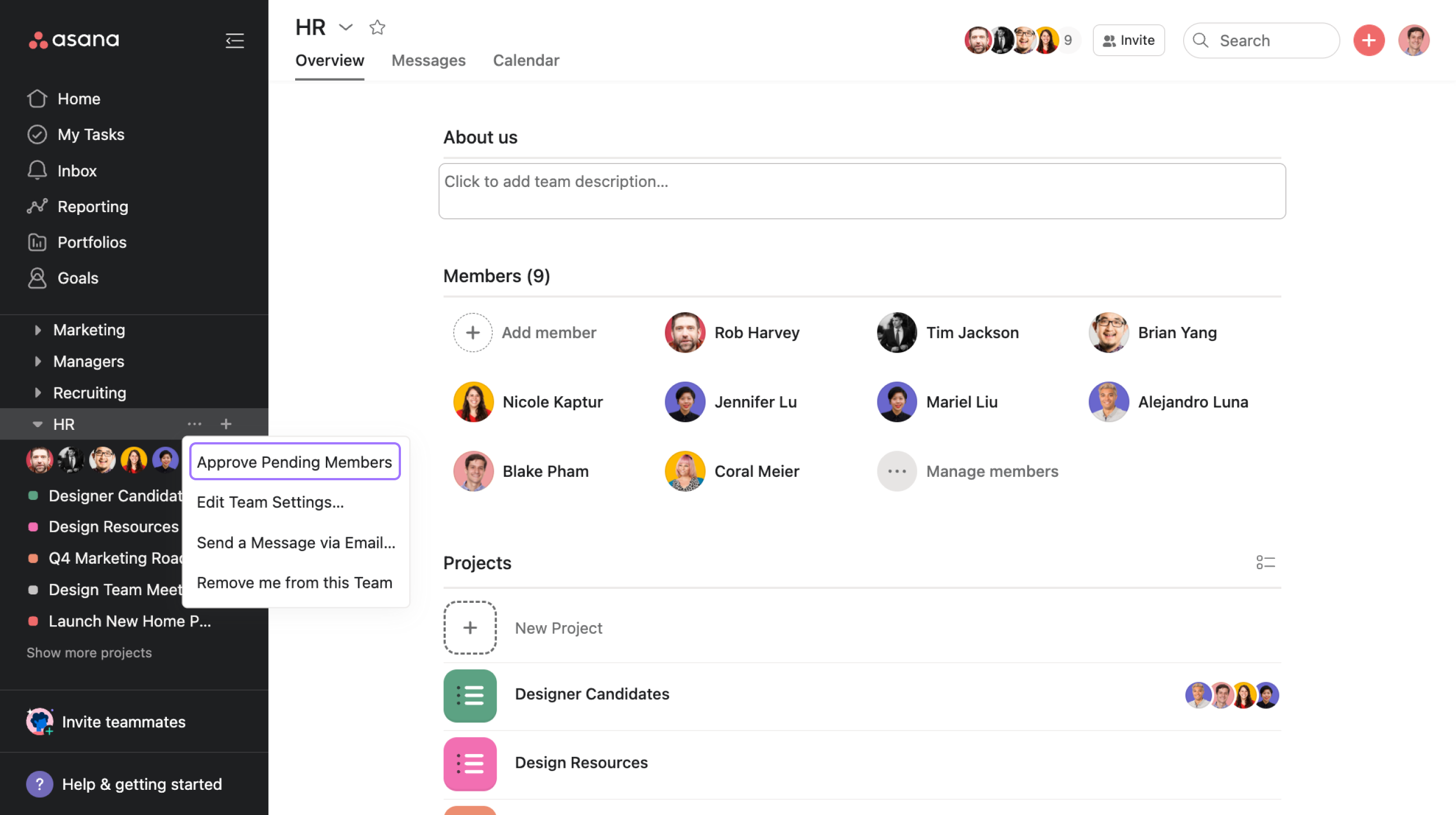 To approve team membership requests:
Click on the three dot icon next to the team's name and select Approve Pending Members.

From the Member Requests screen, you can select Approve or Deny next to any person's name.
Public teams do not require approvals.
Membership request notifications
By default, all current team members will receive an email notification for requests to join the team and any member can click through to approve, but you can limit these email notifications to a specific set of members.
All team members can still approve requests to join the team even if you limit who receives these notifications.
Limit membership request notifications
Access the Team settings
Navigate to the Advanced tab
Select Only select members are notified to approve new members
Enter the name of the members you would like to get notified
Membership request notification settings are only available to teams that are set to Membership by Request.
Invite someone to a team
Invite someone to a team in your organization to give them access to the team's projects.
You can invite someone to your team by clicking the Invite button in the team page's header
From there, enter the person's name or email address to invite them into the team.
You can also invite someone to a team by heading to the team's Overview tab or using the Quick Add button.
Remove someone from a team
Remove someone from your team if you no longer want them to access the team's projects and team messages.
Learn how to remove someone from your organization entirely in this article.  
To remove someone from a team:
Navigate to the Members tab in Team settings
Hover over the person's name and select the Remove button that appears
What happens to assigned tasks when members are removed from a team in an organization?
Members still have access to their assigned tasks. Whatever tasks they have assigned in the projects under the team will stay assigned to them.
It is only when they are removed from the organization that their tasks are put in a project for the admin.
After you have deprovisioned someone from your organization, a private project containing their previously assigned tasks will be created for you.
Access to projects when removed from the organization
Team members will lose access to all the projects under the team from which they are removed.
If the team is Request to join or private, or if the project is private under a public team, they won't be able to access the projects anymore.