Tasks on Android
Create a task
To create a task:
Tap the Quick Add icon
Add a task title
Tap to add an assignee or due date
Add a description
Add your task to a project
Add a subtask
Tap to add collaborators
The task will then appear in your My Task list view once you tap Create.
By default the task you create will be private to you. Upon creating your task, privacy indicators will be visible, indicating if the task is private or public.
The fields when creating a task are context-sensitive. If you tap the Quick Add button from:
Another Member's My Tasks - the assignee will automatically populate as that person
A project - the project affiliation will automatically populate to that project
You can still change a task's assignee or project even if either of those fields are already populated.
It is also possible to create a task in Asana via the Share menu in other apps on your Android device.
View or edit a task's deails
Task editing lets you include all of the necessary information needed within your tasks such as Custom Fields, description, projects, subtasks and attachments. Having all relevant information within your tasks allows you to trust that everything is in the right place.
From the task edit details screen you can:
Mark a task as complete, like a task or forward a task
Tap the three dot icon to see more options
Add a task title
Edit the assignee or due date
Add Custom Fieldsto your task
Add a task description
Add your task to specific project
Create subtasks within your task
Add an image, attachment, appreciation or link
Add collaborators to your task
From the more options screen, you can:
Mark as a Milestone
Mark as an Approval
Add a tag
Add to a project
Copy URL
Leave the task
Mark task for
Share
Delete the task
Custom Fields
Custom Fields allow you to add additional data to tasks. They can be used to track stage, priority, cost or anything relevant and important to the workflow of your task and its assignees.
Description
Add a description to your task to describe, direct or lend further context and clarity to the goals of your task. You are given the option to either Cancel or Save your task description.
Projects
Projects allow for you to organize all of the tasks related to a specific initiative or goal. To add a task to a project, click on +Projects symbol and select the project or projects you would like your task to be added to.
Subtasks
Subtasks can assist with the tracking and monitoring of tasks within tasks by outlining who is doing what by when.
Within subtasks you can choose:
Subtask name
Assignee
Subtask due date
Attachments
By clicking on the + sign below Attachments, you can easily add documents and photos to your task.
Here, you will have the option to add:
Documents
Photos from your photo gallery
Pictures that you have taken on your mobile device and wish to add to your task.
Task comments
When you tap and hold a task comment, you can:
Pin a comment to the top
Copy the comment
Edit the comment
Delete the comment
Weekly Focus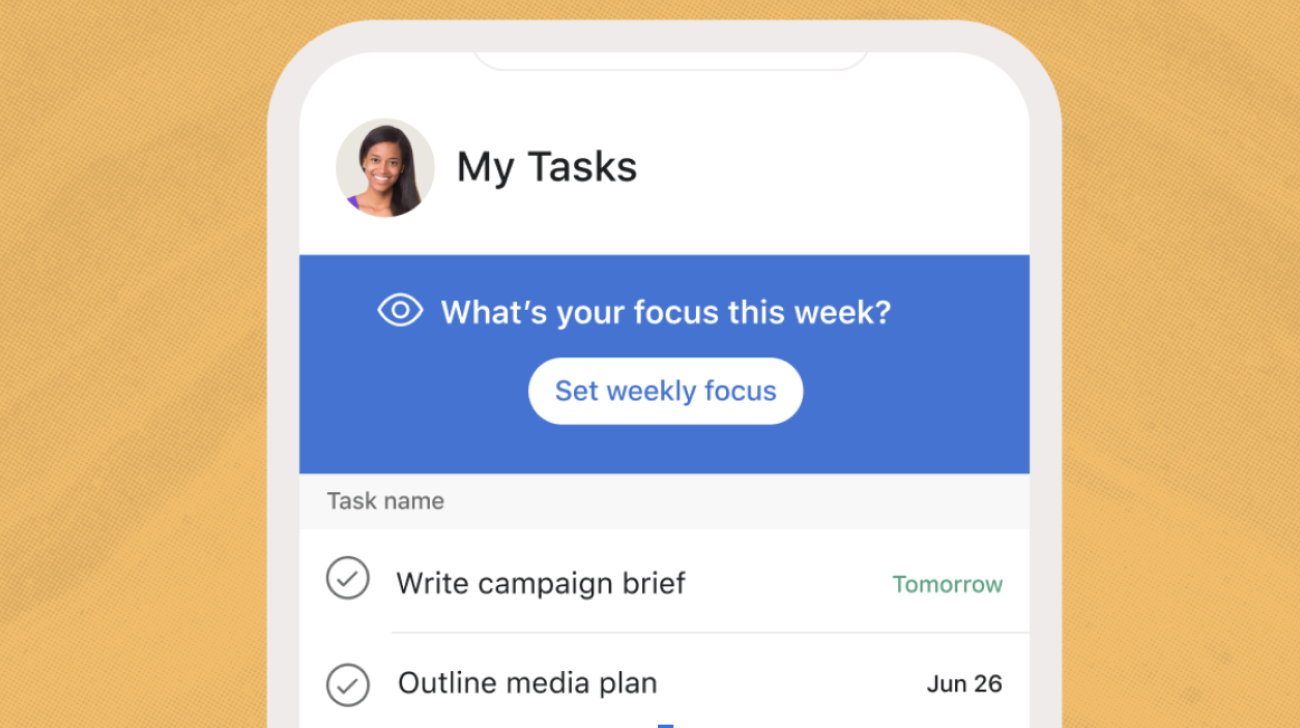 Your Weekly Focus
Kick off your work week more intentionally, by setting a focus for the week. Capture your top priority for the week and see it displayed across mobile and web. Because this focus stays visible across platforms, setting a focus leads to better planning, actions and outcomes.
On Monday mornings, mobile users are prompted to set a weekly focus. Weekly focus set on mobile will appear on desktop and web versions of Asana also, but will not be editable there. Your weekly focus will appear at the top of your My Tasks during the week, to help guide your planning.
Appreciations
Appreciations are a way to empower users to collaborate on tasks. They're animated and illustrated characterizations that users can add via the Appreciations icon picker. Appreciations are a great way to give recognition and kudos to teammates and collaborators on anything from project milestones to completed tasks and status updates.
You can access Appreciations through the comment section of any task, status update etc. by clicking on the Appreciations icon picker
The Appreciation will then appear in line with other comments
Recurring tasks
To create a recurring task, tap the due date field at the top of your screen.
From the next screen:
Tap Options
Select Set to Repeat
Choose the frequency for how often the task repeats
Click the drop-down arrow to select Never, Daily, Periodically, Weekly, Monthly or Yearly.
A recurring task will only duplicate itself for the next time it is set to be due after it has been marked complete.
Adding a start date or due time
Start dates
Add a start date to your tasks so you know when to start your work, how long it should take, and never miss another due date.
To add a start date:
Tap Options
Then, tap Add Start Date
Enter the day you need to start working on your task as your start date. Then enter the date you need to complete your task by as your due date.
Due time
You can add a due time to your task at any time.
To add a due time:
Tap Options
Then, tap Add Due time
Add a time for your task.
Drag and drop
Tap and hold tasks to drag and drop them to manually order your tasks.
Drag and Drop is only possible when the list is sorted by priority.
Swipe options
Swipe a task left to mark it complete. Swipe a task right to pick an assignee, due date, or to delete it.
If you have the Celebrations Hack enabled, you may see a narwhal jet triumphantly across your screen after completing a task.