Save time in Asana
Asana was designed to help you get work done, instead of doing work about work. To keep your flow going speedily, try out these features designed to help you save time.
Multi-select
Most likely you've used multi-select in other programs, and it's just as useful in Asana. To multi-select several tasks, just click then hold down Shift and click the up or down arrow.
You can also click the first task and drag the cursor to the last task. Or you can click on the first task, hold down Shift, then click again on the last task. If the tasks aren't next to one another, hold down Shift, then click each individual task you want to select.
Once you multi-select tasks, you can take mass actions on them:
Bulk assign them to the same person
Give them all the same due date
Drag and drop them elsewhere
Tag all tasks
Associate another project to all tasks
Mark all tasks incomplete/complete
Delete or merge all tasks
Add a follower to all, or follow/unfollow all of them yourself.
Keyboard shortcuts
One of the keys to saving time in Asana is learning keyboard shortcuts. You can see all keyboard shortcuts here or by typing Cmd+/ or Ctrl/ in Asana (it's a keyboard shortcut for keyboard shortcuts!)
A majority of Asana-specific shortcuts entail typing Tab + (a letter). Some letters correspond to the feature they're shortcutting. For example, Tab+F adds a follower.
Check out our favorites:
Tab+Q - Quick Add task

Tab+M - Assign to me

Tab+Y - Mark as Today

Tab+X - Focus mode (so you can only see the task)

Tab+S - Add a subtask

Colon (:) to a task name - Turn a task into a Section heading

Tab+↵ - Jump to task list/main pane

H in Inbox - Hide read items
Learn more: shortcuts
Assign copies of a task
You can assign copies of a task to multiple teammates, or even to a whole team, with just a couple of clicks from the task assignee field. Click the assignee field in any task then select the assign copies icon. Next, type the names of the teammates or teams you want to assign the copies to.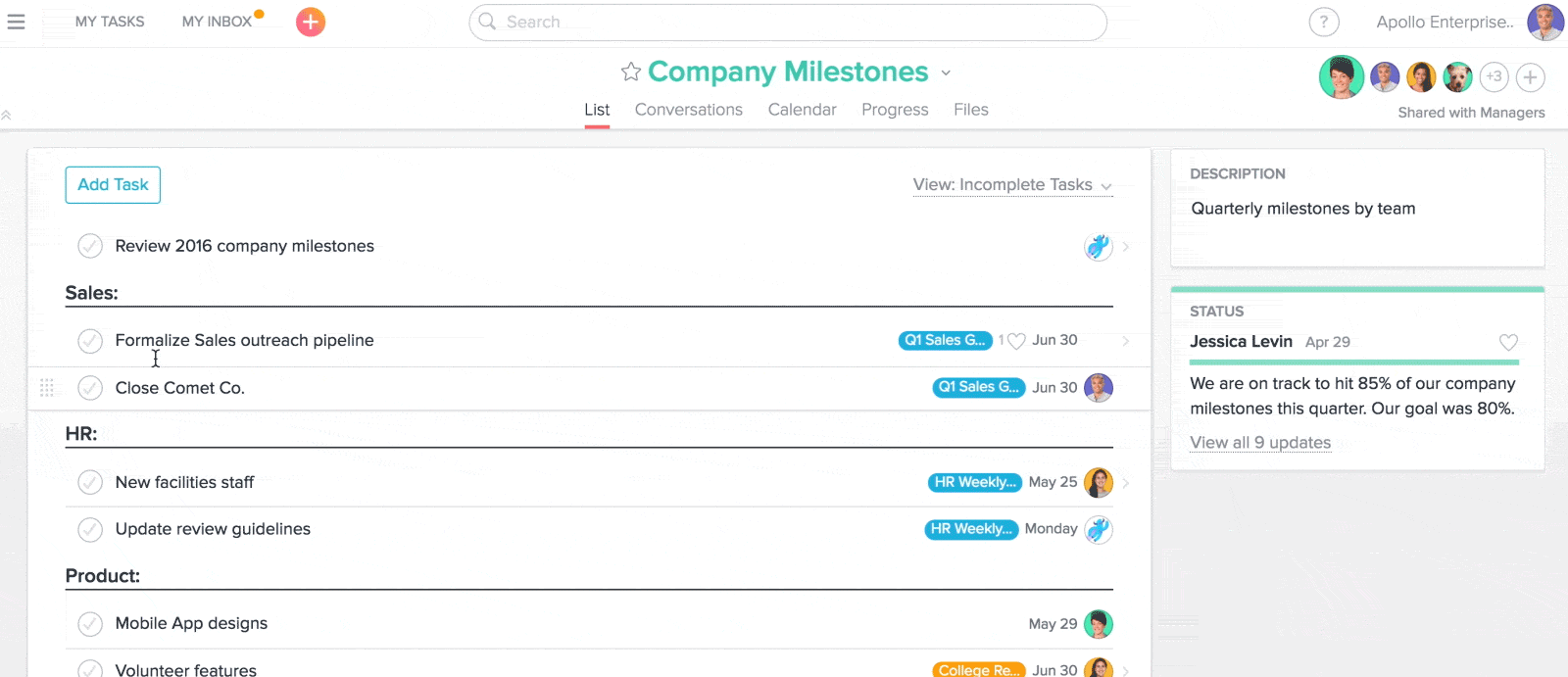 Task copies contain all of the same information as the original task. If you forgot something and need to bulk-edit them, use multi-select!
When to assign copies of a task:
When you need feedback on your work, assign copies of a review task to all the relevant stakeholders for comments or approval.

When routine work needs to get done, like open enrollment for benefits, assign task copies to make sure each teammate gets it done by the deadline and has all the information they need.

Assign copies for each team member to add agenda items to your team's weekly meeting project prior to your next meeting.
You can make numerous copies of any task, but each task will still only have one assignee.
Tracking work in Asana should be quick and easy, so you can spend valuable time getting work done. Using these shortcuts are sure to save you time and streamline your Asana use.
Use Asana-created templates:
Asana-created templates are an easy way to save time, because they're already made for you. These templates help you set up a variety of workflows that you can further customize to meet your team's needs.
Asana Onboarding and Meeting Agenda are free templates that any Asana user can create.
The following templates are only available to Asana Premium users:
Company Goals & Milestones
Event Planning
Product Launches
Editorial Calendar
Bug Tracking
Candidate Tracking