Connect your work
One of the major "a-ha!" moments in Asana is when customers realize they can connect their work across Asana and see it in different places—without duplicating anything or losing context. This saves time so teammates don't have to search for what they need, or re-create work that is being tracked elsewhere.
@mentioning
How to use @mentioning
Use @mentioning to link to projects, conversations, teammates, or tasks from any description or comment field in Asana. Type @ and then start typing the name of the person or information in Asana you want to connect.
When to use @mentioning
Linking to background information—@mention another task, project, or conversation so their previous work history and context are immediately accessible. Your teammates won't have to search for this information either.

Calling out related tasks—If one task is related to another, you can @mention the other task in a comment or task description so teammates are aware of other relevant work that is happening.

Address a comment to a specific teammate—@mention your teammate in a task or conversation to add them as a follower. They'll get a notification and can direct their attention to your comment.
Add tasks to multiple projects
How to add tasks to multiple projects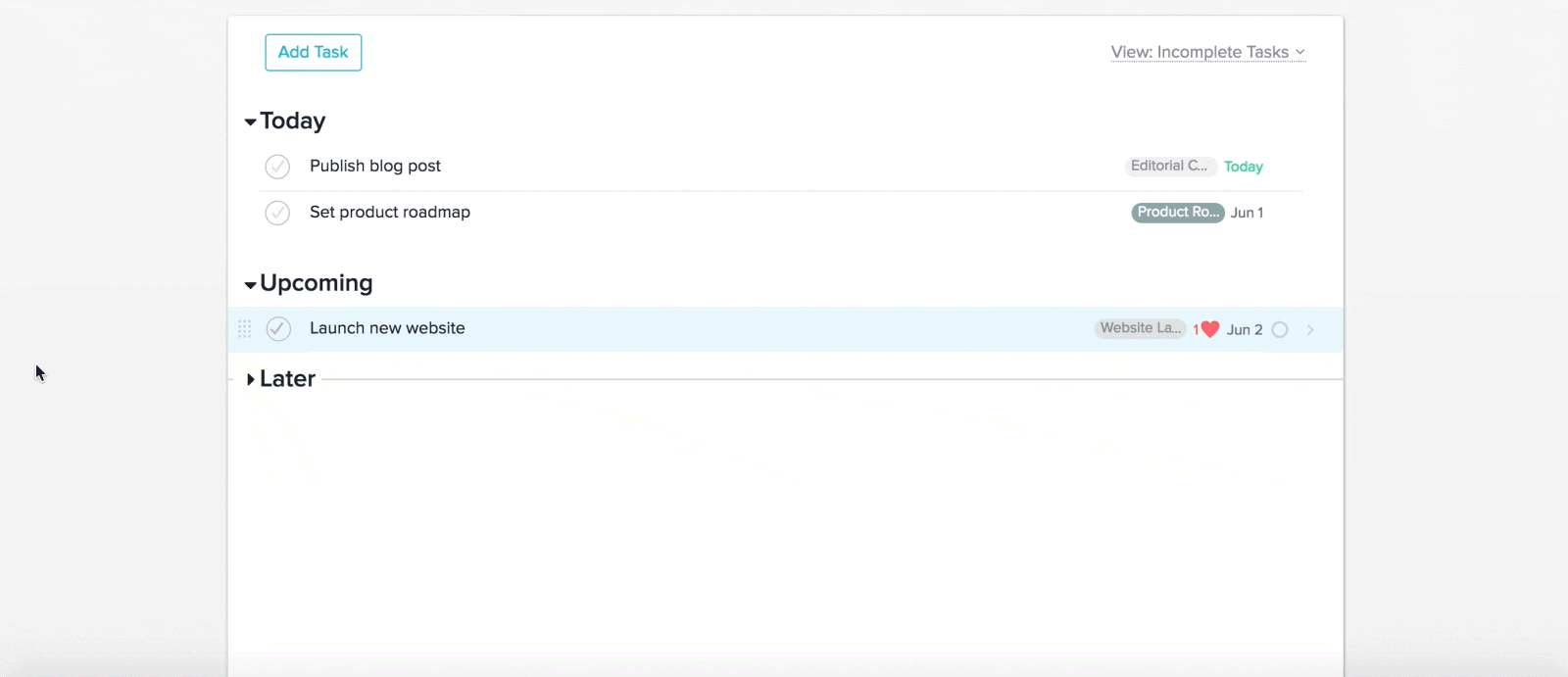 The task above is in two projects, including "Website Launch" & "Weekly Team Meeting"
A key step to making Asana fit your workflow is adding a single task to multiple projects. Type Tab + P and use the + button that appears to add the task to as many projects as needed. If a task is updated, the changes are reflected in both projects (since it's the same task, but listed in two projects). You can see the same information in different contexts and projects, without duplicating work.
When to add tasks to multiple projects
You want to discuss a task in a meeting—Add the task to your meeting project and keep it in the original project. Then you won't forget to discuss it and can see it in context with work occurring around it.

The task is relevant to more than one project—Add tasks that require a handoff or work from two teams to both teams' projects. Then everyone can track progress, without duplicating information or conversations about the task.

Your task relates to a high-level goal or milestone—Track goals in a project with your team or company. When you have a project that tracks the steps you will then take to achieve that goal, you can keep the goal task in your goal project, as well as the project tracking your initiative.
Mark tasks as waiting on
How to mark tasks as waiting on
First navigate to the dependent task, then click task actions menu (three dots icon) from the Read more and select Mark as Waiting On…. You can search for and select the task that will need to be completed before you start on the current task.
Once selected, the task will now be marked as waiting on another. You'll see a yellow banner at the top of your task to let you know that it's not ready to start yet. Once your task is ready to start, you'll receive a notification in Read more that you're ready to get started.
If the due date gets changed on the first task, you'll receive a notification so you can update the due date for your dependent task accordingly.
When to mark tasks as waiting on
Some projects aren't as simple as working through a task list in order. When you have more complex projects, or multiple teams working on a project, dependencies help you keep track of all of the moving pieces and ensure work starts at the right time, with any changes communicated easily along the way.
Here are a few ways you could use dependencies:
Custom fields
Adding custom fields to a project means you can track even more information in each task. Create drop-down, number, or text fields to capture information and track progress, status, and more. You can even use the same fields across different projects, see them in Calendar View and run advanced searches to report on them and make comparisons between tasks.
How to add custom fields
Add custom fields to any project by clicking the project actions drop-down menu and selecting Manage Custom Fields. From here you can create and manage your custom fields according to what information you need to track. Once added, the fields will appear in the List View of that project, as well as in the task description of any task in that project. Anyone with access to that project can edit the field values.
When to use custom fields
The ways to use custom fields are almost limitless (see our Help article for examples), but here are some general considerations to help you decide when to add them to a project.
Use custom fields if you:
Want to add certain data to all the tasks in a project
Have standard information you need to track on tasks across projects (e.g., priority level, time costing, work stage)
Want to make sure your teammates fill out certain information for each task in a project
Need to search for or report on specific data fields (like priority, hours, stage, etc.)
Learn more: Connecting your work