List View Redesign
We've made the Asana list view easier to get started and add fields to your project, giving it a more grid-like structure so it's easy to scan what needs your attention, and added more information such as subtask count to the main view.
We'd greatly appreciate any feedback you have on the List View redesign.
New Header
From the header, you can:
Access actions for the project
Edit your project details
Favorite the project
Set a project status
Field Headers
The new field layout makes it easier to organize and categorize your work.
Click the drop-down arrow next to your Field Header to sort, move or hide the Column.
Adding Custom Fields
Custom Fields are available for all Premium, Business and Enterprise customers.
Adding a new custom field
Add custom fields directly to your project from your toolbar.
You can also add a custom field to your project by clicking the "+" icon in your project's list view.
Toggle existing fields on and off
You can also toggle existing fields such as Assignee, Due Date, Tags or Project on or off through the Fields icon on your toolbar.
First level subtasks will have the same Custom Fields that their Parent Tasks have. Subtasks can have different Custom Field values than their Parent Task.
Sorting by Custom Field
From your project toolbar
Sort your project by custom field on your list view.
To sort your project by custom field:
Click the sort icon in your project's toolbar
Select your custom field
Once you've selected your sort option, click the three-dot icon on your project toolbar and click "Save layout as default" to save your view.
You can view 5 field headers for Projects in board format and 20 for Projects in list format
Sort using the caret in your Field Header
You can also sort by custom field using the caret in your project header.
Adjust your column width
You can adjust your column width at any time using drag & drop.
Summations on Sections
You can see summations on Sections for any Custom Field.
You can view up to 20 Field Headers on a project.
Subtask and Comment Count
The amount of subtasks and comments per task is now visible from list view:
The amount of comments are indicated by the speech bubble icon.
The amount of subtasks are indicated by the subtask icon.
The visibility of subtasks on the grid depends on which filter Incomplete/Completed/All tasks has been ticked for the project.
Viewing a task's associated projects
The new grid view contains a Field Header that you can hide or expose that shows any other projects that your tasks live in.
To show the project Field Header:
Click the Fields icon in your project's toolbar
Click the "Projects" toggle icon
Once enabled the projects Field Header will be visible from your project's list view.
Viewing Tags on grid view
Viewing Tags on grid
You can now view tags directly from your grid view.
How to add Tags to grid
You can now add Tags directly from your grid view.
From your project's grid view:
Click on the empty Tag field
Click on the Add a Tag option to add your Tag
Metadata Fields
Metadata Fields are available in projects in List view. Metadata Fields contain information about their respective tasks. This metadata can be used to build effective workflows to track work in your projects, and it's also possible to sort and filter tasks by Metadata Fields.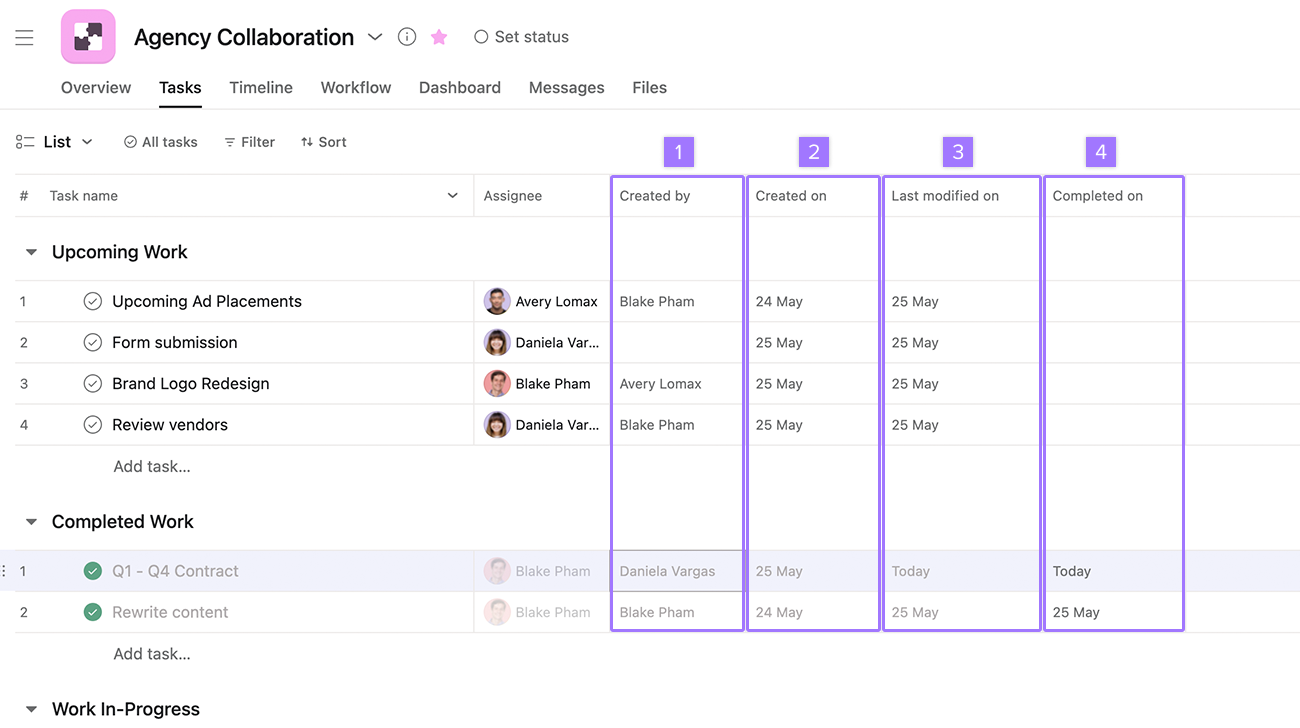 Metadata Fields allow you to view the following information about tasks:
Created on: The date the task was created.
Created by: The user who created the task. The field remains blank for tasks created by Asana through Form submissions. For recurring tasks, the user who completes the previous instance of a task will display as the creator of the new instance.
Completed on: The date the task was completed.
Last modified on: The date the most recent modification was made, such as reassigning a task, changing Custom Field values, commenting on the task, or editing the description.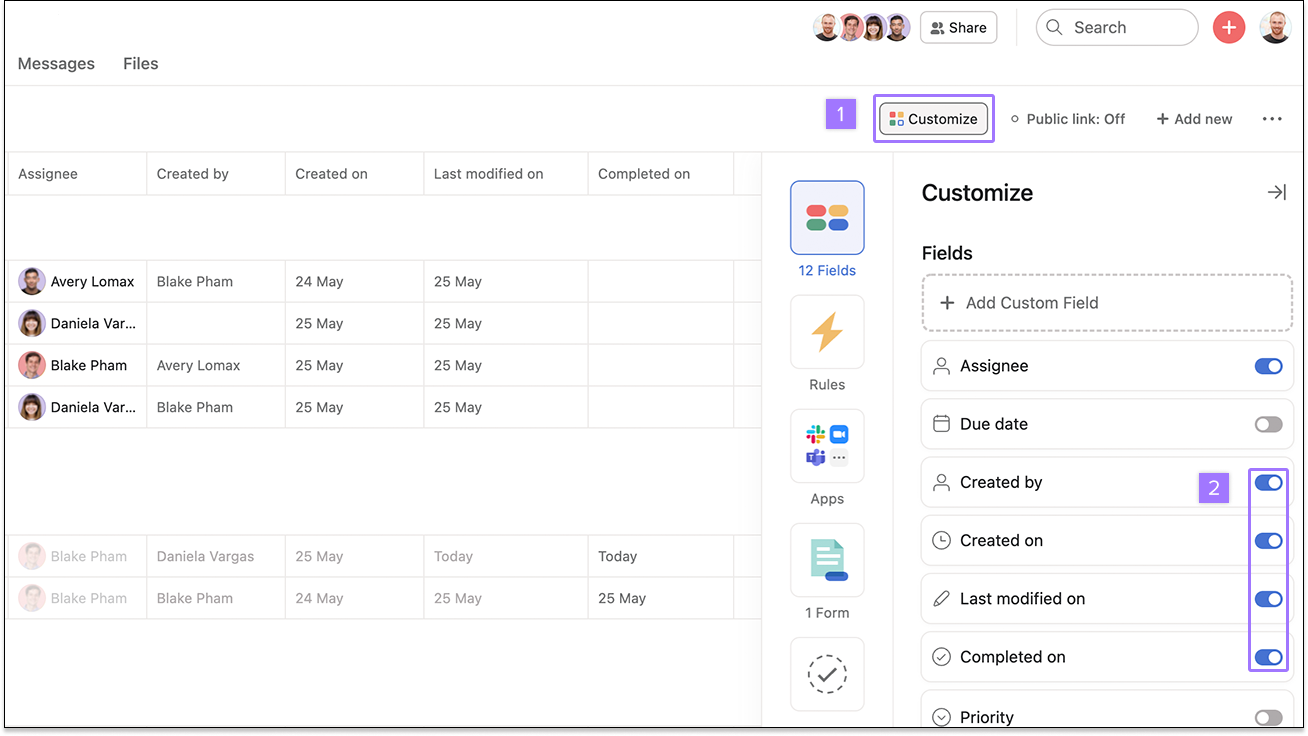 Metadata Fields can be toggled on or off individually from within the Customize menu.
Click the Customize button to open up the menu
Toggle individual Metadata Fields on or off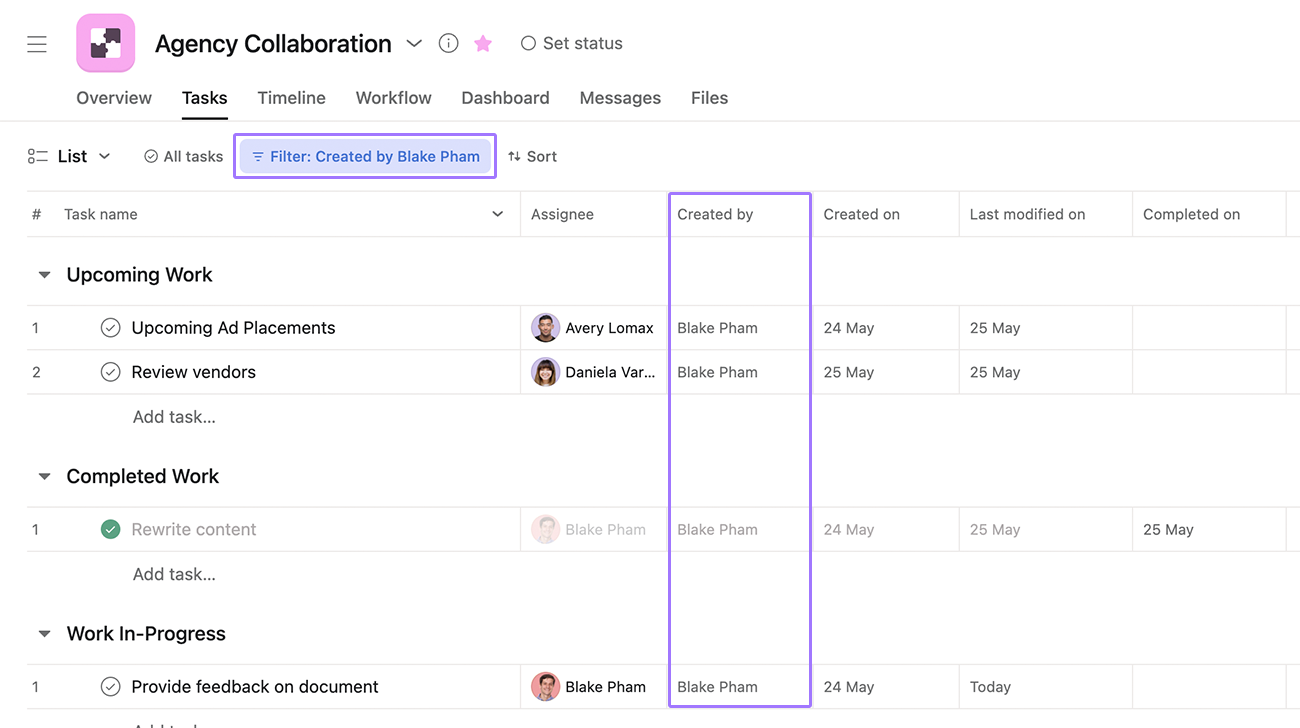 It is possible to filter by Metadata Fields in List view. The example shows tasks filtered by a specific creator.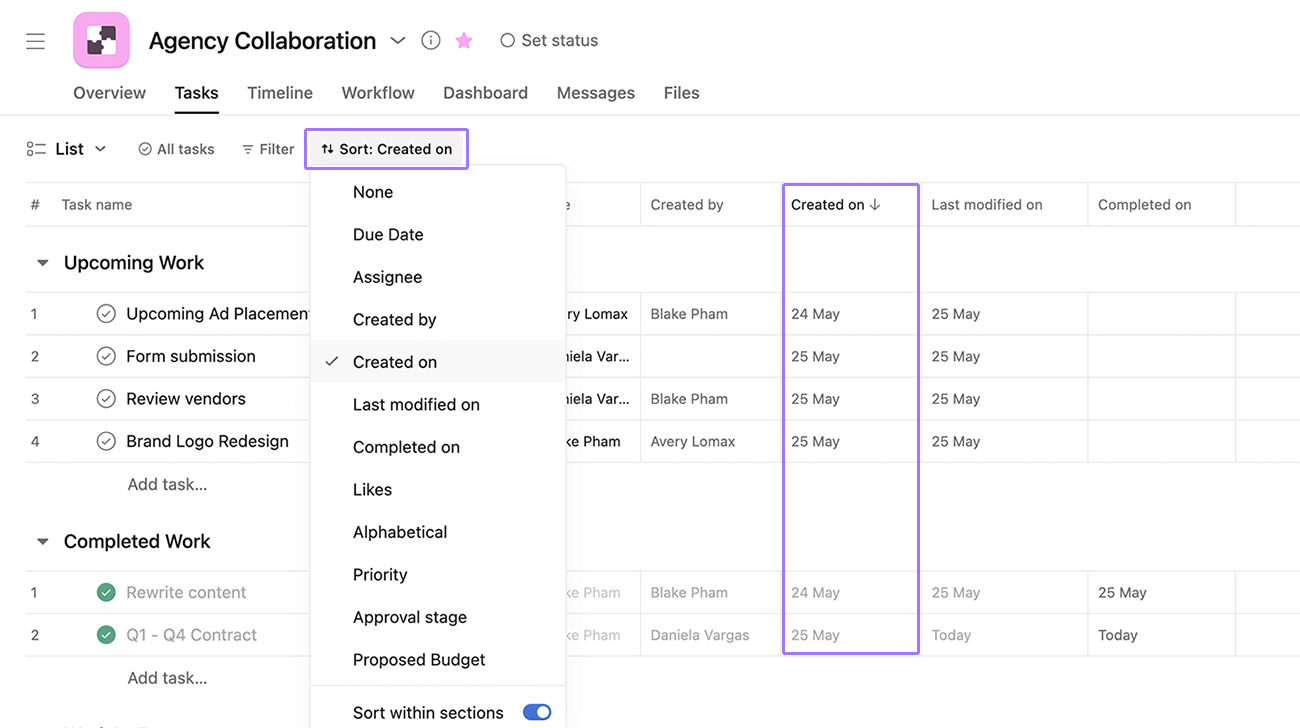 It is also possible to sort by Metadata Fields in List view. The example shows tasks sorted by creation date.
The data shown in Metadata Fields cannot be edited, as they are inherited from the activity log of their respective tasks.