Understanding projects
Projects allow you to organize all of the tasks related to a specific initiative, goal, or big piece of work into a list or board.
Create a project
To create a new project:
Click the omnibutton
Select Project
A new screen will present you with 3 options where you can either, create a Blank project, Use a template or Import spreadsheet.
Click on + in the Blank project window to start from scratch.
In Organizations, you must belong to a Team before you can create a project.
Set up your new project
Once you click on Blank Project, you'll be able to fill in your project details, select your layout, and set your privacy settings.
From the project details screen, you can:
Enter a project name and description
Select the team you wish to add the project to
Set your project privacy settings
Create a project once the details have been added
In Organizations, the create project button will auto-populate with the team highest in your sidebar. Click the Team field to manually select which team your project will be created in.
Once you have filled out these fields and clicked the Create Project button, your new project will load in the main pane and also appear in the sidebar.
Project Permissions
Learn more about project permissions and how to adjust them in the Permissions article.
Find & access projects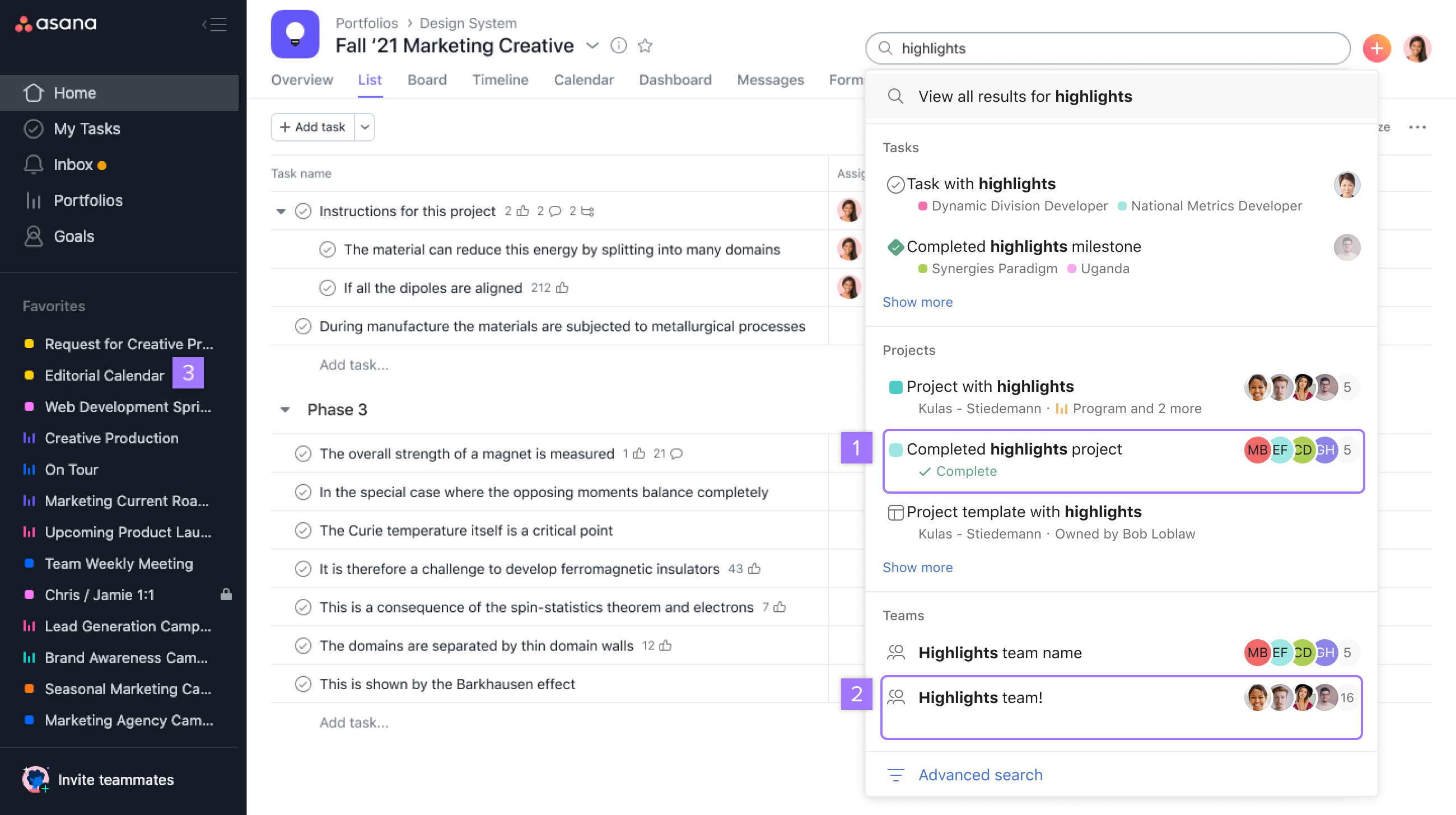 There are many ways to access a project:
Search for the project's name
From the list of projects in Teams
From the list of projects in the sidebar
You can also access a project by clicking on its name from the main or the right pane.
Recommended templates
When you click on Use a template you can choose from a library of general templates.
There are recommended templates for you based on your team type, however if you don't see any templates you'd like in that function you can easily change the team to see other template options.
Custom templates
It's also possible to see and use custom templates created specifically by your Organization if you'd prefer. These custom templates are organized by team.
To use a custom template:
Select your Organization's name
Select a custom template you wish to use
Template preview
Once you've found the template you'd like to use, preview it to get more information. Select Use template when you're ready to get started.
When you select Use Template, you'll be able to rename the template and get started with your new project.
Step 1 requires you to add new project details.
Input details:
Add project details, name, team and privacy option
Step 2 to schedule project dates.
Schedule
Add a start date and an end date to create project
Click on the Create project button