Project actions
There are many available actions you can take on your projects in Asana. The actions shown below apply to projects, Search Views and My Tasks will have variations of these.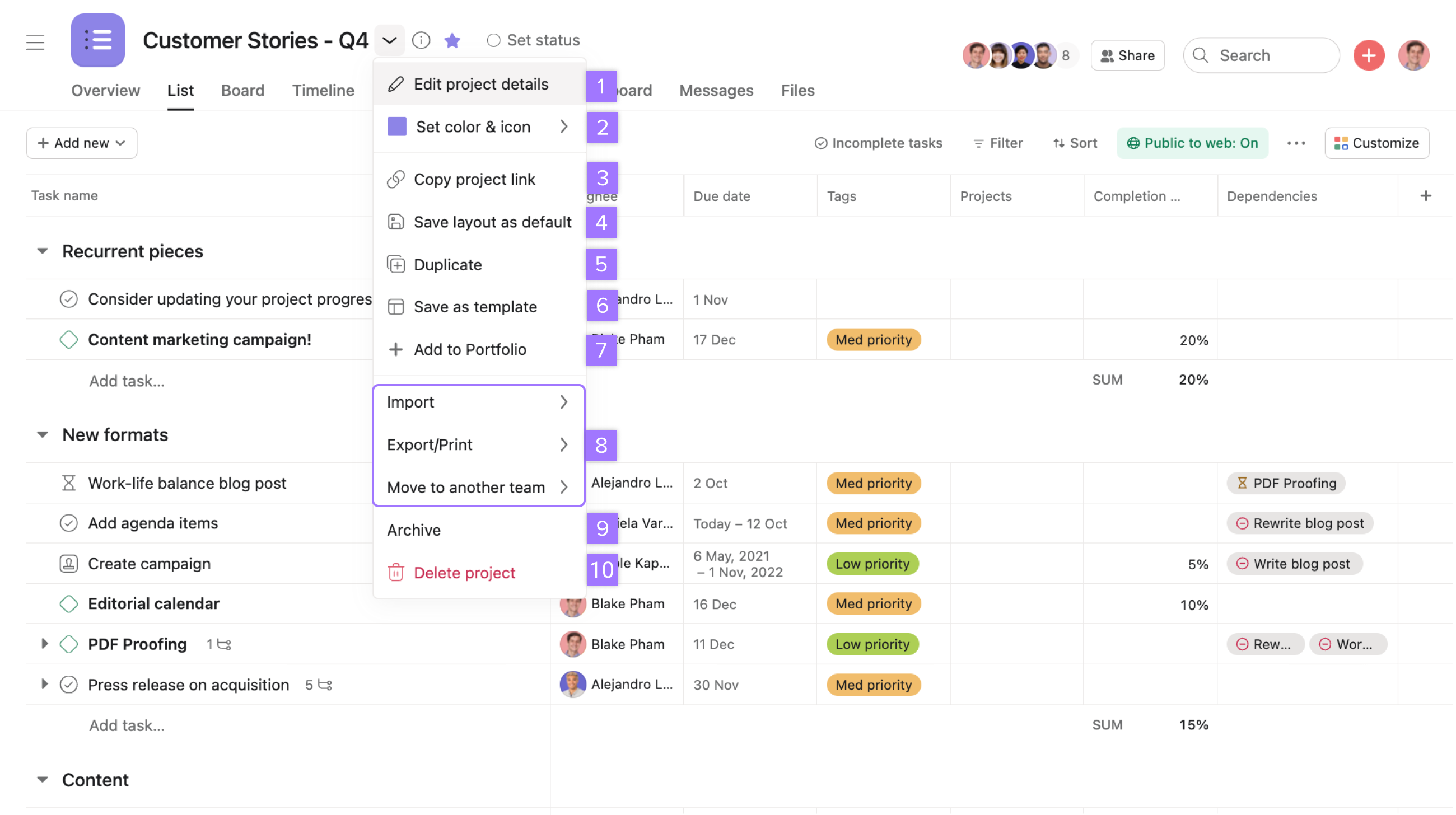 Click on the drop-down icon to access the following options:
Edit project details - modify the name or description of your project
Set color & icon - change the color of the project
Copy project link
Save layout as default
Duplicate - duplicate the project
Convert to template
Add to Portfolio
Import/Export or Print/Move to another team
Archive - archive the project
Delete project
Favorite the project by clicking the star symbol beside the project name, adding it to your sidebar for easy access.
Project name and description
A project's name and description provides context on what the project is and what it is looking to achieve.

When you open up a project:
The project name is displayed prominently in the header
You can also edit the project name or description by clicking the "i" icon next to the project name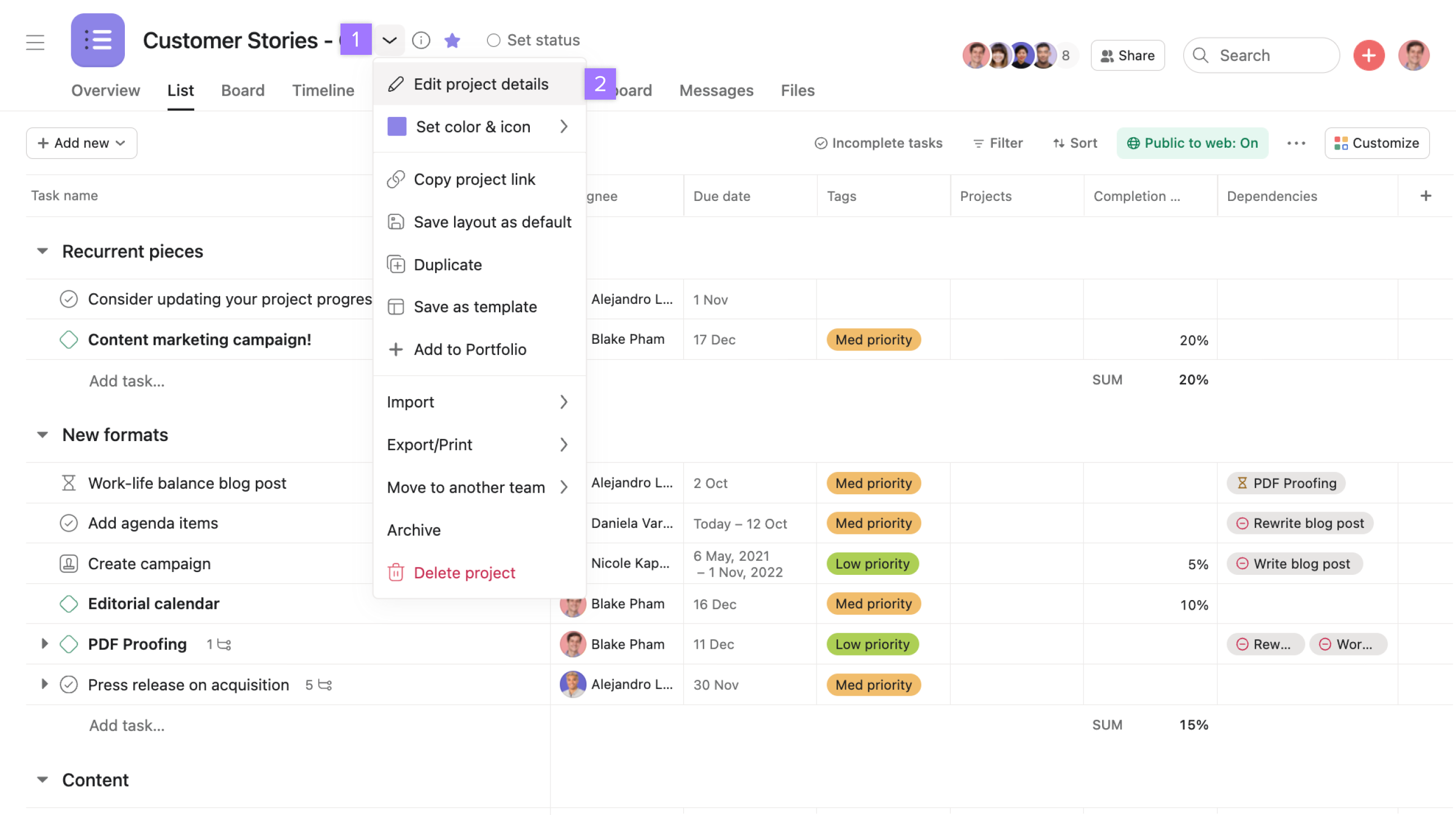 To change a project's name and description:
Click on the drop-down menu
Select Edit project details
Print a project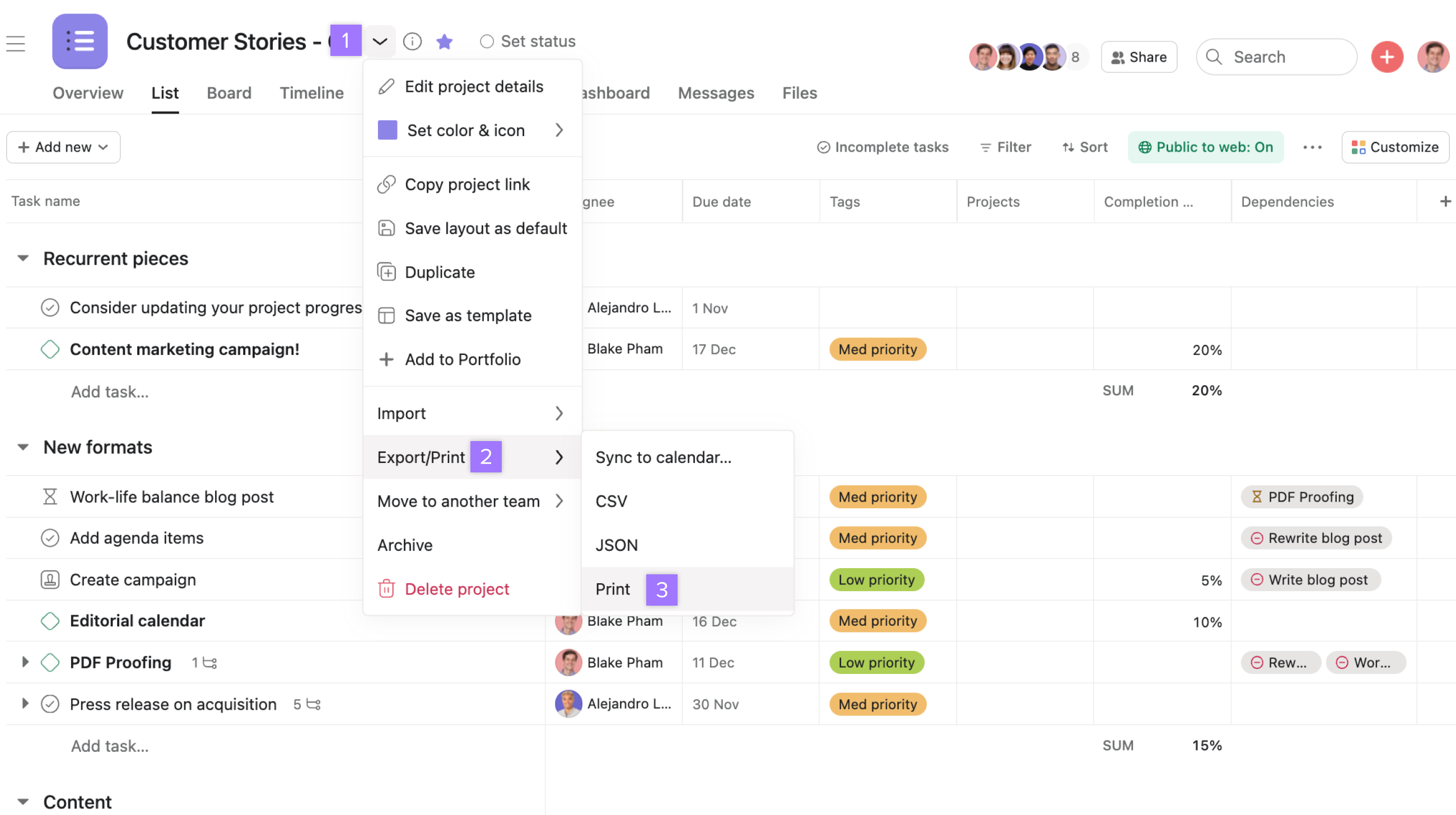 To print a project:
Click the drop-down menu
Click on Export/Print
Select the Print option
Your printed copy will include:
Task names and descriptions
Subtask names and descriptions
Section or column names
Incomplete/Complete checkbox
Custom Fields
Task due dates
The printed version reflects the current View of your project or My Tasks. If you want the printed version to be sorted or filtered in any other way, simply change the View and try printing again.
You can also use the print option to save your project as a PDF. Most browsers will offer a "Save as PDF" option in their print dialog. Choose this option to save the print view of the project to your computer.
Duplicate a project
Duplicate a project to use it as a template for common workflows.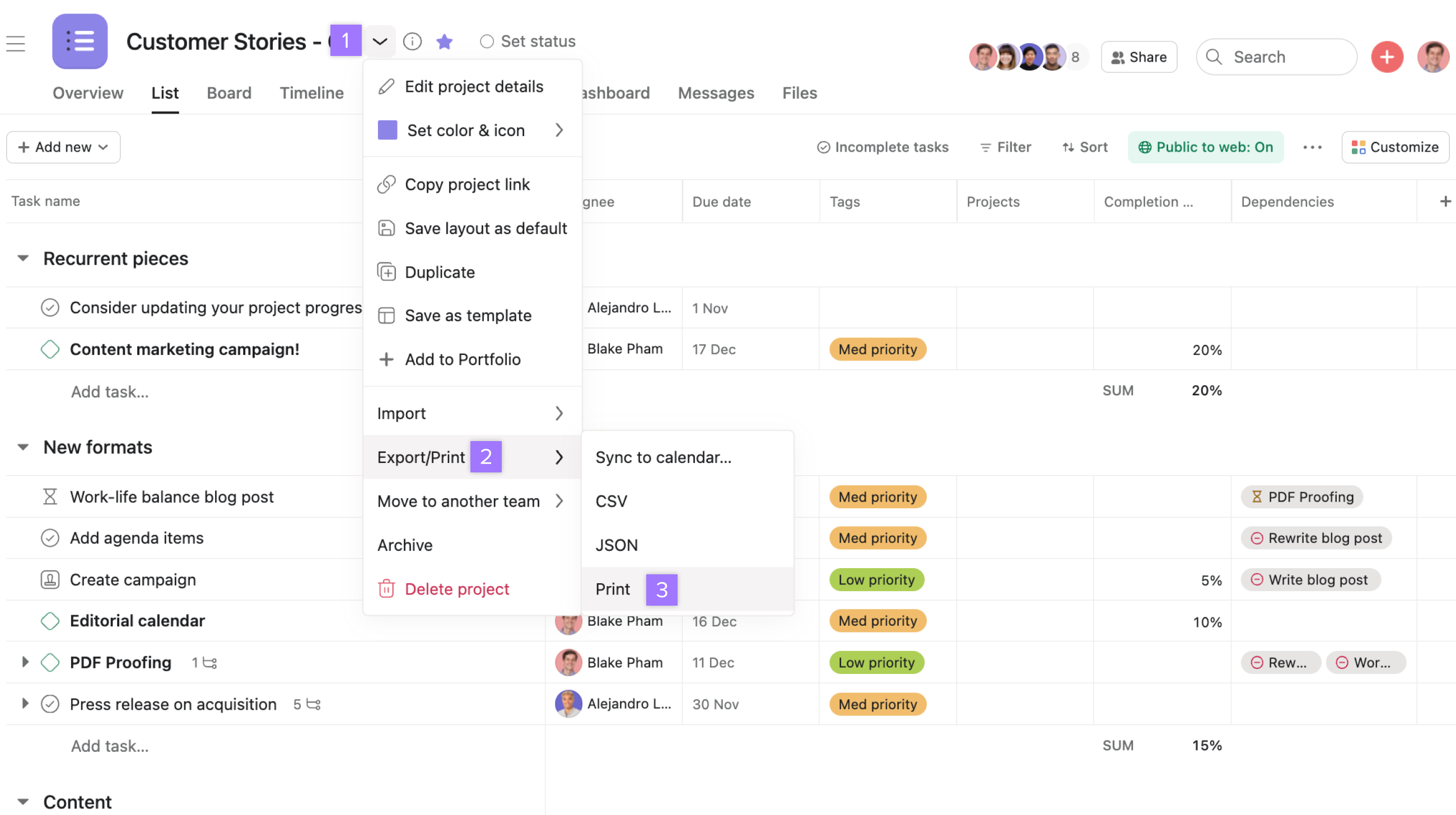 To duplicate a project:
Click the drop-down menu next to the project's title
Select Duplicate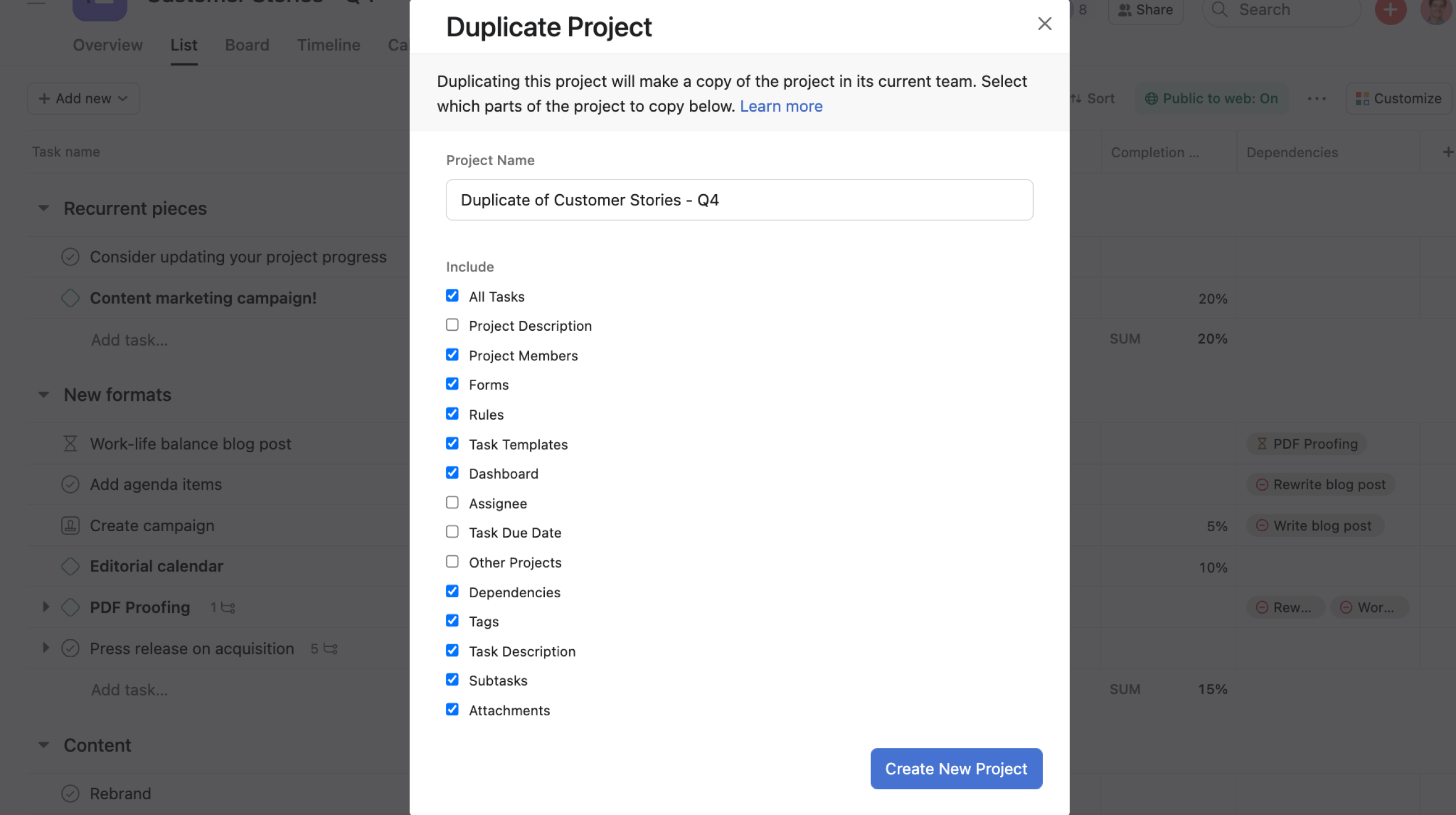 From here, you are presented with a list of task fields to include in your new project. Check your desired fields and click Create New Project when you're done.
For workflows you use all the time, consider using project templates instead of duplicating projects one by one.
Move a project to another team
This action is available for both public projects and private projects in organizations.
The caveat being in order to move a private project you would need to be a member of both teams.
You can only move a project to teams that you're a member of.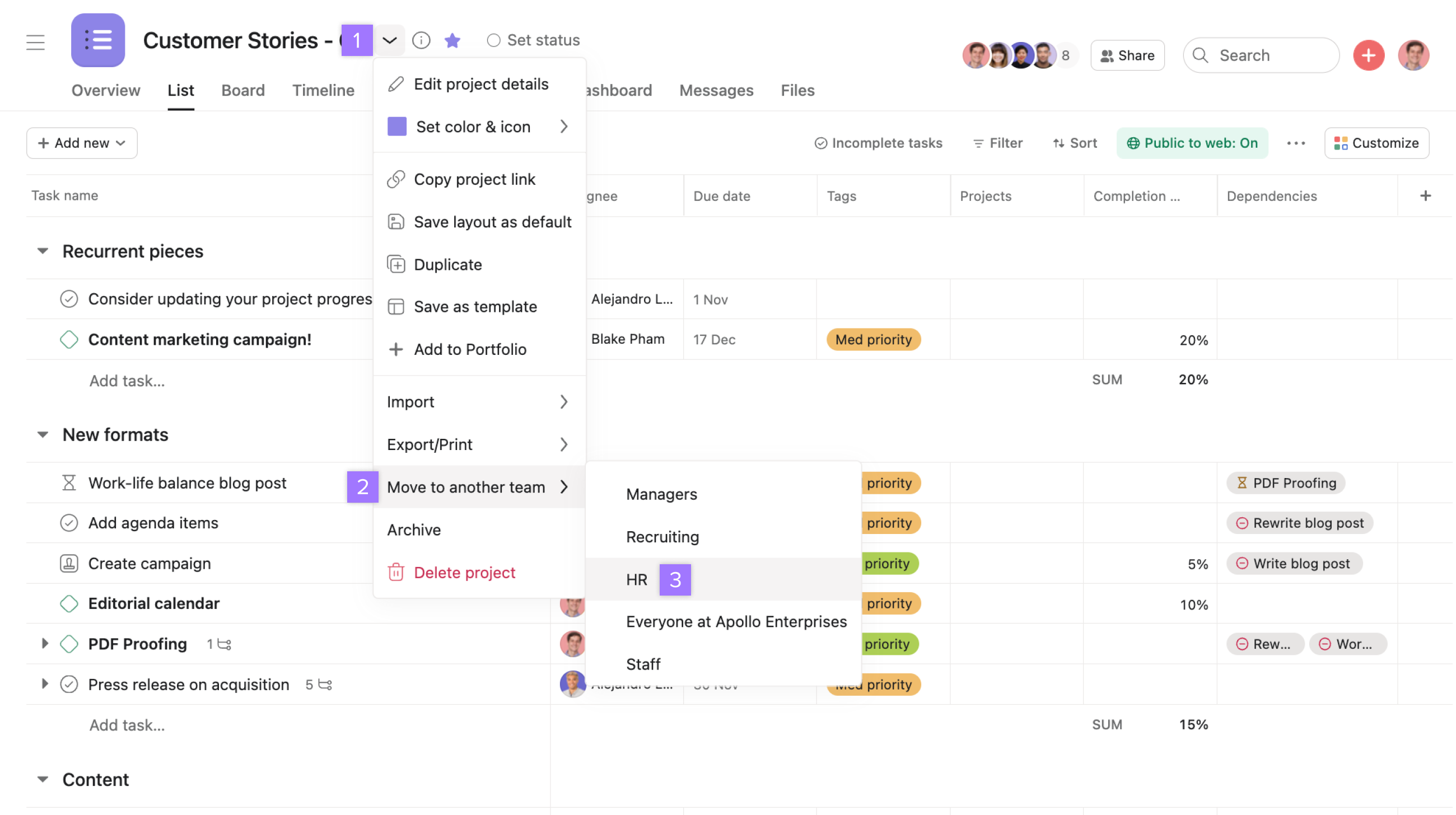 To move a project to another team:
Click the drop-down menu
Select Move to another team
Select the destination team (the checkmark indicates the team the project currently resides in)
You can also move projects between teams by dragging and dropping them into your sidebar.
Move projects to another workspace or organization
workspaces and organizations have hard barriers. In order to move a project to another space, you'll need to create a new project in your chosen workspace and organization instead, and copy and paste task lists manually from the existing project to this new project.
However, you may wish to use this third-party integration. Kothar is a tool for transferring Asana projects between workspaces. It copies your project and replicates it in your chosen space, while the original project remains intact.
Copy a project link
Copy the task URL to easily share with team members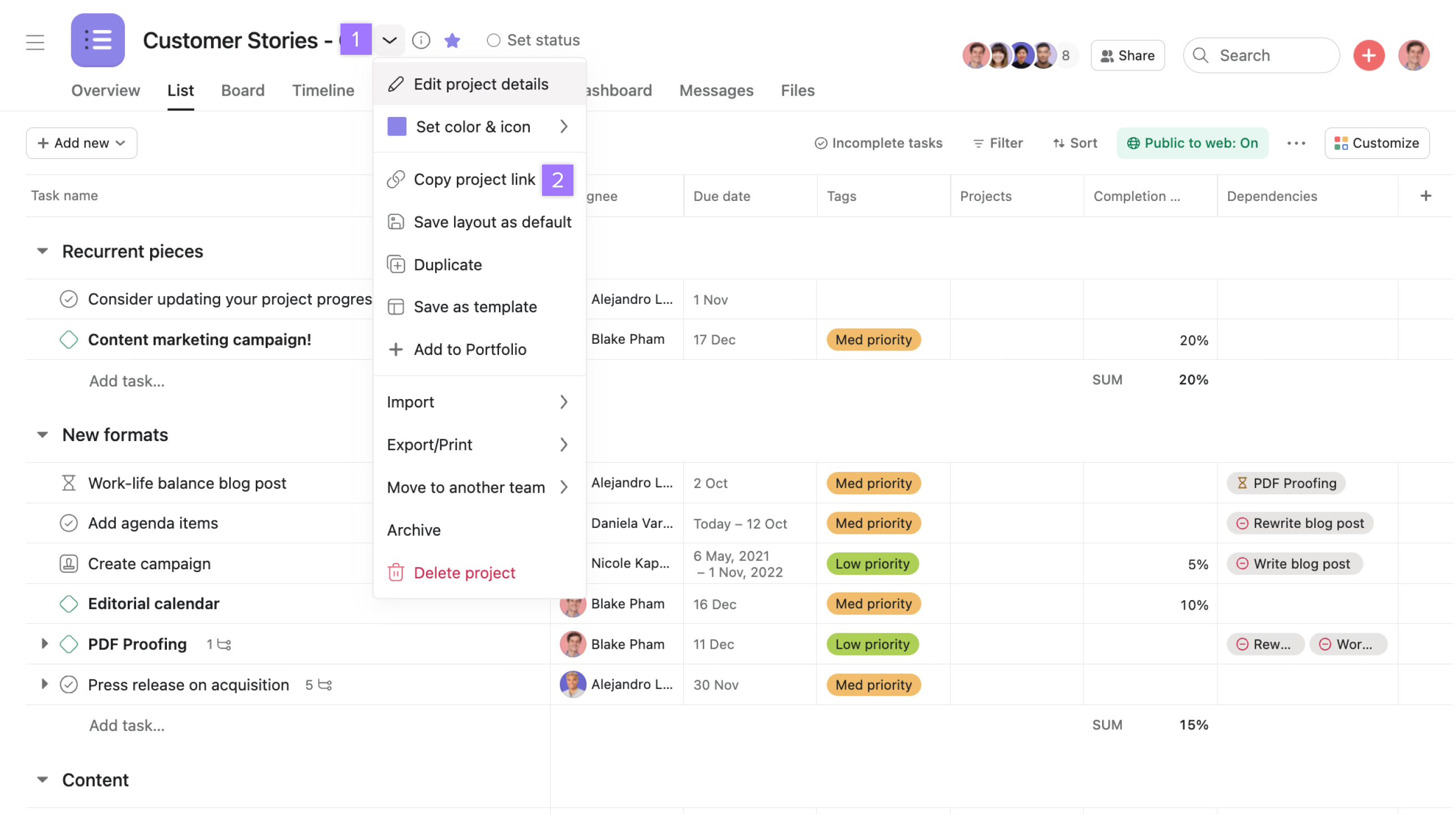 To copy a project link:
Click the drop-down menu
Select Copy project link
Project colors
If you have a lot of projects, but only a few are relevant or urgent to you, use the color feature to make those projects more visually distinct.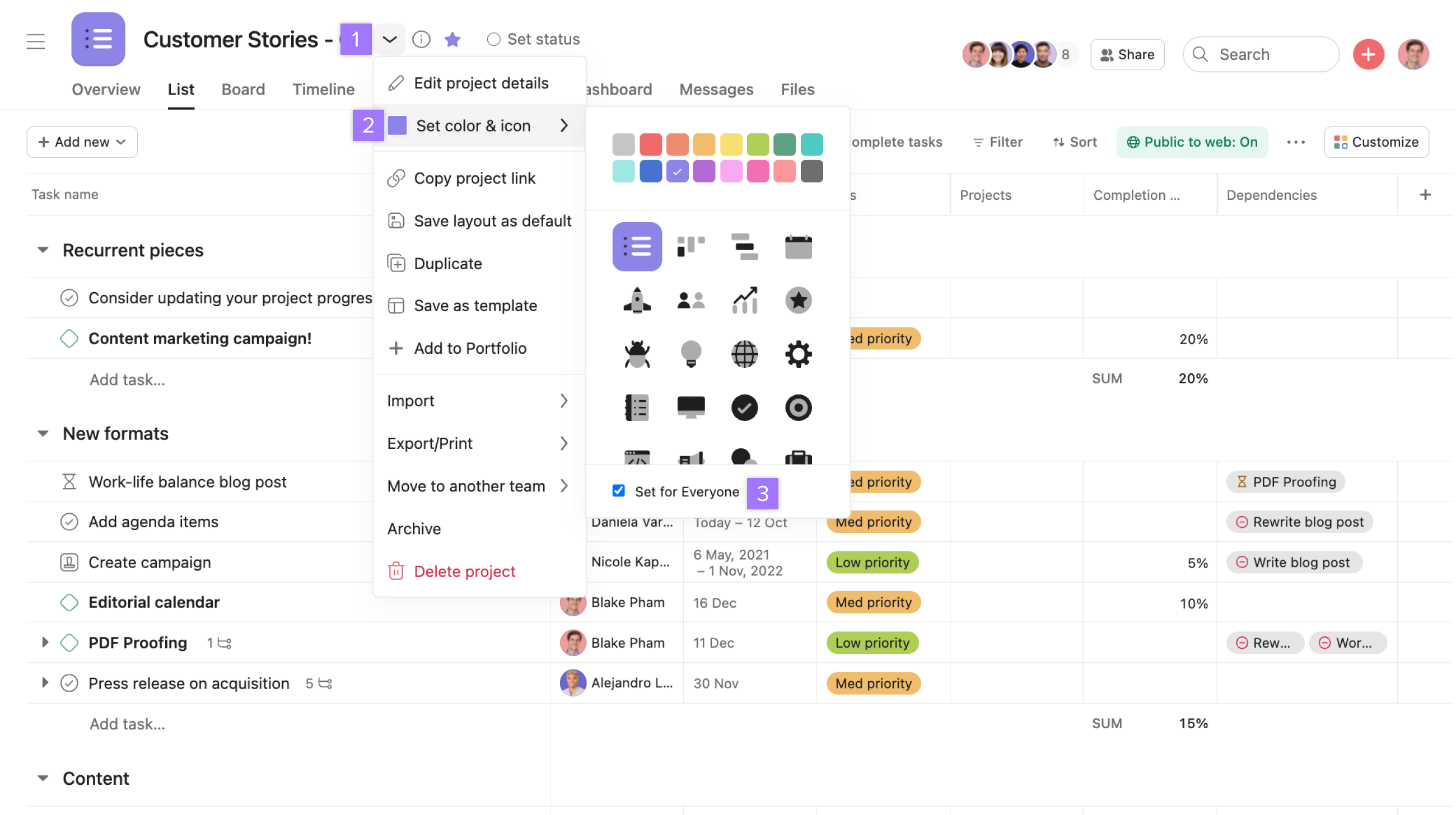 To change a project's color:
Click the drop-down menu
Select Set color & icon
Check the Set for Everyone box to set the project color for everyone across your workspace or organization
Import a project to Asana
You can import tasks to a project in Asana using CSV.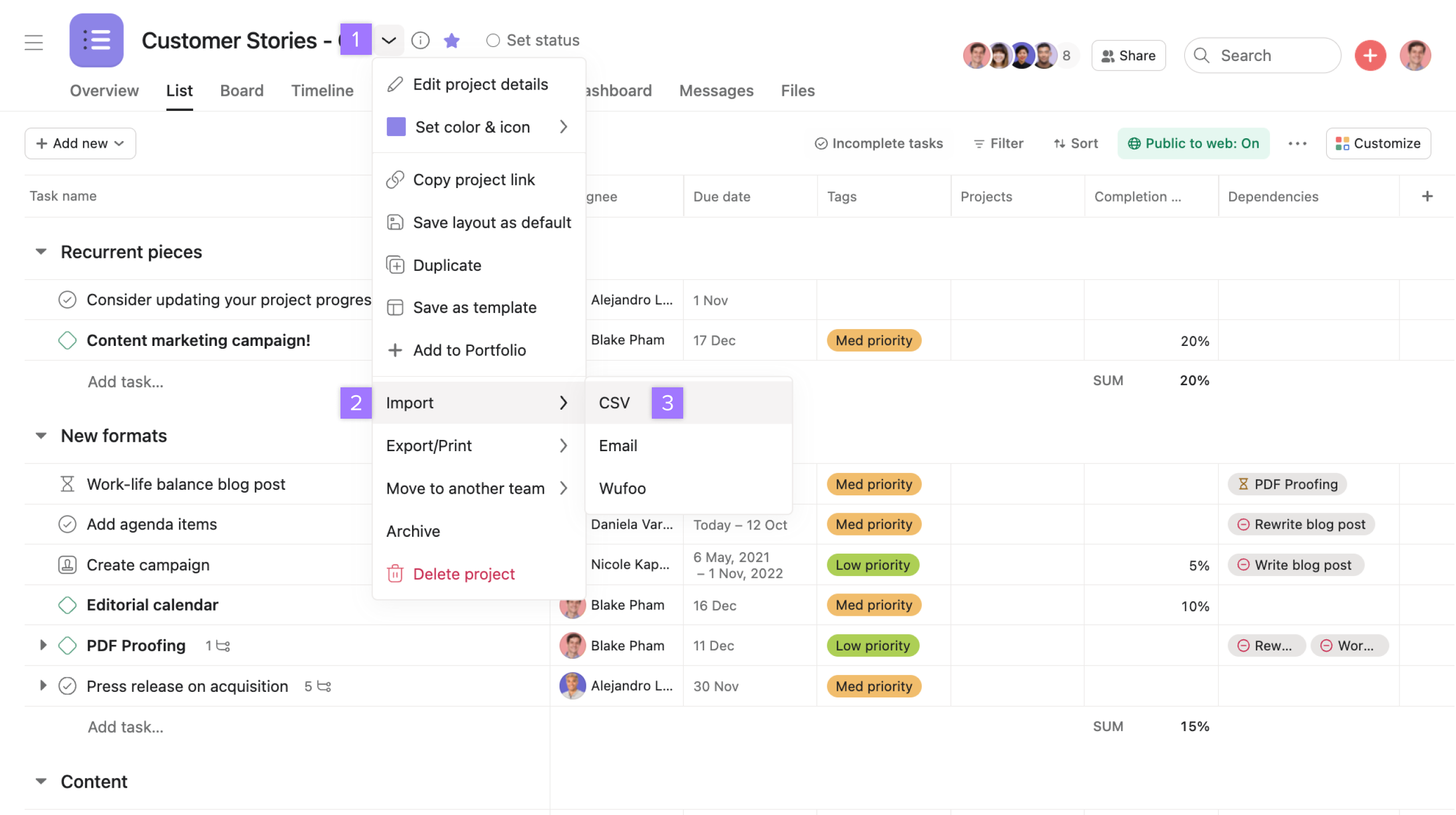 Select the project header drop-down menu next to your project's name, hover over Import then choose CSV.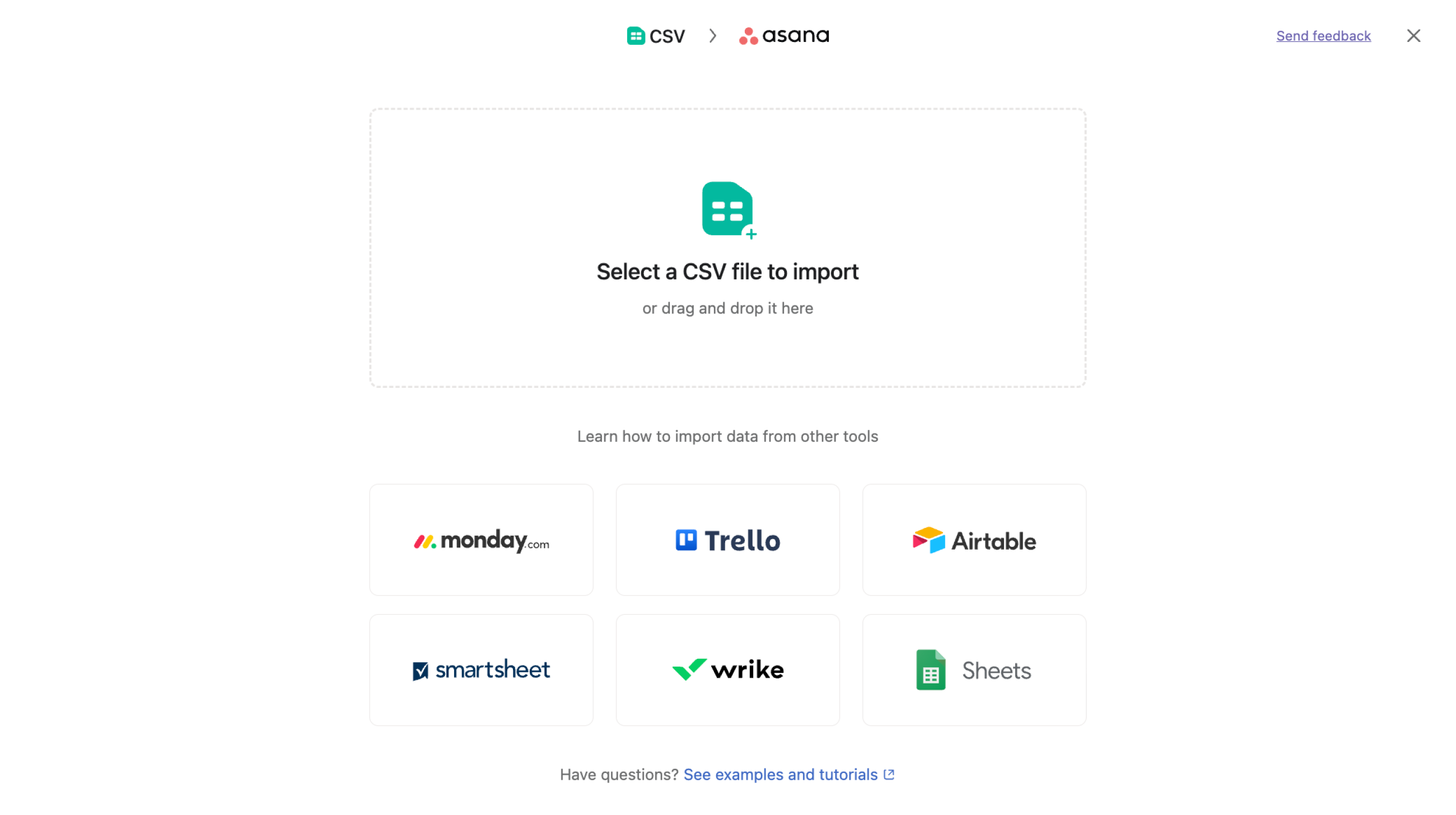 Follow the instructions that follow, choosing the project to which you'd like to add your CSV file and the organization it lives in.
To import projects or tasks into Asana, you can also duplicate the tasks you'd like to move to Asana as a list, and paste that list into a project. Asana will automatically create a new task after each line break.
Note that our Support team cannot offer assistance with third-party tools as they are not developed by Asana.
Export a project
You can export your project to the text-based file formats JSON or CSV.
Aside from projects, you can also export a Search View or your My Tasks.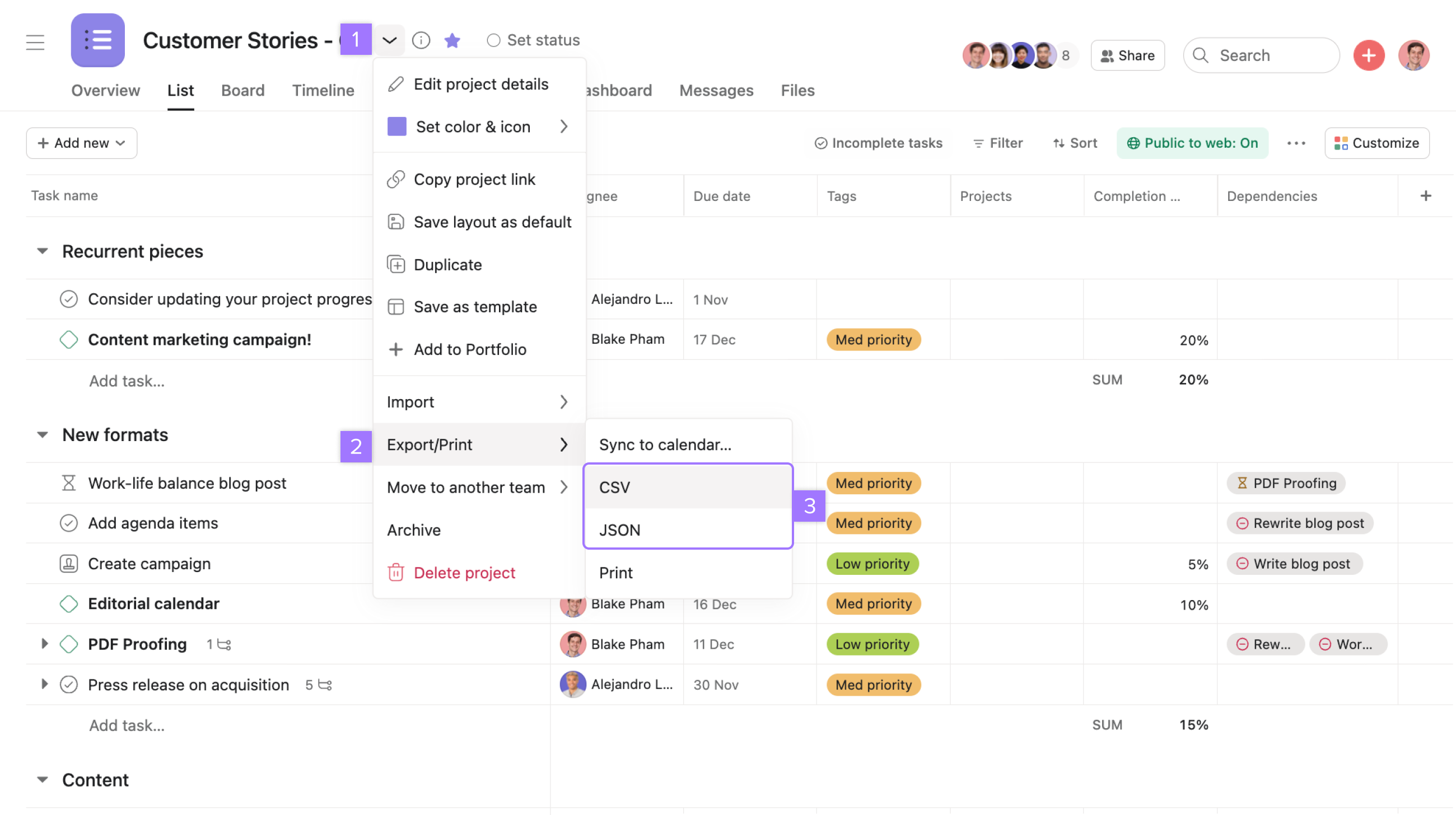 To export a project:
Click the drop-down menu next to the project's title
Hover over Export/Print
Select your desired file type
Learn more about exporting projects.  
Archive a project
Archiving a project allows you to focus on more active projects.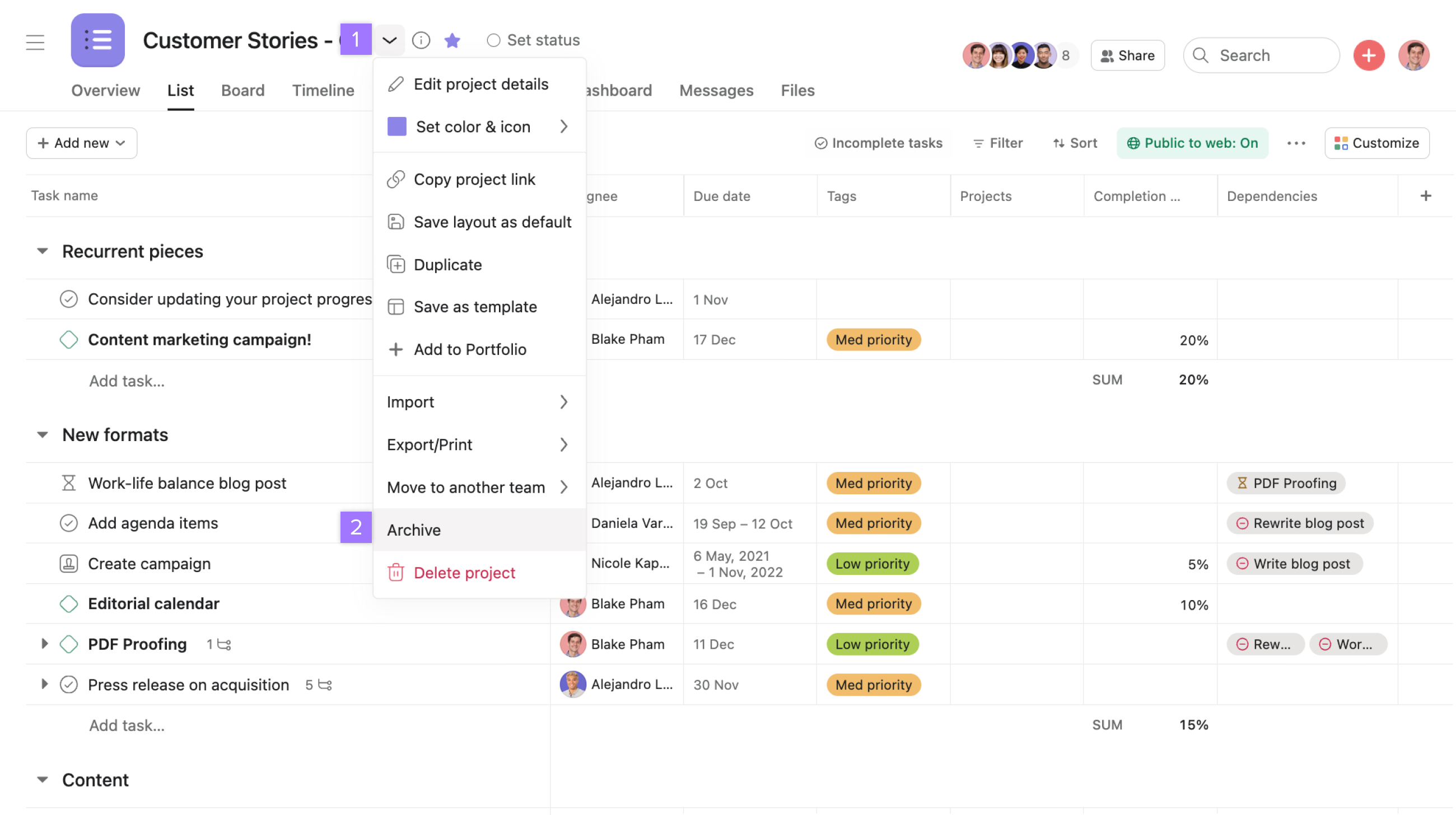 To archive a project:
Click the drop-down menu
Select Archive
Anyone with a link to the archived project will be able to access the project easily. You can also find it through Search.
Tasks in archived projects that are assigned to you will still show in your My Tasks.
Looking to mark a project as complete? We recommend completing a project in project status, as archiving a project will not update its status.
Unarchive a project
You can always restore a project via the project header or via the sidebar.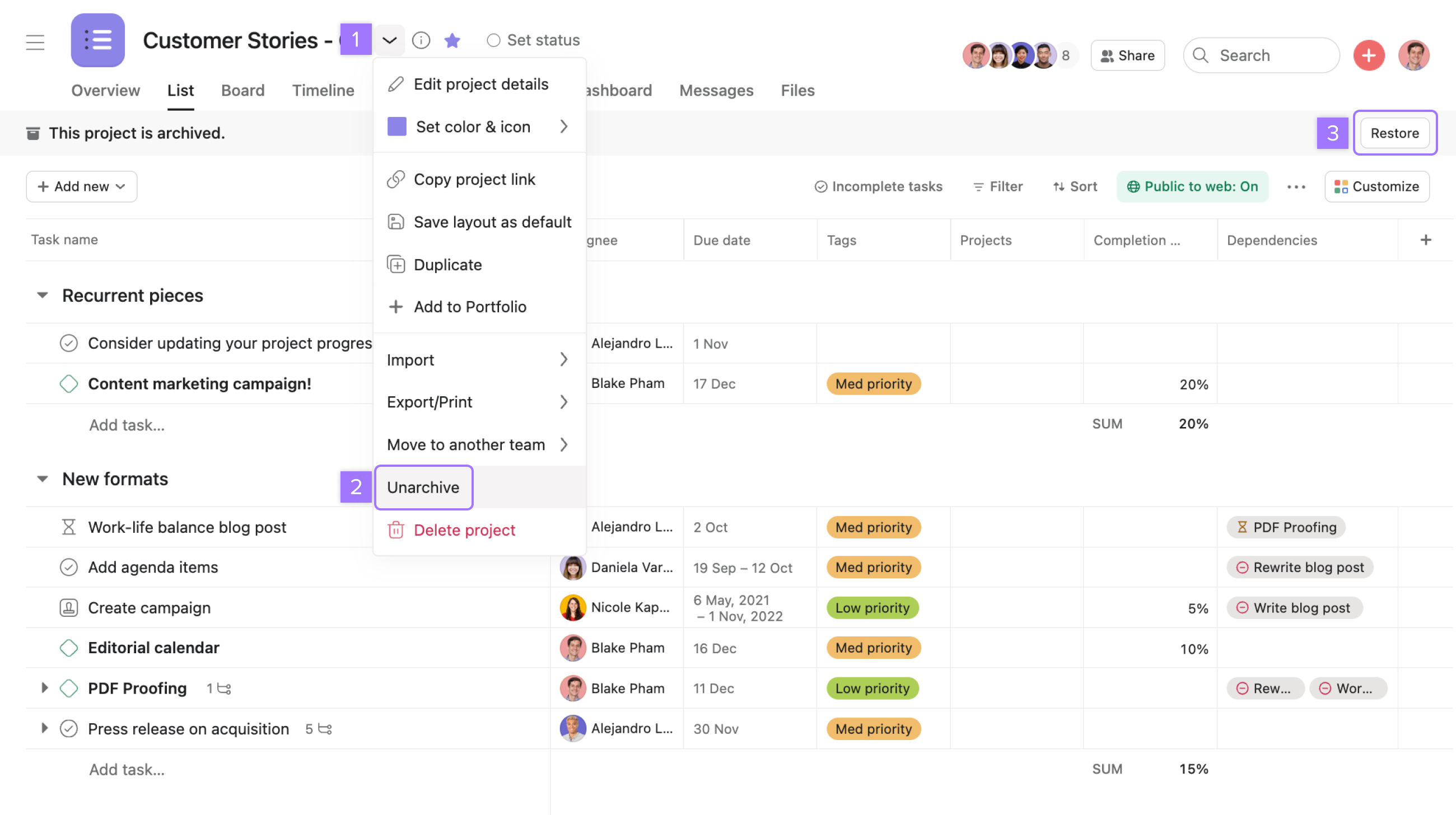 To unarchive a project:
Click the drop-down menu
Select Unarchive
Or click the restore button in the top right hand corner
Archived projects will never expire and do not get deleted. Refresh the page to hide archived projects again.
Delete a project
Assigned tasks and tasks associated to other projects will not get deleted.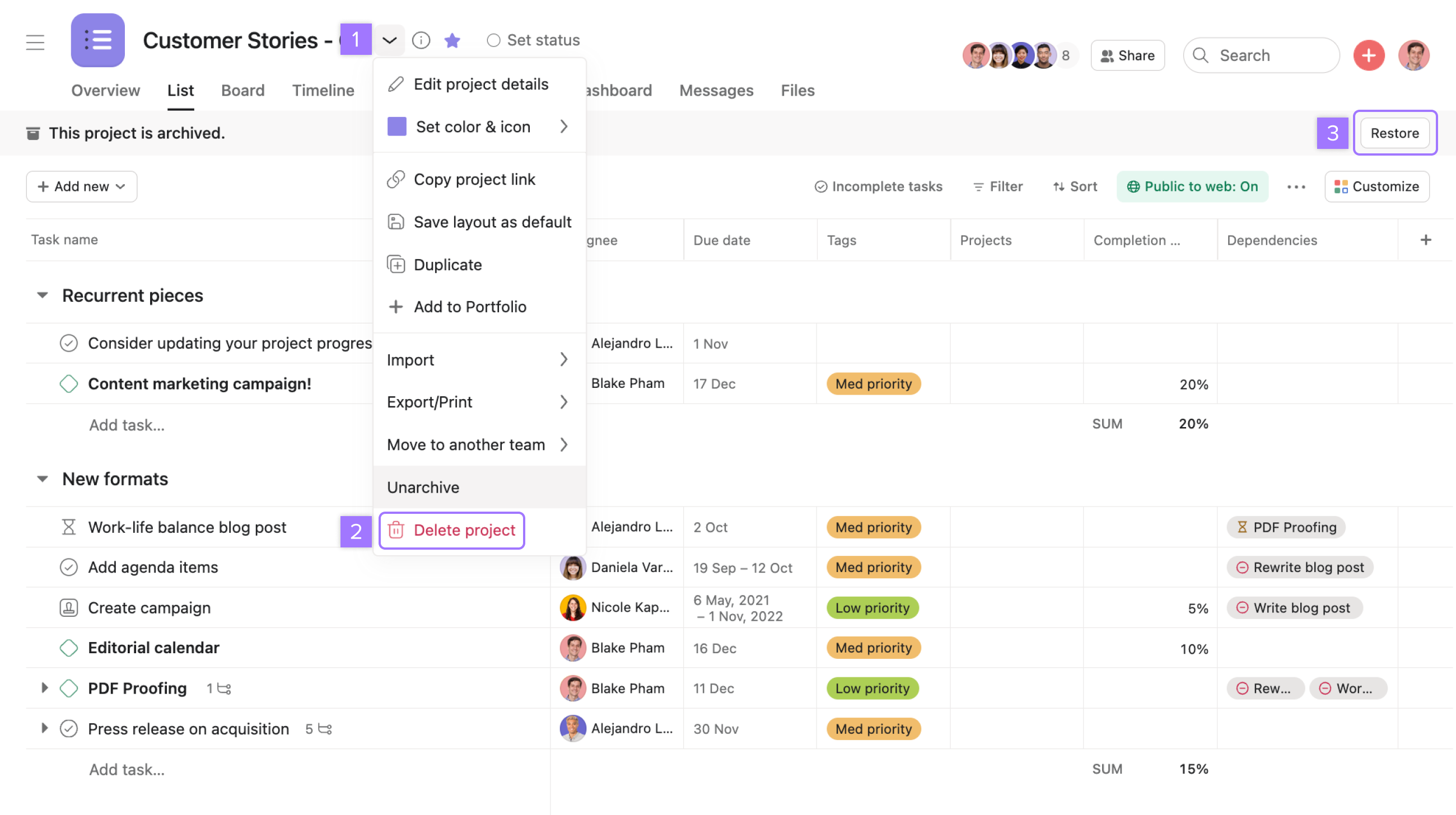 To delete a project:
Click the drop-down menu
Select Delete project
All project members will receive an email notification of the deletion and the person who deleted it will receive a link to undelete it, if they so choose. This undelete link will expire after 30 days. Project deletion emails won't be sent if the project is less than one day old and has zero tasks in it.