Disabling file attachments
The ability to disable file attachments is an Enterprise feature available to Super Admins.
Overview
The disabling file attachments feature allows Super Admins to ensure that Asana implementations across their Organization meet all security and consistency requirements related to blocking any file attachments that are restricted as per their company's security policies and preferred file integrations.
This feature gives better controls at a domain level, in order to ensure strict upload policies in accordance with their organizational requirements.
IT Admins will also have a quick way to enable or disable one or more or all of "Computer", "Dropbox", "Google Drive", "Box" and "Onedrive / Sharepoint" upload sources as per their company's IT security policies and have it applied across all Asana product surface areas where attachments can be added.
How to access your file attachment options
Super Admins can access their file attachments options settings through the Security tab of their Admin Console.
When you've opened the Security tab, scroll down to Additional settings and then click File attachment options.
The default setting is all attachments are enabled.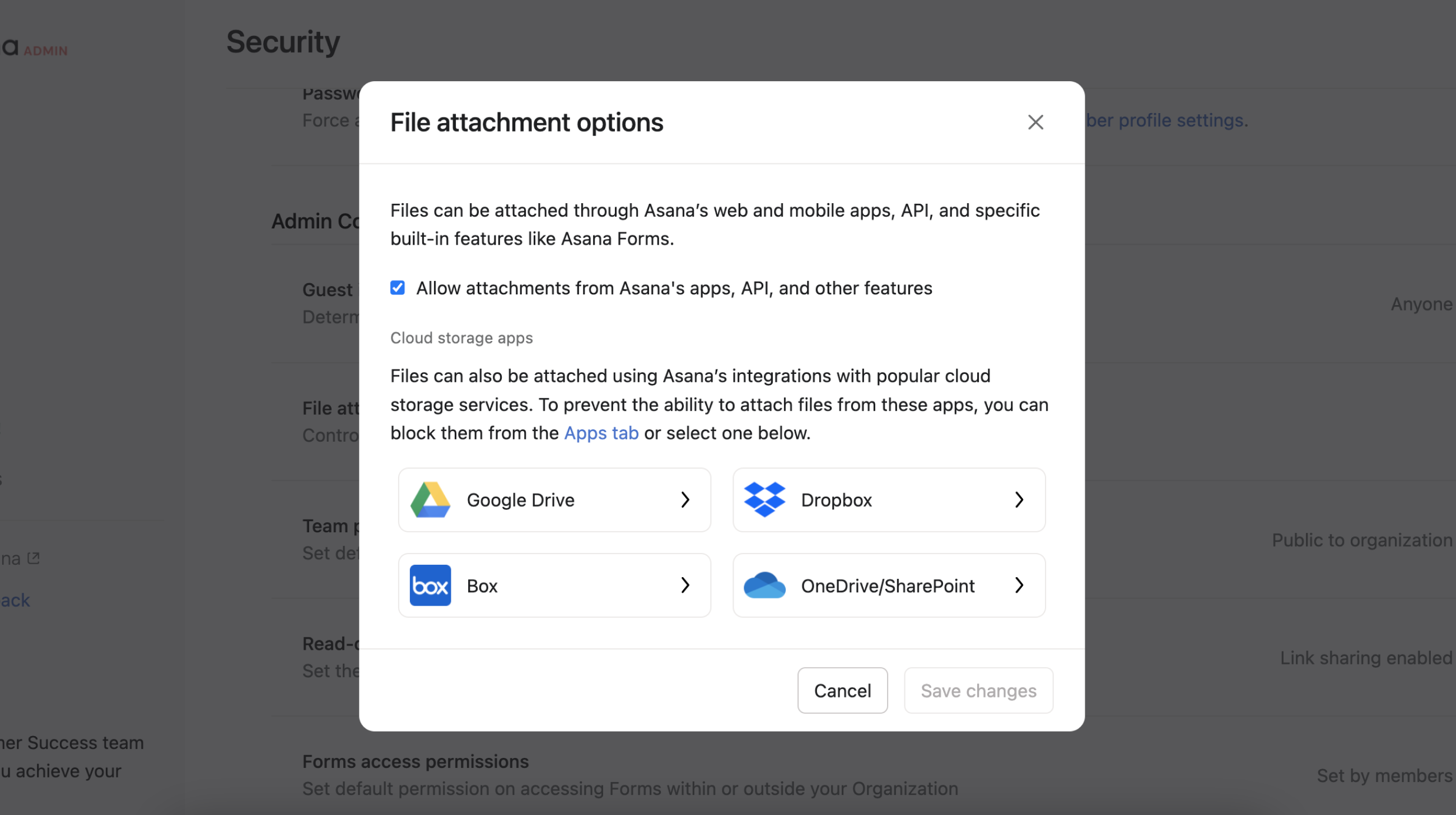 From the next window, you can select your file attachment preferences.
Unchecking "Allow attachments from Asana's apps, API, and other features"
Deselecting this will disable attachment types on
web attachments
mobile
API
copy and paste
Forms
drag and drop
email forwarding
Disabling attachments from third party apps
To prevent the ability to attach files from third-party apps, you can block them from the Apps tab or select the desired app from the pop-up window. This means that the ability to add attachments from Dropbox, Google Drive, Box, and OneDrive/ SharePoint will no longer be allowed.
Disabling attachments on mobile
There's no differentiation on the mobile app on attachments between uploads from third party apps and attachments from the device. This is because everything downloads to the device first.
The only way to disable on mobile is by disabling allow attachments from Asana's apps, API, and other features.