Managing an organization
Asana accounts are free and tied to individuals; Asana accounts grant access to shared workspaces and organizations to collaborate with other Asana users.
With a single Asana account, you can create or join multiple workspaces and organizations to collaborate with various groups of Asana users; these workspaces and organizations you belong to are their own separate entities, each with their own unique set of people, projects, and tasks.
Since each workspace and organization are their own separate entities, your colleagues cannot see the other workspaces or organizations you belong to, nor can you see the other workspaces and organizations your colleagues may belong to. Learn more about privacy between these spaces here.
Learn more about the permission settings of your projects and tasks within each of your workspaces and organizations here.  
What is an organization?
organizations connect all the employees at your company using Asana in a single space based on your company's shared email domain.
Within the organization, you and your colleagues can split into teams to collaborate on your projects and tasks.
If you or your company do not have a unique, shared email domain, you can collaborate in a workspace instead.
People in your organization
There are different types of people in organizations: organization members, organization guests, and Limited access members. Internal employees will be members of your organization, and external contributors will be guests in your organization.
For example, michael@yourco.com is a member of the yourco.com organization, while anyone with any other email address (like @gmail.com or @anotherco.com) is a guest of the yourco.com organization.
You cannot convert an organization member into a guest. Membership in an organization is automatically determined by the person's email address.
Organization members
Organization membership is based on the domain associated with your email address. To become a member of an organization, you must have an email address @ one of your organization's approved email domains.
People who sign up for Asana using an email address @ one of your organization's approved email domains will automatically become members of your organization.
An organization member can:
Members who have automatically joined your organization will have to request to join or be invited to one of your teams to collaborate with you on projects and tasks that you have not explicitly set as public. Learn more here.
Organization guests
You can collaborate with clients, contractors, customers, or anyone else who does not have an email address at an approved organization email domain (i.e., @gmail.com or @yahoo.com). These people would become organization guests. Guests have limited access in your organization and can only see what is explicitly shared with them.
An organization guest can only join teams by being invited. They cannot create, view, or submit a request to join any additional teams.
Organization guests can invite other guests to your organization by sharing the projects and tasks they have been given access to.
Identifying members and guests
Guests will have a globe icon next to their name in the typehead or members list.
Limited access members
Each team has its own members and projects. Those who don't have access to all projects within your team will appear as limited access members in your team settings members tab.
Limited access members can see projects and tasks they've been added to, but not conversations or other projects in the team.
Limited access members will need to be accommodated in your plan if you decide to upgrade a team within your organization to Asana Premium.
Join an existing organization
There are two ways to join an organization that someone else at your company has created:
Sign up for Asana with your company email address. You will then automatically join the organization.
Ask someone in the existing organization to invite you to a team.
If you're already using Asana with another email address, add your company email address to your Asana account, and you will automatically join the organization.
Invite people to your organization
You can add someone to your organization by inviting them to one of your teams.
Shareable invite links
Shareable invite links make it easy to invite lots of people to a team or project. Users can share the link through a variety of channels (via email, Slack, text, etc.). They can even post it in their team's onboarding wiki or a Google Doc.
The shareable invite link should be used for members, and the email option should be used for guests.
Invite to a project via a link
To share a project:
Click on the Share icon from within the project
Copy link
When somebody joins a project with a shareable invite link, they will have the default edit/comment permissions for that project.
Invite to a team via a link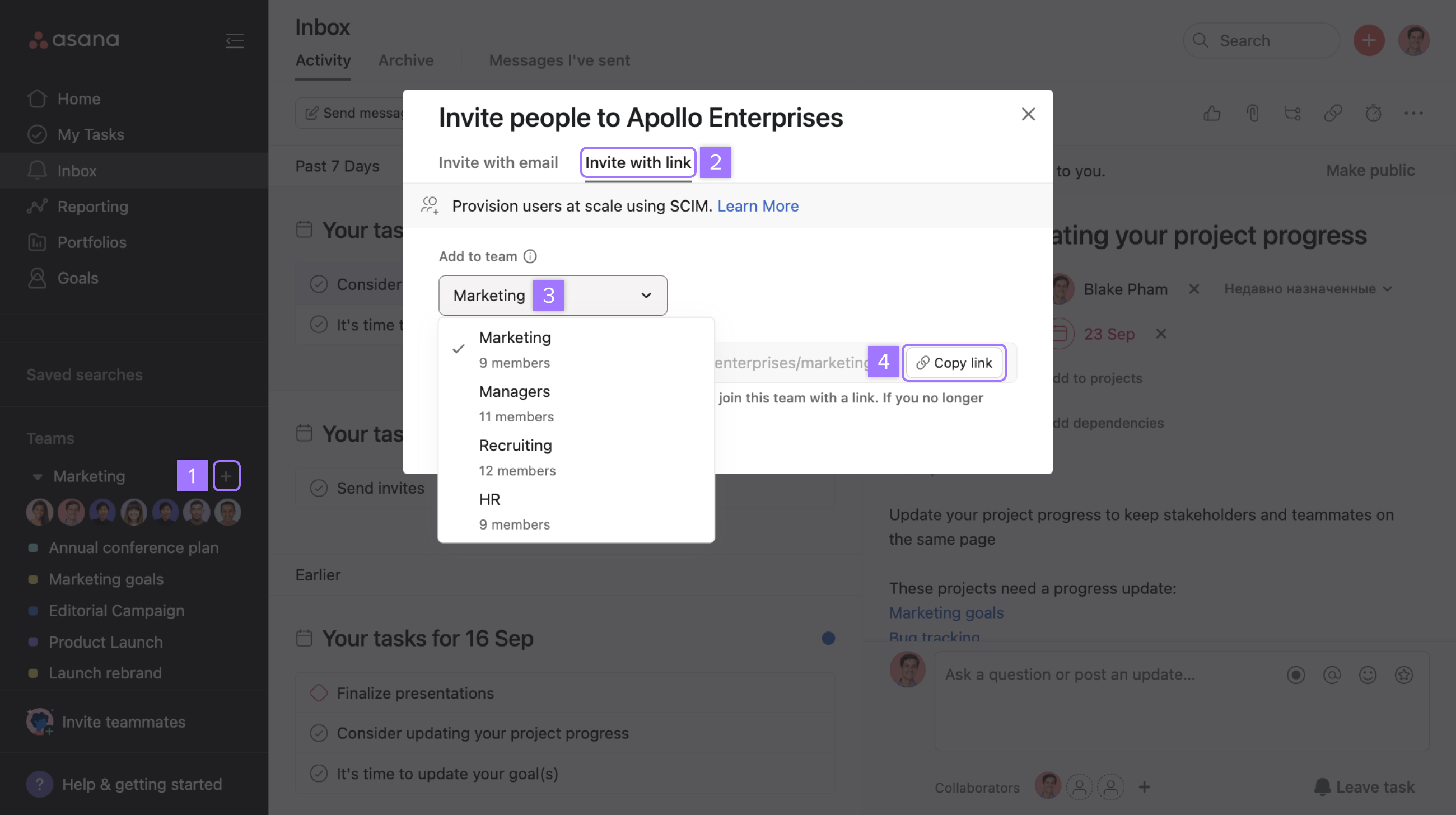 Invite to a team:
Find your team's name under Teams on the sidebar. Click on the + icon and select Invite people.
Go to the Invite with link tab
Select a team from the drop-down list
Copy link to invite people to your team
You can also invite people to an organization with a shareable link through the Quick add button.

Invite to a team via the Quick add button:
From the Quick add button, click on the drop-down menu and select Invite. A pop-up window will give you the option to invite people to the organization with a link.
Inviting guests
Should you wish to invite guests to your project/team, please use the Invite with email option.
Organization guests cannot join teams or projects using the shareable invite links - only organization members with an email on the Org domain. Choose Invite with email for guests.
Deactivate link
Clicking deactivate will permanently deactivate the link. No one will be able to use the link again.
Leave an organization
To leave an organization:
Click your profile photo
In the drop-down menu, hover over More
Select Remove me from this organization
If you are an organization member, this will remove your organization affiliated email address from your Asana account. Before leaving, be sure to first add a personal email address to your account so that you can continue to access your Asana account.
Removing a corporate email address from your account will subsequently remove you from the organization.
Removing someone from an organization
You can remove any user from your organization to strip them of access to your organization and its projects and tasks.
When someone is removed from your organization, the tasks, projects, messages, files, and comments the person created will remain intact, but their assigned tasks will be left unassigned.
To ensure no tasks go unaccounted for, it is a good idea to go into the person's My Tasks and reassign their tasks before deprovisioning them.
Please note that deprovisioning a user from your organization will result in their company email address being removed from their account; if the address is added back to their account, they will reappear in your organization. Additionally, if the user does not have an alternative email address associated with their Asana user account, deprovisioning them from your organization may result in them being locked out of Asana.
To remove somebody from an organization, the following must be true:
You must be an organization member
You and the person you would like to remove must belong to the same team
If you are not in the same team or already have removed someone from the team, invite the person into a team for the sole purpose of removing them from your organization immediately after.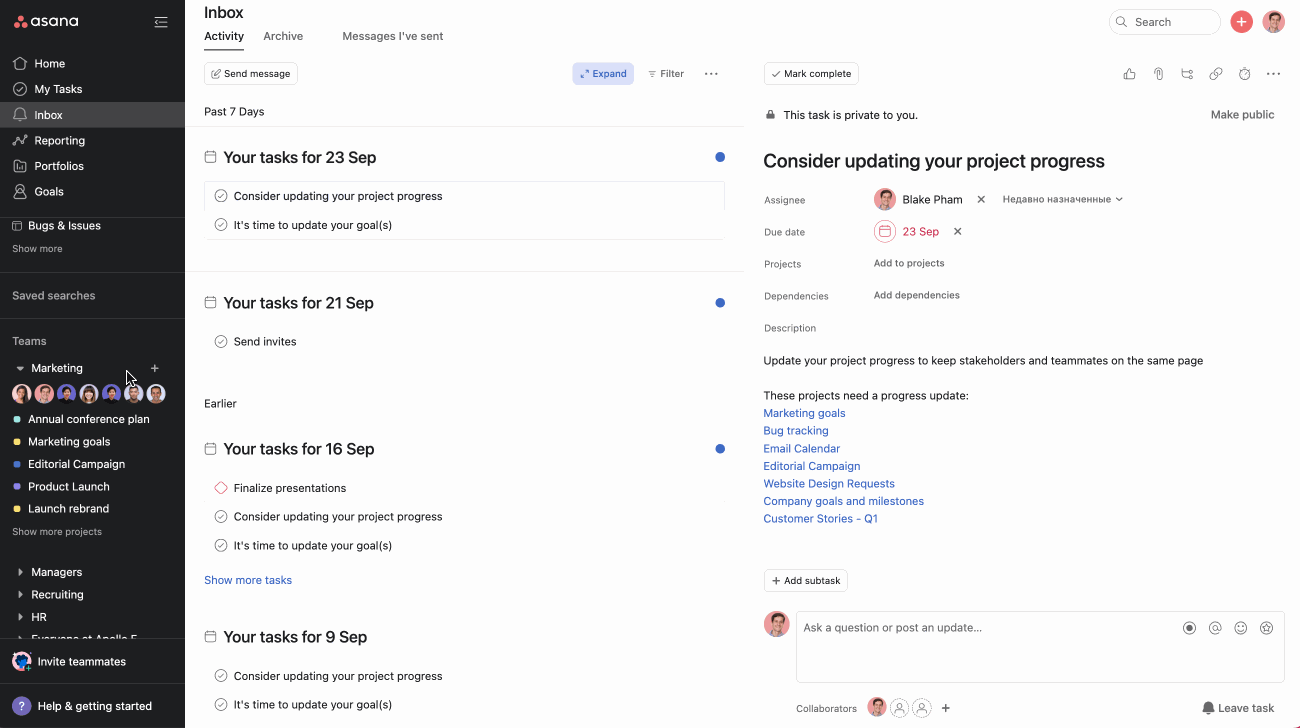 Follow these instructions to remove your recent team member from the organization:
Hover over the team name in the sidebar
Click the three dot icon
Select Edit Team Settings
Navigate to the Members tab
Hover over the relevant name and email address
Select Remove (this button will also show as Cancel Invite if the user hasn't accepted their invitation yet)
Select Remove Access to remove them from the team
Click Deprovision to remove them from the organization
In premium organizations, only admins can deprovision members.