Search and Search Views
Search allows you to find any task, project, tag, person, or team in your Workspace or Organization.

Press Tab+/ on your keyboard to focus on the search bar.
Basic search
To run a basic search, type the name or title of any object in the search bar.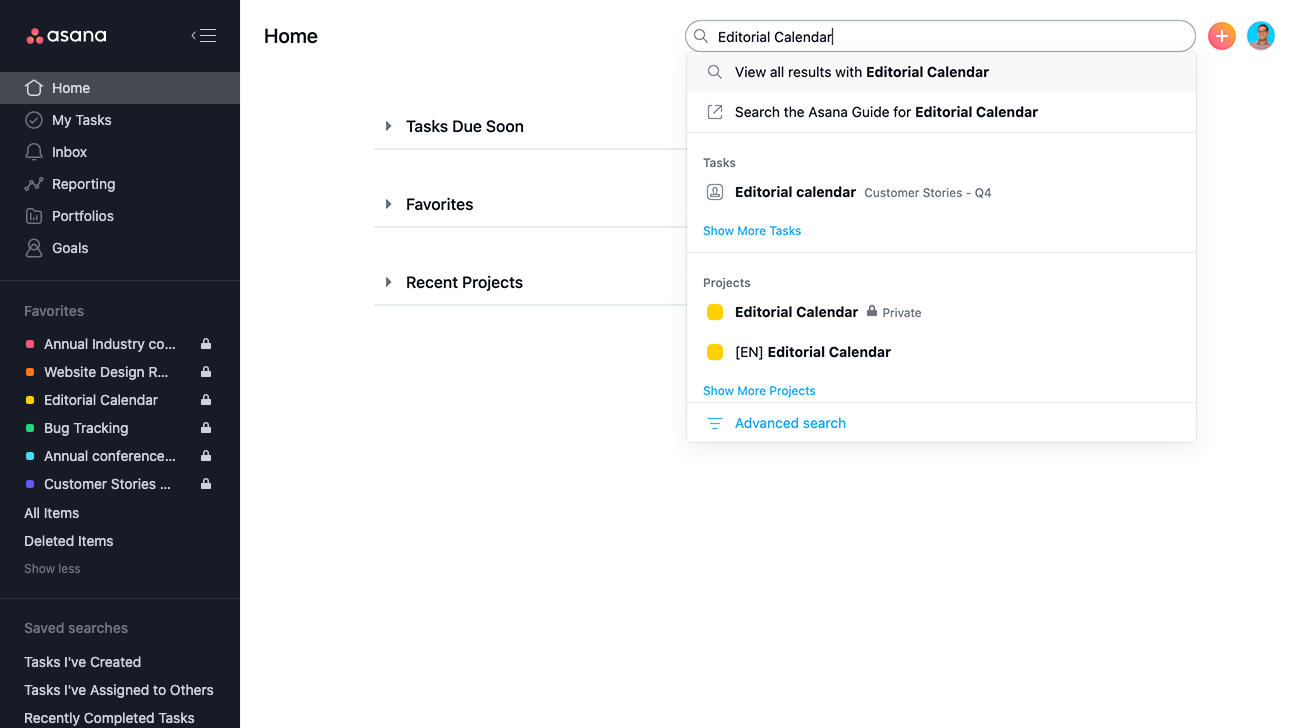 The results of your search will display the following in the autocomplete below:
Advanced Search is a built-in feature of Asana that allows our users to specify additional requirements for a search. It appears at the very end of this display list.
Enter a person's name in basic search to access their My Tasks.
Full text search
Run a full text search to search across every text field in tasks and conversations, including names, descriptions, and commentscommentsComment on a task or conversation to offer help, answer questions, and help move work forward.Read more:

To run a full text search:
Click into search and enter a keyword
Select View all results with [keyword] > (or press Enter on your keyboard)
You can also choose to search the Asana Guide for results.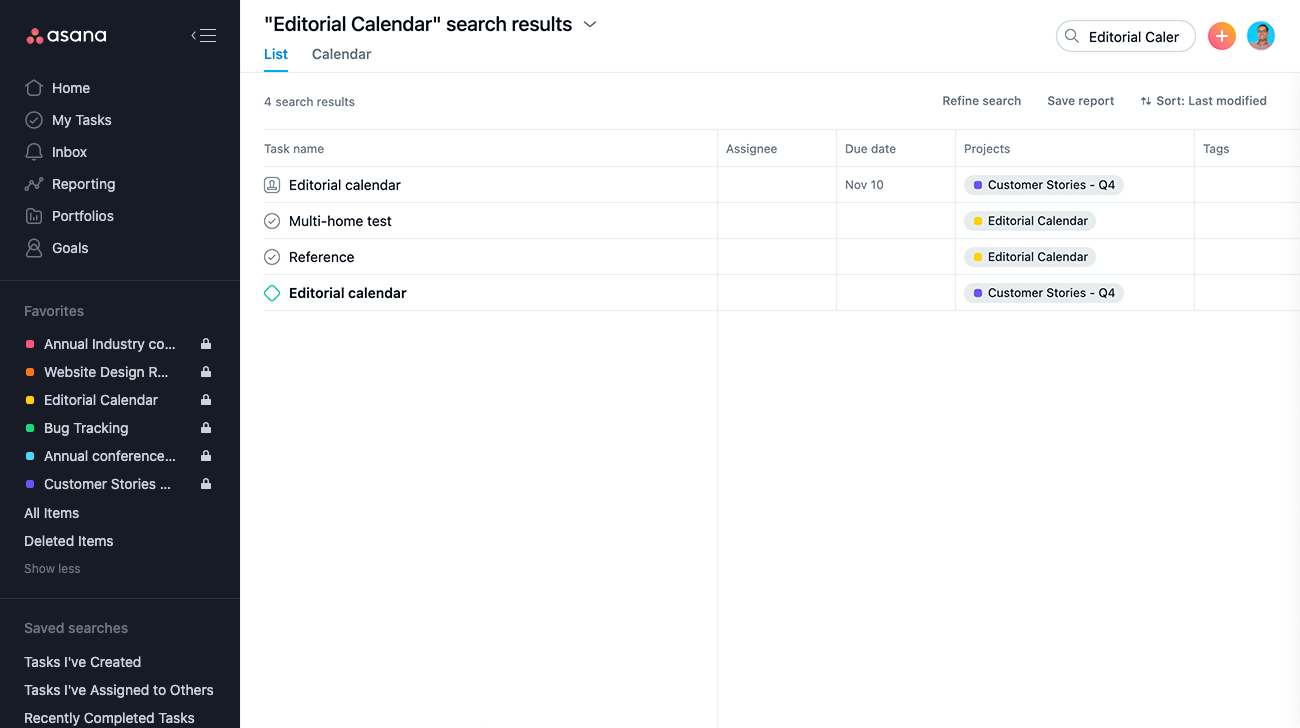 The results of your search will then appear in grid view.
Full text searches only returns tasks, subtasks, and conversations in the results.
Advanced Search & Search Views
Search Views are lists of tasks that meet the criteria you specify. Create a Search View to find any specific group of tasks or conversations.
The results of your Search View will only show tasks you have permissions for. Therefore, your colleagues may see different results, even if you're both searching with the exact same parameters.

Create a Search View
Click into search
Select Advanced Search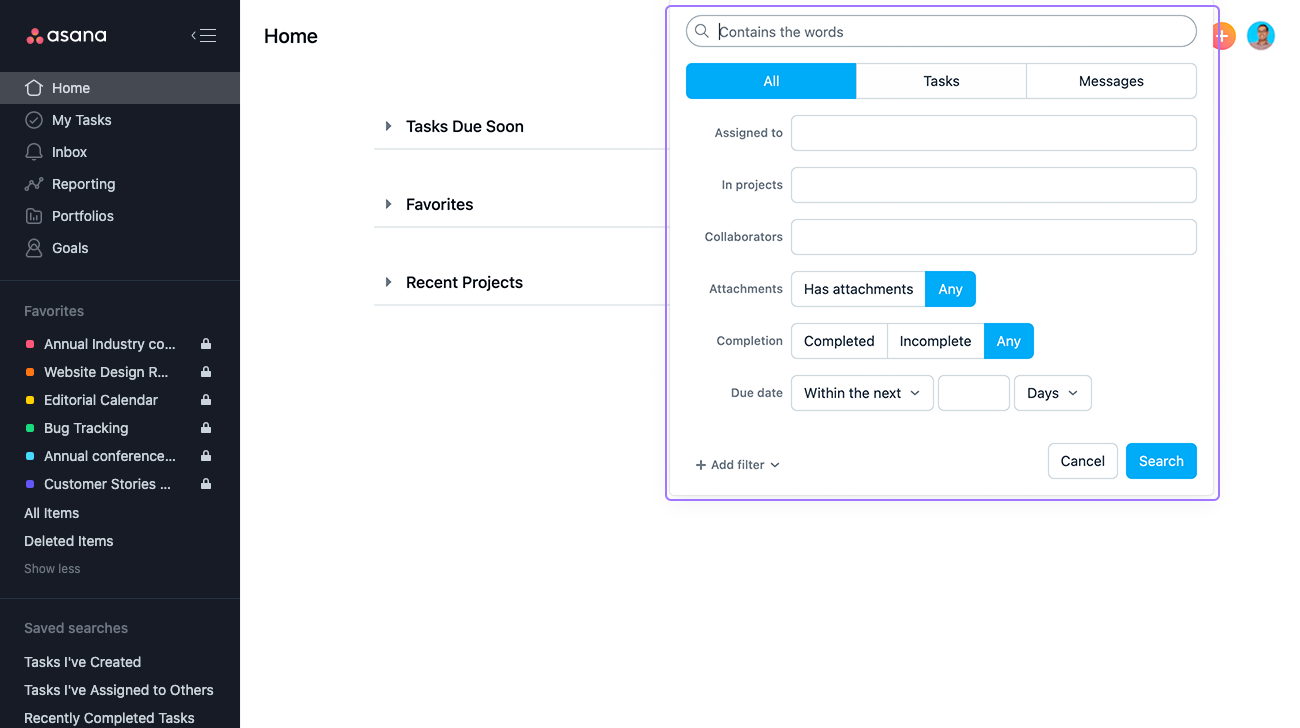 In the Advanced Search window, you will see a number of parameters that you can use to search for tasks or conversations.
You can also filter for Milestones in Advanced Search by clicking +Add Filter then More to choose Milestone.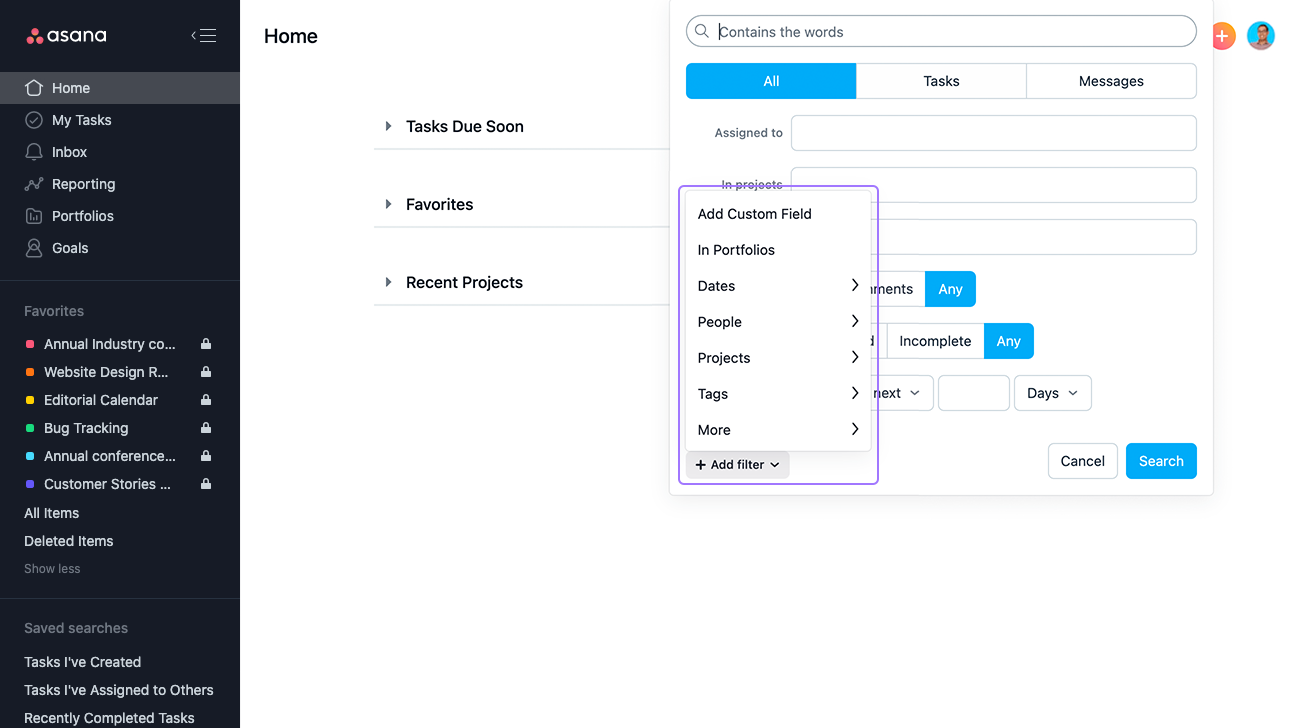 Click +Add Filter to use additional search parameters. There are a myriad of of search option in every field to narrow the focus. Click the right arrow to select.
Filtering results helps you find exactly what you want, quicker. You can either narrow or broaden your search.
How to modify a search result in Projects:
Click +Add filter
Select Projects
Choose In all of these projects to search for specific projects that you believe contains the term or search phrase
Choose Not in these projects to exclude projects that you know will not contain the term or search phrase
When you create a Search View, every field is optional.
Once you've established your search criteria, click the Search button. The results of your Search View will appear in the main panemain paneWhen you select a project, tag, or person, you will see the relevant list of tasks in the main pane. Read more and the name of the Search View will appear at the top of the headerheaderThe header is part of the user interface between the top bar and the main pane and lets users navigate projects.Read more.
From the search results, you can:
Click Refine Search to change your search parameters
Click Save Report to add the results under your Saved searches section in your sidebar
Click Sort to reorder your tasks
Search views display tasks and conversations that meet the parameters you've set. To add a task to your results, create a task that meets these parameters.
Sort Results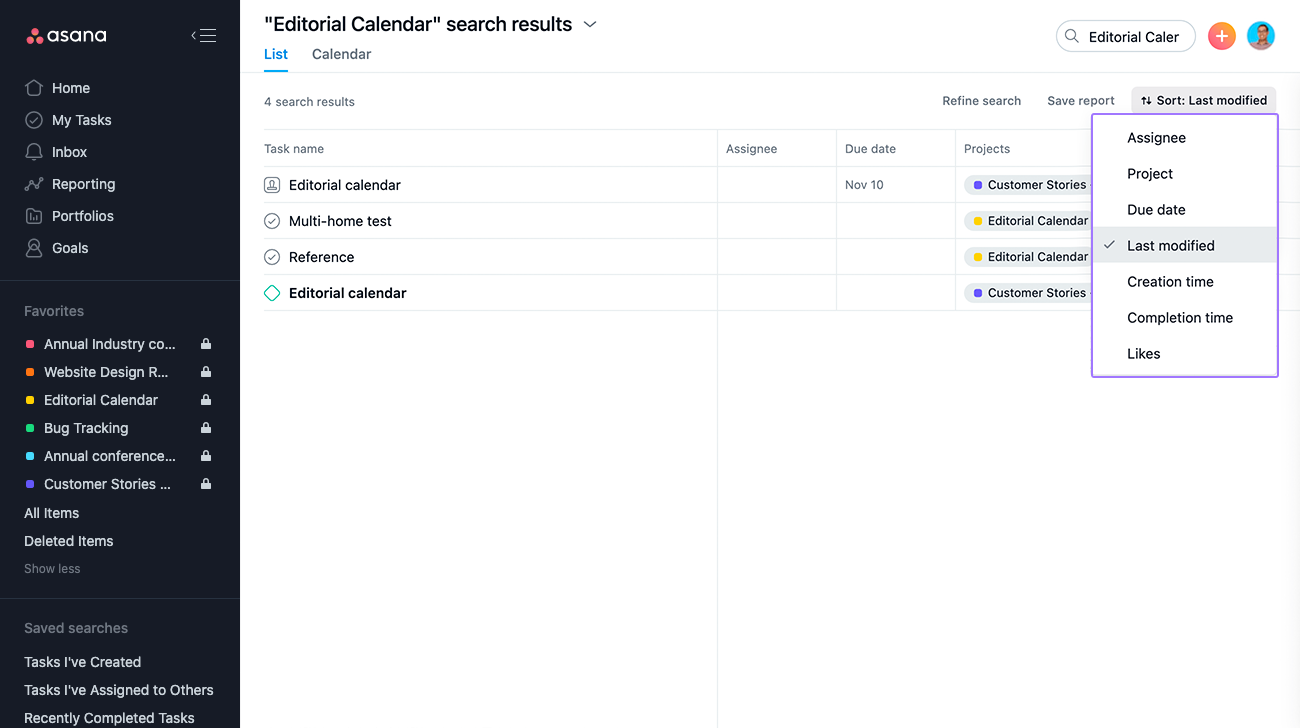 Select Sort for a variety of fields to sort your search results by.
Discover Guide resources from search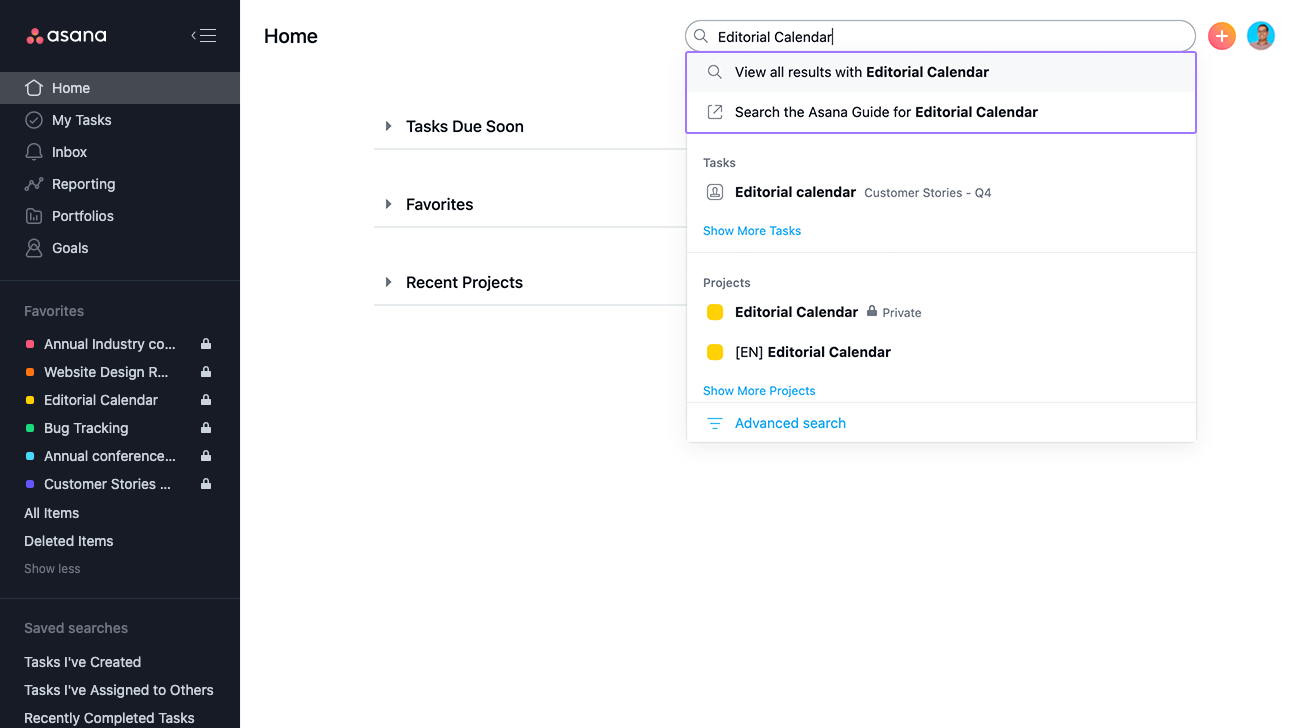 Use Search to view all results for your search term.
It also scrolls through the Asana Guide for your search term.
Users can search within the Guide through the search bar to locate what they are looking for by simply typing the information to find a Guide match.
Save your Search Views as Saved searches
If there are Search Views you will use regularly, you can save them as saved searches for easier access in the future.
Click the Save Report button to save your Search View as a report. Once saved, your Search View will appear under your Saved searches section beneath your favorites at the top of your sidebarsidebarUse the sidebar to navigate to the dashboard, starred items, projects, and teams. The sidebar can be collapsed.Read more.
Saving a Search View as a report saves the search parameters, so your report will update as you and your colleagues continue to work on tasks.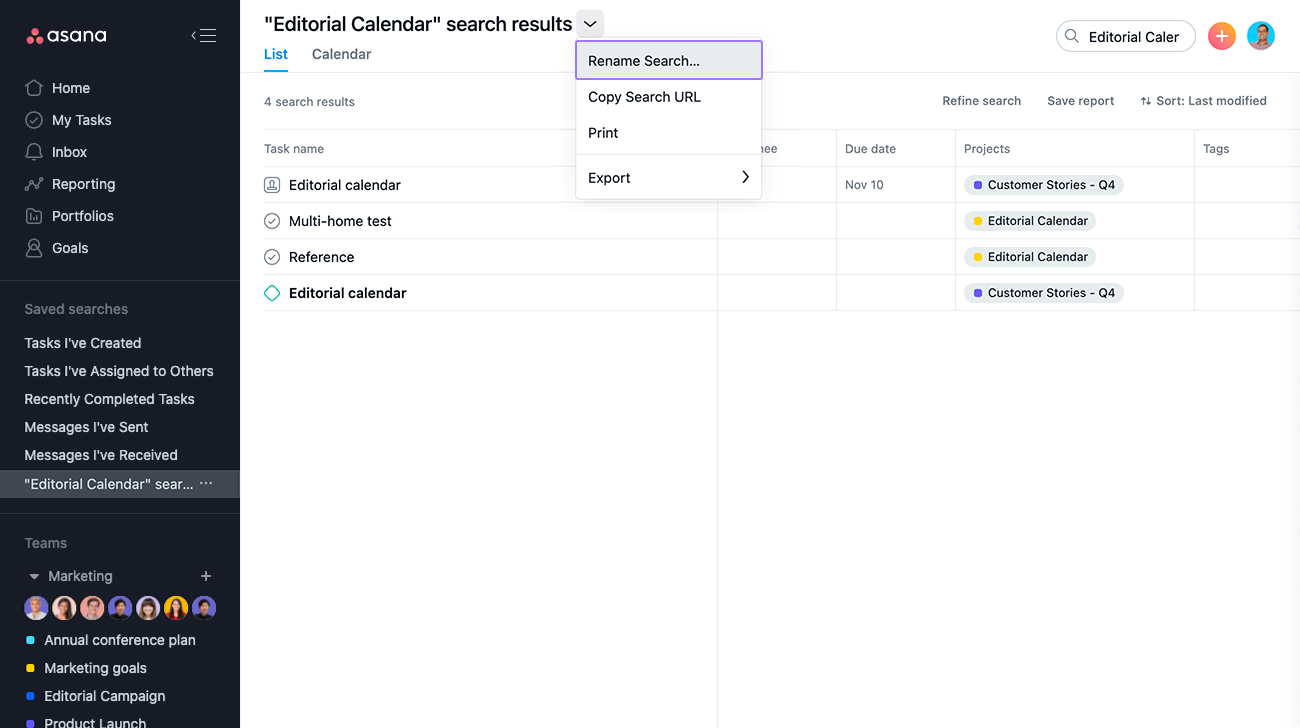 Tap the drop down arrow next to the title to rename a report. You first need to save a report in order for this option to appear.
How to search quickly in a project
It is possible to search for tasks quickly in your current project. This is particularly useful if you have a project with a large number of tasks.

To search quickly in current project:
Click the three dot icon
Select Search this project
Search Views Quick Tips
There are many parameters you can use in Search Views. Most of them are pretty self-explanatory, but here are some of the lesser known parameters you can use in Search Views:
Unassigned tasks - enter "Nobody" in the Assignee field
Tasks in no projects - enter "No Project" in the Projects field
Tasks with specific tags - choose "Has tags" or "Has all of these tags" in the Tags field
Tasks in a Section of a project - after entering a project in the projects field, click the drop down arrow to select a Section in the project to search in
No parameter - use the "No Tags" or the "No Project" fields to find all tasks that are not associated with a tag or a project
Assigned By - use the Assigned By field to find tasks assigned by a specific Member or Guest
Completion Date - use the Completion Date field to find all tasks completed in the last X days
Tasks with specific due dates - use the Due, Start, Completion, Creation, or Modification Date fields to select "Between" to find tasks within a certain timeframe, or "On" to show tasks from a specific date