My Tasks
My Tasks is a list of all the to-dos (or "tasks" in Asana) assigned to you in a given Organization or Workspace. Sort your tasks list to view your tasks in a way that suits you.

To access My Tasks:
Click My Tasks from the sidebar.
Recently Assigned
When a task is first assigned to you, it will appear under the Recently Assigned section. You can rename this section to whatever you want, but don't forget that it's the "special" section where tasks appear when assigned to you.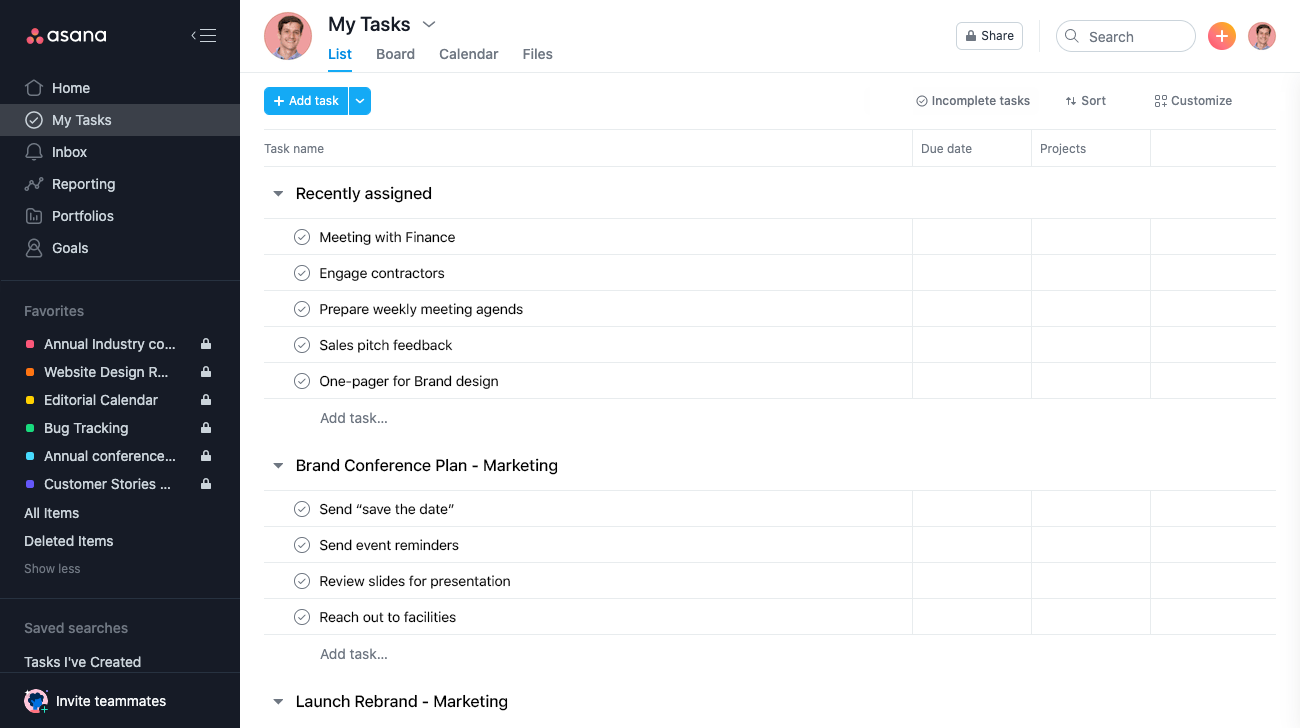 If you create a task by sending an email to x@mail.asana.com, it will first appear under Recently assigned in your My Tasks.
Custom sections
You can create your own sections in My Tasks to organize your work. Rename, reorder, and create and delete sections to design your perfect personal organization system.
We have some suggestions here on how to get started!
Rules in My Tasks
The previous Today, Upcoming, Later auto-promotion feature, which automatically moved tasks between the sections, has been deprecated. You will, however, be able to reproduce this auto-promotion with Rules.
Adding automation to My Tasks will help you save time on manual processes like triaging and automate the movement of tasks through your sections. From the gallery of preset Rules, you can pick an option that already has the trigger and action set. You can then specify the parameters needed.
You can customize your My Tasks with Automations by:
Moving a task to a particular Section as the due date approaches
Automatically adding a comment when a task is overdue
Business and Enterprise customers can also take advantage of The Custom Rule Builder and either choose from a couple of preset options or click Custom for more options.
Recreating Today, Upcoming, Later promotion behavior
To recreate the behavior where tasks moved from Later to Upcoming and from Upcoming to Today, you'll need to add 2 rules to your My Tasks. You'll need to add a rule to move tasks to the Upcoming section when the due date is approaching and a rule to move tasks to the Today section when the task is due today.
To add these Automations:
Click Customize in the toolbar
Click Add Rule
Click to add the Due date is approaching Rule
Choose the due date you would like the Rule to move a task to a certain Section on
Choose the section you want tasks to move to on your chosen date
You can see that a Rule has been deployed when the Rules icon (a lightning bolt) appears beside the section that has a Rule.
You can add an additional Rule for each section to which you would like your tasks to move. For example, you would need to create two Rules if you would like your tasks to move first to an Upcoming Section when the due date is 3 days away, and a second separate Rule to move them to a Today section as the task's due date nears.
When you've created these automations, tasks will move from anywhere in your My Tasks into these sections as the due date approaches. They'll move right from your Recently Assigned section, or any other section, at midnight when these automations update your My Tasks.
Apps in My Tasks
The ability to integrate your most-used apps isn't just limited to projects. You can add apps to your My Tasks to integrate with the tools your team uses most.
To add an app to My Tasks, click the Customize button in the top-right corner of your My Tasks page, and choose an app from the list. The app's field will appear in each of the tasks in your My Tasks, so you can seamlessly integrate the app into your workflow.
List, Board, and Calendar view
Just like in projects, you can switch your view between List, Board, and Calendar. Depending on the sections you're using, you might prefer one view over another.
Sorting and Filtering
You can sort your My Tasks by due date, likes, or alphabetically. Turning on "Sort within sections" while in list view will keep your tasks grouped by section and will sort the tasks inside those sections. However, in Board View, the sections never change or go away and tasks are always sorted within sections.
Customize
You can customize your My Tasks by:
Turning on/off the display of specific fields
Reordering the fields
Resizing the columns of fields
Complete, Incomplete, and View All
You can use this menu to show only incomplete tasks, only completed tasks, or all tasks assigned to you. If you're viewing completed tasks only, you can specify that you want to see tasks completed today, yesterday, or within the last one, two, or three weeks.
Create tasks from My Tasks
All new tasks you create in My Tasks are automatically assigned to you and private to you. Add them to projects to make them visible to the rest of your team.
All tasks created by someone else in your My Tasks list are automatically assigned to you and private to you and all collaborators (e.g., the person who created it).
Saving layout as default
My Tasks will automatically save your Sort, Filter, and View preferences for next time.
Please note that project views will not save automatically. To find out how to save your project view, check out the Guide article here.
View all your tasks across all spaces you belong to
To view your My Tasks list in each space you belong to (Workspaces and Organizations), you'll need to switch between these spaces in your top bar.
However, you may wish to use this third-party integration. Taco allows you to view all of your tasks in one list across Workspaces and Organizations.
Our support team cannot, however, offer assistance with third-party tools as they are not developed by Asana.
Drag and Drop
You can reorder your My Tasks list using drag and drop, provided your task list is not sorted by due date.
7 Day Calendar View
View your My Tasks Calendar to keep track of important deadlines and upcoming tasks. Using the 7 Day Calendar view, you can reorder tasks due each day to keep your highest priority tasks at the top.
In My Task 7 Day Calendar View, you can:
Click into Week view to toggle multi-day tasks on and off to prevent long-running tasks from cluttering up your weekly planning. Here you can also order your calendar by Week view, Month view, and show or hide weekends
You can also organize your Calendar View to show all tasks, incomplete tasks, or completed tasks by clicking on the Task button on your toolbar
By dragging and dropping tasks, you can reorder tasks due each day to keep your highest priority tasks at the top
Click on the Unscheduled button to bring up unscheduled tasks (tasks that have no due date). This also allows you to access a mini calendar so you can jump quickly to specific dates. You can drag tasks out of the "Unscheduled" sidebar into the week view to schedule tasks for specific days.
Weekly Focus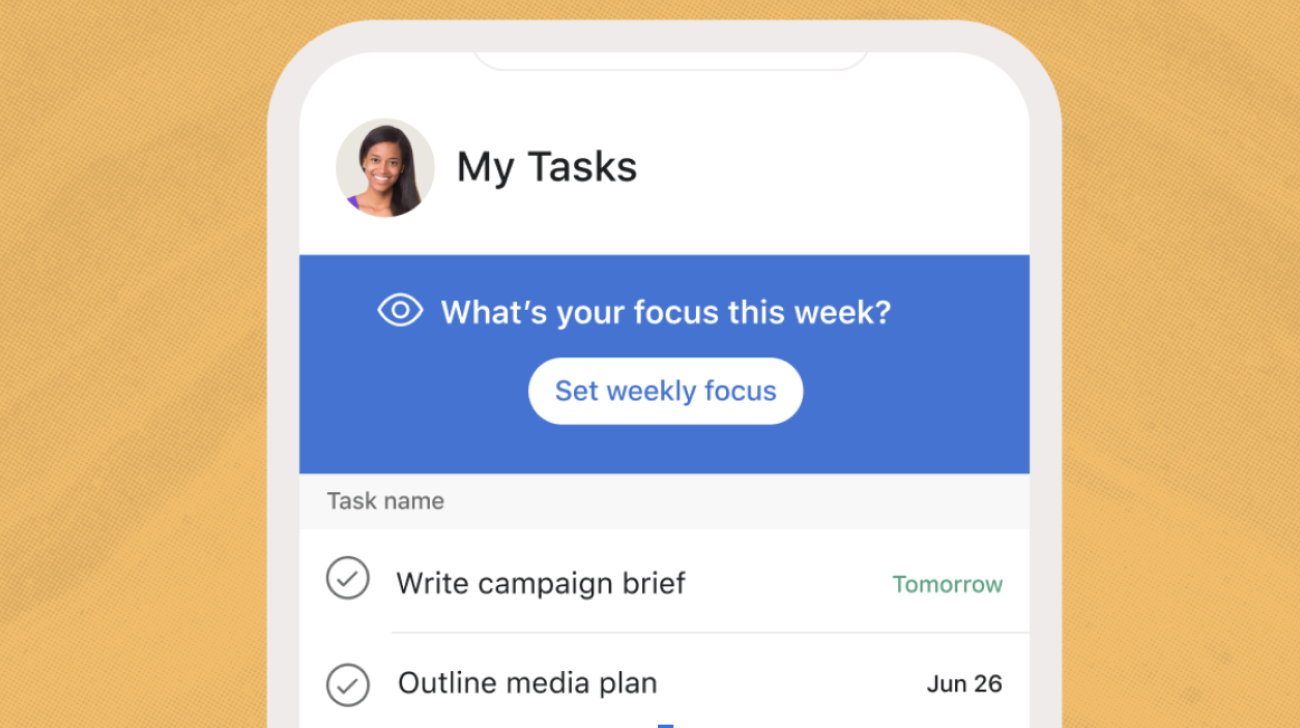 Your Weekly Focus
Kick off your work week more intentionally by setting a focus for the week. Capture your top priority for the week and see it displayed across mobile and web. Because this focus stays visible across platforms, setting a focus leads to better planning, actions, and outcomes.
On Monday mornings, mobile users are prompted to set a weekly focus. Weekly focus set on mobile will appear on desktop and web versions of Asana also but will not be editable there. Your weekly focus will appear at the top of your My Tasks during the week to help guide your planning.
My Tasks Membership
With My Tasks Membership, you can request and be granted access to manage someone else's My Tasks. You can also grant access to allow selected people to manage your own My Tasks.
This is useful for workflows where you need to sort, order or create sections for another person's My Tasks list or where you want selected individuals to do this for you.
Now, if you visit another user's My Tasks, unless they've explicitly granted you access, you'll see:
A list of their tasks
Ability to change the sort order (for yourself, doesn't impact the owner of the My Tasks)
Ability to filter (again, only affects you as the viewer)
You won't be able to reorder tasks, see sections, or create sections
Before you're granted access, you can only sort by "Due Date" and "Project" and after you've been granted access, you will be able to also sort by "None" and "Likes".
Being granted access to a person's My Tasks will not affect the privacy of tasks. For example, if you couldn't see a task before being granted access, you still won't be able to see that task after being granted access.
Accessing another Member's My Tasks list view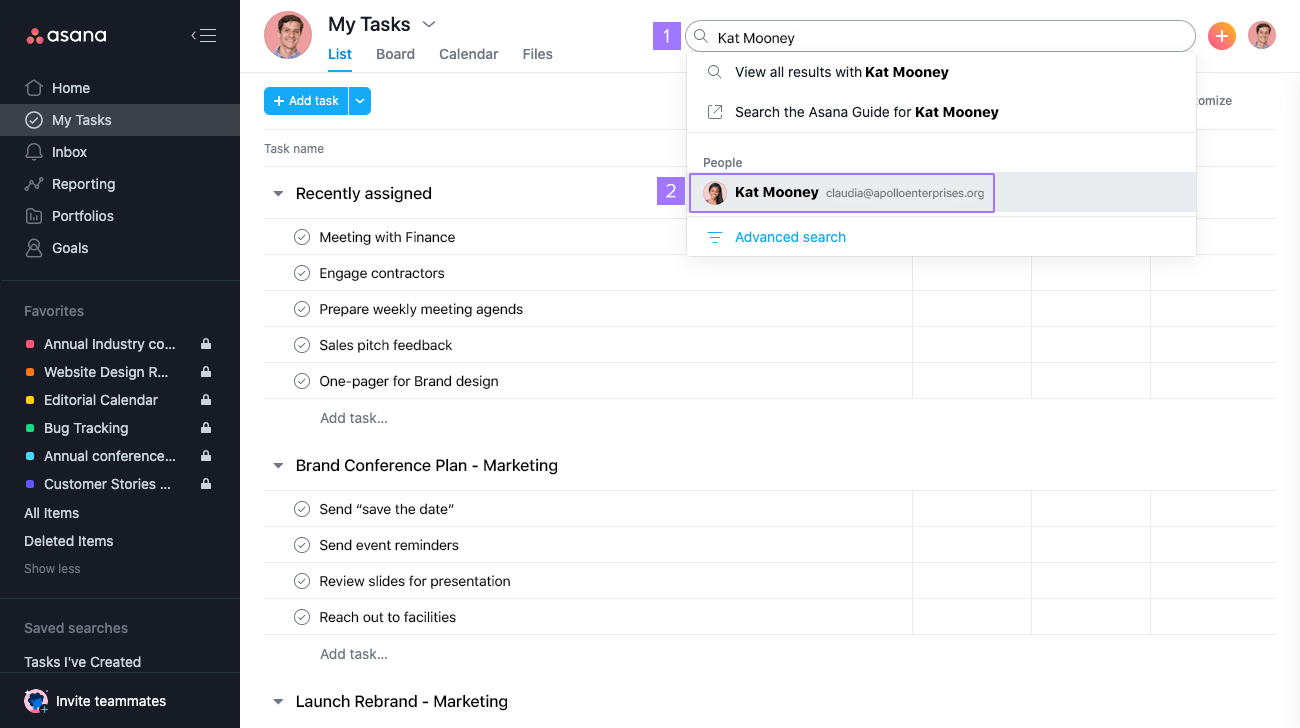 How to access another Member's My Tasks list view:
Search by name in the search bar
Scroll down and click on their profile under People
A list of their tasks will then be visible to you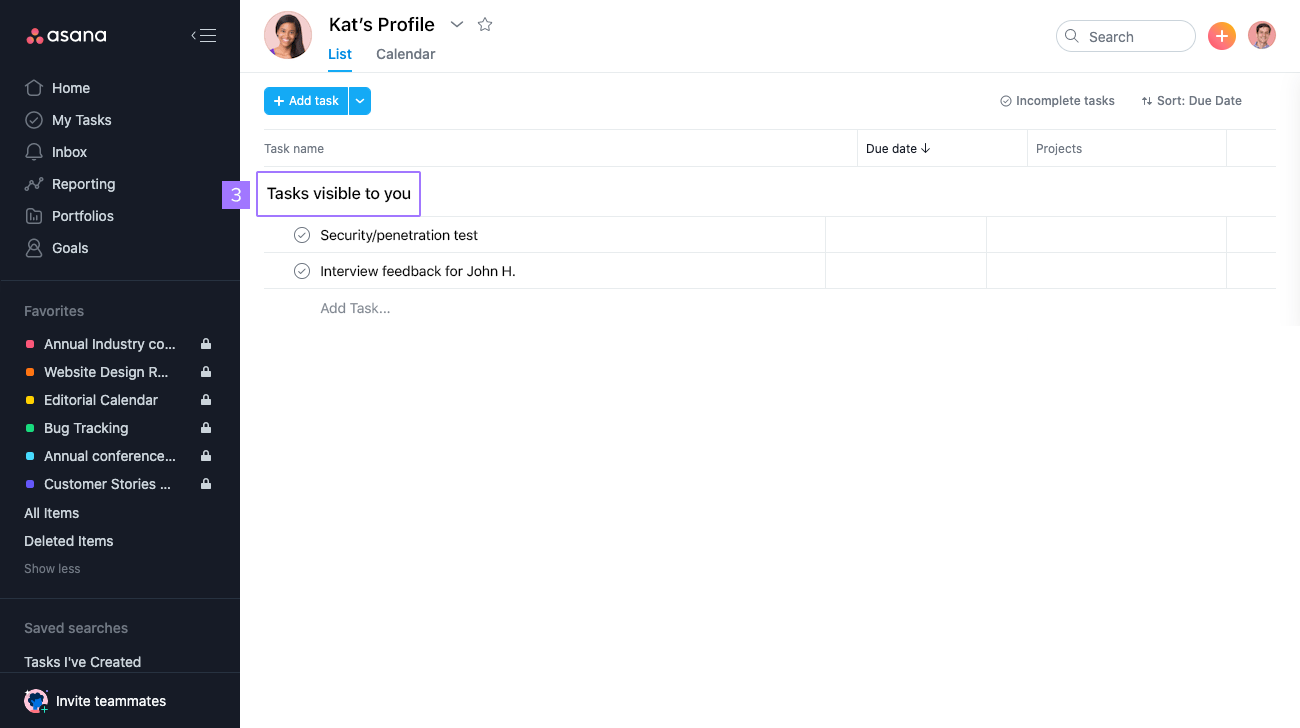 Requesting access to another Member's My Tasks
To request access to another Member's My Tasks, navigate to their My Tasks lists view, click the drop-down arrow, and select Request access to manage.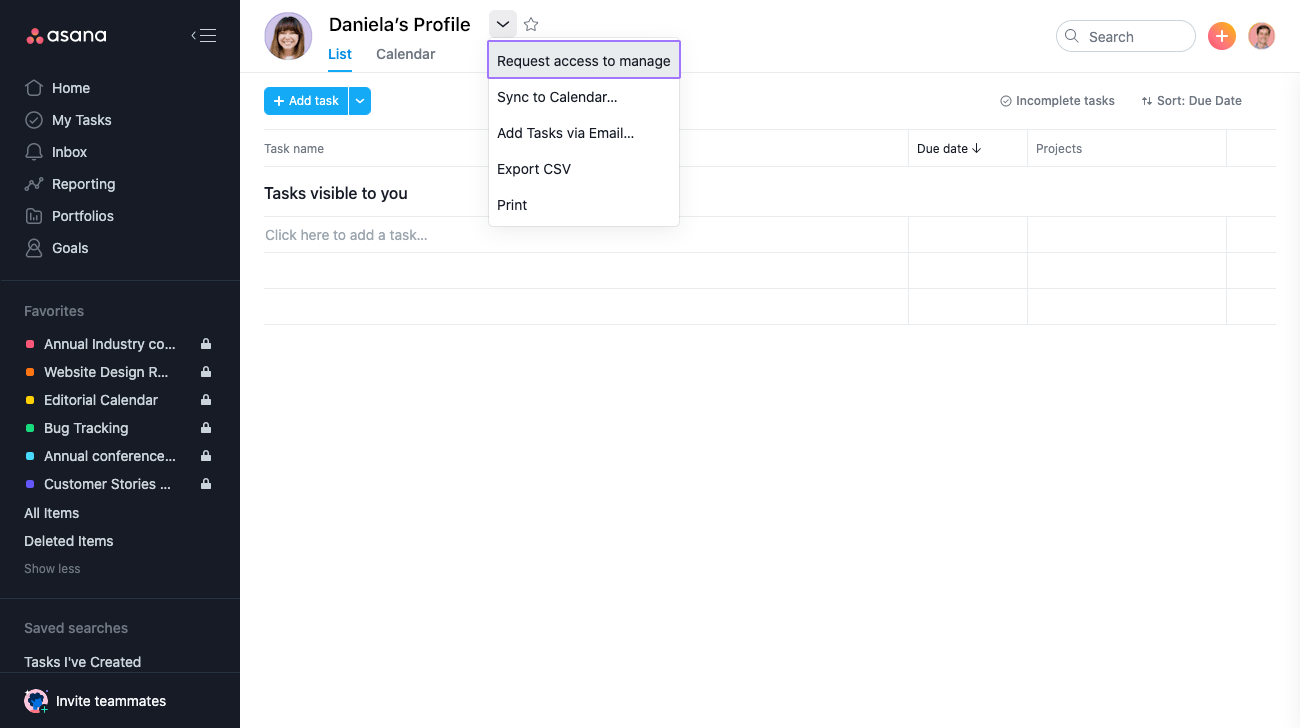 Requesting access creates a task for the requested individual.
Granting access to your My Tasks via the Share button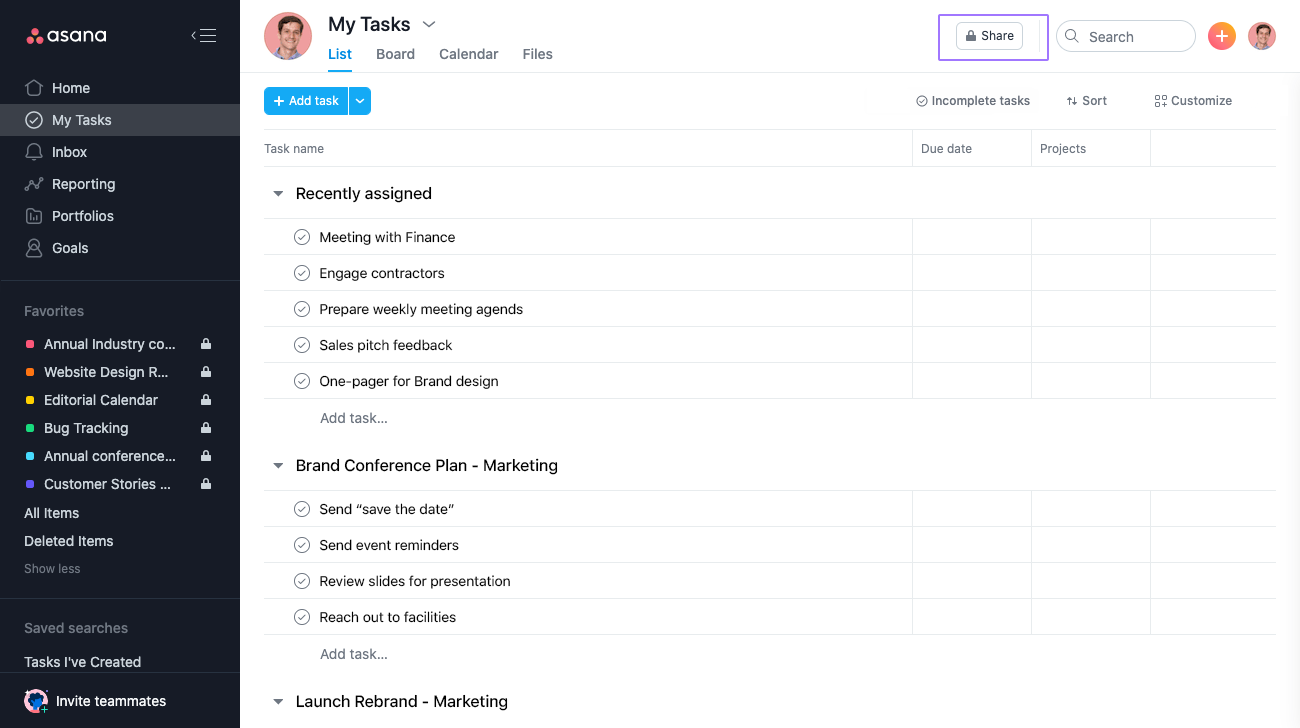 Click on the Share button.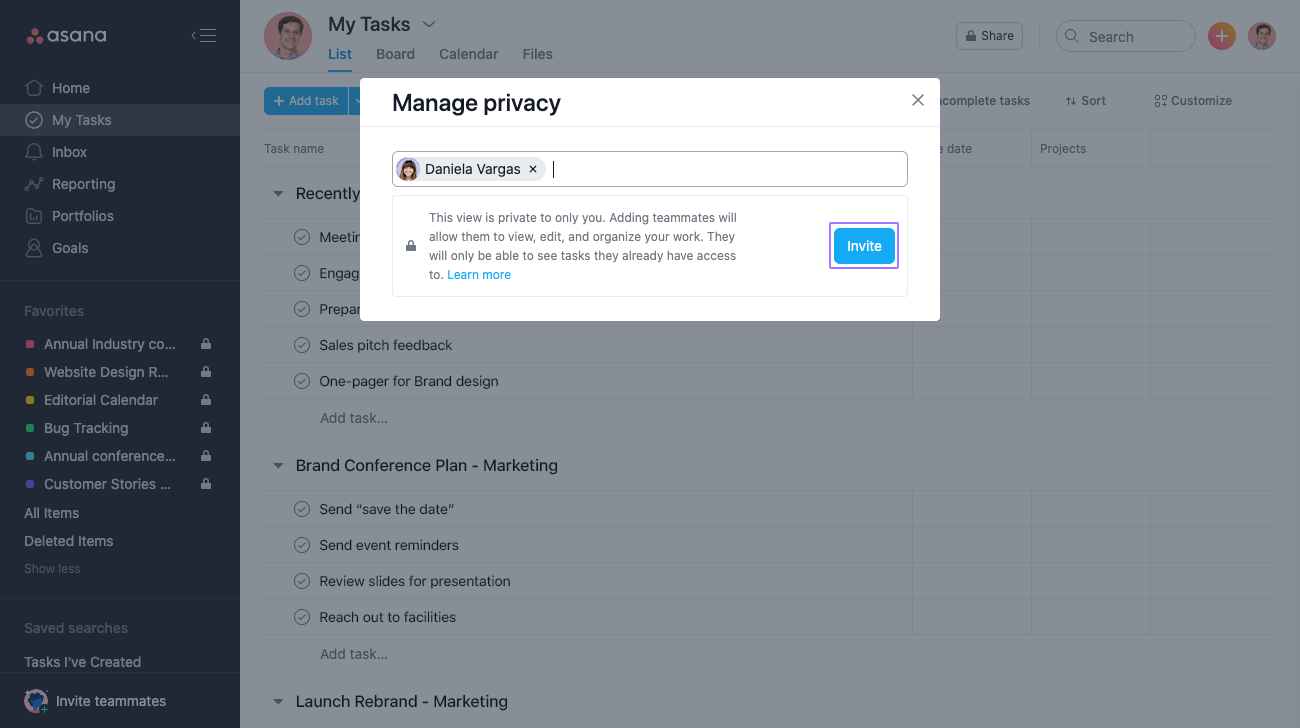 Type in the Member's name and click Invite
Granting access creates an Inbox notification for the individual who has been granted access.