Manage and prioritize tasks
It's stressful and time consuming when your to-do list is a guessing game or you're not sure if you're working on the most important thing. By prioritizing and managing tasks with Asana, you can better manage your workload to hit deadlines and stay productive.
What is My tasks?
My tasks is your personal, customizable to-do list. It helps you prioritize and visualize your day's work by automatically showing all tasks assigned to you and when they're due. Come back to My tasks throughout the day to check off tasks you've completed, see any new work that's come in, and get started on your next task.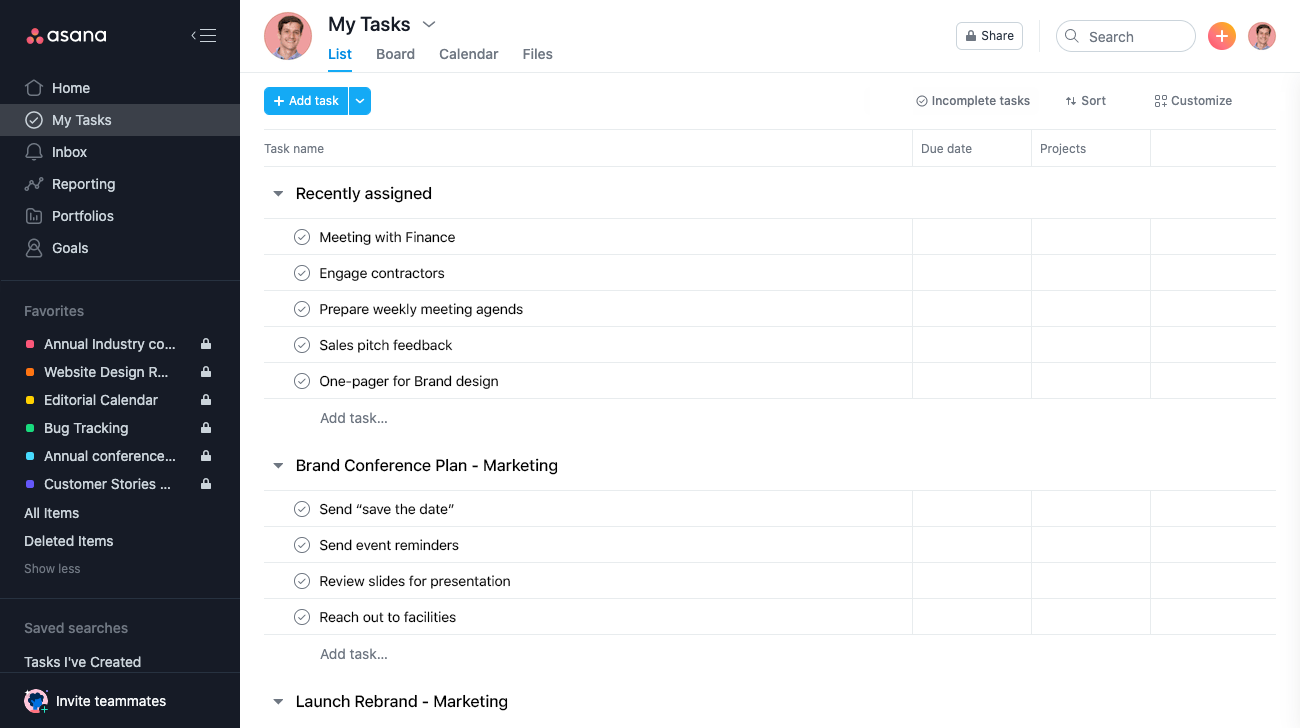 Any task created in My Tasks will be private to only you. You can keep it private, or add it to any relevant projects.
Watch a tutorial
Like video tutorials? Find more tips and guidance in the Asana Academy.
Tips to customize your My tasks
Use sections to organize your tasks. You might create sections for priority, timeframe, or any categories specific to your role.
Choose between list, board, or calendar view to visualize your tasks.
Add rules to your My tasks to help you stay organized and save time.
Tips to manage and prioritize your tasks
Check My tasks when you start your day so you can see what you need to do now, and what's next. Create new tasks for any other to-dos so nothing falls through the cracks.
Make emails actionable with the Asana for Gmail Add-on, Asana for Outlook app, or email forwarding to quickly turn emails into tasks, instead of trying to manage your work and to-dos all via email.
Drag, drop, and sort tasks within sections, just like in projects. Sort by due date to easily keep track of upcoming deadlines.
Give every task a due date (even if it's a guess) so they're easier to prioritize.
Mark task dependencies so you know when you can get started without having to keep asking a teammate about the status of their task. You'll get a notification in your Asana Inbox when they complete the task you're waiting on.
Level up your productivity with a 20-day challenge
Want to work smarter, not harder? Our 20 daily tips can help you get into a routine to work smarter and be more effective. Focus on one challenge each day and move towards a more productive way of working. Take the challenge here.
It's no secret—Asana offers free 30 day trials. Start yours today. Try for free