How to start using Asana
Welcome to Asana!
There's a lot our customers can achieve with Asana, and here's a quick rundown of the most important things to know when you're just getting started. If you would like a trainer to walk you through the content and answer your questions in real time you can sign up for a training webinar
Quick Asana demo walkthrough
Asana's look and features are ever-evolving. Your screen probably looks different than this video, but the key concepts remain the same.
1. How to create a task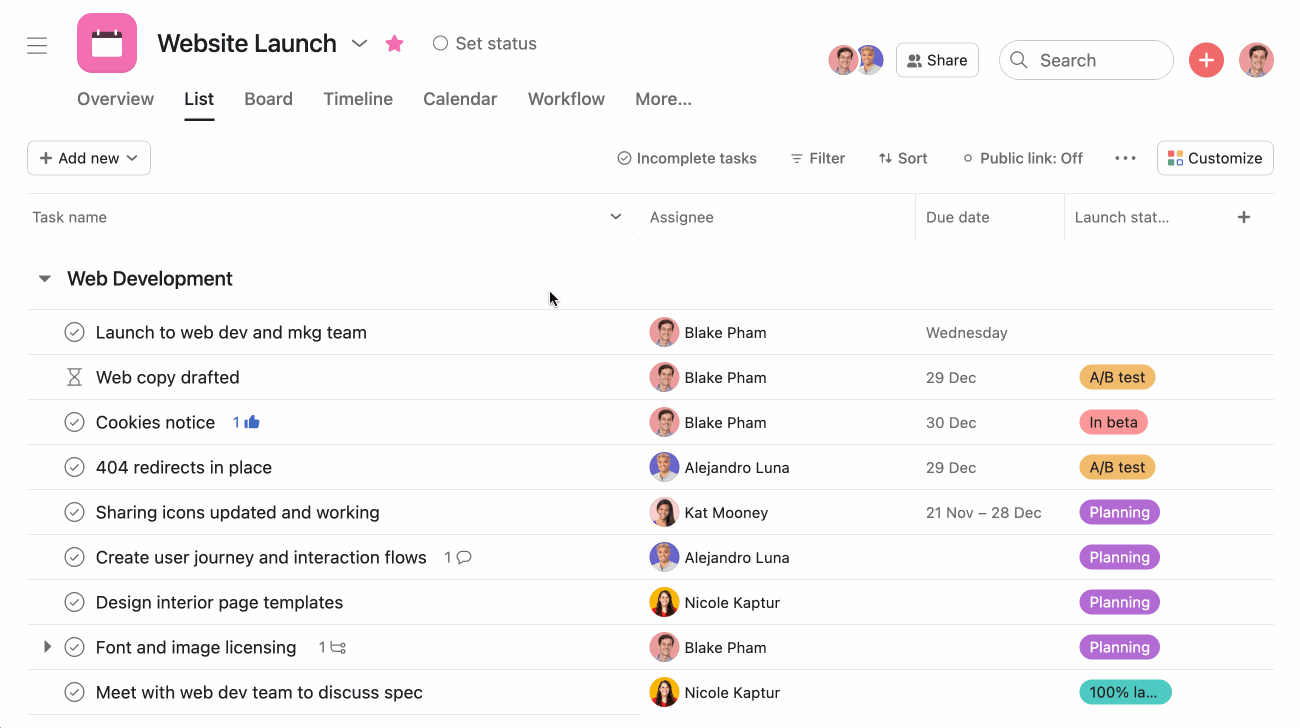 Everything starts with a task. Tasks are actionable to-do's and the most important building block of Asana.
To create a task, start in a project, type a task name, then press enter to keep adding more.
Task best practices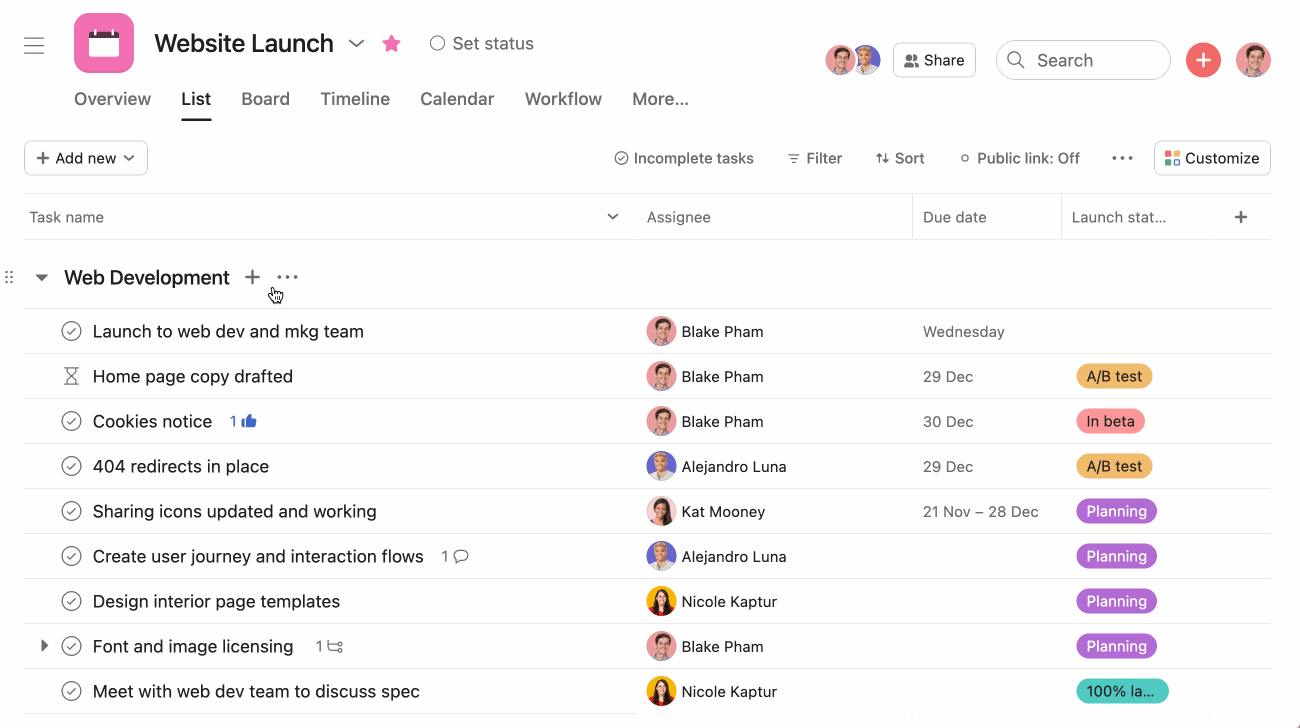 Make task names specific and action-based so it's clear what you need to do. Add a task description so the assignee knows what they need to do.
Assign the task to a teammate and set a due date (even if it's just a guess). That way it's clear who is responsible for what.
Attach files with any relevant context, information, or working documents. Also, make sure to attach completed files when you're marking the task complete so teammates can find your work and know it's done.
Add teammates as task collaborators so they can stay up to date on task progress. You can ping them by @mentioning them when you comment on a task.
2. How to create your first project
Projects are how you organize and plan all of the tasks related to a specific initiative, goal, or big piece of work. You can visualize projects on list, board, calendar, or timeline view and toggle between these views at anytime.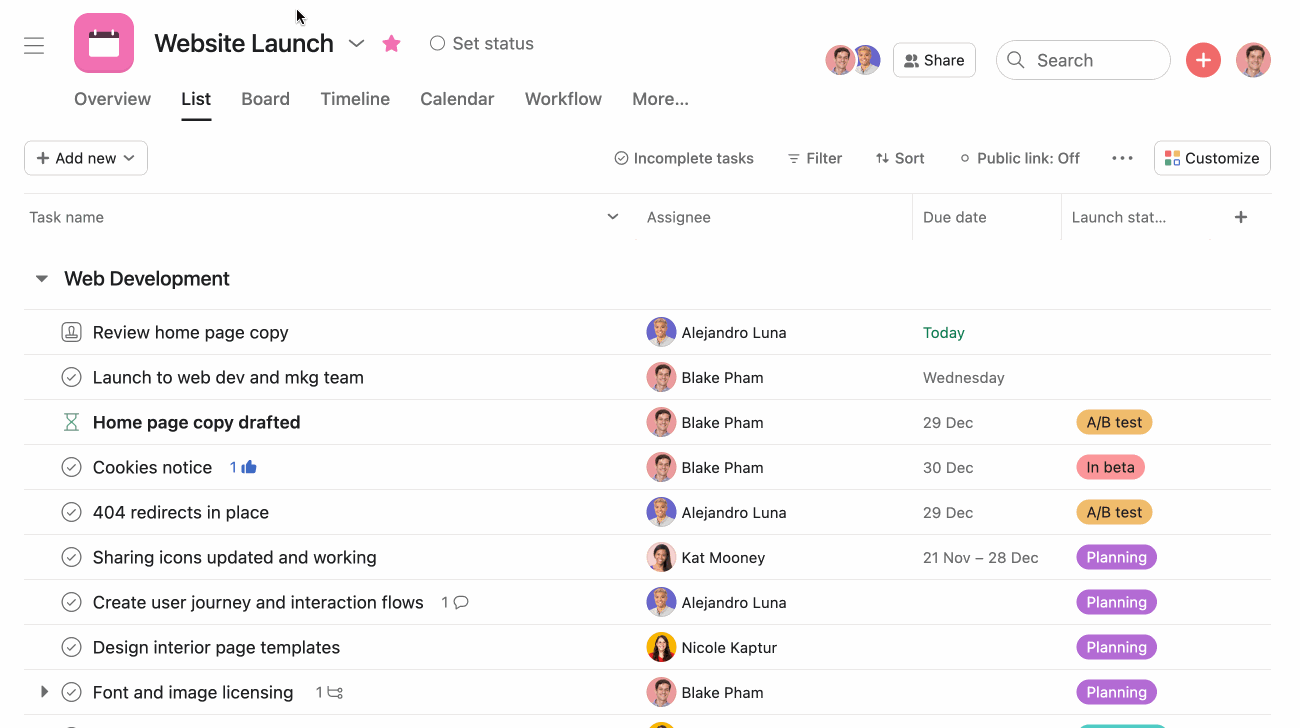 Looking for a better way to manage your work? Get started with a free 30 day Asana Business trial. Try for free
Types of projects you can manage in Asana
You can plan and manage almost any project or process in Asana, but here are the most common examples:
See more examples in our ways to use Asana section or get started with a pre-made project in our templates library.
3. Organize your project
Group related tasks together with sections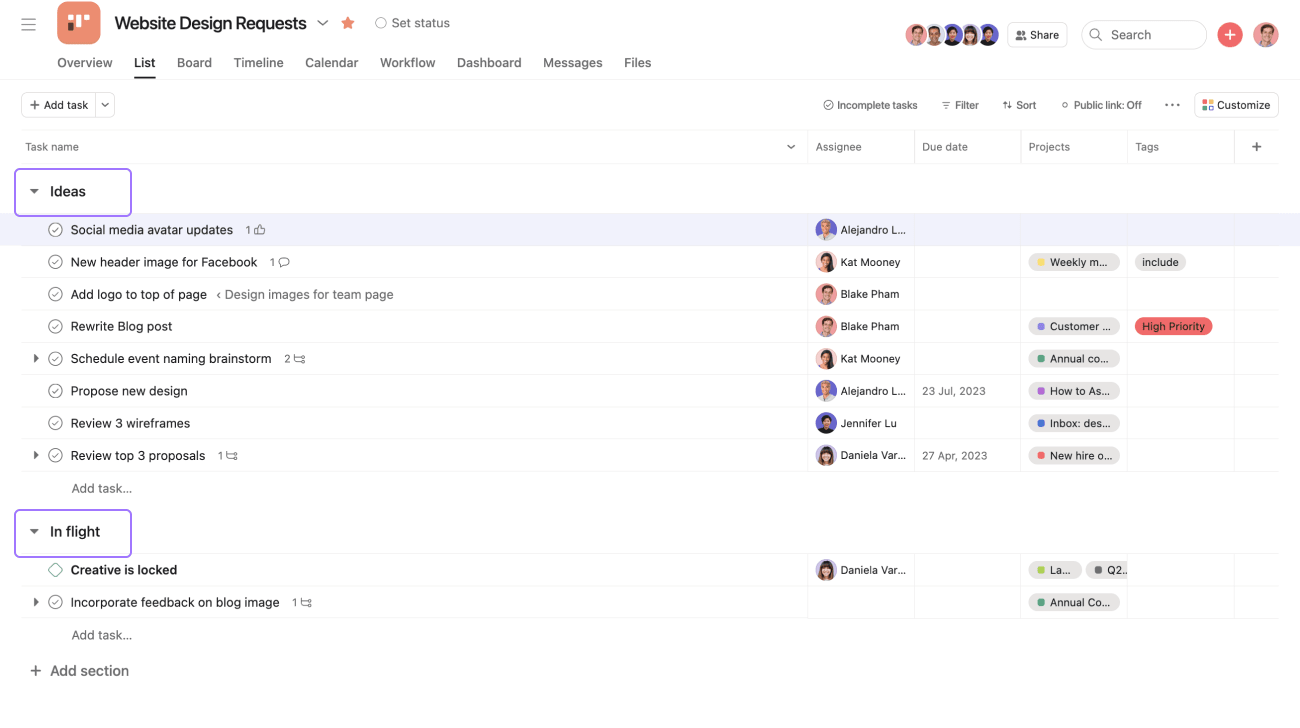 Sections group your tasks, making it easier to parse the project. They're most helpful for categories that won't change as work moves forward. For example, you could create sections by timeframe (like quarters or month), project phase, or a Kanban style "to do," "doing," and "done."
Sort and filter tasks in projects with custom fields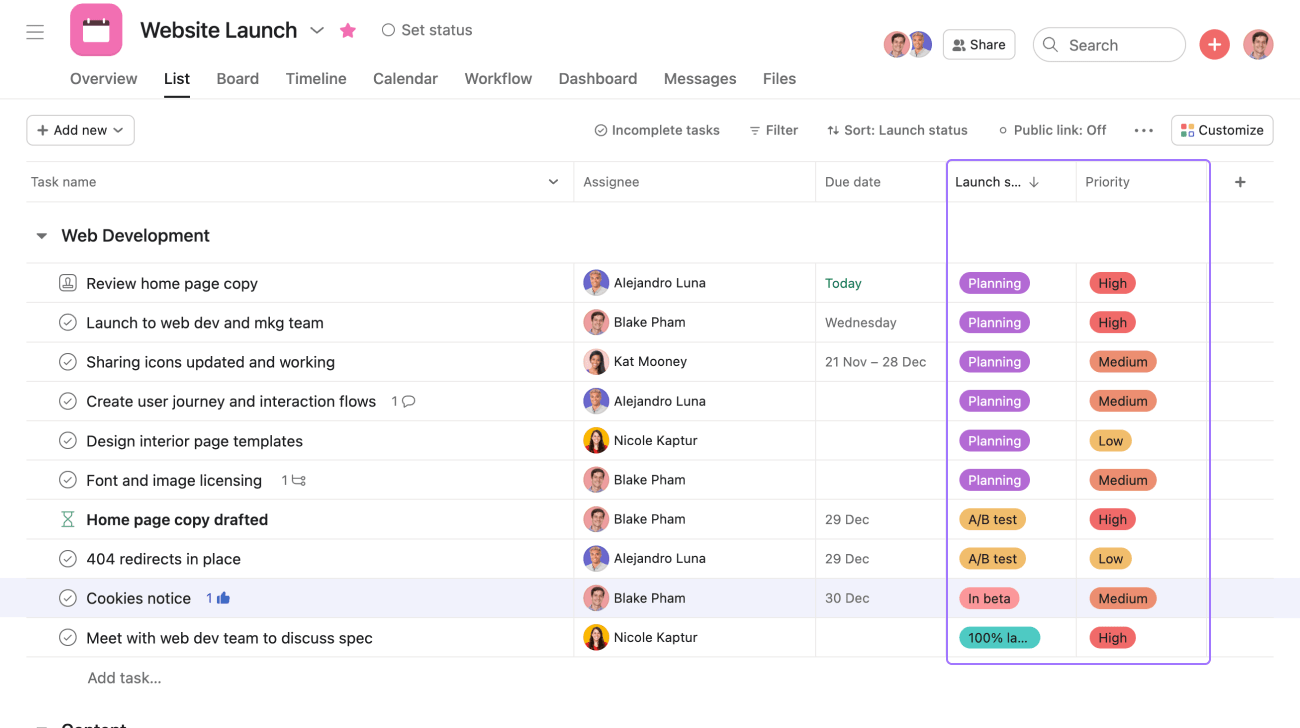 Custom fields are like spreadsheet column headers to help you filter and sort tasks in your project by things like priority, task status, cost, or approval. Group your project by clicking any header and using the filter and sort buttons.
4. How to find work that is assigned to you and updates on your work
As projects move forward, and new work comes your way, Asana gives you lots of options to stay on top of it. Tasks assigned to you will appear in your My Tasks. Your Asana Inbox contains notifications which include updates on projects you're a member of, and tasks that you collaborate on or that are assigned to you. Open the sidebar to access your My Tasks or Inbox:
My Tasks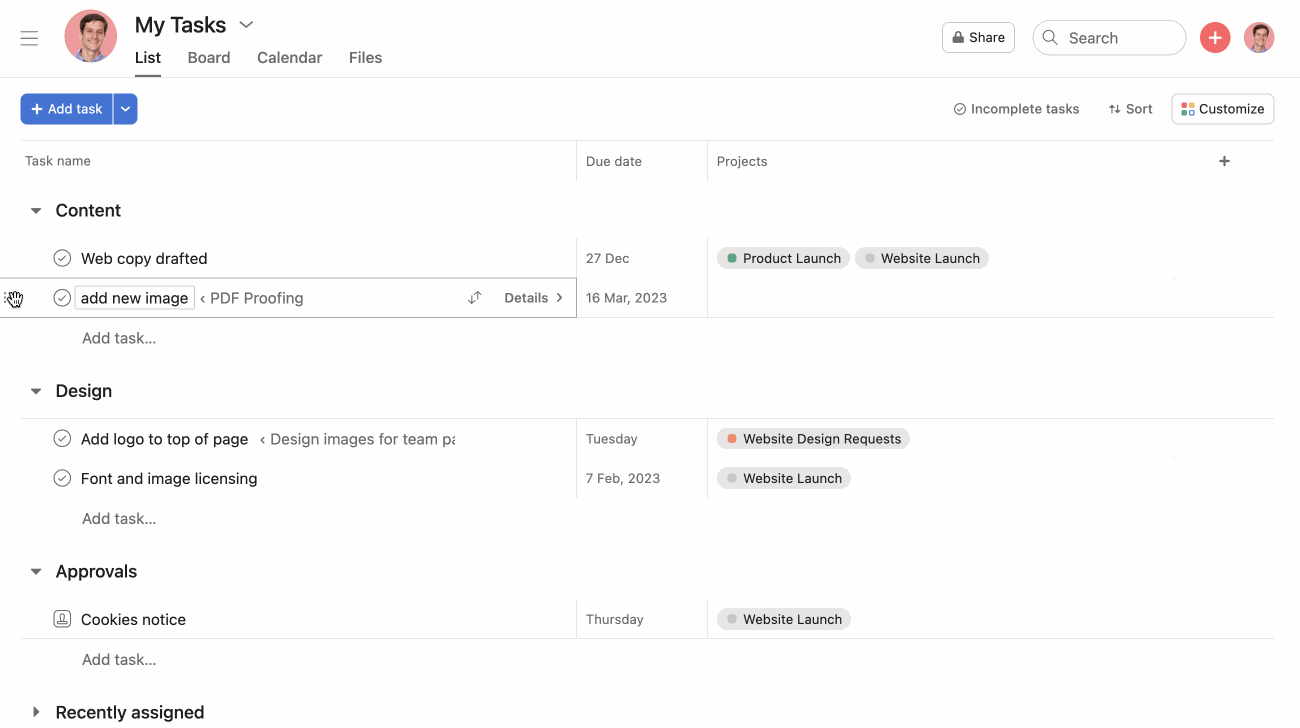 My tasks shows only the tasks assigned to you and when they're due. Come back to My tasks throughout the day to check off tasks you've completed, see any new work that's come in, and get started on your next task.
Inbox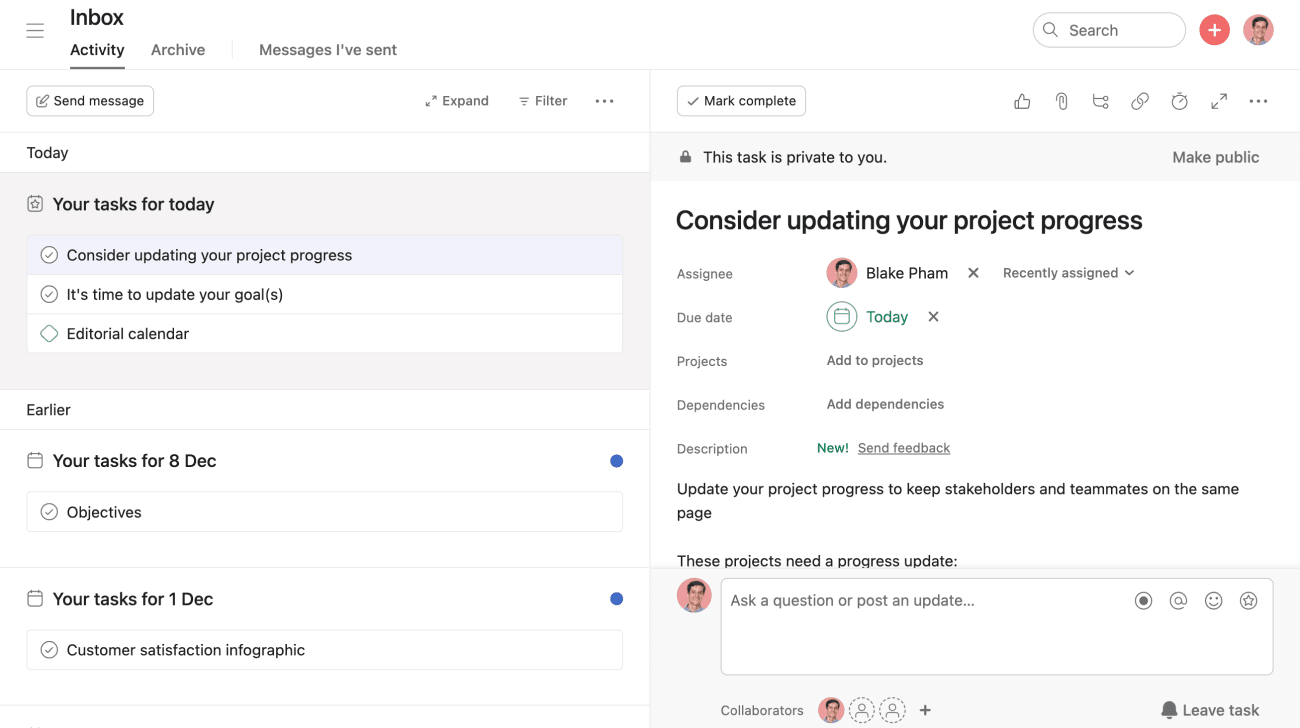 Inbox is a filtered news feed of updates, but only for the work you're following. You can also respond to things right from Inbox and quickly navigate to your work.
From the sidebar you can also access the home page, reporting, portfolios and goals, however, My Tasks and Inbox are where you will find tasks assigned to you personally and updates about your work.
5. How Asana's organized
Projects and tasks are the most fundamental building blocks of Asana.
More resources to help you learn how to use Asana
Once you master the basics, you can keep building on them, and the Asana team will too. We have all different kinds of getting started resources so anyone can learn how they like.