How to start with Asana's mobile app
Mobile feature documentation and how-tos
If you're looking for feature and device-specific how-tos or want to see all mobile functionality, please reference our iOS and Android Help pages. This article features tips and best practices for getting started with our mobile app. The links in this article take you to our iOS guide, but Android users can find corresponding articles in the Android guide.
Asana's iOS and Android apps can help you monitor and capture work on the go. Here are the top ways our customers use our mobile app:
1. Keep a pulse on notifications
Coming out of a day of meetings to a full inbox or wondering about a project after hours is stressful! Instead, rely on mobile app notifications. Then you can keep a pulse on what's happening in real time. If something is urgent, you can take action right from the app by commenting, liking a task, etc.
2. Capture and access information on the go
Need to review or approve work between meetings? Want to quickly pull up your event plan when you are away from your desk? Don't have a laptop handy? Our mobile app helps you capture ideas quickly and access information you need to reference again wherever you are, on and offline.
Create tasks using voice input on iOS. Asana mobile can transcribe audio into text and create tasks with assignees and due dates based on what you say.
Tips for capturing and accessing work with mobile:
Favorite projects and create portfolios to quickly access projects you're working on from your mobile device.
If you're away from your desk or traveling, capture action items and reminders as you go by creating and assigning tasks from mobile. It's faster than waiting until you're by a computer and won't get lost like it might if it's just scribbled into a notebook.

You can also work on and complete tasks from mobile to unblock others—like approving something or attaching the first draft of a blog.

Use proofing to capture feedback or actionable tasks on an image. For example, you can use it to provide design feedback.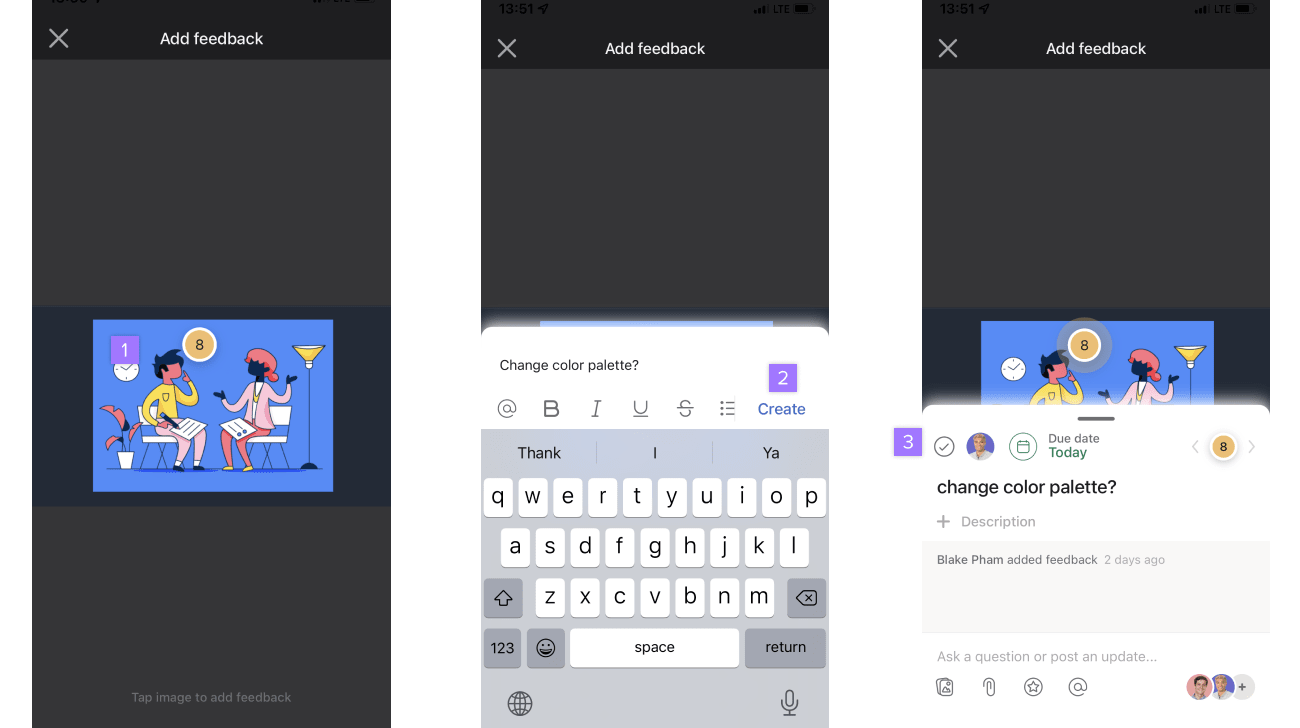 When you access an attached image in a task:
Tap the area on the image where you wish to leave feedback
Write your feedback and tap Create
Navigate to the subtask to add additional information
Weekly Focus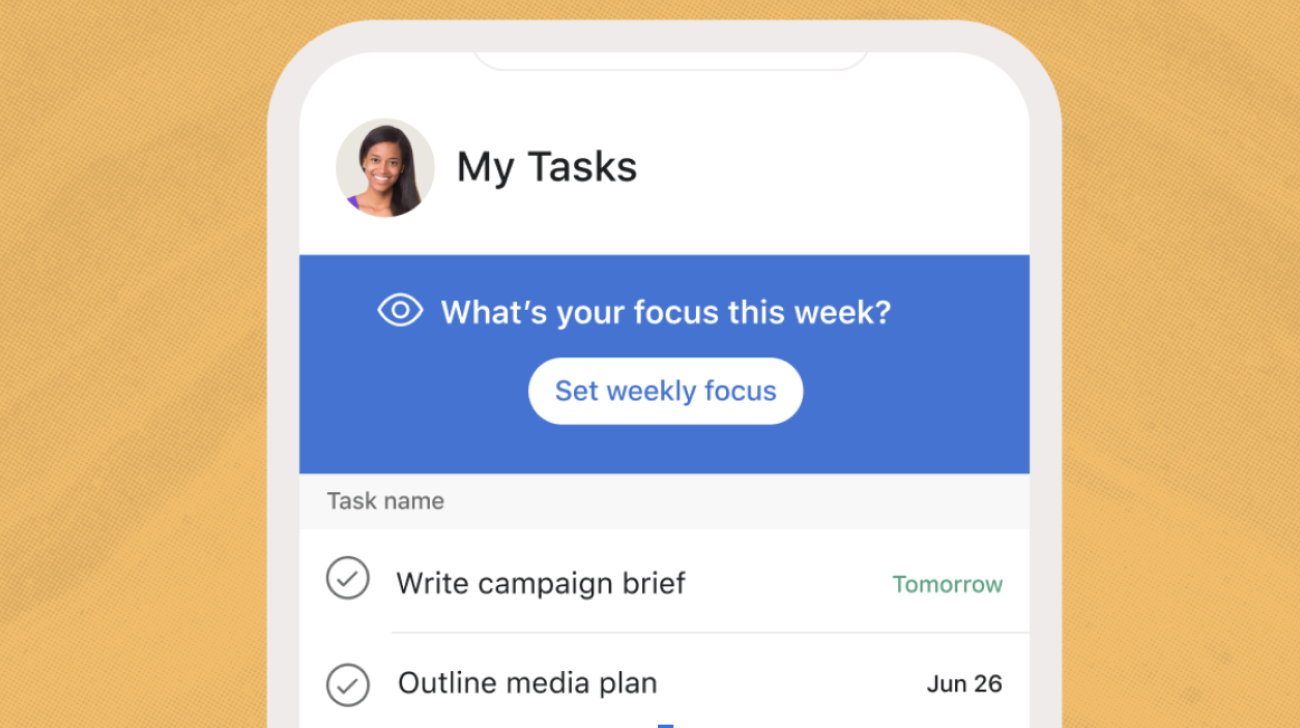 Your Weekly Focus
Kick off your work week more intentionally by setting a focus for the week. Capture your top priority for the week and see it displayed across mobile and web. Because this focus stays visible across platforms, setting a focus leads to better planning, actions, and outcomes.
On Monday mornings, mobile users are prompted to set a weekly focus. Weekly focus set on mobile will appear on desktop and web versions of Asana also, but will not be editable there. Your weekly focus will appear at the top of your My tasks during the week to help guide your planning.
3. Make meetings more productive
Meetings bring great minds together, but they can quickly become unproductive. Our mobile app helps teams stick to the agenda and keep the discussion actionable.
Tips for more productive meetings with mobile:
See what's on the agenda before and during a meeting by creating a meeting agenda project. Access it during the meeting as a reference and to keep relevant files accessible.
Keep whiteboarding and brainstorming sessions actionable and relevant by snapping a photo and using annotations and character recognition to capture ideas without having to retype them.
If teammates commit to work on something, create and assign tasks for them in the meeting agenda project so they can follow through.
4. Help onboard your teammates to Asana
Is your team still getting the hang of Asana? Asana's mobile app functions similarly to the web version, but is a more simplified view on mobile. Here are some handy tips:
To...
Do...
Create and action work

Tap the + button to create tasks
Swipe right to complete tasks
Use voice dictation

Organize and find work

Search for anything
Drag and drop to rearrange
Favorite projects or add them to Portfolios

Manage and plan work

View projects on a Calendar
Check notifications in Inbox
Manage tasks from My Tasks
More resources
Want more tips and best practices for using Asana's mobile apps? Check out these resources: